Abstract
Organic pig farming aims at maintaining a high health and welfare state of the animals through appropriate housing, management and feeding. Better knowledge of health and welfare indicators should help to identify critical points and hence to improve health and welfare as well as performance of organic pigs. This paper describes the health and welfare of organic pigs from 101 farms across six EU countries, using selected animal-based parameters from the Welfare Quality® protocol. Parameters were collected in sows, suckling and weaned piglets in 3 to 20 farms per country. Their assessment was trained before farm visits and inter-observer agreement determined after farm visits. The most prevalent problems identified in sows were thinness (median farm prevalence 18.8 %, range 0–81.0), injuries on the anterior part of the body (15.5 %, 0–66.7), injuries on hind part of body (7.9 %, 0–50), obesity (4.9 %, 0–50.0) and vulva lesions (3.5 %, 0–42.9). In suckling piglets, the median prevalence in terms of groups affected per farm was 0 % for all parameters but '> 50 % dirty piglets in group', for which it was 10 %. Farm prevalence ranged from 0 to 100 % for '≥ 1 lame piglet in group', presence of diarrhoea, and '> 50 % dirty piglets in group'. In weaned piglets, the median prevalence in terms of groups affected per farm was 0 % with a range of 0 to 100 % for all parameters. Based on the collected data, body condition, skin and vulva lesions in sows, lameness, diarrhoea and respiratory problems in piglets could be used as management and welfare indicators, with good potential for enhancement through farm improvement schemes like herd health planning. However, some definitions could be improved, especially lameness, diarrhoea and respiratory problems in piglets.
Access options
Buy single article
Instant access to the full article PDF.
USD 39.95
Price includes VAT (USA)
Tax calculation will be finalised during checkout.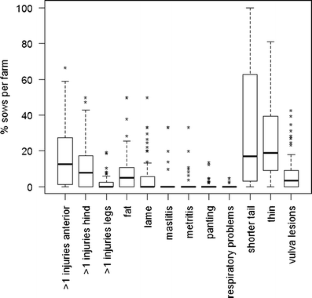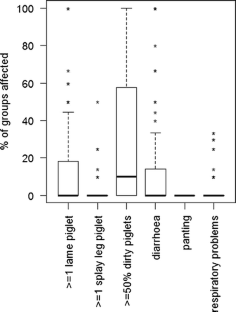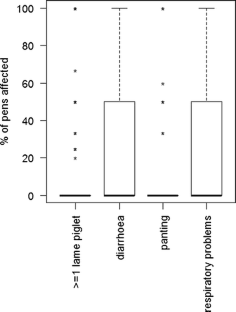 References
Bonde M, Sorensen JT (2006) Animal health and welfare in organic European pig production: state of the art and challenges for the future, based on a Northwestern European questionnaire survey. Proc Eur Jt Org Congr 2006:562–563, Odense (DK)

Bonde M, Hegelund L, Sørensen JT (2006) Forskellige sundhedsproblemer hos økologiske henholdsvis konventionelle indendørs slagtesvin (in Danish). Forskningsnytt om Økologisk Landbruk i Norden 1:8–9

Burfoot A, Kay RM, Corning S (1995) A scoring method to assess damage caused by aggression between sows after mixing. Proc Brit Soc Anim Sci, Annual Meeting: 196–197

Charette R, Bigras-Poulin M, Martineau G-P (1996) Body condition evaluation in sows. Livest Prod Sci 46:107–115

Commission Regulation EC no. 889/2008 (2008) Laying down detailed rules for the implementation of Council Regulation (EC) No 834/2007 on organic production and labelling of organic products with regard to organic production, labelling and control. Official Journal of the European Union, L 250, p 84

Day JEL, Kelly H, Martins A, Edwards SA (2003) Towards a baseline assessment of organic pig welfare. Anim Welf 12:637–641

Ebke M, Sundrum A (2005) Qualitätssicherung in der ökologischen Schweinemast (in German) [Quality assurance in organic pig finishing]. Beiträge zur 8. Wissenschaftstagung zum Ökologischen Landbau, 01. -04. 03. 2005, Kassel (DE):337–340

EFSA (2007) Scientific Opinion of the Panel on Animal Health and Welfare on a request from Commission on the risks associated with tail biting in pigs and possible means to reduce the need for tail docking considering the different housing and husbandry systems. EFSA J 611:1–100

Fraser D, Kramer DL, Pajor EA, Weary DM (1995) Conflict and cooperation: sociobiological principles and the behaviour of pigs. Appl Anim Behav Sci 44:139–157

Früh B, Bochicchio D, Edwards S, Hegelund L, Leeb C, Heinonen M, Maupertuis F, Sundrum A, Werne S, Wiberg S (2011) Description of organic production systems in Europe in 2007. In: Edwards S (Ed) Knowledge synthesis: animal health and welfare in organic pig production—Final Report COREPIG. http://orgprints.org/18419/

Geverink NA, Meuleman M, van Nuffel A, van Steenbergen L, Hautekiet V, Vermeulen K, Lammens V, van Reenen CG, Tuyttens FAM (2009) Repeatability of lameness score measured on farm. In: Forkman B, Keeling L (ed) Assessment of animal welfare measures for sows, piglets and fattening pigs. Welfare Quality Reports No. 10:73–78

Harper GC, Makatouni A (2002) Consumer perception of organic food production and farm animal welfare. Brit Food J 104:287–299

Heinonen M, Oravainen J, Orro T, Seppä-Lassila L, Ala-Kurikka E, Virolainen J, Tast A, Peltoniemi OAT (2006) Lameness and fertility of sows and gilts in randomly selected loose-housed herds in Finland. Vet Rec 159:383–387

Heldmer E, Lundeheim N, Robertsson JÅ (2006) Sjukdomsfynd hos ekologiskt uppfödda grisar (in Swedish). Svensk Veterinärtidning 13:13–19

KilBride AL, Gillman CE, Green LE (2009) A cross-sectional study of the prevalence of lameness in finishing pigs, gilts and pregnant sows and associations with limb lesions and floor types on commercial farms in England. Anim Welf 18:215–224

Leeb B, Leeb C, Troxler J, Schuh M (2001) Skin lesions and callosities in group-housed pregnant sows: animal-related welfare indicators. Acta Agr Scand A: Anim Sci Suppl 30:82–87

MAFF (1998) Condition scoring of pigs. MAFF Publications, London

McGlone JJ (1985) A quantitative ethogram of aggressive and submissive behaviors in recently regrouped pigs. J Anim Sci 61:559–565

Meagher RK (2009) Observer ratings: validity and value as a tool for animal welfare research. Appl Anim Behav Sci 119:1–14

Pedersen LJ, Jørgensen E, Heiskanen T, Damm BI (2006) Early piglet mortality in loose-housed sows related to sow and piglet behaviour and to the progress of parturition. Appl Anim Behav Sci 96:215–232

Petersen HH, Enoe C, Nielsen EO (2004) Observer agreement on pen level prevalence of clinical signs in finishing pigs. Prev Vet Med 64:147–156

Rundgren M, Löfquist I (1989) Effects on performance and behavior of mixing 20-kg pigs fed individually. Anim Prod 49:311–315

SAS Institute Inc. (2008) SAS OnlineDoc® 9.1.3, http://support.sas.com/onlinedoc/913/docMainpage.jsp. Accessed 29 May 2012

SAS Institute Inc. (2009). Computer estimates and tests of agreement among multiple raters (MAGREE), http://support.sas.com/kb/25/006.html. Accessed 29 May 2012

Scott K, Binnendijk GP, Edwards SA, Gu JH, Kiezebrink MC, Vermeer HM (2009) Preliminary evaluation of a prototype welfare monitoring system for sows and piglets (Welfare Quality® project). Anim Welf 18:441–449

Sundrum A, Goebel A, Bochicchio D, Bonde M, Bourgoin A, Cartaud G, Dietze K, Dippel S, Gunnarsson S, Hegelund L, Leeb C, Lindgren K, Lubac S, Prunier A, Wiberg S (2011) Epidemiological study concerning the characteristics of organic pig farming in selected European countries. In: Sundrum A (ed) Final Report COREPIG. http://orgprints.org/18428/

Turner SP, Farnworth MJ, White IMS, Brotherstone S, Mendl M, Knap P, Penny P, Lawrence AB (2006) The accumulation of skin lesions and their use as a predictor of individual aggressiveness in pigs. Appl Anim Behav Sci 96:245–259

van de Weerd HA, Day JEL (2009) A review of environmental enrichment for pigs housed in intensive housing systems. Appl Anim Behav Sci 116:1–20

Welfare Quality® (2009) Welfare Quality® Assessment protocol for pigs (sows and piglets, growing and finishing pigs) Welfare Quality® Consortium, Lelystad, The Netherlands

Winckler C, Bühnemann A, Seidel K, Küfmann K, Fenneker A (2001) Label pig production and organic pig farming—a pilot study on housing and welfare related parameters in sows. Proc. CIGR Symposium Animal Welfare Considerations in Livestock Housing Systems, Szklarska Poreba, Poland, pp 479–490

Zanoli R, Naspetti S (2002) Consumer motivations in the purchase of organic food: a means-end approach. Brit Food J 104:643–653
Acknowledgments
The study was part of the ERA-net CORE Organic project COREPIG (http://corepig.coreportal.org). The authors wish to thank all national funders for their financial support. We would also like to thank Aude Bourgoin and Lene Hegelund for collecting data on farms in France and Denmark as well as all the farmers who participated in the present study. Where required, the national sub-projects were approved according to the national regulations on Ethical approval for research in animals (Sweden: local Ethical Committee for Laboratory Animals in Gothenburg (Göteborgs djurförsöksetiska nämnd, Diary no. 45–2008)).
About this article
Cite this article
Dippel, S., Leeb, C., Bochicchio, D. et al. Health and welfare of organic pigs in Europe assessed with animal-based parameters. Org. Agr. 4, 149–161 (2014). https://doi.org/10.1007/s13165-013-0041-3
Received:

Accepted:

Published:

Issue Date:
Keywords
Sow

Suckling piglet

Weaned piglet

Inter-observer agreement

Monitoring

Status quo