Abstract
Patient RB has a peculiar memory impairment wherein he experiences his memories in rich contextual detail, but claims to not own them. His memories do not feel as if they happened to him. In this paper, I provide an explanatory model of RB's phenomenology, the self-attentional model. I draw upon recent work in neuroscience on self-attentional processing and global workspace models of conscious recollection to show that RB has a self-attentional deficit that inhibits self-bias processes in broadcasting the contents of episodic memories to the global workspace. Typically, self-related contents enjoy a higher salience level than other-related contents. Elimination of bias toward self-related contents diminishes the salience of those contents to the level of other-related contents. Because the typical high salience of self-related content is necessary for the feeling of ownership, RB lacks the feeling of ownership. I also discuss potential applications of the self-attentional model to other psychopathological cases.
Access options
Buy single article
Instant access to the full article PDF.
US$ 39.95
Tax calculation will be finalised during checkout.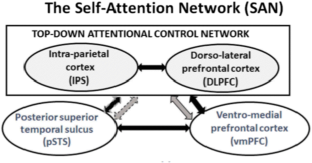 Notes
1.

The following people I would like to thank: Cameron Buckner, Hayley Clatterbuck, Larry Shapiro, Farid Masrour, and Elizabeth Schechter.

2.

3.

This condition, to be elaborated on later, is a certain level of salience of self-related content. By "necessary", I mean that the feeling of ownership cannot come about without such salience. If one thinks that the feeling of ownership supervenes on content, then the salience of self-related content is part of the supervenience base.

4.

I say "might go some way toward identifying the neural correlates of autonoesis", because I wish to remain neutral about whether ownership is a constituent of autonoesis.

5.

In fact, RB apparently now claims ownership over all of his memories (pre- and post-morbid). He does not say that he feels ownership over all of his memories, however. So his coming to judge that he owns all of his memories might very well be explained by inferences made based on his semantic memory.

6.

Personal correspondence with Klein.

7.

I discuss this at length in section 6.1.

8.

I am aware that there is a distinction between judgements of ownership and feelings of ownership (Bayne and Pacherie 2007). Roughly, one judges that they own X, when they have a belief that they own X. In contrast, the feeling of ownership is characterized as a kind of non-conceptual awareness (de Vignemont 2007; Klein 2018). This latter notion is what I will assume.

9.

De Vignemont (2011) distinguishes between three accounts of the relation between ownership and disownership: independent account theory, unified account theory, and discovery theory. The independent account states that the feeling of ownership is independent of the feeling of disownership, i.e., lack of ownership does not entail disownership. The unified account states that lack of ownership entails disownership and vice versa. Finally, the discovery account, which de Vignemont endorses, states that lack of ownership does not entail disownership, but lack of ownership and awareness of this fact does. I agree with de Vignemont that the independent account is mistaken. But I make no claims about whether the unified or discovery account is correct. However, my view is compatible with both.

10.

Some philosophers think that "mineness" should be understood in intentionalist terms, that is, that mineness is identical to or supervenes on content (Fernández, 2019). Some think that it should be understood in non-intentionalist terms. For example, that mineness is a feature of the mode of presentation of content (Klein, 2019), or mineness is an metacognitive epistemic feeling (Perrin et al. 2020). Still others think that mineness is primitive (Billon 2017). Given that I think the feeling of ownership supervenes on the salience of self-related contents, my account assumes intentionalism.

11.

I do not mean that there is an explicit representation of such an expectation.

12.

Standard divided attention paradigms have subjects engage in tasks that divide their attention between the two tasks. This paradigm is typically used to measure whether attention is implicated in the target task.

13.

See De Brigard et al. (2015) for evidence that the vmPFC is preferentially involved in tasks (episodic recollection, future mental time travel, and episodic counterfactual thinking) with self-related contents. See Denny et al. (2012) for a meta-analysis of over 100 neuroimaging studies on self- versus other-related stimuli. Finally, see Wagner et al. (2012) for an extensive review of the mPFC's role in self-related processing.

14.

By "cortical midline regions", I mean areas such as medial PFC, posterior cingulate cortices, and anterior cingulate cortices, among others. Of course, I am most interested in medial PFC.

15.

Additional evidence can be found at Arzy and Schacter (2019); Dafni-Merom and Arzy (2020).

16.

The stimuli were trait adjectives. For the social desirability condition, subjects judged how desirable each trait is. For the syllable condition, subjects judged how many syllables the word has.

17.

Because I think saliency is only a necessary condition, not sufficient.

18.

It is also worth noting that Hirstein and Ramachandran (1997) argued that missing affective glow for perception of loved ones in Capgras' syndrome is caused by missing amygdala connections.

19.

20.

It is worth noting that Humphreys and Sui (2016) state that "future work should not only attempt to better characterize the effective and functional connectivity between vmPFC and pSTS, but also try to elucidate which intermediate cortical or subcortical nodes are missing in the SAN model and what modulatory role they may play" (pg.25; emphasis added). My suggestion, informed by the evidence canvassed here, is that the amygdala and probably the insula are modulated by MPFC and contribute to the high salience of self-related content. I agree further work should attempt to test this.

21.

Thank you to an anonymous reviewer for this fascinating and challenging objection.

22.

At this point, the reader might reasonably wonder what the threshold is for the feeling of ownership. The reader might also wonder what the proportion of saliency is compared to other content. I submit that while these are interesting questions, they are empirical and warrant future investigation. As such, answering these questions is beyond the scope of this paper.

23.

24.

It is also worth noting that this quote is the first (and as far as I know, only) time we are told that RB had working memory loss.

25.

Lemogne and colleagues claim that automatic tagging of incoming information is a paradigmatic case of automatic self-focus and self appraisal judgements are cases of strategic self-focus (see pg.e8).

26.

See also Shin et al. (2015).

27.

It is worth mentioning that Pankow et al. (2016) argue that schizophrenia patients attribute salience to non-self related stimuli and this is (at least partly) explained by the hypoactivity of ventral MPFC.

28.

I say that the self-attentional model can at least partially explain the feeling of ownership because I think that the model puts forward only a necessary condition for ownership, not a sufficient condition.
References
Allen, T.A., and N.J. Fortin. 2013. The evolution of episodic memory. Proceedings of the National Academy of Sciences 110 (Supplement 2): 103.

Arzy, S., and D.L. Schacter. 2019. Self-agency and self-ownership in cognitive mapping. Trends in Cognitive Sciences 23 (6): 476–487.

Ataria, Y. 2014. Acute peritraumatic dissociation: In favor of a phenomenological inquiry. Journal of Trauma & Dissociation 15 (3): 332–347.

Ataria, Y. 2015. Dissociation during trauma: The ownership-agency tradeoff model. Phenomenology and the Cognitive Sciences 14 (4): 1037–1053.

Baddeley, A.D., V. Lewis, M. Eldridge, and N. Thomson. 1984. Attention and retrieval from long-term memory. Journal of Experimental Psychology. General 13: 518–540.

Bargh, J.A., and F. Pratto. 1986. Individual construct accessibility and perceptual selection. Journal of Experimental Social Psychology 22: 293–311.

Bayne, T., and E. Pacherie. 2007. Narrators and comparators: The architecture of agentive self-awareness. Synthese 159 (3): 475–491.

Bernecker, S. 2010. Memory: A philosophical study. Oxford University Press.

Berryhill, M.E., L. Phuong, L. Picasso, R. Cabeza, and I.R. Olson. 2007. Parietal lobe and episodic memory: Bilateral damage causes impaired free recall of autobiographical memory. The Journal of Neuroscience 27: 14415–14423.

Billon, A. 2017. Mineness first: Three challenges to contemporary theories of bodily self-awareness. In The Subject's Matter: Self-Consciousness and the Body, ed. Adrian J.T. Alsmith and Frédérique de Vignemont, 189–216. Boston, USA: MIT Press.

Bisiach, E., and C. Luzzatti. 1978. Unilateral neglect of representational space. Cortex 14: 129–133.

Bradley, A. 2019. The Feeling of Bodily Ownership. Philosophy and Phenomenological Research.

Brédart, S. 2016. A self-reference effect on memory for people: We are particularly good at retrieving people named like us. Frontiers in Psychology 7: 1751.

Cabeza, R., and L. Nyberg. 1997. Imaging cognition: An empirical review of PET studies with normal subjects. Journal of Cognitive Neuroscience 9 (1): 1–26.

Cahill, L., R. Babinsky, H.J. Markowitsch, and J.L. McGaugh. 1995. The amygdala and emotional memory. Nature 377 (6547).

Chai, X.J., S. Whitfield-Gabrieli, A.K. Shinn, J.D. Gabrieli, A.N. Castanón, J.M. McCarthy, et al. 2011. Abnormal medial prefrontal cortex resting-state connectivity in bipolar disorder and schizophrenia. Neuropsychopharmacology 36 (10): 2009–2017.

Chun, M., J. Golomb, and N.B. Turk-Browne. 2011. A taxonomy of external and internal Attention. Annual Review of Psychology 62: 73–101.

Craik, F.I., T.M. Moroz, M. Moscovitch, D.T. Stuss, G. Winocur, E. Tulving, and S. Kapur. 1999. In search of the self: A positron emission tomography study. Psychological Science 10 (1): 26–34.

Cunningham, S.J. 2016. The function of the self-attention network. Cognitive Neuroscience 7 (1–4): 21–22.

De Brigard, F. 2012. The role of attention in conscious recollection. Frontiers in Psychology 3: 29.

De Brigard, F. 2014. Is memory for remembering? Recollection as a form of episodic hypothetical thinking. Synthese 191 (2): 155–185.

De Brigard, F., R.N. Spreng, J.P. Mitchell, and D.L. Schacter. 2015. Neural activity associated with self, other, and object-based counterfactual thinking. Neuroimage 109: 12–26.

De Vignemont, F. 2007. Habeas corpus: The sense of ownership of one's own body. Mind & Language 22 (4): 427–449.

De Vignemont, F. 2011. Embodiment, ownership and disownership. Consciousness and Cognition 20 (1): 82–93.

Dehaene, S., and J. Changeux. 2000. Reward-dependent learning in neuronal networks for planning and decision making. Progress in Brain Research 126: 217–229.

Denny, B.T., H. Kober, T.D. Wager, and K.N. Ochsner. 2012. A meta-analysis of functional neuroimaging studies of self-and other judgments reveals a spatial gradient for mentalizing in medial prefrontal cortex. Journal of Cognitive Neuroscience 24 (8): 1742–1752.

Dugas, L., M. Sierra, and G.E. Berrios. 1996. A case of depersonalization. History of Psychiatry 7 (27): 455–461.

Farmer, H., A. Cataldo, N. Adel, E. Wignall, V. Gallese, O. Deroy, et al. 2020. The detached self: Investigating the effect of depersonalisation on self-bias in the visual remapping of touch. Multisensory Research 1 (aop): 1–22.

Fernández, J. 2019. Memory: A Self-Referential Account. USA: Oxford University Press.

Fink, G.R., H.J. Markowitsch, M. Reinkemeier, T. Bruckbauer, J. Kessler, and W.D. Heiss. 1996. Cerebral representation of one's own past: neural networks involved in autobiographical memory. Journal of Neuroscience 16 (13): 4275–4282.

Fossati, P., S.J. Hevenor, M. Lepage, S.J. Graham, C. Grady, M.L. Keightley, et al. 2004. Distributed self in episodic memory: neural correlates of successful retrieval of self-encoded positive and negative personality traits. Neuroimage 22 (4): 1596–1604.

Frith, C.D., and D.J. Done. 1989. Experiences of alien control in schizophrenia reflect a disorder in the central monitoring of action. Psychological Medicine 19 (2): 359–363.

Gilbert, D.T., and T.D. Wilson. 2007. Prospection: Experiencing the future. Science 317 (5843): 1351–1354.

Gold, J.M., C. Randolph, C.J. Carpenter, T.E. Goldberg, and D.R. Weinberger. 1992. Forms of memory failure in schizophrenia. Journal of Abnormal Psychology 101 (3): 487.

Goldberg, E., S.P. Antin, R.M. Bilder, L.J. Gerstman, J.E. Hughes, and S. Mattis. 1981. Retrograde amnesia: possible role of mesencephalic reticular activation in long-term memory. Science: 1392–1394.

Hirstein, W., and V.S. Ramachandran. 1997. Capgras syndrome: a novel probe for understanding the neural representation of the identity and familiarity of persons. Proceedings of the Royal Society of London Series B: Biological Sciences 264 (1380): 437–444.

Hopper, J.W., Frewen, P.A., van der Kolk, B.A., and R.A., Lanius. 2007. Neural correlates of reexperiencing, avoidance, and dissociation in PTSD: Symptom dimensions and emotion dysregulation in responses to scriptdriven trauma imagery. Journal of traumatic stress 20 (5): 713–725.

Humphreys, G.W., and J. Sui. 2016. Attentional control and the self: the Self-Attention Network (SAN). Cognitive Neuroscience 7 (1–4): 5–17.

Hunkin, N.M., A.J. Parkin, V.A. Bradley, E.H. Burrows, F.K. Aldrich, A. Jansari, and C. Burdon-Cooper. 1995. Focal retrograde amnesia following closed head injury: A case study and theoretical account. Neuropsychologia 33 (4): 509–523.

James, W. 1890. The perception of reality. Principles of Psychology 2: 283–324.

Jimenez, A.M., J. Lee, J.K. Wynn, and M.F. Green. 2018. The neural correlates of self-referential memory encoding and retrieval in schizophrenia. Neuropsychologia 109: 19–27.

Kapur, N., D. Ellison, M.P. Smith, D.L. McLellan, and E.H. Burrows. 1992. Focal retrograde amnesia following bilateral temporal lobe pathology: a neuropsychological and magnetic resonance study. Brain 115 (1): 73–85.

Kapur, N., K. Scholey, E. Moore, S. Barker, J. Brice, S. Thompson, et al. 1996. Long-term retention deficits in two cases of disproportionate retrograde amnesia. Journal of Cognitive Neuroscience 8 (5): 416–434.

Klein, S.B. 2013. Making the case that episodic recollection is attributable to operations occurring at retrieval rather than to content stored in a dedicated subsystem of long-term memory. Frontiers in Behavioral Neuroscience 7: 3.

Klein, S.B. 2015a. The feeling of personal ownership of one's mental states: A conceptual argument and empirical evidence for an essential, but underappreciated, mechanism of mind. Psychology of Consciousness: Theory, Research, and Practice 2 (4): 355.

Klein, S.B. 2015b. What memory is. Wiley Interdisciplinary Reviews: Cognitive Science 6 (1): 1–38.

Klein, S.B. 2016a. Autonoetic consciousness: Reconsidering the role of episodic memory in future-oriented self-projection. The Quarterly Journal of Experimental Psychology 69 (2): 381–401.

Klein, S.B. 2016b. Lost feeling of ownership of one's mental states: the importance of situating patient RB's pathology in the context of contemporary theory and empiricism. Philosophical Psychology 29 (4): 490–493.

Klein, S.B. 2019. The phenomenology of REM-sleep dreaming: The contributions of personal and perspectival ownership, subjective temporality, and episodic memory. Psychology of Consciousness: Theory, Research, and Practice 6 (1): 55.

Klein, S.B., and S. Nichols. 2012. Memory and the sense of personal identity. Mind 121 (483): 677–702.

Kopelman, M.D. 1993. The neuropsychology of remote memory. Handbook of Neuropsychology: 215–238.

Kühn, S., and J. Gallinat. 2013. Resting-state brain activity in schizophrenia and major depression: a quantitative meta-analysis. Schizophrenia Bulletin 39 (2): 358–365.

Kurczek, J., E. Wechsler, S. Ahuja, U. Jensen, N.J. Cohen, D. Tranel, and M. Duff. 2015. Differential contributions of hippocampus and medial prefrontal cortex to self-projection and self-referential processing. Neuropsychologia 73: 116–126.

Lanius, R.A., E. Vermetten, R.J. Loewenstein, B. Brand, C. Schmahl, J.D. Bremner, and D. Spiegel. 2010. Emotion modulation in PTSD: Clinical and neurobiological evidence for a dissociative subtype. American Journal of Psychiatry 167 (6): 640–647.

Lau, H.C., R.D. Rogers, P. Haggard, and R.E. Passingham. 2004. Attention to intention. Science 303 (5661): 1208–1210.

Lemogne, C., P. Piolino, S. Friszer, A. Claret, N. Girault, R. Jouvent, et al. 2006. Episodic autobiographical memory in depression: Specificity, autonoetic consciousness, and self-perspective. Consciousness and Cognition 15 (2): 258–268.

Lemogne, C., P. Delaveau, M. Freton, S. Guionnet, and P. Fossati. 2012. Medial prefrontal cortex and the self in major depression. Journal of Affective Disorders 136 (1–2): e1–e11.

Levine, B., S.E. Black, R. Cabeza, M. Sinden, A.R. McIntosh, J.P. Toth, et al. 1998. Episodic memory and the self in a case of isolated retrograde amnesia. Brain: a Journal of Neurology 121 (10): 1951–1973.

Liu, M., He, X., Rotsthein, P., and Sui, J. (2016) Dynamically orienting your own face facilitates the automatic attraction of attention. Cognitive Neuroscience, 7:1–4, 37–44. https://doi.org/10.1080/17588928.2015.1044428.

Markowitsch, H.J., G.R. Fink, A. Thone, J. Kessler, and W.D. Heiss. 1997. A PET study of persistent psychogenic amnesia covering the whole life span. Cognitive Neuropsychiatry 2 (2): 135–158.

Mattioli, F., F. Grassi, D. Perani, S.F. Cappa, A. Miozzo, and F. Fazio. 1996. Persistent post-traumatic retrograde amnesia: a neuropsychological and (18F) FDG PET study. Cortex 32 (1): 121–129.

McLeod, H.J., N. Wood, and C.R. Brewin. 2006. Autobiographical memory deficits in schizophrenia. Cognition and Emotion 20 (3–4): 536–547.

Medford, N., B. Brierley, M. Brammer, E.T. Bullmore, A.S. David, and M.L. Phillips. 2006. Emotional memory in depersonalization disorder: a functional MRI study. Psychiatry Research: Neuroimaging 148 (2–3): 93–102.

Medford, N., M. Sierra, A. Stringaris, V. Giampietro, M.J. Brammer, and A.S. David. 2016. Emotional experience and awareness of self: Functional MRI studies of depersonalization disorder. Frontiers in Psychology 7: 432.

Michaelian, K. 2011. Is memory a natural kind? Memory Studies 4 (2): 170–189.

Mier, D., S. Eisenacher, F. Rausch, S. Englisch, M.F. Gerchen, V. Zamoscik, et al. 2017. Aberrant activity and connectivity of the posterior superior temporal sulcus during social cognition in schizophrenia. European Archives of Psychiatry and Clinical Neuroscience 267 (7): 597–610.

Moray, N. 1959. Attention in dichotic listening: Affective cues and the influence of instructions. Quarterly Journal of Experimental Psychology 11: 56–60.

Moroz, T. (1999). Episodic memory for personally relevant information, evidence from aging, divided attention at retrieval and positron emission tomography (Doctoral dissertation, National Library of Canada = Bibliothèque nationale du Canada).

Nelson, B., T.J. Whitford, S. Lavoie, and L.A. Sass. 2014a. What are the neurocognitive correlates of basic self-disturbance in schizophrenia?: Integrating phenomenology and neurocognition. Part 1 (Source monitoring deficits). Schizophrenia research 152 (1): 12–19.

Nelson, B., T.J. Whitford, S. Lavoie, and L.A. Sass. 2014b. What are the neurocognitive correlates of basic self-disturbance in schizophrenia?: Integrating phenomenology and neurocognition: Part 2 (Aberrant salience). Schizophrenia research 152 (1): 20–27.

Nobre, A.C., J.T. Coull, P. Maquet, C.D. Frith, R. Vandenberghe, and M.M. Mesulam. 2004. Orienting attention to locations in perceptual versus mental representations. Journal of Cognitive Neuroscience 16: 363–373.

Nyberg, L., R. Cabeza, and E. Tulving. 1996. PET studies of encoding and retrieval: The HERA model. Psychonomic Bulletin & Review 3 (2): 135–148.

Pankow, A., T. Katthagen, S. Diner, L. Deserno, R. Boehme, N. Kathmann, et al. 2016. Aberrant salience is related to dysfunctional self-referential processing in psychosis. Schizophrenia Bulletin 42 (1): 67–76.

Perrin, D., K. Michaelian, and A. Sant'Anna. 2020. The Phenomenology of Remembering Is an Epistemic Feeling. Frontiers in Psychology 11: 1531. https://doi.org/10.3389/fpsyg.2020.01531.

Phelps, E.A., and A. K., Anderson. 1997. Emotional memory: what does the amygdala do?. Current biology 7 (5): R311–R314.

Phillips, M.L., and M. Sierra. 2003. Depersonalization disorder: a functional neuroanatomical perspective. Stress 6 (3): 157–165.

Poulin, S., and D.N. Black. 2006. Neurobiology and Neuroimaging of Depersonalization, Conversion, and Dissociation. Psychiatric Times 23 (7): 47–47.

Robins, S.K. 2017. Confabulation and constructive memory. Synthese: 1–17.

Schacter, D. L., and D. R., Addis. 2007. The cognitive neuroscience of constructive memory: remembering the past and imagining the future. Philosophical Transactions of the Royal Society B: Biological Sciences 362 (1481): 773–786.

Schmitz, T.W., and S.C. Johnson. 2006. Self-appraisal decisions evoke dissociated dorsal—ventral aMPFC networks. Neuroimage 30 (3): 1050–1058.

Shin, J.E., S.H. Choi, H. Lee, Y.S. Shin, D.P. Jang, and J.J. Kim. 2015. Involvement of the dorsolateral prefrontal cortex and superior temporal sulcus in impaired social perception in schizophrenia. Progress in Neuro-Psychopharmacology and Biological Psychiatry 58: 81–88.

Sierra, M. 2009. Depersonalization: A new look at a neglected syndrome. Cambridge University Press.

Sierra, M., and G.E. Berrios. 1998. Depersonalization: neurobiological perspectives. Biological Psychiatry 44 (9): 898–908.

Sierra, M., and G.E. Berrios. 2000. The Cambridge Depersonalisation Scale: A new instrument for the measurement of depersonalisation. Psychiatry Research 93 (2): 153–164.

Sierra, M., and A.S. David. 2011. Depersonalization: a selective impairment of self-awareness. Consciousness and Cognition 20 (1): 99–108.

Sierra, M., D. Baker, N. Medford, and A.S. David. 2005. Unpacking the depersonalization syndrome: an exploratory factor analysis on the Cambridge Depersonalization Scale. Psychological Medicine 35 (10): 1523–1532.

Simeon, D., and J. Abugel. 2006. Feeling unreal: Depersonalization disorder and the loss of the self. USA: Oxford University Press.

Simeon, D., O. Guralnik, E.A. Hazlett, J. Spiegel-Cohen, E. Hollander, and M.S. Buchsbaum. 2000. Feeling unreal: a PET study of depersonalization disorder. American Journal of Psychiatry 157 (11): 1782–1788.

Smith, T. W., and J., Greenberg. 1981. Depression and self-focused attention. Motivation and emotion 5(4), 323–331.

Sui, J., and G.W. Humphreys. 2013. The boundaries of self-face perception: response time distributions, perceptual categories and decision weighting. Visual Cognition 21: 415–445.

Sui, J., P. Rotshtein, and G.W. Humphreys. 2013. Coupling social attention to the self forms a network for personal significance. Proceedings of the National Academy of Sciences of the United States of America 110: 7607–7612.

Symons, C.S., and B.T., Johnson 1997. The self-reference effect in memory: a meta-analysis. Psychological bulletin 121 (3): 371.

Tulving, E. 1972. Episodic and semantic memory. Organization of Memory 1: 381–403.

Tulving, E. 1982. Synergistic ecphory in recall and recognition. Canadian Journal of Psychology 36: 130–147.

Tulving, E. 1985. Memory and consciousness. Canadian Psychology/Psychologie Canadienne 26 (1): 1.

Tulving, E. 1993. What is episodic memory? Current Directions in Psychological Science 2 (3): 67–70.

Tulving, E. 2002. Episodic memory: from mind to brain. Annual Review of Psychology 53 (1): 1–25.

Tulving, E. 2005. Episodic Memory and Autonoesis: Uniquely Human? 1. The Missing Link in Cognition: Origins of Self-Reflective Consciousness.

Turk, D.J., S.J. Cunningham, and C.N. Macrae. 2008. Self-memory biases in explicit and incidental encoding of trait adjectives. Consciousness and Cognition 17 (3): 1040–1045.

Turk, D.J., K. Van Bussel, J.L. Brebner, A.S. Toma, O. Krigolson, and T.C. Handy. 2011. When "it" becomes "mine": Attentional biases triggered by object ownership. Journal of Cognitive Neuroscience 23 (12): 3725–3733.

Turk, D.J., M. Brady-Van den Bos, P. Collard, K. Gillespie-Smith, M.A. Conway, and S.J. Cunningham. 2013. Divided attention selectively impairs memory for self-relevant information. Memory & Cognition 41 (4): 503–510.

van den Bos, M., S.J. Cunningham, M.A. Conway, and D.J. Turk. 2010. Mine to remember: The impact of ownership on recollective experience. Quarterly Journal of Experimental Psychology 63 (6): 1065–1071.

Wagner, D.D., J.V. Haxby, and T.F. Heatherton. 2012. The representation of self and person knowledge in the medial prefrontal cortex. Wiley Interdisciplinary Reviews: Cognitive Science 3 (4): 451–470.

Wood, N.L., and N. Cowan. 1995. The cocktail party phenomenon revisited: Attention and memory in the classic selective listening procedure of Cherry (1953). Journal of Experimental Psychology: Learning, Memory, & Cognition 21: 255–260.
Additional information
Publisher's Note
Springer Nature remains neutral with regard to jurisdictional claims in published maps and institutional affiliations.
About this article
Cite this article
Gentry, H. Special Attention to the Self: a Mechanistic Model of Patient RB's Lost Feeling of Ownership. Rev.Phil.Psych. (2021). https://doi.org/10.1007/s13164-021-00574-1