Abtract
Technologies both new and old provide us with a wide range of cognitive artifacts that change the structure of our cognitive tasks. After a brief analysis of past classifications of these artifacts, I shall elaborate a new way of classifying them developed by focusing on an aspect that has been previously overlooked, namely the possible relationships between these objects and the cognitive processes they involve. Cognitive artifacts are often considered as objects that simply complement our cognitive capabilities, but this "complementary view" seems to be an oversimplification. Assuming an "interaction-centered approach", this article identifies three essential ways in which cognitive artifacts carry out their function: complementing, constituting and substituting our cognitive processes, and builds a taxonomy of these objects that is grounded on these relations. In so doing, it also addresses the chaotic set of different micro-functions carried out by cognitive artifacts, which have not thus far been dealt with, sorting these functions into three corresponding categories. The second part of the article analyzes in greater detail how cognitive artifacts work in our cognitive life, identifying a new kind of functions, called semi-proper functions, and providing a new definition of cognitive artifact based on the previous analysis of these objects.
This is a preview of subscription content, log in to check access.
Access options
Buy single article
Instant access to the full article PDF.
US$ 39.95
Price includes VAT for USA
Subscribe to journal
Immediate online access to all issues from 2019. Subscription will auto renew annually.
US$ 99
This is the net price. Taxes to be calculated in checkout.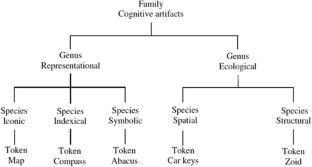 References
Baker, L.R. 2007. The metaphysics of everyday life: An essay in practical realism. Cambridge: Cambridge University Press.

Bird, A., and E. Tobin, 2016. Natural kinds. In The Stanford Encyclopedia of Philosophy, ed. E. N. Zalta, https://plato.stanford.edu/archives/win2016/entries/natural-kinds/.

Bloom, P. 1998. Theories of artifact categorization. Cognition 66: 87–93.

Brey, P. 2000. Theories of technology as extensions of human faculties. In Metaphysics, epistemology and technology. Research in philosophy and technology, ed. C. Mitcham, vol. 19, 59–78. London: Elsevier/JAI press.

Brey, P. 2005. The epistemology and ontology of human-computer interaction. Minds & Machines 15: 383–398 Carr.

Carr, N. 2011. The shallows: What the internet is doing to your brain. New York: W.W. Norton & Company.

Carrara, M., and D. Mingardo. 2013. Artifact categorization. Trends and problems. The Review of Philosophy and Psychology 4: 351–373.

Casati, R. 2017. Two, then four modes of functioning of the mind: Towards an unification of "dual" theories of reasoning and theories of cognitive artifacts. In J. Zacks, H. Taylor, eds. Representations in Mind and World. Essays Inspired by Barbara Tversky, 7–23.

Clark, A. 2004. Towards a science of the biotechnological mind. In Cognition and technology: Coexistence, convergence and co-evolution, ed. B. Gorayska and J. Mey, 25–36. Amsterdam: John Benjamins Publishing Company.

Davies, J., and K. Michaelian. 2016. Identifying and individuating cognitive systems: A task based distributed cognition alternative to agent-based extended cognition. Cognitive Processing 17: 307–319.

Dupré, J. 1993. The disorder of things: Metaphisical foundations of the disunity of science. Cambridge: Harvard University Press.

Fasoli, M. 2016. Neuroethics of cognitive artifacts. In Frontiers in neuroethics: Conceptual and empirical advancements, ed. A. Lavazza, 63–75. Newcastle upon Tyne: Cambridge scholars publishing.

Fasoli, M., and M. Carrara. 2016. Classificare gli artefatti cognitivi: una proposta. Sistemi Intelligenti 2: 49–68.

Gawande, A. 2009. The checklist manifesto. New York: Metropolitan Books.

Gelman, S.A., and P. Bloom. 2000. Young children are sensitive to how an object was created when deciding what to name it. Cognition 76 (2): 91–103.

Heersmink, R. 2013. A taxonomy of cognitive artifacts: Function, information, and categories. Review of Philosphy and Psychology 4: 465–481.

Heersmink, R. 2014. The metaphysics of cognitive artifacts. Philosophical Explorations 19 (1): 1–16.

Heersmink, R. 2015. Extended mind and cognitive enhancement: Moral aspects of cognitive artifacts. Phenomenology and the Cognitive Sciences 16: 1–16.

Hutchins, E. 1999. Cognitive artifacts. In The MIT encyclopaedia of the cognitive sciences, ed. R.A. Wilson and F.C. Keil, 126–128. Cambridge: MIT Press.

Hutchins, E. 2014. The cultural ecosystem of human cognition. Philosophical Psychology 27: 34–49.

Javadi, A.H., B. Emo, L.R. Howard, F.E. Zisch, Y. Yu, R. Knight, et al. 2017. Hippocampal and prefrontal processing of network topology to simulate the future. Nature Communications 8: 14652.

Kahneman, D. 2011. Thinking, fast and slow. Macmillan.

Kirsh, D. 1995. The intelligent use of space. Artificial Intelligence 72: 31–68.

Kirsh, D., and P. Maglio. 1994. On distinguishing epistemic from pragmatic action. Cognitive Science 18: 513–549.

Kornblith, H. 1980. Referring to artifacts. The Philosophical Review LXXXIX: 109–114.

Latour, B. 1994. On technical mediation. Common Knowledge 3 (2): 29–64.

Malt, B.C., and S.A. Sloman. 2007a. Category essence or essentially pragmatic? Creator's Intention in naming and what's really what. Cognition 105: 615–648.

Malt, B.C., and S.A. Sloman. 2007b. Artifact categorization: The good, the bad, and the ugly. In Creations of the mind: Theories of artifacts and their representation, ed. E. Margolis and S. Laurence, 85–123. Oxford and New York: Oxford University Press.

Norman, D. 1991. Cognitive artifacts. In Designing interaction: Psychology at the human-computer interface, ed. J.M. Carroll, 17–38. Cambridge: Cambridge University Press.

Norman, D. 1993. Things that make us smart: Defending human attributes in the age of the machine. New York: Basic Books.

Peirce, C.S. 1935. The collected papers of Charles Peirce. Vol. 3. Cambridge: MIT Press.

Pitt, J. 2014. 'Guns Don't kill, people kill'; values in and/or around technologies. In The moral status of technical artefacts, ed. P. Kroes and P. Verbeek, 89–102. Dordrecht: Springer.

Preston, B. 1998. Why is a wing like a spoon, a pluralist theory of function. The Journal of Philosophy 95 (5): 215–254.

Preston, B. 2013. A philosophy of material culture: Action, function, and mind. New York: Routledge.

Shapiro, L.A. 2008. Functionalism and mental boundaries. Cognitive Systems Research 9 (1): 5–14.

Sutton, J. 2010. Exograms and interdisciplinarity: History, the extended mind and the civilizing process. In The extended mind, ed. R. Menary, 189–225. MIT Press: Cambridge.

Vaccari, A.P. 2016. Against cognitive artifacts: Extended cognition and the problem of defining 'artifact'. Phenomenology and the Cognitive Sciences 1–14.
About this article
Cite this article
Fasoli, M. Substitutive, Complementary and Constitutive Cognitive Artifacts: Developing an Interaction-Centered Approach. Rev.Phil.Psych. 9, 671–687 (2018). https://doi.org/10.1007/s13164-017-0363-2