Abstract
In this article, we present evidence of a bidirectional coupling between moral concern and the attribution of properties and states that are associated with experience (e.g., conscious awareness, feelings). This coupling is also shown to be stronger with experience than for the attribution of properties and states more closely associated with agency (e.g., free will, thoughts). We report the results of four studies. In the first two studies, we vary the description of the mental capacities of a creature, and assess the effects of these manipulations on moral concern. The third and fourth studies examine the effects of variations in moral concern on attributions of mindedness. Results from the first two studies indicate that moral concern depends primarily on the attribution of experience, rather than the attribution of agency. The results of the latter two studies demonstrate that moral concern increases attributions of mindedness, and that this effect is stronger for attributions of experience than for attributions of agency.
Access options
Buy single article
Instant access to the full article PDF.
US$ 39.95
Tax calculation will be finalised during checkout.
Subscribe to journal
Immediate online access to all issues from 2019. Subscription will auto renew annually.
US$ 79
Tax calculation will be finalised during checkout.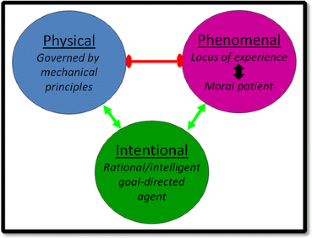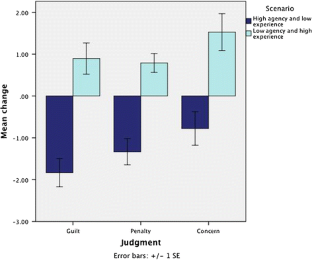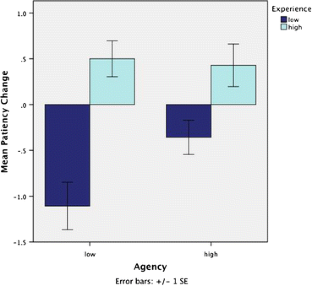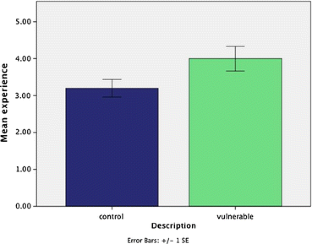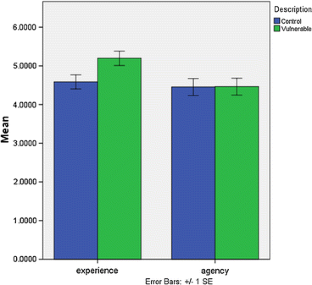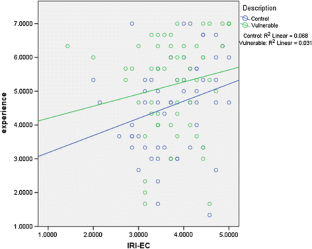 References
Arico, A., B. Fiala, R.F. Goldberg, and S. Nichols. 2011. The folk psychology of consciousness. Mind and Language 26: 327–352.

Bentham, J. 1789. Introduction to the principles of morals and legislation. Oxford: Clarendon.

Davis, M.H. 1980. A multidimensional approach to individual differences in empathy. JSAS Catalog of Selected Documents in Psychology 10: 85.

Dretske, F. 1991. Explaining behavior: Reasons in a world of causes. Cambridge: MIT Press.

Epley, N., S. Akalis, A. Waytz, and J.T. Cacioppo. 2008. Creating social connection through inferential reproduction: Loneliness and perceived agency in gadgets, gods, and greyhounds. Psychological Science 19: 114–120.

Fiala, B., A. Arico, and S. Nichols. 2011. On the psychological origins of dualism: Dual-process cognition and the explanatory gap. In Creating consilience: Integrating science and the humanities, ed. M. Collard and E. Slingerland. Oxford: Oxford University Press.

Fiske, S.T., A.J. Cuddy, P. Glick, and J. Xu. 2002. A model of (often mixed) stereotype content: Competence and warmth respectively follow from perceived status and competition. Journal of Personality and Social Psychology 82: 878–902.

Frederick, S. 2005. Cognitive reflection and decision making. Journal of Economic Perspectives 19: 25–42.

Gray, K., and D.M. Wegner. 2009. Moral typecasting: Divergent perceptions of moral agents and moral patients. Journal of Personality and Social Psychology 96: 505–520.

Gray, H., K. Gray, and D.M. Wegner. 2007. Dimensions of mind perception. Science 315: 619.

Haslam, N. 2006. Dehumanization: An integrative review. Personality and Social Psychology Review 10: 252–264.

Hughes, M.E., L.J. Waite, L.C. Hawkley, and J.T. Cacioppo. 2004. A short scale for measuring loneliness in large surveys: Results from two population-based studies. Research on Aging 26: 655–672.

Knobe, J. and J. J. Prinz. 2008. Intuitions about consciousness: Experimental studies. Phenomenology and the Cognitive Sciences 7: 67–83.

Krämer, U.M., B. Mohammadi, N. Doñamayor, A. Samii, and T.F. Münte. 2010. Emotional and cognitive aspects of empathy and their relation to social cognition — an fMRI-study. Brain Research 1311: 110–120.

Leyens, J.Ph, P.M. Paladino, R.T. Rodriguez, J. Vaes, S. Demoulin, A.P. Rodriguez, and R. Gaunt. 2000. The emotional side of prejudice: The role of secondary emotions. Personality and Social Psychology Review 4: 186–197.

Paulhus, D.L., C.S. Neumann, and R.D. Hare. in press. Manual for the self-report psychopathy scale, 4th ed. Toronto: Multi-Health Systems.

Robbins, P., and A.I. Jack. 2006. The phenomenal stance. Philosophical Studies 127: 59–85.

Schilbach, L., D. Bzdok, B. Timmermans, P.T. Fox, A.R. Laird, K. Vogeley, and S.B. Eickhoff. 2012. Introspective minds: Using ALE meta-analyses to study commonalities in the neural correlates of emotional processing, social and unconstrained cognition. PLoS One 7: e30920. doi:10.1371/journal.pone.0030920.

Searle, J. 1980. Minds, brains, and programs. Behavioral and Brain Sciences 3: 417–457.

Shamay-Tsoory, S.G., J. Aharon-Peretz, and D. Perry. 2009. Two systems for empathy: A double dissociation between emotional and cognitive empathy in inferior frontal gyrus versus ventromedial prefrontal lesions. Brain 132: 617–627.

Smith, D.L. 2011. Less than human: Why we demean, enslave, and exterminate others. New York: St. Martin's Press.

Sytsma, J. and E. Machery. 2012. The two sources of moral standing. Review of Philosophy and Psychology 3.

Zaki, J., and K.N. Ochsner. 2011. You, me, and my brain: Self and other representation in social cognitive neuroscience. In Social neuroscience: Toward understanding the underpinnings of the social mind, ed. A. Todorov, S.T. Fiske, and D. Prentice, 14–39. New York: Oxford University Press.
About this article
Cite this article
Jack, A.I., Robbins, P. The Phenomenal Stance Revisited. Rev.Phil.Psych. 3, 383–403 (2012). https://doi.org/10.1007/s13164-012-0104-5
Keywords
Moral Consideration

Moral Concern

Moral Cognition

Phenomenal Consciousness

Intentional Agency