Abstract
Do victims' emotions underlie preschoolers' moral judgment abilities? Study 1 asked preschoolers (n = 72) to judge actions directed at characters who could and could not feel hurt and who did and did not cry. These judgments took into account only the nature of the action, not the nature of the victim. To further investigate how victims' emotions might impact children's moral judgments, Study 2 presented preschoolers (n = 37) with stories that varied in transgression type (Moral, Conventional, or None) and victim's reaction (Crying Present or Crying Absent). As in Study 1, children's judgments were affected primarily by transgression type, and not by emotion. In an analogous task, judgments of children with autism spectrum disorders (Study 3; n = 12) were affected by both transgression type and crying. Typically developing children's moral judgments are thus concerned primarily with action type, not with emotional displays, but the judgments of children with autism spectrum disorders can be swayed by victims' emotions.
This is a preview of subscription content, log in to check access.
Access options
Buy single article
Instant access to the full article PDF.
US$ 39.95
Price includes VAT for USA
Subscribe to journal
Immediate online access to all issues from 2019. Subscription will auto renew annually.
US$ 99
This is the net price. Taxes to be calculated in checkout.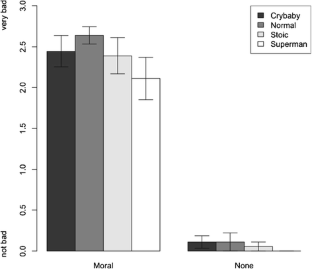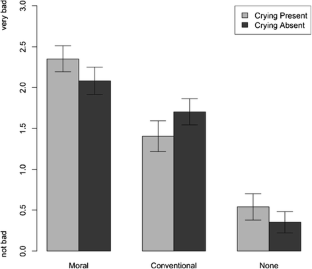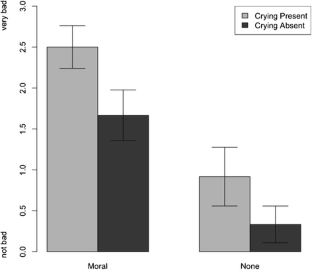 Notes
1.

We thank an anonymous reviewer for pointing out that there may be different types of crybabies. Our Crybaby character cries without feeling hurt, but someone could also be a crybaby becuase s/he is overly sensitive and is genuinely hurt by things that would not hurt most other people. It is possible that children may respond differently to these two different types of crybabies. But because the current investigation focuses on the role of felt harm, we chose to emphasize that no harm has been caused in the case of our Crybaby character.
References
Arsenio, W., and A. Lover. 1995. Children's conceptions of sociomoral affect: Happy victimizers, mixed emotions, and other expectancies. In Morality in everyday life: Developmental perspectives, ed. M. Killen and D. Hart, 87–128. New York: Cambridge University Press.

Baron-Cohen, S., A.M. Leslie, and U. Frith. 1985. Does the autistic child have a "theory of mind"? Cognition 21: 37–46.

Blair, R.J.R. 1996. Brief report: morality in the autistic child. Journal of Autism and Developmental Disorders 26: 571–579.

Blair, R.J.R. 1999. Psychophysiological responsiveness to the distress of others in children with autism. Personality and Individual Differences 26: 477–485.

Bowler, D.M. 1992. "Theory of mind" in Asperger's syndrome. Journal of Child Psychology and Psychiatry 33(5): 877–893.

Cushman, F. 2008. Crime and punishment: distinguishing the roles of causal and intentional analyses in moral judgment. Cognition 108: 353–380.

Darley, J.M. 1993. Research on morality: possible approaches, actual approaches. Psychological Science 4: 353–357.

Dunn, L.M., and L.M. Dunn. 1997. Peabody Picture Vocabulary Test (PPVT III). Circle Pines, MN: American Guidance Service.

Frith, U. 2004. Confusions and controversies about Asperger syndrome. Journal of Child Psychology and Psychiatry 45: 672–686.

Frith, U., J. Morton, and A.M. Leslie. 1991. The cognitive basis of a biological disorder: Autism. Trends in Neurosciences 14: 433–438.

Grant, C.M., J. Boucher, K.J. Riggs, and A. Grayson. 2005. Moral understanding in children with autism. Autism 9(3): 317–331.

Greene, J.D., R.B. Sommerville, L.E. Nystrom, J.M. Darley, and J.D. Cohen. 2001. An fMRI investigation of emotional engagement in moral judgment. Science 293: 2105–2108.

Haidt, J. 2001. The emotional dog and its rational tail: a social intuitionist approach to moral judgment. Psychological Review 108: 814–834.

Haidt, J. 2007. The new synthesis in moral psychology. Science 316: 998–1002.

Haidt, J. 2008. Morality. Perspectives on Psychological Science 3: 65–72.

Happé, F.G.E. 1995. The role of age and verbal ability in the theory of mind task performance of subjects with autism. Child Development 66(3): 843–855.

Hobson, J.A., R. Harris, R. Garcia-Perez, and R.P. Hobson. 2009. Anticipatory concern: a study in autism. Developmental Science 12(2): 249–263.

Kagan, J. 1984. The nature of the child. New York: Basic Books.

Killen, M., K.L. Mulvey, C. Richardson, N. Jampol, and A. Woodward. 2011. The accidental transgressor: morally-relevant theory of mind. Cognition 119: 197–215.

Kohlberg, L. 1969. Stage and sequence: The cognitive-developmental approach to socialization. In Handbook of socialization theory and research, ed. D.A. Goslin, 347–480. Chicago: Rand McNally.

Kohlberg, L., C. Levine, and A. Hewer. 1983. Moral stages: A current formulation and a response to critics. Basel, Switzerland: Karger.

Leslie, A.M., J. Knobe, and A. Cohen. 2006a. Acting intentionally and the side-effect effect. Psychological Science 17(5): 421–427.

Leslie, A.M., R. Mallon, and J.A. DiCorcia. 2006b. Transgressors, victims, and cry babies: is basic moral judgment spared in autism? Social Neuroscience 1: 270–283.

Moran, J., L. Young, R. Saxe, S. Lee, D. O'Young, P. Mavros, and J. Gabrieli. 2011. Impaired theory of mind for moral judgment in high functioning autism. Proceedings of the National Academy of Sciences 108: 2688–2692.

Nichols, S. 2002. Norms with feeling: towards a psychological account of moral judgment. Cognition 84: 221–236.

Nichols, S. 2004. Sentimental rules: on the natural foundations of moral judgment. New York: Oxford University Press.

Nucci, L. 1985. Social conflict and the development of children's moral and conventional concepts. New Directions for Child Development 29: 55–70.

Nuñez, M., and P.L. Harris. 1998. Psychological and deontic concepts: separate domains or intimate connection? Mind & Language 13: 153–170.

Pizarro, D.A., and P. Bloom. 2003. The intelligence of the moral intuitions: comment on Haidt (2001). Psychological Review 110: 193–196.

Prinz, J. 2006. The emotional basis of moral judgments. Philosophical Explorations 9: 29–43.

Selman, R.L. 1971. The relation of role taking to the development of moral judgment in children. Child Development 42: 79–91.

Senju, A., V. Southgate, S. White, and U. Frith. 2009. Mindblind eyes: an absence of spontaneous theory of mind in Asperger syndrome. Science 325(5942): 883–885.

Shaw, L.A., and C. Wainryb. 2006. When victims don't cry: children's understanding of victimization, compliance, and subversion. Child Development 77(4): 1050–1062.

Siegal, M., and C.C. Peterson. 1998. Preschoolers' understanding of lies and innocent and negligent mistakes. Developmental Psychology 34: 332–341.

Smetana, J.G. 1981. Preschool children's conceptions of moral and social rules. Child Development 52: 1333–1336.

Smetana, J.G. 1983. Social-cognitive development: domain distinctions and coordinations. Developmental Review 3: 131–147.

Smetana, J.G. 1985. Preschool children's conceptions of transgressions: effects of varying moral and conventional domain-related attributes. Developmental Psychology 21: 18–29.

Turiel, E. 1978. Social regulations and domains of social concepts. New Directions for Child and Adolescent Development 1: 45–74.

Turiel, E. 1983. The development of social knowledge: morality and convention. Cambridge: Cambridge University Press.

Turiel, E., and M. Killen. 2010. Taking emotions seriously: The role of emotions in moral development. In Emotions, aggression, and morality in children: Bridging development and psychopathology, ed. W.F. Arsenio and E.A. Lemerise, 33–52. Washington, DC: American Psychological Association Press.

Vaish, A., M. Carpenter, and M. Tomasello. 2009. Sympathy through affective perspective taking and its relation to prosocial behavior in toddlers. Developmental Psychology 45(2): 534–543.

Young, L., J.A. Camprodon, M. Hauser, A. Pascual-Leone, and R. Saxe. 2010. Disruption of the right temporoparietal junction with transcranial magnetic stimulation reduces the role of beliefs in moral judgments. Proceedings of the National Academy of Sciences 107(15): 6753–6758.

Young, L., F. Cushman, M. Hauser, and R. Saxe. 2007. The neural basis of the interaction between theory of mind and moral judgment. Proceedings of the National Academy of Sciences 104(20): 8235–8240.

Zalla, T., L. Barlassina, M. Buon, and M. Leboyer. 2011. Moral judgment in adults with autism spectrum disorders. Cognition 121: 115–126.

Zelazo, P.D., C.C. Helwig, and A. Lau. 1996. Intention, act, and outcome in behavioral prediction and moral judgment. Child Development 67: 2478–2492.
Acknowledgments
We would like to thank all of the child participants and their parents and teachers for their cooperation in this research. Thanks also to the members of the Cognition and Development Lab, especially Melissa Kibbe, Katya Saunders, and Lu Wang, for their assistance in developing stimuli and testing subjects. This research was supported by NSF grants BCS-0725169 and BCS-0922184.
About this article
Cite this article
Weisberg, D.S., Leslie, A.M. The Role of Victims' Emotions in Preschoolers' Moral Judgments. Rev.Phil.Psych. 3, 439–455 (2012). https://doi.org/10.1007/s13164-012-0101-8
Keywords
Autism Spectrum Disorder

Autism Spectrum Disorder

Moral Judgment

Moral Rule

Test Question