Abstract
Past efforts to explain variation of invertebrate assemblages in freshwater wetlands have been less productive than anticipated. To explore why efforts are disappointing, we assembled large invertebrate data sets from North Dakota prairie potholes, California rock pools, and Georgia Carolina bay wetlands that addressed spatial (among wetlands) and temporal (among seasons and years) variation. We anticipated that these large data-set sizes would enable robust conclusions to be drawn, and each place had unique environmental conditions that might contribute to greater explanatory power. We used statistical techniques that partitioned variation in invertebrate assemblages into spatial and/or temporal components, and that also yielded a measure of the amount of unexplained variation; Permutational Multivariate Analysis of Variation and Principal Coordinates Analysis assessed whole assemblage variation, and Analysis of Variance or Analysis of Covariance assessed variation in taxon richness, total abundances, and abundances of wide-spread individual taxa. Across all locations, variation explained by spatial and temporal factors, and unexplained variation were of comparable magnitudes (i.e., similar R2 values of ~ 50%). Review of other published studies indicate that this pattern is widespread. The 50% or more unexplained variation is typically ignored by researchers, who instead focus on explained fractions. We argue that, besides addressing explained spatial and temporal variation in invertebrate assemblages (e.g., control by hydrology, resources, predation), efforts to understand what contributes to currently unexplained variation, that is unrelated to local spatial or temporal controls (e.g., broad climatic and biogeographic patterns, organism physiology and behavior), will lead to a fuller comprehension of how invertebrates in freshwater wetlands are controlled.
Access options
Buy single article
Instant access to the full article PDF.
USD 39.95
Price excludes VAT (USA)
Tax calculation will be finalised during checkout.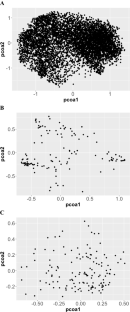 Data Availability
Federally funded data for this study (North Dakota sites) are available in a U.S. Geological Survey data release (Mushet et al. 2017). At the time of publication, Georgia and California data were not published but are available from DPB upon reasonable request.
References
Almeida-Gomes M, Valente-Neto F, Pacheco EO, Ganci CC, Leibold MA, Melo AS, Provete DB (2020) How does the landscape affect metacommunity structure? A quantitative review for lentic environments. Current Landscape Ecology Reports 5:68–75. https://doi.org/10.1007/s40823-020-00049-6

Anderson SE, Closs GP, Matthaei CD (2020) Agricultural land-use legacy, the invasive alga Didymosphenia geminata and invertebrate communities in upland streams with natural flow regimes. Environmental Management 65:804–817. https://doi.org/10.1007/s00267-020-01285-6

Badosa A, Frisch D, Green AJ, Rico C, Gómez A (2017) Isolation mediates persistent founder effects on zooplankton colonisation in new temporary ponds. Scientific Reports 7:1–11. https://doi.org/10.1038/srep43983

Batzer DP (2013) The seemingly intractable ecological responses of invertebrates in North American wetlands: a review. Wetlands 33:1–15. https://doi.org/10.1007/s13157-012-0360-2

Batzer DP, Boix D (eds) (2016) Invertebrates in freshwater wetlands. Springer, Switzerland. https://doi.org/10.1007/978-3-319-24978-0

Batzer DP, Ruhí A (2013) Is there a core set of organisms that structure macroinvertebrate assemblages in freshwater wetlands? Freshwater Biology 58:1647–1659. https://doi.org/10.1111/fwb.12156

Batzer DP, Wissinger SA (1996) Ecology of insect communities in nontidal wetlands. Annual Review of Entomology 41:75–100

Batzer DP, Palik BJ, Buech R (2004) Relationships between environmental characteristics and macroinvertebrate communities in seasonal woodland ponds of Minnesota. Journal of the North American Benthological Society 23:50–68

Batzer DP, Dietz-Brantley SE, Taylor BE, DeBiase AE (2005) Evaluating regional differences in macroinvertebrate communities from forested depressional wetlands across eastern and central North America. Journal of the North American Benthological Society 24:403–414

Bird MS, Mlambo MC, Day JA (2013) Macroinvertebrates as unreliable indicators of human disturbance in temporary depression wetlands of the south-western Cape, South Africa. Hydrobiologia 720:19–37. https://doi.org/10.1007/s10750-013-1618-2

Bohenek JR, Pintar MR, Breech TM, Resetarits WJ Jr (2017) Patch size influences perceived patch quality for colonising Culex mosquitoes. Freshwater Biology 62:1614–1622. https://doi.org/10.1111/fwb.12972

Chase JM (2007) Drought mediates the importance of stochastic community assembly. Proceedings of the National Academy of Science 104:17430–17434

Chase JM, Knight TM (2003) Drought-induced mosquito outbreaks in wetlands. Ecology Letters 6:1017–1024

Culler LE, Smith RF, Lamp WO (2014) Weak relationships between environmental factors and invertebrate communities in constructed wetlands. Wetlands 34:351–361

Cumming G (2014) The new statistics: why and how. Psychological Science 25:7–29. https://doi.org/10.1177/0956797613504966

Datry T, Bonada N, Heino J (2016) Towards understanding the organisation of metacommunities in highly dynamic ecological systems. Oikos 125:149–159. https://doi.org/10.1111/oik.02922

Declerck SA, Coronel JS, Legendre P, Brendonck L (2011) Scale dependency of processes structuring metacommunities of cladocerans in temporary pools of High-Andes wetlands. Ecography 34:296–305

Dodds WK, Bruckerhoff L, Batzer D, Schechner A, Pennock C, Renner E, Grieger S (2019) The freshwater biome gradient framework: predicting macroscale properties based on latitude, altitude, and precipitation. Ecosphere 10(7):e02786

Epele LB, Dos Santos DA, Sarremejane R, Grech MG, Macchi PA, Manzo LM et al (2021) Blowin' in the wind: wind directionality affects wetland invertebrate metacommunities in Patagonia. Global Ecology and Biogeography 30:1191–1203. https://doi.org/10.1111/geb.13294

Epele LB, Grech MG, Williams-Subiza EA, Stenert C, McLean K, Greig HS, ... Batzer DP (2022) Perils of life on the edge: Climatic threats to global diversity patterns of wetland macroinvertebrates. Science of the Total Environment 820:153052. https://doi.org/10.1016/j.scitotenv.2022.153052

Euliss NH, LaBaugh JW, Fredrickson LH, Mushet DM, Laubhan MK, Swanson GA et al (2004) The wetland continuum: a conceptual framework for interpreting biological studies. Wetlands 24:448–458

Gascón S, Arranz I, Cañedo-Argüelles M, Nebra A, Ruhí A, Rieradevall M et al (2016) Environmental filtering determines metacommunity structure in wetland microcrustaceans. Oecologia 181:193–205. https://doi.org/10.1007/s00442-015-3540-y

Harding JS, Benfield EF, Bolstad PV, Helfman GS, Jones EBD (1998) Stream biodiversity: the ghost of land use past. Proceedings of the National Academy of Science 95:14843–14847

Heino J (2013) The importance of metacommunity ecology for environmental assessment research in the freshwater realm. Biological Reviews 88:166–178. https://doi.org/10.1111/j.1469-185X.2012.00244.x

Heino J, Soininen J, Alahuhta J, Lappalainen J, Virtanen R (2017) Metacommunity ecology meets biogeography: effects of geographical region, spatial dynamics and environmental filtering on community structure in aquatic organisms. Oecologia 183:121–137. https://doi.org/10.1007/s00442-016-3750-y

Johnson PT, Hoverman JT, McKenzie VJ, Blaustein AR, Richgels KL (2013) Urbanization and wetland communities: applying metacommunity theory to understand the local and landscape effects. Journal of Applied Ecology 50:34–42. https://doi.org/10.1111/1365-2664.12022

Kneitel JM (2016) Climate-driven habitat size determines the latitudinal diversity gradient in temporary ponds. Ecology 97:961–968. https://doi.org/10.1890/15-1584.1

Kneitel JM (2018) Occupancy and environmental responses of habitat specialists and generalists depend on dispersal traits. Ecosphere 9(3):e02143. https://doi.org/10.1002/ecs2.2143

Leibold MA, Holyoak M, Mouquet N, Amarasekare P, Chase JM, Hoopes MF et al (2004) The metacommunity concept: a framework for multi-scale community ecology. Ecology Letters 7:601–613

Mantyka-Pringle CS, Martin TG, Moffatt DB, Udy J, Olley J, Saxton N et al (2016) Prioritizing management actions for the conservation of freshwater biodiversity under changing climate and land-cover. Biological Conservation 197:80–89. https://doi.org/10.1016/j.biocon.2016.02.033

McLean KI, Mushet DM, Sweetman JN, Anteau MJ, Wiltermuth MT (2020) Invertebrate communities of prairie-pothole wetlands in the age of the aquatic Homogenocene. Hydrobiologia 847:3773–3793. https://doi.org/10.1007/s10750-019-04154-4

McLean KI, Mushet DM, Newton WE, Sweetman JN (2021) Long-term multidecadal data from a prairie-pothole wetland complex reveal controls on aquatic-macroinvertebrate communities. Ecological Indicators 126:107678. https://doi.org/10.1016/j.ecolind.2021.107678

McLean, K. I., Mushet, D. M., & Sweetman, J. N. (2022). Temporal coherence patterns of prairie pothole wetlands indicate the importance of landscape linkages and wetland heterogeneity in maintaining biodiversity. Front Ecol Evol 10:897872

Meyer MD, Davis CA, Dvorett D (2015) Response of wetland invertebrate communities to local and landscape factors in north central Oklahoma. Wetlands 35:533–546. https://doi.org/10.1007/s13157-015-0642-6

Moor H, Rydin H, Hylander K, Nilsson MB, Lindborg R, Norberg J (2017) Towards a trait-based ecology of wetland vegetation. Journal of Ecology 105:1623–1635. https://doi.org/10.1111/1365-2745.12734

Mushet DM, Euliss N, Solensky M (2017) Cottonwood Lake Study Area - invertebrate counts. https://doi.org/10.5066/F7BK1B77

Platt JR (1964) Strong Inference: Certain systematic methods of scientific thinking may produce much more rapid progress than others. Science 146(3642):347–353

R Core Team (2020) R: A language and environment for statistical computing. R Foundation for Statistical Computing, Vienna. https://www.R-project.org/

Ruhí A, Boix D, Gascón S, Sala J, Batzer DP (2013) Functional and phylogenetic relatedness in temporary wetland invertebrates: current macroecological patterns and implications for future climatic change scenarios. PLoS One 8(11):e81739. https://doi.org/10.1371/journal.pone.0081739

Sim LL, Davis JA, Strehlow K, McGuire M, Trayler KM, Wild S et al (2013) The influence of changing hydroregime on the invertebrate communities of temporary seasonal wetlands. Freshwater Science 32:327–342. https://doi.org/10.1899/12-024.1

Steinman AD, Conklin J, Bohlen PJ, Uzarski DG (2003) Influence of cattle grazing and pasture land use on macroinvertebrate communities in freshwater wetlands. Wetlands 23(4):877–889

Stenert C, Pires MM, Epele LB, Grech MG, Maltchik L, McLean KI, ..., Batzer DP (2020) Climate‐versus geographic‐dependent patterns in the spatial distribution of macroinvertebrate assemblages in New World depressional wetlands. Global Change Biology 26:6895–6903. https://doi.org/10.1111/gcb.15367

Stewart NA, Schriever TA (2023) Local environmental conditions influence species replacement in Great Lakes interdunal wetland macroinvertebrate communities. Freshwater Biology 68:46–60. https://doi.org/10.1111/fwb.14008

Studio R (2020) Integrated development for R. RStudio, Inc., Boston. http://www.rstudio.com/

Tangen BA, Butler MG, Ell MJ (2003) Weak correspondence between macroinvertebrate assemblages and land use in prairie pothole region wetlands, USA. Wetlands 23:104–115

Tiner RW (2003) Estimated extent of geographically isolated wetlands in selected areas of the United States. Wetlands 23:636–652

Usseglio-Polatera P, Bournaud M, Richoux P, Tachet H (2000) Biological and ecological traits of benthic freshwater macroinvertebrates: relationships and definition of groups with similar traits. Freshwater Biology 43:175–205

Wasserstein RL, Schirm AL, Lazar NA (2019) Moving to a world beyond "p< 0.05." American Statistician 73(sup1):1–19. https://doi.org/10.1080/00031305.2019.1583913

Waterkeyn A, Grillas P, Vanschoenwinkel B, Brendonck LUC (2008) Invertebrate community patterns in Mediterranean temporary wetlands along hydroperiod and salinity gradients. Freshwater Biology 53:1808–1822. https://doi.org/10.1111/j.1365-2427.2008.02005.x

Wellborn GA, Skelly DK, Werner EE (1996) Mechanisms creating community structure across a freshwater habitat gradient. Annual Review of Ecology and Systematics 27:337–363

Wiggins GB, Mackay RJ, Smith IM (1980) Evolutionary and ecological strategies of animals in annual temporary pools. Archiv für Hydrobiologie Suppl 58:97–206

Zamberletti P, Zaffaroni M, Accatino F, Creed IF, De Michele C (2018) Connectivity among wetlands matters for vulnerable amphibian populations in wetlandscapes. Ecological Modelling 384:119–127. https://doi.org/10.1016/j.ecolmodel.2018.05.008
Acknowledgements
We thank Sarah Laske (USGS) for reviewing the manuscript. Any use of trade, firm, or product names is for descriptive purposes only and does not imply endorsement by the U.S. Government.
Funding
Data-collection efforts at the Cottonwood Lake Study Area were supported by the U.S. Geological Survey's Climate Research and Development Program. JMK and DAB were supported by a Central Valley Project Conservation Program Grant (RS15AS00048) from the U.S. Bureau of Reclamation. Additional funding provided by the East Bay Regional Park District, Oakland, CA. DPB was supported by the USDA Hatch Program.
Ethics declarations
Competing Interests
The authors have no known conflicts of interest.
Additional information
Publisher's Note
Springer Nature remains neutral with regard to jurisdictional claims in published maps and institutional affiliations.
Supplementary Information
Below is the link to the electronic supplementary material.
Rights and permissions
Springer Nature or its licensor (e.g. a society or other partner) holds exclusive rights to this article under a publishing agreement with the author(s) or other rightsholder(s); author self-archiving of the accepted manuscript version of this article is solely governed by the terms of such publishing agreement and applicable law.
About this article
Cite this article
Reindl, S., McLean, K.I., Kneitel, J.M. et al. Doing the Same Thing Over and Over Again and Getting the Same Result: Assessing Variance in Wetland Invertebrate Assemblages. Wetlands 43, 84 (2023). https://doi.org/10.1007/s13157-023-01734-y
Received:

Accepted:

Published:

DOI: https://doi.org/10.1007/s13157-023-01734-y
Keywords