Abstract
Defining the upslope extent of Federal Clean Water Act jurisdiction over wetlands and streams has been contentious since the passage of the Act but has large effects on the type, number, and area of wetlands that are protected by legislation. Federal jurisdictional guidance in the US has changed and evolved in response to scientific knowledge, US Supreme Court decisions, and policy goals of Presidential Administrations. In 2020, the Trump administration replaced the Obama administration Clean Water Rule with the Navigable Waters Protection Rule with the goal of reducing jurisdiction over so-called isolated depressional wetlands (wetlands with no connections to obvious stream channels) and ephemeral streams. Here we use a case study of a titanium sands mining proposal on Trail Ridge southeast of Okefenokee Swamp to illustrate the large reduction in wetland and stream protection engendered by this policy change. Under the Navigable Waters Protection Rule, all seven wetlands within the 232 ha mining area, totaling 131 ha or 56 % of the project area, were deemed non-jurisdictional and thus the project required no federal review or permitting. Under an earlier mining application under the Clean Water Rule, all of these same wetlands were declared jurisdictional. Trail Ridge is located on the Atlantic Coastal Plain, an ecological province rich in depressional wetlands and ill-defined surface drainages. This case study shows that in such environments, application of the Navigable Water Protection Rule allows destruction of large numbers and areas of ecologically significant wetlands.
Access options
Buy single article
Instant access to the full article PDF.
USD 39.95
Price excludes VAT (USA)
Tax calculation will be finalised during checkout.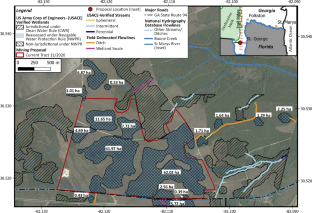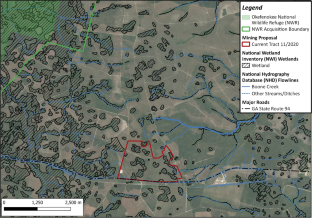 Data Availability
Most of the records used in this analysis are publicly available. Some of the permitting correspondence was obtained by the Southern Environmental Law Center through the Freedom of Information Act. The corresponding author can be contacted for the GIS files used in Figs. 1 and 2 and files that can't be found in the public record. The agency letters and memos cited in the text are included in the supplementary materials.
References
Adams PN, Opdyke ND, Jaeger JM (2010) Isostatic uplift driven by karstification and sea-level oscillation: Modeling landscape evolution in north Florida. Geology 38:531–534. https://doi.org/10.1130/G30592.1

Biggs J, von Fumetti S, Kelly-Quinn M (2017) The importance of small waterbodies for biodiversity and ecosystem services: implications for policy makers. Hydrobiologia 793:3–39. https://doi.org/10.1007/s10750-016-3007-0

Cohen MJ, Creed IF, Alexander L, Basu NB, Calhoun AJK, Craft C, D'Amico E, DeKeyser E, Fowler L, Golden HE, Jawitz JW, Kalla P, Kirkman LK, Lane CR, Lang MW, Leibowitz SG, Lewis DB, Marton J, McLaughlin DL, Mushet DM, Raanan-Kiperwas H, Rains MC, Smith L, Walls SC (2016) Do geographically isolated wetlands influence landscape functions? Proceedings of the National Academy of Sciences 113:1978–1986. https://doi.org/10.1073/pnas.1512650113

Colvin SAR, Sullivan SMP, Shirey PD, Colvin RW, Winemiller KO, Hughes RM, Fausch KD, Infante DM, Olden JD, Bestgen KR, Danehy RJ, Eby L (2019) Headwater streams and wetlands are critical for sustaining fish, fisheries, and ecosystem services. Fisheries 44:73–91. https://doi.org/10.1002/fsh.10229

Creed IF, Lane CR, Serran JN, Alexander LC, Basu NB, Calhoun AJ, Christensen JR, Cohen MJ, Craft C, Amico E, DeKeyser E (2017) Enhancing protection for vulnerable waters. Nature Geoscience 10(11):809–815

Downing DM, Winer C, Wood LD (2003) Navigating through Clean Water Act jurisdiction: a legal review. Wetlands 23(3):475–493

Edwards AL, Weakley AS (2001) Population biology and management of rare plants in depression wetlands of the southeastern coastal plain, USA. Natural Areas Journal 21:12–35

Epting SM, Hosen JD, Alexander LC, Lang MW, Armstrong AW, Palmer MA (2018) Landscape metrics as predictors of hydrologic connectivity between Coastal Plain forested wetlands and streams. Hydrological Processes 32:516–532. https://doi.org/10.1002/hyp.11433

Fesenmyer KA, Wenger SJ, Leigh DS, Neville HM (2021) Large portion of USA streams lose protection with new interpretation of Clean Water Act. Freshwater Science 40:252–258. https://doi.org/10.1086/713084

Force ER, Rich FJ (1989) Geologic evolution of Trail Ridge eolian heavy-mineral sand and underlying peat, northern Florida. U.S. Geological Survey Professional Paper 1499. https://doi.org/10.3133/pp1499

Freeman MC, Pringle CM, Jackson CR (2007) Hydrologic connectivity and the contribution of stream headwaters to ecological integrity at regional scales. Journal of the American Water Resources Association 43:5–14. https://doi.org/10.1111/j.1752-1688.2007.00002.x

Fritz KM, Hagenbuch E, D'Amico E, Reif M, Wigington PJ, Leibowitz SG, Comeleo RL, Ebersole JL, Nadeau T-L (2013) Comparing the extent and permanence of headwater streams from two field surveys to values from hydrographic databases and maps. Journal of the American Water Resources Association 49:867–882. https://doi.org/10.1111/jawr.12040

GA DNR (2002) Saint Marys River Basin Management Plan 2002. Georgia Department of Natural Resources Environmental Protection Division. https://epd.georgia.gov/document/publication/st-marys-river-basin-management-planpdf/download. Accessed 22 June 2021

Gardner RC (2011) Lawyers, swamps, and money: U.S. wetland law, policy, and politics. Island Press, Washington

Georgia Recorder (2019) Public pressure killed Okefenokee mining plans once. Will it again? by Stanley Dunlop. August 18, 2019.

Golden HE, Sander HA, Lane CR, Zhao C, Price K, D'Amico E, Christensen JR (2016) Relative effects of geographically isolated wetlands on streamflow: a watershed-scale analysis: Geographically isolated wetlands and streamflow. Ecohydrology 9:21–38. https://doi.org/10.1002/eco.1608

Golden HE, Creed IF, Ali G, Basu NB, Neff BP, Rains MC, McLaughlin DL, Alexander LC, Ameli AA, Christensen JR, Evenson GR, Jones CN, Lane CR, Lang MW (2017) Integrating geographically isolated wetlands into land management decisions. Frontiers in Ecology and the Environment 15:319–327. https://doi.org/10.1002/fee.1504

Gong P, Zheng X, Chen J (1995) Boundary uncertainties in digitized maps: An experiment on digitization errors. Geographic Information Sciences 1:65–72. https://doi.org/10.1080/10824009509480472

Gorman TA, Haas CA, Bishop DC (2009) Factors related to occupancy of breeding wetlands by flatwoods salamander larvae. Wetlands 29:323–329. https://doi.org/10.1672/08-155.1

Gregoire DR, Gunzburger MS (2008) Effects of predatory fish on survival and behavior of larval gopher frogs (Rana acpito) and southern leopard frogs (Rana sphenocephala). Journal of Herpetology 42:97–103. https://doi.org/10.1670/07-039.1

Holt R, Tanner JM, Smith JR, Patton AC, Lepchitz ZB, Inc (2020) https://twinpinesmineralscharlton.com/wp-content/uploads/2020/01/IMPACT-OF-THE-PROPOSED-TWIN-PINES-MINE-ON-THE-TRAIL-RIDGE-HYDROLOGIC-SYSTEM.pdf. Accessed 21 June 2021

Jackson CR, Thompson J, Kolka R (2014) Wetland soils, hydrology, and geomorphology. In: Batzer DP, Sharitz RR (eds) Ecology of freshwater and estuarine wetlands, 2nd edn. University of California Press, Berkeley, pp 23–60

Johnson SA (2002) Life history of the striped newt at a north-central Florida breeding pond. Southeast Nat 1:381–402. https://doi.org/10.1656/1528-7092(2002)001[0381:LHOTSN]2.0.CO;2

Jones CN, Ameli A, Neff BP, Evenson GR, McLaughlin DL, Golden HE, Lane CR (2019) Modeling connectivity of non-floodplain wetlands: Insights, approaches, and recommendations. Journal of the American Water Resources Association 55:559–577. https://doi.org/10.1111/1752-1688.12735

Jones CN, Evenson GR, McLaughlin DL, Vanderhoof MK, Lang MW, McCarty GW, Golden HE, Lane CR, Alexander LC (2018) Estimating restorable wetland water storage at landscape scales. Hydrological Processes 32:305–313. https://doi.org/10.1002/hyp.11405

Kirkman LK, Smith L, Golladay S (2012) Southeastern depressional wetlands. In: Batzer DP, Baldwin AH (eds) Wetland habitats of North America: Ecology and conservation concerns. University of California Press, Berkeley, pp 203–215

Lane CR, D'Amico E (2010) Calculating the ecosystem service of water storage in isolated wetlands using LiDAR in north central Florida, USA.  Wetlands 30:967–977. https://doi.org/10.1007/s13157-010-0085-z

Lee S, McCarty GW, Moglen GE, Lang MW, Nathan Jones C, Palmer M, Yeo I, Anderson M, Sadeghi AM, Rabenhorst MC (2020) Seasonal drivers of geographically isolated wetland hydrology in a low-gradient, Coastal Plain landscape. Journal of Hydrology 583:124608. https://doi.org/10.1016/j.jhydrol.2020.124608

Leibowitz SG, Wigington PJ, Schofield KA, Alexander LC, Vanderhoof MK, Golden HE (2018) Connectivity of streams and wetlands to downstream waters: An integrated systems framework. Journal of the American Water Resources Association 54:298–322. https://doi.org/10.1111/1752-1688.12631

Marton JM, Creed IF, Lewis DB, Lane CR, Basu NB, Cohen MJ, Craft CB (2015) Geographically isolated wetlands are important biogeochemical reactors on the landscape. Bioscience 65:408–418. https://doi.org/10.1093/biosci/biv009

Meyer JL, Strayer DL, Wallace JB, Eggert SL, Helfman GS, Leonard NE (2007) The contribution of headwater streams to biodiversity in river networks. Journal of the American Water Resources Association 43:86–103. https://doi.org/10.1111/j.1752-1688.2007.00008.x

Mihelcic JR, Rains M (2020) Where's the science? Recent changes to clean water act threaten wetlands and thousands of miles of our nation's rivers and streams. Environmental Engineering Science 37:173–177. https://doi.org/10.1089/ees.2020.0058

Millennium Ecosystem Assessment (2005) Ecosystems and human well-being: synthesis. Island Press, Washington, DC

Nadeau TL, Leibowitz SG, Wigington PJ, Ebersole JL, Fritz KM, Coulombe RA, Comeleo RL, Blocksom KA (2015) Validation of rapid assessment methods to determine streamflow duration classes in the Pacific Northwest, USA. Environmental Management 56(1):34–53

QGIS Development Team (2021) QGIS Geographic Information System. QGIS Association

Semlitsch RD, Bodie JR (1998) Are small, isolated wetlands expendable? Conservation Biology 12:1129–1133. https://doi.org/10.1046/j.1523-1739.1998.98166.x

Soil Survey Staff Web Soil Survey (n.d.) Natural Resources Conservation Service, United States Department of Agriculture. http://websoilsurvey.sc.egov.usda.gov/. Accessed 22 June 2021

Subalusky AL, Fitzgerald LA, Smith LL (2009) Ontogenetic niche shifts in the American Alligator establish functional connectivity between aquatic systems. Biological Conservation 142:1507–1514. https://doi.org/10.1016/j.biocon.2009.02.019

Sullivan SMP, Rains MC, Rodewald AD (2019) Opinion: The proposed change to the definition of "waters of the United States" flouts sound science. Proceedings of the National Academy of Sciences 116:11558–11561. https://doi.org/10.1073/pnas.1907489116

Sutter LA, Gardner RC, Perry JE (2015) Science and policy of U.S. wetlands. Tulane Environmental Law Journal 29:34

Svec JR, Kolka RK, Stringer JW (2005) Defining perennial, intermittent, and ephemeral channels in Eastern Kentucky: Application to forestry best management practices. Forest Ecology and Management 214:170–182. https://doi.org/10.1016/j.foreco.2005.04.008

The National Law Review (2021) Back to the drawing board on WOTUS: Federal Court Vacates Trump Administration's Navigable Waters Protection Rule, September 20. vol XI(279)

USACE Memorandum (2019) Status of NEPA Review of Twin Pines Mining Project SAS-2018-00554. From Holly A Ross, p 11

USCRS (2014) The power to regulate commerce: limits on congressional power. U.S. Congressional Research Service RL32844:21. https://www.everycrsreport.com/files/20140516_RL32844_71079e63225715edd0a732e0934713bad862c7f8.pdf. Accessed 30 June 2021

USEPA (2019) Letter from the USEPA to the USACE regarding SAS-2018-00554, Twin Pines Minerals, LLC heavy minerals sand mine in Charlton County, GA. http://wwals.net/pictures/2019-10-03--epa-usace-tpm/epa-usace-tpm-2019-10-03.pdf. Accessed 22 June 2021

USEPA (2020) EPA and Army deliver on President Trump's promise to issue the Navigable Waters Protection Rule - a new definition of WOTUS. EPA Press Office. https://www.epa.gov/newsreleases/epa-and-army-deliver-president-trumps-promise-issue-navigable-waters-protection-rule-0. Accessed 22 June 2021

USEPA SAB (2020) Commentary on the proposed rule defining the scope of waters federally regulated under the Clean Water Act. U.S. Environmental Protection Agency Science Advisory Board. https://yosemite.epa.gov/sab/sabproduct.nsf/WebBOARD/729C61F75763B8878525851F00632D1C/$File/EPA-SAB-20-002+.pdf. Accessed 22 June 2021

USFWS (2019) Letter from the USFWS Athens, GA office to the USACE regarding USFWS file number 2019-0963

USFWS (2020) National Wetlands Inventory. http://www.fws.gov/wetlands/. Accessed 29 June 2021

USGS (2021a) NHDPlus High Resolution. https://www.usgs.gov/core-science-systems/ngp/national-hydrography/nhdplus-high-resolution. Accessed 29 June 2021

USGS (2021b) Rivers and the landscape. USGS Water Science School. https://www.usgs.gov/special-topic/water-science-school/science/rivers-and-landscape?qt-science_center_objects=0#qt-science_center_objects. Accessed 21 June 2021

Vellut G, Mizutani T (2021) FreehandRasterGeoreferencer. https://github.com/gvellut/FreehandRasterGeoreferencer. Accessed 29 June 2021

Wilcox BP, Dean DD, Jacob JS, Sipocz A (2011) Evidence of surface connectivity for texas gulf coast depressional wetlands. Wetlands 31:451–458. https://doi.org/10.1007/s13157-011-0163-x

Wipfli MS, Richardson JS, Naiman RJ (2007) Ecological linkages between headwaters and downstream ecosystems: transport of organic matter, invertebrates, and wood down headwater channels. Journal of the American Water Resources Association 43:72–85. https://doi.org/10.1111/j.1752-1688.2007.00007.x
Acknowledgements
The Southern Environmental Law Center assisted us with understanding the timeline of this permitting process and provided us with copies of relevant documents from the permitting process. Darold Batzer is supported by the USDA Hatch Program. This work was partly supported by the USDA McEntire-Stennis program.
Funding
This work was not supported by a specific grant, but partial support was provided by the USDA Hatch and McEntire-Stennis programs.
Ethics declarations
Conflicts of Interest/Competing Interests
None.
Ethics Approval
Not applicable.
Consent to Participate
Not applicable.
Consent for Publication
Not applicable.
Additional information
Publisher's Note
Springer Nature remains neutral with regard to jurisdictional claims in published maps and institutional affiliations.
This article belongs to the Topical Collection: Applied Wetland Science.
Supplementary Information
About this article
Cite this article
Jackson, C.R., Sytsma, C., Sutter, L.A. et al. Redefining Waters of the US: a Case Study from the Edge of the Okefenokee Swamp. Wetlands 41, 106 (2021). https://doi.org/10.1007/s13157-021-01512-8
Received:

Accepted:

Published:

DOI: https://doi.org/10.1007/s13157-021-01512-8
Keywords