Abstract
Wetlands provide numerous ecosystem functions such as water purification, nutrient cycling, and wildlife habitat. Avian populations are indicators of wetland health, and understanding their responses to extreme events can aid in targeting restoration efforts following disturbance. Here, we assessed the habitat selection of six coastal wetland bird species (American Bittern, Black-crowned Night Heron, Great Egret, Glossy Ibis, Snowy Egret, Yellow-crowned Night Heron) related to an extreme weather event, Hurricane Sandy. We used Discrete Choice Resource Selection Functions to estimate habitat selection. Results showed species probability of use increased with lower elevation and slope, and closer proximity to marsh, salt marsh, Phragmites, and protected areas. Estimates of marsh dieback from Hurricane Sandy occurred disproportionately in areas with higher probability of species use. Species were observed farther from the coast and at higher elevations in the four breeding seasons after (2013–2016) compared to before (2000–2012) Hurricane Sandy. Our results indicate that although high suitability areas were affected by the storm, these six wetland bird species may have responded by moving inland and to higher elevation. Understanding how coastal wetland birds respond to storm events is important for conservation planning, particularly as storm frequency is projected to increase in the future.
Access options
Buy single article
Instant access to the full article PDF.
US$ 39.95
Tax calculation will be finalised during checkout.
Subscribe to journal
Immediate online access to all issues from 2019. Subscription will auto renew annually.
US$ 79
Tax calculation will be finalised during checkout.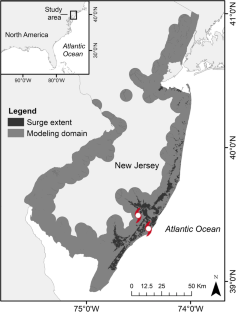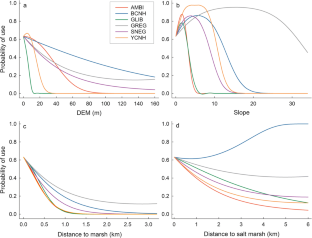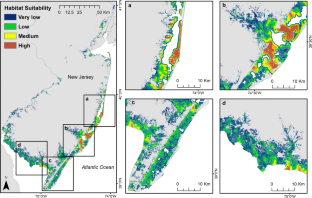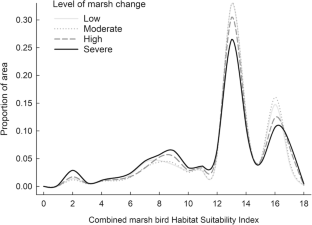 References
Adger WN, Hughes TP, Folke C, Carpenter SR, Rockström J (2005) Social-ecological resilience to coastal disasters. Science 309:1036–1039. https://doi.org/10.1126/science.1112122

Allison PD (2005) Survival analysis using SAS: a practical guide. SAS Institute, Cary, North Carolina, U.S.A.

Andersen PK, Gill RD (1982) Cox's regression model for counting processes: a large sample study. Annals of Statistics 10:1100–1120

Askins RA, Ewert DN (1991) Impact of Hurricane Hugo on Bird Populations on St . John, U.S. Virgin Islands. Biotropica 23:481–487

Barrow W Jr., Chadwick P, Couvillion B, Doyle T, Faulkner S, Jeske C, Michot T, Randall L, Wells C (2007) Cheniere forest as stopover habitat for migrant landbirds: immediate effects of hurricane Rita. In: Farris G, smith G, crane M, Dernas C, Robbins L, Lavoie D (eds) science and the storms: the USGS response to the hurricanes of 2005. U.S. Geological Survey Circular 1306:147–156

Bayard TS, Elphick CS (2011) Planning for sea-level rise: quantifying patterns of saltmarsh sparrow (Ammodramus caudacutus) nest flooding under current sea-level conditions. The Auk 128:393–403. https://doi.org/10.1525/auk.2011.10178

Beerens JM, Gawlik DE, Herring G, Cook MI (2011) Dynamic habitat selection by two wading bird species with divergent foraging strategies in a seasonally fluctuating wetland. The Auk 128:651–662. https://doi.org/10.1525/auk.2011.10165

Beerens JM, Noonburg EG, Gawlik DE (2015) Linking dynamic habitat selection with wading bird foraging distributions across resource gradients. PLoS One 10:1–25. https://doi.org/10.1371/journal.pone.0128182

Beerens JM, Romañach SS, Benscoter AML (2017) Determining the habitat suitability of coastal waterbirds in New Jersey: impacts related to Hurricane Sandy: U.S. Geological Survey data release, https://doi.org/10.5066/F77M063T

Bildstein KL (1990) Status, conservation and management of the scarlet Ibis Eudocimus ruben in the Caroni swamp, Trinidad, West Indies. Biological Conservation 54:61–78

Blake ES, Kimberlain TB, Berg RJ, CangiaLosi JP, Beven II JL (2013) Tropical cyclone report Hurricane Sandy (AL182012) 22–29 October 2012. National Weather Service, National Hurricane Center 1–157. https://doi.org/10.1017/CBO9781107415324.004

Bonter DN, MacLean SA, Shah SS, Moglia MC (2014) Storm-induced shifts in optimal nesting sites: a potential effect of climate change. Journal of Ornithology 155:631–638. https://doi.org/10.1007/s10336-014-1045-9

Burger J, Gochfeld M, Niles LJ (1995) Ecotourism and birds in coastal New Jersey: contrasting responses of birds, tourists, and managers. Environmental Conservation 22 (1):56-65

Burnham KP, Anderson DR (2002) Model selection and multimodel inference: a practical information-theoretic approach, 2nd edn. Springer-Verlag, New York, U.S.A.

Campbell A (2017) County tourism director reports numbers, explains impact on Cape's economy. Cape May County Herald

Carver E (2013) Birding in the United States: a demographic and economic analysis. Addendum to the 2011 National Survey of fishing, hunting and wildlife associated recreation. Report 2001-1. Arlington, Virginia, U.S.A.

Chabreck R, Palmisano A (1973) The effects of hurricane Camille on the marshes of the Mississippi River Delta. Ecology 54:1118–1123

Comer P, Faber-Langendoen D, Evans R, Gawler S, Josse C, Kittel G, Menard S, Pyne M, Reid M, Schulz K, Snow K, Teague J (2003) Ecological systems of the United States: a working classification of US terrestrial systems. Arlington, Virginia, U.S.A.

Correll MD, Wiest WA, Hodgman TP, Shriver WG, Elphick CS, McGill BJ, O'Brien KM, Olsen BJ (2017) Predictors of specialist avifaunal decline in coastal marshes. Conservation Biology 31:172–182. https://doi.org/10.1111/cobi.12797

Costanza R, de Groot R, Sutton P, van der Ploeg S, Anderson SJ, Kubiszewski I, Farber S, Turner RK (2014) Changes in the global value of ecosystem services. Global Environmental Change 26:152–158. https://doi.org/10.1016/j.gloenvcha.2014.04.002

Cox DR (1972) Regression models and life tables. Journal of the Royal Statistical Society, Series B:187–220

Craft C, Clough J, Ehman J, Jove S, Park R, Pennings S, Guo H, Machmuller M (2009) Forecasting the effects of accelerated sea-level rise on tidal marsh ecosystem services. Frontiers in Ecology and the Environment 7:73–78. https://doi.org/10.1890/070219

Davis WEJ, Kricher JC (2000) Glossy Ibis (Plegadis falcinellus), 2.0. The birds of North America. https://doi.org/10.2173/bna.545

Day JW, Christian RR, Boesch DM, Yáñez-Arancibia A, Morris J, Twilley RR, Naylor L, Schaffner L, Stevenson C (2008) Consequences of climate change on the ecogeomorphology of coastal wetlands. Estuaries and Coasts 31:477–491. https://doi.org/10.1007/s12237-008-9047-6

R Development Core Team (2014) R: A language and environment for statistical computing. R Foundation for Statistical Computing, Vienna, Austria

Donnelly JP, Bertness MD (2001) Rapid shoreward encroachment of salt marsh cordgrass in response to accelerated sea-level rise. Proceedings of the National Academy of Sciences 98:14218–14223. https://doi.org/10.1073/pnas.251209298

Doren RF, Trexler JC, Gottlieb AD, Harwell MC (2009) Ecological indicators for system-wide assessment of the greater everglades ecosystem restoration program. Ecological Indicators 9S:S2–S16. https://doi.org/10.1016/j.ecolind.2008.08.009

Elsey-Quirk T (2016) Impact of hurricane Sandy on salt marshes of New Jersey. Estuarine, Coastal and Shelf Science 183:235–248. https://doi.org/10.1016/j.ecss.2016.09.006

Emanuel K (2005) Increasing destructiveness of tropical cyclones over the past 30 years. Nature 436:686–688. https://doi.org/10.1038/nature03906

Environmental Systems Research Institute (2014) ArcGIS Desktop 10.3. Environmental Systems Research Institute, Redlands, California, U.S.A.

Erwin RM, Cahoon DR, Prosser DJ, Sanders GM, Hensel P (2006) Surface elevation dynamics in vegetated Spartina marshes versus unvegetated tidal ponds along the mid-Atlantic Coast, U.S.a., with implications to waterbirds. Estuaries and Coasts 29:96–106. https://doi.org/10.1007/BF02784702

Ferree C, Anderson MG (2013) A map of terrestrial habitats of the northeastern United States: methods and approach. Boston, Massachusetts, U.S.A.

Finlayson CM, Davies GT, Moomaw WR, Chmura GL, Natali SM, Perry JE, Roulet N, Sutton-Grier AE (2019) The second warning to humanity – providing a context for wetland management and policy. Wetlands 39:1–5. https://doi.org/10.1007/s13157-018-1064-z

Gawlik DE (2002) The effects of prey availability on the numerical response of wading birds. Ecological Monographs 72:329–346

Gawlik DE, Crozier GE (2007) A test of cues affecting habitat selection by wading birds. The Auk 124:1075

Greenberg CH, Lanham JD (2001) Breeding bird assemblages of hurricane-created gaps and adjacent closed canopy forest in the southern Appalachians. Forest Ecology and Management 154:251–260. https://doi.org/10.1016/S0378-1127(00)00631-9

Guntenspergen GR, Cahoon DR, Grace J, Steyer GD, Fournet S, Townson MA, Foote AL (1995) Disturbance and recovery of the Louisiana coastal marsh landscape from the impacts of hurricane Andrew. Journal of Coastal Research 21:324–339

Hauser S, Meixler MS, Laba M (2015) Quantification of impacts and ecosystem services loss in New Jersey coastal wetlands due to hurricane Sandy storm surge. Wetlands 35:1137–1148. https://doi.org/10.1007/s13157-015-0701-z

Herring G, Gawlik DE, Cook MI, Beerens JM (2010) Sensitivity of nesting great egrets (Ardea alba) and white ibises (Eudocimus albus) to reduced prey availability. The Auk 127:660–670. https://doi.org/10.1525/auk.2010.09144

Holden BR, Burrell KGD (2014) A birding perspective and analysis of hurricane Sandy, fall 2012. Ontario Birds 32:12–22

Hothem RL, Brussee BE, Davis WEJ (2010) Black-crowned night-heron (Nycticorax nycticorax), 2.0. The birds of North America. https://doi.org/10.2173/bna.74

Hughes RG (2004) Climate change and loss of saltmarshes: consequences for birds. Ibis 146:21–28. https://doi.org/10.1111/j.1474-919X.2004.00324.x

Klingbeil BT, Field CR, Wiest WA, Kovach AI, Correll MD, Olsen BJ, Shriver WG, Cohen JB, Hodgman TP, Elphick CS (2018) Evaluating a focal-species approach for tidal marsh bird conservation in the northeastern United States. The Condor 120:874–884. https://doi.org/10.1650/condor-18-88.1

Kunz M, Mühr B, Kunz-Plapp T, Daniell JE, Khazai B, Wenzel F, Vannieuwenhuyse M, Comes T, Elmer F, Schröter K, Fohringer J, Münzberg T et al (2013) Investigation of superstorm Sandy in a multi-disciplinary approach. Natural Hazards and Earth System Sciences 13:625–679. https://doi.org/10.5194/nhessd-1-625-2013

Kushlan JA (1993) Colonial waterbirds as bioindicators of environmental change. Colonial Waterbirds 16:223–251

Landres PB, Verner J, Thomas JW (1988) Ecological uses of vertebrate indicator species: a critique. Conservation Biology 2:316–328

Leberg PL, Green MC, Adams BA, Landres PB, Verner J (2007) Response of waterbird colonies in southern Louisiana to recent drought and hurricanes. Animal Conservation 10:502–508. https://doi.org/10.1111/j.1469-1795.2007.00141.x

Liu S, Costanza R, Troy A, D'Aagostino J, Mates W (2010) Valuing New Jersey's ecosystem services and natural capital: a spatially explicit benefit transfer approach. Environmental Management 45:1271–1285. https://doi.org/10.1007/s00267-010-9483-5

Lorenz JJ, Langan-Mulrooney B, Frezza PE, Harvey RG, Mazzotti FJ (2009) Roseate spoonbill reproduction as an indicator for restoration of the Everglades and the Everglades estuaries. Ecological Indicators 9S:S96–S107. https://doi.org/10.1016/j.ecolind.2008.10.008

Lowther PE, Poole AF, Gibbs JP, Melvin SM, Reid FA (2009) American bittern (Botaurus lentiginosus), 2.0. The birds of North America. https://doi.org/10.2173/bna.18

Manly BFJ, McDonald LL, Thomas DL, McDonald TL, Erickson WP (2002) Resource selection by animals: statistical design and analysis for field studies, 2nd edn. Kluwer Academic, Dordrecht, Netherlands

Marsh CP, Wilkinson PM (1991) The impact of hurricane Hugo on coastal bird populations. Journal of Coastal Research 8:327–334

Marshall NA, Tobin RC, Marshall PA, Gooch M, Hobday AJ (2013) Social vulnerability of marine resource users to extreme weather events. Ecosystems 16:797–809. https://doi.org/10.1007/s10021-013-9651-6

McCracken ML, Manly BFJ, Vander Heyden M (1998) The use of discrete-choice models for evaluating resource selection. Journal of Agricultural, Biological, and Environmental Statistics 3:268–279. https://doi.org/10.2307/1400582

McCrimmon DA Jr., Ogden JC, Bancroft GT (2011) Great egret (Ardea alba), 2.0. The Birds of North America. https://doi.org/10.2173/bna.570

McDonald TL (2013) The point process use-availability or presence-only likelihood and comments on analysis. Journal of Animal Ecology 82:1174–1182. https://doi.org/10.1111/1365-2656.12132

McDonald TL, Manly BFJ, Nielson RM, Diller LV (2006) Discrete-choice modeling in wildlife studies exemplified by northern spotted owl nighttime habitat selection. Journal of Wildlife Management 70:375–383. https://doi.org/10.2193/0022-541x

McKee KL, Cherry JA (2009) Hurricane Katrina sediment slowed elevation loss in subsiding brackish marshes of the Mississippi River delta. Wetlands 29:2–15. https://doi.org/10.1672/08-32.1

Michener WK, Blood ER, Bildstein KL, Brinson MM, Gardner LR (1997) Climate change, hurricanes and tropical storms, and rising sea level in coastal wetlands. Ecological Applications 7:770–801

Michot TC, Wells CJ, Chadwick PC (2007) Aerial rapid assessment of hurricane damages to north gulf coastal habitats. In: Farris GS, smith GJ, crane MP, Dernas C, Robbins L, Lavoie D (eds) science and the storms: the USGS response to the hurricanes of 2005. U.S. Geological Survey Circular 1306:87–96

National Atlas of the United States (2014) 1:1,000,000-Scale Federal Lands of the United States

NJDEP (1993) NJDEP state Rivers for New Jersey (third order or higher)

NJDEP (2002a) NJ Department of Environmental Protection (NJDEP) 2002 land use/land cover update, Edition 20080304

NJDEP (2002b) NJDEP 10-meter Digital Elevation Grid

NJDEP (2007) NJ Department of Environmental Protection (NJDEP) 2007 land use/land cover update, Edition 20100712

NJDEP (2008) NJDEP state owned, Protected Open Space and Recreation Areas in New Jersey (Version 200812)

NJDEP (2010) National Hydrography Dataset (NHD) Waterbody 2002. New Jersey Department of Environmental Protection, Trenton, New Jersey, U.S.A.

NJDEP (2011) NJDEP County open space and recreation areas in new Jersey (Version 201107)

NJDEP (2012) NJ Department of Environmental Protection (NJDEP) 2012 land use/land cover update, Edition 20150217

NJDEP (2015) Coastline of New Jersey, edition 20150501 (Land_coastline_2012)

Novak JM, Gaines KF, Cumbee JCJ, Mills GL, Rodriguez-Navarro AB, Romanek CS (2006) The clapper rail as an indicator species of estuarine marsh health. Studies in Avian Biology 32:270–281

O'Connell JL, Nyman JA (2011) Effects of marsh pond terracing on coastal wintering waterbirds before and after hurricane Rita. Environmental Management 48:975–984. https://doi.org/10.1007/s00267-011-9741-1

Ogden JC, Baldwin JD, Bass OL, Browder JA, Cook MI, Frederick PC, Frezza PE,, Galvez RA, Hodgson AB,, Meyer KD, Oberhofer LD, Paul AF, etal (2014) Waterbirds as indicators of ecosystem health in the coastal marine habitats of southern Florida: 1. Selection and justification for a suite of indicator species. Ecological Indicators 44:148–163. https://doi.org/10.1016/j.ecolind.2014.03.007

Parsons KC, Master TL (2000) Snowy egret (Egretta thula), 2.0. The birds of North America. https://doi.org/10.2173/bna.489

Rangoonwala A, Enwright NM, Ramsey E III, Spruce JP (2016) Radar and optical mapping of surge persistence and marsh dieback along the New Jersey mid-Atlantic coast after hurricane Sandy. International Journal of Remote Sensing 37:1692–1713. https://doi.org/10.1080/01431161.2016.1163748

Rittenhouse CD, Pidgeon AM, Albright TP, Culbert PD, Clayton MK, Flather CH, Huang C, Masek JG, Radeloff VC (2010) Avifauna response to hurricanes: regional changes in community similarity. Global Change Biology 16:905–917. https://doi.org/10.1111/j.1365-2486.2009.02101.x

Rush SA, Olin JA, Fisk AT, Woodrey MS, Cooper RJ (2010) Trophic relationships of a marsh bird differ between gulf coast estuaries. Estuaries and Coasts 33:963–970. https://doi.org/10.1007/s12237-010-9281-6

SAS Institute (2003) SAS 9.1.3 Help and documentation. PHREG Procedure. Cary, North Carolina, U.S.A.

Scavia D, Field JC, Boesch DF, Buddemeier RW, Burkett V, Cayan DR, Fogarty M, Harwell MA, Howarth RW, Mason C, Reed DJ, Royer TC et al (2002) Climate change impacts on U.S. coastal and marine ecosystems. Estuaries 25:149–164. https://doi.org/10.1007/BF02691304

Sekercioglu CH (2002) Impacts of birdwatching on human and avian communities. Environmental Conservation 29:282–289. https://doi.org/10.1017/S0376892902000206

Shepherd P, Crockett T, De Santo T, Bildstein K (1991) The impact of hurricane Hugo on the breeding ecology of wading birds at Pumpkinseed Island, Hobcaw barony, South Carolina. Colonial Waterbirds 14:150–157

Stedman S, Dahl T (2008) status and trends of wetlands in the coastal watersheds of the eastern United States 1998 to 2004

Stone GW, Grymes JMI, Dingler JR, Pepper DA (1997) Overview and significance of hurricanes on the Louisiana coast, U.S.A. Journal of Coastal Research 13:656–669

Sullivan K, Uccellini L (2012) Service Assessment Hurricane/Post-Tropical Cyclone Sandy, October 22–29, 2012. Silver Spring, Maryland, U.S.A.

Systat Software (2014) SigmaPlot 13.0. San Jose, California, U.S.A.

Tejeda-Cruz C, Sutherland WJ (2005) Cloud forest bird responses to unusually severe storm damage. Biotropica 37:88–95

Torres A, Leberg P (1996) Initial changes in habitat and abundance of cavity-nesting birds and the northern parula following hurricane Andrew. The Condor 98:483–490

Turner RE, Baustian JJ, Swenson EM, Spicer JS (2006) Wetland sedimentation from huricanes Katrina and Rita. Science 314:449–452

USGS (2013) LANDFIRE.US_SLP. US_SLP. Sioux Falls, South Dakota, U.S.A.

Wanless HR, Vlaswinkel BM (2005) Coastal landscape and channel evolution affecting critical habitats at cape sable. Everglades National Park, Florida

Watts BD (2011) Yellow-crowned night-heron (Nyctanassa violacea), 2.0. The birds of North America. https://doi.org/10.2173/bna.161

Webster P, Holland G, Curry J, Chang H-R (2005) Changes in tropical cyclone number, duration, and intensity in a warming environment. Science 309:1844–1846. https://doi.org/10.1111/j.0033-0124.1951.006_a.x

Wigand C, Ardito T, Chaffee C, Ferguson W, Paton S, Raposa K, Vandemoer C, Watson E (2017) A climate change adaptation strategy for management of coastal marsh systems. Estuaries and Coasts 40:682–693. https://doi.org/10.1007/s12237-015-0003-y

Wiley J, Wunderle JM (1993) The effects of hurricanes on birds, with special reference to Caribbean islands. Bird Conservation International 3:319–349. https://doi.org/10.1017/S0959270900002598

Woodrey MS, Rush SA, Cherry JA, Nuse BL, Cooper RJ, Lehmicke AJJ (2012) Understanding the potential impacts of global climate change on marsh birds in the Gulf of Mexico region. Wetlands 32:35–49. https://doi.org/10.1007/s13157-011-0264-6

Woodward RT, Wui YS (2001) The economic value of wetland services: a meta-analysis. Ecological Economics 37:257–270. https://doi.org/10.1016/S0921-8009(00)00276-7
Ethics declarations
Conflict of Interest
None of the authors have any conflicts of interest that would have impacted this work. All relevant authors have been named. This manuscript represents original research that does not duplicate previously published work; this work is not published or accepted for publication elsewhere, and is not under consideration or peer review for publication elsewhere.
Additional information
Publisher's Note
Springer Nature remains neutral with regard to jurisdictional claims in published maps and institutional affiliations.
About this article
Cite this article
Benscoter, A.M., Beerens, J.M. & Romañach, S.S. Coastal Marsh Bird Habitat Selection and Responses to Hurricane Sandy. Wetlands 40, 799–810 (2020). https://doi.org/10.1007/s13157-019-01230-2
Received:

Accepted:

Published:

Issue Date:
Keywords
Avian ecology

Coastal wetland bird

Resource selection

Habitat suitability

Hurricane Sandy