Abstract
Although landscape indicators are widely used to assess wetland ecological condition, how they capture the spatial arrangement of land cover is not well addressed. We conducted a Level 1 Landscape Assessment to revise strengths and weaknesses of landscape indicators when links to ecological conditions are strong. Wetland sites mapped by the National Wetlands Inventory were defined as 1-km radius circles around centroid points. Forest fragmentation type, road density, Landscape Development Intensity (LDI) index, and percentage of impervious surface were quantified at each site by integrating land cover and road network information. Based on forest cover, 6% of wetland sites scored in the highest ecological category while 45% fit into the lowest one. Results showed high dispersion of data for the impervious surface indicator in the lowest condition category. When comparing LDI and impervious surface under different landscape compositions and configurations, LDI better described disturbance in agricultural areas where road density was low. Impervious surface better reflected the occurrence of fragmented landscapes at forested areas with high percentage of edge forest cover. In addition, a significant proportion of freshwater wetlands (60%) in the lowest condition category was associated with first-order streams, indicating a wide range of disturbance at some headwater watersheds.
This is a preview of subscription content, log in to check access.
Access options
Buy single article
Instant access to the full article PDF.
US$ 39.95
Price includes VAT for USA
Subscribe to journal
Immediate online access to all issues from 2019. Subscription will auto renew annually.
US$ 99
This is the net price. Taxes to be calculated in checkout.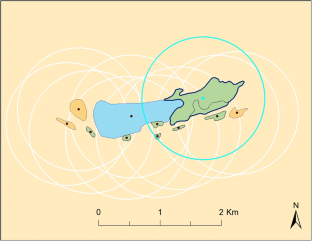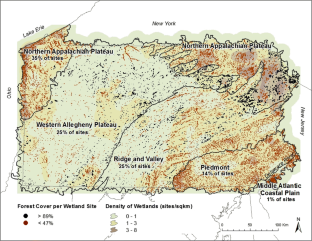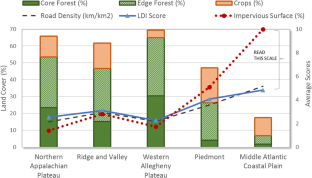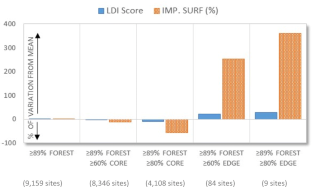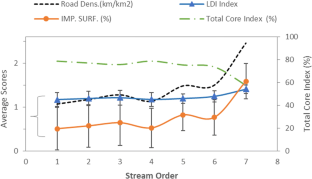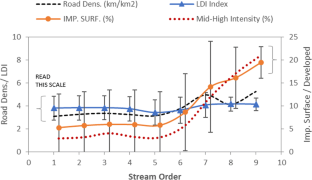 References
Andrén H (1994) Effects of habitat fragmentation on birds and mammals in landscapes with different proportions of suitable habitat : a review. Oikos 71:355–366

Arnold CLJ, Gibbons JC (1996) Impervious surface coverage: the emergence of a key environmental indicator. Journal of the American Planning Association 62:243–258. https://doi.org/10.1080/01944369608975688

Brooks RP (2013) Conservation and management of wetlands and aquatic landscapes: the vital role of connectivity. In: Brooks RP, Wardrop DH (eds) Mid-Atlantic freshwater wetlands: advances in wetlands science, management, policy, and practice. Springer, New York, pp 463–477

Brooks RP, Wardrop DH, Bishop JA (2004) Assessing wetland condition on a watershed basis in the mid-Atlantic region using synoptic land-cover maps. Environmental Monitoring and Assessment 94:9–22. https://doi.org/10.1023/B:EMAS.0000016876.63062.3d

Brooks R, McKenney-Easterling M, Brinson M, Rheinhardt R, Havens K, O'Brien D, Bishop J, Rubbo J, Armstrong B, Hite J (2009) A stream-wetland-riparian (SWR) index for assessing condition of aquatic ecosystems in small watersheds along the Atlantic slope of the eastern U.S. Environmental Monitoring and Assessment 150:101–117. https://doi.org/10.1007/s10661-008-0673-z

Brooks RP, Snyder C, Brinson MM (2013) Aquatic landscapes: the importance of integrating waters. In: Brooks RP, Wardrop DH (eds) Mid-Atlantic freshwater wetlands: advances in wetlands science, management, policy, and practice. Spinger, New York, pp 1–37

Brown MT, Vivas MB (2005) Landscape development intensity index. Environmental Monitoring and Assessment 101:289–309. https://doi.org/10.1007/s10661-005-0296-6

Brown MT, Vivas B (2007) Landscape development intensity index. In: Brown MT, Bardi E, Campbell DE, et al. (eds) Emergy Synthesis 4: Theory and applications of the Emergy methodology. Proceedings of the fourth biennial Emergy conference. Center for Environmental Policy, University of Florida, Gainesville, p 483

Cappiella K, Brown K (2001) Impervious cover and land use in the Chesapeake Bay. Ellicott City, MD

Chabaeva A, Civco DL, Hurd JD (2009) Assessment of impervious surface estimation techniques. Journal of Hydrologic Engineering 14:377–387. https://doi.org/10.1061/(ASCE)1084-0699(2009)14:4(377)

Comeleo RL, PaulPeter JF, August PV et al (1996) Relationships between watershed stressors and sediment contamination in Chesapeake Bay estuaries. Landscape Ecology 11:307–319

Cowardin LM, Carter V, Golet FC, LaRoe ET (1979) Classification of wetlands and Deepwater habitats of the United States. U.S. Department of the Interior, fish and wildlife service, Washington, D.C., USA

Crosbie B, Chow-Fraser P (1999) Percentage land use in the watershed determines the water and sediment quality of 22 marshes in the Great Lakes basin. Canadian Journal of Fisheries and Aquatic Sciences 56:1781–1791. https://doi.org/10.1139/f99-109

Dale MRT (1999) Spatial pattern analysis in plant ecology. Plant Ecology. https://doi.org/10.1017/CBO9780511612589

Evans IS, Robinson DT, Rooney RC (2017) A methodology for relating wetland configuration to human disturbance in Alberta. Landscape Ecology 32:2059–2076. https://doi.org/10.1007/s1098

Falcone JA, Carlisle DM, Weber LC (2010) Quantifying human disturbance in watersheds: variable selection and performance of a GIS-based disturbance index for predicting the biological condition of perennial streams. Ecological Indicators 10:264–273. https://doi.org/10.1016/j.ecolind.2009.05.005

Fennessy MS, Jacobs AD, Kentula ME, Control E (2004) Review of rapid methods for assessing wetland condition. EPA/620/R-04/009. U.S. Environmental Protection Agency, Washington, D.C.

Groffman PM, Baron JS, Blett T, Gold AJ, Goodman I, Gunderson LH, Levinson BM, Palmer MA, Paerl HW, Peterson GD, Poff NLR, Rejeski DW, Reynolds JF, Turner MG, Weathers KC, Wiens J (2006) Ecological thresholds: the key to successful environmental management or an important concept with no practical application? Ecosystems 9:1–13. https://doi.org/10.1007/s10021-003-0142-z

Heilman GE, Strittholt JR, Slosser NC, Dellasala DA (2002) Forest fragmentation of the conterminous United States: assessing forest intactness through road density and spatial characteristics. Bioscience 52:411–422. https://doi.org/10.1641/0006-3568(2002)052[0411:ffotcu]2.0.co;2

Hicks AL (1995) Impervious surface area and benthic macroinvertebrate response as an index of impact from urbanization on freshwater Wetlands Master Thesis, University of Massachusetts, Amherst

Hurd JD, Civco DL (2010) Assessing forest fragmentation in Connecticut using multi-temporal land cover. ASPRS 2010 Annu. Conf

Karr JR, Dudley DR (1981) Ecological perspective on water quality goals. Environmental Management 5:55–68. https://doi.org/10.1007/BF01866609

Kennedy C, Wilkison JB, Balch J (2003) Conservation thresholds for land use planners. Environmental Law Institute, Washington, D.C.

King RS, Baker ME, Whigham DF, Weller DE, Jordan TE, Kazyak PF, Hurd MK (2005) Spatial considerations for linking watershed land cover to ecological indicators in streams. Ecological Applications 15:137–153

Laubscher SE, Rocco G, Bishop JA, et al. (2007) Condition assessment of 5 tributary watershed ecosystems at Allegheny Portage Railroad National Historic Site and New River Gorge National River. NPS/NER/NRTR-2007/086. National Park Service, Northeast Region. Philadelphia, PA

Li H, Reynolds JF (1995) On definition and quantification of heterogeneity. Oikos 73:280–284

Li H, Wu J (2004) Use and misuse of landscape indices. Landscape Ecology 19:389–399. https://doi.org/10.1023/B:LAND.0000030441.15628.d6

Mack JJ (2006) Landscape as a predictor of wetland condition: an evaluation of the landscape development index (LDI) with a large reference wetland dataset from Ohio. Environmental Monitoring and Assessment 120:221–241. https://doi.org/10.1007/s10661-005-9058-8

McNair SA, Chow-Fraser P (2003) Change in biomass of benthic and planktonic algae along a disturbance gradient for 24 Great Lakes coastal wetlands. Canadian Journal of Fisheries and Aquatic Sciences 60:676–689. https://doi.org/10.1139/f03-054

Naiman RJ, Turner MG (2000) A future perspective on North America's freshwater ecosystems. Ecological Applications 10:958–970

Rehn A, Ode P, May J (2005) Development of a benthic index of biotic integrity (B-IBI) for wadeable streams in northern coastal California and its application to regional 305 (b) assessment. Technical Report to the California State Water Resources Control Board

Riitters K, Wickham J, Neill RO, et al. (2000) Global-scale patterns of forest fragmentation. Conservation ecology 4:3. [online] URL: http://www.consecol.org/vol4/iss2

Ritters K, O'Neill R, Hunsaker C et al (1995) A factor analysis of landscape pattern and structure metrics. Landscape Ecology 10:23–39

Rooney RC, Bayley SE, Creed IF, Wilson MJ (2012) The accuracy of land cover-based wetland assessments is influenced by landscape extent. Landscape Ecology 27:1321–1335. https://doi.org/10.1007/s10980-012-9784-6

Savage R, Baker V (2007) The importance of headwater wetlands and water quality in headwater Wetlands North Carolina Department of Environment and Natural Resources, Division of Water Quality

Schein R, Miller E (1995) Forest resources. In: Miller E (ed) The geography of Pennsylvania. The Pennsylvania State Univerity Press. University Park, PA, USA, pp 74–83

Schueler TR (1994) The importance of imperviousness. Watershed Protection Techniques 1:100–111

Sponseller RA, Benfield EF, Valett HM (2001) Relationships between land use, spatial scale and stream macroinvertebrate communities. Freshwater Biology 46:1409–1424. https://doi.org/10.1046/j.1365-2427.2001.00758.x

Strahler AN (1952) Hypsometric (area - altitude) analysis of erosional topography. Geological Society of America Bulletin 63:1117–1142. https://doi.org/10.1130/0016-7606(1952)63

Strayer DL, Beighley RE, Thompson LC, Brooks S, Nilsson C, Pinay G, Naiman RJ (2003) Effects of land cover on stream ecosystems: roles of empirical models and scaling issues. Ecosystems 6:407–423. https://doi.org/10.1007/s10021-002-0170-0

Tiner RW (2011) Dichotomous keys and mapping codes for wetland landscape position, landform, water flow path, and waterbody type descriptors: Version 2.0. US Fish and Wildlife Service, National Wetlands Inventory Program, Northeast Region, Hadley, MA

USDA Forest Service (2014) U. S. Forest resource facts and historical trends. FS-1036

USEPA (2004) Metals, pH, and fecal coliform TMDLs for the Guyandotte River watershed, West Virginia. Philadelphia, PA

USEPA (2006) Application of elements of a state water monitoring and assessment program for wetlands. Washington, D.C.

Vogt P, Riitters KH, Estreguil C, Kozak J, Wade TG, Wickham JD (2007) Mapping spatial patterns with morphological image processing. Landscape Ecology 22:171–177. https://doi.org/10.1007/s10980-006-9013-2

Wardrop DH, Kentula ME, Stevens DL Jr, Jensen SF, Stevens DL, Hychka KC, Brooks RP (2007) Assessment of wetland condition: an example from the upper Juniata watershed in Pennsylvania. USA Wetlands 27:416–431. https://doi.org/10.1672/0277-5212(2007)27[432:AOWITU]2.0.CO;2

Wiens JA, Stenseth NC, Van Horne B, Ims RA (1993) Ecological mechanisms and landscape ecology. Oikos 66:369–380. https://doi.org/10.2307/3544931

Yuan J, Cohen MJ, Kaplan DA et al. (2015) Linking metrics of landscape pattern to hydrological process in a lotic wetland. Landscape Ecology 30:1893–1912. https://doi.org/10.1007/s10980-015-0219-z
Acknowledgments
The authors would like to acknowledge financial support from Riparia at Penn State, Department of Geography. Landscape analyses were developed during multiple research projects supported by the U.S Environmental Protection Agency, Region 3 and the Office of Water. Appreciation is extended to Joseph Bishop, formerly of Riparia for his previous work in landscape analysis.
Additional information
Publisher's Note
Springer Nature remains neutral with regard to jurisdictional claims in published maps and institutional affiliations.
About this article
Cite this article
Fernandez, C., Spayd, J. & Brooks, R.P. Landscape Indicators and Ecological Condition for Mapped Wetlands in Pennsylvania, USA. Wetlands 39, 705–716 (2019). https://doi.org/10.1007/s13157-018-1116-4
Received:

Accepted:

Published:

Issue Date:
Keywords
Wetlands

Ecological condition

Landscape indicators

GIS

Pennsylvania