Abstract
Functional traits affect species ranges, but it is unclear how above and below-ground traits determine species responses to flooding and herbivory in wetland communities. We analyzed community-weighted means (CWM) of nine functional traits along a hydrological gradient inside and outside of grazing exclosures in an ephemeral wetland in New Zealand. Root traits exhibited the strongest relationships with the flooding gradient. Root aerenchyma increased linearly as flooding increased but plateaued in the ungrazed treatment. Root dry matter content and root tissue density decreased non-linearly as flooding increased. Grazing reduced the strength of the trait-flooding relationships for all traits except root tissue density, specific root length, and aboveground dry matter content. Specific leaf area decreased non-linearly and height increased linearly with flooding in the ungrazed treatment. Our results indicate that fine root traits can provide more information about the functional adaptation of plants to variation in flooding duration than aboveground traits, but traits such as height and specific leaf area responded to the exclusion of herbivores. Altered hydrological dynamics driven by changes in precipitation regimes will induce shifts in species ranges. Fine root traits, especially aerenchyma, can be used to predict how wetland species will respond to changes in soil hydrology.
This is a preview of subscription content, log in to check access.
Access options
Buy single article
Instant access to the full article PDF.
US$ 39.95
Price includes VAT for USA
Subscribe to journal
Immediate online access to all issues from 2019. Subscription will auto renew annually.
US$ 99
This is the net price. Taxes to be calculated in checkout.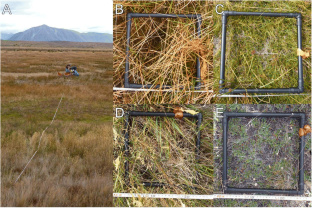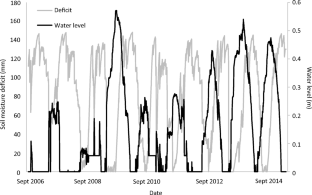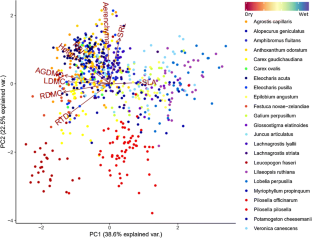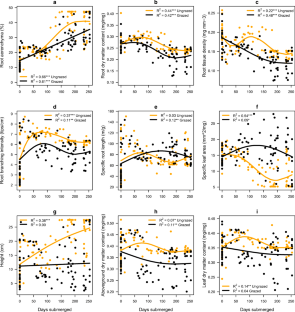 References
Ackerly D (2004) Functional strategies of chaparral shrubs in relation to seasonal water deficit and disturbance. Ecological Monographs 74:25–44

Araujo MB, Rahbek C (2006) How does climate change affect biodiversity? Science 313:1396–1397

Armstrong W, Brändle R, Jackson MB (1994) Mechanisms of flood tolerance in plants. Acta Botanica Neerlandica 43:307–358

Arreola J, Martinez-Sánchez JJ, Conesa E, Franco JA (2008) Effect of pre-conditioning water regimes during nursery production on seedling root system characteristics of Silene vulgaris. In: Leskovar DI (ed) Proceedings of the IVth International Symposium on Seed, Transplant and Stand Establishment of Horticultural Crops: Translating Seed and Seedling Physiology into Technology. International Society Horticultural Science, Leuven, pp 287–292

Baastrup-Spohr L, Sand-Jensen K, Veggerby Nicolajsen S, Henrik Bruun H (2015) From soaking wet to bone dry: predicting plant community composition along a steep hydrological gradient. Journal of Vegetation Science 26:619–630

Belsky AJ, Carson WP, Jensen CL, Fox GA (1993) Overcompensation by plants: herbivore optimization or red herring? Evolutionary Ecology 7:109–121

Blom CWPM, Voesenek LACJ (1996) Flooding: the survival strategies of plants. Trends in Ecology & Evolution 11:290–295

Blom CWPM, Voesenek LACJ, Banga M, Engelaar WMHG, Rijnders JHGM, van de Steeg HM, Visser EJW (1994) Physiological ecology of riverside species: adaptive responses of plants to submergence. Annals of Botany 74:253–263

Briske DD (1996) Strategies of plant survival in grazed systems: a functional interpretation. In: Hodgson JG, Illius AW (eds) The ecology and management of grazing systems. CAB International, Wallingford, pp 37–67

Caliaro M, Schmich F, Speck T, Speck O (2013) Effect of drought stress on bending stiffness in petioles of Caladium bicolor (Araceae). American Journal of Botany 100:2141–2148

Cheng H, Wang YS, Fei J, Jiang ZY, Ye ZH (2015) Differences in root aeration, iron plaque formation and waterlogging tolerance in six mangroves along a continues tidal gradient. Ecotoxicology 24:1659–1667

Cingolani AM, Posse G, Collantes MB (2005) Plant functional traits, herbivore selectivity and response to sheep grazing in Patagonian steppe grasslands. Journal of Applied Ecology 42:50–59

Cingolani AM, Cabido M, Gurvich DE, Renison D, Díaz S (2007) Filtering processes in the assembly of plant communities: are species presence and abundance driven by the same traits? Journal of Vegetation Science 18:911–920

Coley PD, Bryant JP, Chapin FS (1985) Resource availability and plant antiherbivore defense. Science 230:895–899

Colmer TD (2003a) Aerenchyma and an inducible barrier to radial oxygen loss facilitate root aeration in upland, paddy and deep-water rice (Oryza sativa L.). Annals of Botany 91:301–309

Colmer TD (2003b) Long-distance transport of gases in plants: a perspective on internal aeration and radial oxygen loss from roots. Plant, Cell and Environment 26:17–36

Comas LH, Mueller KE, Taylor LL, Midford PE, Callahan HS, Beerling DJ (2012) Evolutionary patterns and biogeochemical significance of angiosperm root traits. International Journal of Plant Sciences 173:584–595

Coughenour MB (1985) Graminoid responses to grazing by large herbivores: adaptations, exaptations, and interacting processes. Annals of the Missouri Botanical Garden 72:852–863

Craine JM, Lee WG (2003) Covariation in leaf and root traits for native and non-native grasses along an altitudinal gradient in New Zealand. Oecologia 134:471–478

Deil U (2005) A review on habitats, plant traits and vegetation of ephemeral wetlands – a global perspective. Phytocoenologia 35:533–705

Díaz S, Noy-Meir I, Cabido M (2001) Can grazing response of herbaceous plants be predicted from simple vegetative traits? Journal of Applied Ecology 38:497–508

Díaz S, Lavorel S, McIntyre SUE, Falczuk V, Casanoves F, Milchunas DG, Skarpe C, Rusch G, Sternberg M, Noy-Meir I, Landsberg J, Zhang WEI, Clark H, Campbell BD (2007) Plant trait responses to grazing – a global synthesis. Global Change Biology 13:313–341

Drew MC (1997) Oxygen deficiency and root metabolism: injury and acclimation under hypoxia and anoxia. Annual Review of Plant Physiology and Plant Molecular Biology 48:223–250

Eissenstat DM (1992) Costs and benefits of constructing roots of small diameter. Journal of Plant Nutrition 15:763–782

Eviner VT, Chapin FS (2003) Functional matrix: a conceptual framework for predicting multiple plant effects on ecosystem processes. Annual Review of Ecology, Evolution, and Systematics 34:455–485

Front-Christensen H, Bolt-Jorgensen L, Floto F (2003) Species specificity of resistance to oxygen diffusion in thin cuticular membranes from amphibious plants. Plant, Cell and Environment 26:561–569

Fu H, Zhong J, Yuan G, Guo C, Ding H, Feng Q, Fu Q (2015) A functional-trait approach reveals community diversity and assembly processes responses to flood disturbance in a subtropical wetland. Ecological Restoration 30:57–66

Garssen AG, Baattrup-Pedersen A, Voesenek LACJ, Verhoeven JTA Soons MB (2015) Riparian plant community responses to increased flooding: a meta-analysis. Global Change Biology 21:2881–2890

Graff P, Aguiar MR, Chaneton EJ (2007) Shifts in positive and negative plant interactions along a grazing intensity gradient. Ecology 88:188–199

Grimoldi AA, Insausti P, Vasellati V, Striker GG (2005) Constitutive and plastic root traits and their role in differential tolerance to soil flooding among coexisting species of a lowland grassland. International Journal of Plant Sciences 166:805–813

Groeneveld HW, Voesenek L (2003) Submergence induced petiole elongation in Rumex palustris is controlled by developmental stage and storage compounds. Plant and Soil 253:115–123

Groom PK (2004) Rooting depth and plant water relations explain species distribution patterns within a sandplain landscape. Functional Plant Biology 31:423–428

Grubb PJ (1992) Presidential address: a positive distrust in simplicity - lessons from plant defences and from competition among plants and among animals. Journal of Ecology 80:585–610

Hastie TJ, Tibshirani RJ (1986) Generalized additive models. Statistical Science 1:297–310

Herms DA, Mattson WJ (1992) The dilemma of plants: to grow or defend. The Quarterly Review of Biology 67:283–335

HilleRisLambers J, Adler PB, Harpole WS, Levine JM, Mayfield MM (2012) Rethinking community assembly through the lens of coexistence theory. Annual Review of Ecology, Evolution, and Systematics 43:227–248

Howison RA, Olff H, Steever R, Smit C (2015) Large herbivores change the direction of interactions within plant communities along a salt marsh stress gradient. Journal of Vegetation Science 26:1159–1170

IPCC (2014) Climate change 2014: synthesis report. Contribution of working groups I, II and III to the Fifth Assessment Report of the Intergovernmental Panel on Climate Change. IPCC, Geneva, Switzerland

Jackson MB, Armstrong W (1999) Formation of aerenchyma and the processes of plant ventilation in relation to soil flooding and submergence. Plant Biology 1:274–287

Jung V, Violle C, Mondy C, Hoffmann L, Muller S (2010) Intraspecific variability and trait-based community assembly. Journal of Ecology 98:1134–1140

Kaiser HF (1960) The application of electronic computers to factor analysis. Educational and Psychological Measurement 20:141–151

Keddy PA (1992) Assembly and response rules: two goals for predictive community ecology. Journal of Vegetation Science 3:157–164

Kempel A, Razanajatovo M, Stein C, Unsicker SB, Auge H, Weisser WW, Fischer M, Prati D (2015) Herbivore preference drives plant community composition. Ecology 96:2923–2934

Laughlin DC (2014a) The intrinsic dimensionality of plant traits and its relevance to community assembly. Journal of Ecology 102:186–193

Laughlin DC (2014b) Applying trait-based models to achieve functional targets for theory-driven ecological restoration. Ecology Letters 17:771–784

Lavorel S, Garnier E (2002) Predicting changes in community composition and ecosystem functioning from plant traits: revisiting the holy grail. Functional Ecology 16:545–556

Luo WB, Xie YH (2009) Growth and morphological responses to water level and nutrient supply in three emergent macrophyte species. Hydrobiologia 624:151–160

McGill BJ, Enquist BJ, Weiher E, Westoby M (2006) Rebuilding community ecology from functional traits. Trends in Ecology & Evolution 21:178–185

Merlin A, Bonis A, Damgaard CF, Mesléard F (2015) Competition is a strong driving factor in wetlands, peaking during drying out periods. PLoS One 10:e0130152

Milchunas DG, Sala OE, Lauenroth WK (1988) A generalized model of the effects of grazing by large herbivores on grassland community structure. The American Naturalist 132:87–106

Mommer L, de Kroon H, Pierik R, Bögemann GM, Visser E (2005) A functional comparison of acclimation to shade and submergence of two terrestrial plant species. The New Phytologist 167:197–206

Mommer L, Pons TL, Wolters-Arts M, Venema JH, Visser EJ (2005b) Submergence-induced morphological, anatomical, and biochemical responses in a terrestrial species affect gas diffusion resistance and photosynthetic performance. Plant Physiology 139:497–508

Mommer L, Wolters-Arts M, Andersen C, Visser EJ, Pedersen O (2007) Submergence-induced leaf acclimation in terrestrial species varying in flooding tolerance. The New Phytologist 176:337–345

Moor H, Rydin H, Hylander K, Nilsson MB, Lindborg R, Norgberg J (2017) Towards a trait-based ecology of wetland vegetation. Journal of Ecology 105:1623–1635

NIWA (2018) The National Climate Database. Retrieved from https://cliflo.niwa.co.nz

Oesterheld M, McNaughton SJ (1991) Interactive effect of flooding and grazing on the growth of Serengeti grasses. Oecologia 88:153–156

Olmo M, Lopez-Iglesias B, Villar R (2014) Drought changes the structure and elemental composition of very fine roots in seedlings of ten woody tree species. Implications for a drier climate. Plant and Soil 384:113–129

Pedersen O, Rich SM, Colmer TD (2009) Surviving floods: leaf gas films improve O2 and CO2 exchange, root aeration, and growth of completely submerged rice. The Plant Journal 58:147–156

Przywara G, Stepniewski W (1999) The influence of waterlogging at different temperatures on penetration depth and porosity of roots and on stomatal diffusive resistance of pea and maize seedlings. Acta Physiologiae Plantarum 21:405–411

Rasband W (2013) ImageJ 1.50i. National Institutes of Health, USA. Retrieved from http://imagej.nih.gov/ij

Reader RJ, Jalili A, Grime JP, Spencer RE, Matthews N (1993) A comparative study of plasticity in seedling rooting depth in drying soil. Journal of Ecology 81:543–550

Reich PB, Wright IJ, Cavender-Bares J, Craine JM, Oleksyn J, Westoby M, Walters MB (2003) The evolution of plant functional variation: traits, spectra, and strategies. International Journal of Plant Sciences 164:S143–S164

Rosenthal JP, Kotanen PM (1994) Terrestrial plant tolerance to herbivory. Trends in Ecology & Evolution 9:145–148

Rubio G, Oesterheld M, Alvarez CR, Lavado RS (1997) Mechanisms for the increase in phosphorus uptake of waterlogged plants: soil phosphorus availability, root morphology and uptake kinetics. Oecologia 112:150–155

Ryser P, Gill HK, Byrne CJ (2011) Constraints of root response to waterlogging in Alisma triviale. Plant and Soil 343:247–260

Setter TL, Laureles EV (1996) The beneficial effect of reduced elongation growth on submergence tolerance of rice. Journal of Experimental Botany 47:1551–1559

Shi FX, Song CC, Zhang XH, Mao R, Guo YD, Gao FY (2015) Plant zonation patterns reflected by the differences in plant growth, biomass partitioning and root traits along a water level gradient among four common vascular plants in freshwater marshes of the Sanjiang plain, Northeast China. Ecological Engineering 81:158–164

Silvertown J, Araya Y, Gowing D (2015) Hydrological niches in terrestrial plant communities: a review. Journal of Ecology 103:93–108

Strahan RT, Laughlin DC, Bakker JD, Moore MM (2015) Long-term protection from heavy livestock grazing affects ponderosa pine understory composition and functional traits. Rangeland Ecology & Management 68:257–265

Striker GG, Insausti P, Grimoldi AA, Ploschuk EL, Vasellati V (2005) Physiological and anatomical basis of differential tolerance to soil flooding of Lotus corniculatus L. and Lotus glaber mill. Plant and Soil 276:301–311

Striker GG, Insausti P, Grimoldi AA (2008) Flooding effects on plants recovering from defoliation in Paspalum dilatatum and Lotus tenuis. Annals of Botany 102:247–254

Striker GG, Manzur ME, Grimoldi AA (2011) Increasing defoliation frequency constrains regrowth of the forage legume Lotus tenuis under flooding. The role of crown reserves. Plant and Soil 343:261–272

Tanentzap AJ, Lee WG (2017) Evolutionary conservatism explains increasing relatedness of plant communities along a flooding gradient. The New Phytologist 213:634–644

Tanentzap AJ, Lee WG, Monks A, Ladley K, Johnson PN, Rogers GM, Comrie JM, Clarke DA, Hayman E (2014) Identifying pathways for managing multiple disturbances to limit plant invasions. Journal of Applied Ecology 51:1015–1023

Thorne MA, Frank DA (2009) The effects of clipping and soil moisture on leaf and root morphology and root respiration in two temperate and two tropical grasses. Plant Ecology 200:205–215

van der Plas F, Zeinstra P, Veldhuis M, Fokkema R, Tielens E, Howison R, Olff H (2013) Responses of savanna lawn and bunch grasses to water limitation. Plant Ecology 214:1157–1168

van der Valk AG (1981) Succession in wetlands: a Gleasonian approach. Ecology 62:688–696

van Soest PJ (1994) Nutritional ecology of the ruminant. Cornell University Press, Ithaca

Vervuren PJA, Blom C, de Kroon H (2003) Extreme flooding events on the Rhine and the survival and distribution of riparian plant species. Journal of Ecology 91:135–146

Violle C, Bonis A, Plantegenest M, Cudennec C, Damgaard C, Marion B, Le Cœur D, Bouzillé J-B (2011) Plant functional traits capture species richness variations along a flooding gradient. Oikos 120:389–398

Visser EJW, Bögemann GM (2003) Measurement of porosity in very small samples of plant tissue. Plant and Soil 253:81–90

Voesenek LACJ, Bailey-Serres J (2015) Flood adaptive traits and processes: an overview. The New Phytologist 206:57–73

Weiher EDP, Keddy PA (1995) The assembly of experimental wetland plant communities. Oikos 73:323–335

Westoby M, Wright IJ (2006) Land-plant ecology on the basis of functional traits. Trends in Ecology & Evolution 21:261–268

Westoby M, Falster DS, Moles AT, Vesk PA, Wright IJ (2002) Plant ecological strategies: some leading dimensions of variation between species. Annual Review of Ecology and Systematics 33:125–159

Wright IJ, Reich PB, Westoby M, Ackerly DD, Baruch Z, Bongers F, Cavender-Bares J, Chapin T, Cornelissen JHC, Diemer M, Flexus J, Garnier E, Groom PK, Gulias J, Hikosaka K, Lamont BB, Lee T, Lee W, Lusk C, Midgley JJ, Navas M-L, Niinemets U, Oleksyn J, Osada N, Poorter H, Poot P, Prior L, Pyankov VI, Roumet C, Thomas SC, Tjoelker MG, Veneklass EJ, Villar R (2004) The worldwide leaf economics spectrum. Nature 428:821–827

Yang HJ, Li Y, Wu MY, Zhang Z, Li LH, Wan SQ (2011) Plant community responses to nitrogen addition and increased precipitation: the importance of water availability and species traits. Global Change Biology 17:2936–2944

Zhang XC, Shabala S, Koutoulis A, Shabala L, Johnson P, Hayes D, Nichols DS, Zhou MX (2015) Waterlogging tolerance in barley is associated with faster aerenchyma formation in adventitious roots. Plant and Soil 394:355–372
Acknowledgements
This research was supported by funding from both the University of Waikato and Manaaki Whenua - Landcare Research. We thank Kris Kramer-Walter, Toni Cornes, Brooke Shaffer, Beth Pearsall, Geoff Churchill, Tosca Mannall, and Ella Hayman for assistance in the laboratory and field. John Payne, Landcare Research, kindly provided the capacitance probe water level data.
Electronic Supplementary Material
About this article
Cite this article
Purcell, A.S.T., Lee, W.G., Tanentzap, A.J. et al. Fine Root Traits Are Correlated with Flooding Duration while Aboveground Traits Are Related to Grazing in an Ephemeral Wetland. Wetlands 39, 291–302 (2019). https://doi.org/10.1007/s13157-018-1084-8
Received:

Accepted:

Published:

Issue Date:
Keywords
Root aerenchyma

Flooding gradient

Grazing

Root porosity

Root traits