Abstract
To evaluate the effects of increasing atmospheric N deposition on net C and N accumulation in Sphagnum-dominated bogs, we conducted a laboratory mesocosm experiment. Following 45 days of watering with N-free rainwater, mesocosms were exposed to simulated atmospheric N deposition values of 0, 4.14, 8.18, and 12.42 mg N m−2 da−1 over a 108 day period. We quantified N retention from leachate N concentrations and from changes in N contents of the Sphagnum/peat mesocosms. As N loading of simulated atmospheric N deposition increased, so did the net retention of simulated atmospherically deposited N. Our hypothesis of a decrease in N retention efficiency with increasing N loading was not observed. Further, for each N loading treatment, rates of retention of simulated atmospherically deposited N remained constant over time. We did not observe a threshold N deposition below which N would be retained in mesocosms and above which N passed through the mesocosms. Substantially more N was retained in mesocosms that was added in simulated atmospheric N deposition, suggesting an unaccounted for N source, most likely biological N2 fixation. In locations where N2 fixation represents a much greater source of new N to Sphagnum-dominated bogs, as in northern Alberta, Canada, increasing atmospheric N deposition may have a minimal effect on overall net N accumulation in peat.
This is a preview of subscription content, log in to check access.
Access options
Buy single article
Instant access to the full article PDF.
US$ 39.95
Tax calculation will be finalised during checkout.
Subscribe to journal
Immediate online access to all issues from 2019. Subscription will auto renew annually.
US$ 99
Tax calculation will be finalised during checkout.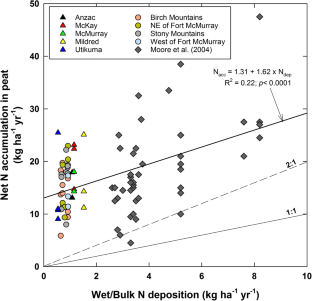 References
Ackermann K, Zackrisson O, Rousk J, Jones DL, DeLuca TH (2012) N2 fixation in feather mosses is a sensitive indicator of N deposition in boreal forests. Ecosystems 15:986–998

Bayley SE, Thormann MN, Szumigalski AR (2005) Nitrogen mineralization and decomposition in western boreal bog and fen peat. Écoscience 12:455–465

Bonnett SAF, Ostle N, Freeman C (2010) Short-term effect of deep shade and enhanced nitrogen supply on Sphagnum capillifolium morphophysiology. Plant Ecology 207:347–358

Bragazza L, Limpens J (2004) Dissolved organic nitrogen dominates in European bogs under increasing atmospheric N deposition. Global Biogeochemical Cycles 18:5

Bragazza L, Tahvanainen T, Kutnar T, Rydin H, Limpens J, Hájek M, Grosvernier P, Hájek T, Hajkiva O, Hansen I, Iacumin O, Gerdol R (2004) Nutritional constraints in ombrotrophic Sphagnum plants under increasing atmospheric nitrogen deposition in Europe. Global Change Biology 7:591–598

Bragazza L, Limpens J, Gerdol R, Grosvernier P, Hájek M, Hájek T, Hajkova P, Hansen I, Iacumin P, Kutnar L, Rydin H, Tahvanainen T (2005) Nitrogen concentration and δ15N signature of ombrotrophic Sphagnum mosses at different N deposition levels in Europe. Global Change Biology 11:106–114

Bubier JL, Moore TR, Bledzki LA (2007) Effects of nutrient addition on vegetation and carbon cycling in an ombrotrophic bog. Global Change Biology 13:1168–1186

Francez A-J, Gogo S, Josselin N (2000) Distribution of potential CO2 and CH4 productions, denitrification and microbial biomass C and N in the profile of a restored peatland in Brittany (France). European Journal of Soil Science 36:161–168

Fritz C, Lamers LPM, Riaz M, van den Berg LJL, Elzenga T (2014) Sphagnum mosses - masters of efficient N-uptake while avoiding intoxication. PLoS ONE 9:11

Gorham E (1991) Northern peatlands: role in the carbon cycle and probable responses to climatic warming. Ecological Applications 1:182–185

Graham JA, Hartsock JA, Vitt DH, Wieder RK, Gibson JJ (2016) Linkages between spatio-temporal patterns of environmental factors and distribution of plant assemblages across a boreal peatland complex. Boreas 45:207–219

Gundale MJ, Deluca TH, Nordin A (2011) Bryophytes attenuate anthropogenic inputs in boreal forests. Global Change Biology 17:2743–2753

Hartsock J, House M, Vitt D (2016) Net nitrogen mineralization in boreal fens: a potential performance indicator for peatland reclamation. Botany 94:1027–1040

Hayden MJ, Ross DS (2005) Denitrification as a nitrogen removal mechanism in a Vermont peatland. Journal of Environmental Quality 34:2052–2061

Jiroušek M, Hájek T, Bragazza L (2011) Nutrient stoichiometry in Sphagnum along a nitrogen deposition gradient in highly polluted region of central-East Europe. Environmental Pollution 159:585–590

Keller JK, Bridgham SD (2007) Pathways of anaerobic carbon cycling across an ombrotrophic-minerotrophic peatland gradient. Limnology and Oceanography 52:96–107

Kox MAR, Lüke C, Fritz C, van den Elzen E, van Alen T, Op den Camp HJM, Lamers PM, Jetten MSM, Ettwig KF (2016) Effects of nitrogen fertilization on diazotrophic activity of microorganisms associated with Sphagnum magellanicum. Plant and Soil 406:83–100

Kravchenko AN, Toosi ER, Guber AK, Ostrom NE, Yu J, Azeem K, Rivers ML, Robertson GP (2017) Hotspots of soil N2O emission enhanced through water absorption by plant residue. Nature Geoscience 10:496–500

Lamers LPM, Bobbink R, Roelofs JGM (2000) Natural nitrogen filter fails in polluted raised bogs. Global Change Biology 6:583–586

Limpens J, Berendse F, Klees H (2003) N deposition affects N availability in interstitial water, growth of Sphagnum and invasion of vascular plants in bog vegetation. The New Phytologist 157:339–347

Limpens J, Heijmans MMPD, Berendse F (2006) The nitrogen cycle in boreal peatlands, In: Wieder RK, Vitt DH (eds) Boreal peatland ecosystems. Springer, pp 195–230

Limpens J, Granath G, Gunnarsson U, Aerts R, Bayley S, Bragazza L, Bubier J, Buttler A, van den Berg LJL, Francez A-J, Gerdol R, Grosvernier P, Heijmans MMPD, Hoosbeek MR, Hotes S, Ilomets M, Leith I, Mitchell EAD, Moore T, Nilsson MB, Nordbakken J-F, Rochefort L, Rydin H, Sheppard LJ, Thormann M, Wiedermann MM, Williams BL, Xu B (2011) Climatic modifiers of the response to nitrogen deposition in peat-forming Sphagnum mosses: a meta-analysis. The New Phytologist 191:496–507

Loisel J, Yu ZC, Beilman DW, Camill P, Alm J, Amesbury MJ, Anderson D, Andersson S, Bochicchio C, Barber K, Belyea LR, Bunbury J, Chambers FM, Charman DJ, De Vleeschouwer F, Fialkiewicz-Koziel B, Finkelstein SA, Galka M, Garneau M, Hammarlund D, Hinchcliffe W, Holmquist J, Hughes P, Jones MC, Klein ES, Kokfelt U, Korhola A, Kuhry P, Lamarre A, Lamentowicz M, Large D, Lavoie M, MacDonald G, Magnan G, Makila M, Mallon G, Mathijssen P, Mauquoy D, McCarroll J, Moore TR, Nichols J, O'Reilly B, Oksanen P, Packalen M, Peteet D, Richard PJH, Robinson S, Ronkainen T, Rundgren M, Sannel ABK, Tarnocai C, Thom T, Tuittila ES, Turetsky M, Valiranta M, van der Linden M, van Geel B, van Bellen S, Vitt D, Zhao Y, Zhou WJ (2014) A database and synthesis of northern peatland soil properties and Holocene carbon and nitrogen accumulation. The Holocene 24:1028–1042

Macrae ML, Devito KJ, Strack M, Waddington JM (2013) Effect of water table drawdown on peatland nutrient dynamics: implications for climate change. Biogeochemistry 112:661–676

Moore T, Blodau C, Turunen J, Roulet N, Richard PJH (2004) Patterns of nitrogen and sulfur accumulation and retention in ombrotrophic bogs, eastern Canada. Global Change Biology 11:356–367

Nykänen H, Vasander Hm Huttunen JT, Martikainen PJ (2002) Effect of experimental nitrogen load on methane and nitrous oxide fluxes on ombrotrophic boreal peatland. Plant and Soil 242:147–155

Rousk K, Jones DL, DeLuca TH (2014) Exposure to nitrogen does not eliminate N2 fixation in the feather moss Pleurozium schreberi (Brid.) Mitt. Plant and Soil 374:513–521

Stuart JEM, Wieder RK, Vile MA (2018) Net nitrogen mineralization in Alberta bog peat is insensitive to experimentally increased nitrogen deposition and time since wildfire. Biogeochemistry 138:155–170

Urban NR, Eisenreich SJ, Bayley SE (1988) The relative importance of denitrification and nitrate assimilation in midcontinental bogs. Limnology and Oceanography 33:1611–1617

Vile MA, Wieder RK, Zivkovic T, Scott KD, Vitt DH, Hartsock JA, Iosue CL, Quinn JC, Petix M, Fillingim HM, Popma JMA, Dynarski KA, Jackman TR, Albright CM, Wykoff DD (2014) N2-fixation by methanotrophs sustains carbon and nitrogen accumulation in pristine peatlands. Biogeochemistry 121:317–328

Vitt DH, Wieder K, Halsey LA, Turetsky M (2003) Response of Sphagnum fuscum to nitrogen deposition: a case study of ombrogenous peatlands in Alberta, Canada. Bryologist 106:235–245

Wieder RK, Scott KD, Kamminga K, Vile MA, Vitt DH, Bone T, Xu B, Benscoter BW, Bhatti JS (2009) Postfire carbon balance in boreal bogs of Alberta, Canada. Global Change Biology 15:63–81

Wieder RK, Vitt DH, Burke-Scoll M, Scott KD, House M, Vile MA (2010) Nitrogen and sulphur deposition and the growth of Sphagnum fuscum in bogs of the Athabasca Oil Sands region, Alberta. Journal of Limnology 69:161–170

Wieder RK, Vile MA, Albright CA, Scott KD, Vitt DH, Quinn JC, Burke-Scoll M (2016a) Effects of altered atmospheric nutrient deposition from Alberta oil sands development on Sphagnum fuscum growth and C, N, and S accumulation in peat. Biogeochemistry 129:1–19

Wieder RK, Vile MA, Scott KD, Albright CM, McMillen K, Vitt DH, Fenn ME (2016b) Differential effects of high atmospheric N and S deposition on bog plant/lichen tissue and porewater chemistry across the Athabasca Oil Sands region. Environmental Science & Technology 50:12630–12640

Wood ME, Macrae ML, Strack M, Price JS, Osko TJ, Petrone RM (2015) Spatial variation in nutrient dynamics among five different peatland types in the Alberta oil sands region. Ecohydrology 9:688–699

Yu ZC, Loisel J, Brosseau DP, Beilman DW, Hunt SJ (2010) Global peatland dynamics since the last glacial maximum. Geophysical Research Letters 37:L13402. https://doi.org/10.1029/2010GL043584
Acknowledgments
Special thanks to Kimberli Scott, Cara Albright, Jim Quinn, and Andrew Rudner for assisting in all aspects of this laboratory study. Funding for the project was provided by a grant awarded to Drs. R. Kelman Wieder, Melanie Vile, and Dale Vitt from the Cumulative Environmental Management Association (grant no. 224940).
About this article
Cite this article
Hartsock, J.A., Wieder, R.K. & Vile, M.A. Nitrogen Retention by Sphagnum fuscum in Laboratory Mesocosms: Responses to Experimentally Added NH4+-N and NO3−-N. Wetlands 39, 79–85 (2019). https://doi.org/10.1007/s13157-018-1066-x
Received:

Accepted:

Published:

Issue Date:
Keywords
Peatlands

Sphagnum

Nitrogen

Deposition

Ammonium

Nitrate