Abstract
Development around estuaries leads to degradation of tidal wetlands and alteration of tidal flows, which impacts on fishery productivity. Contemporary management seeks to lessen land-use impacts on aquatic environments and restore ecosystem services, and knowledge of potential benefits will inform investment and galvanize community action. We present a framework to estimate the potential benefits that may be derived from wetland repair, demonstrated through a case study for School Prawn (Metapenaeus macleayi) in Lake Wooloweyah, Clarence River estuary. Under a scenario of good School Prawn recruitment, habitat repair could yield a benefit of ~94 kg ha−1 of subtidal creek habitat, equating to a gross value of around AUD876 ha−1 and total output of around AUD5,175 ha−1 annually. Upscaling these calculations to reflect a scenario restoring 27.6 ha of subtidal channels at the mouth of Lake Wooloweyah would contribute an expected annual yield of 2569 kg in School Prawn harvest. These estimates are conservative, not accounting for the economic outcomes derived from other species directly utilising the additional habitat, or the outwelling of additional saltmarsh-derived productivity. Simple models such as this are useful for assessing the potential benefits of habitat repair, and supporting investment of resources into on-ground works.
Access options
Buy single article
Instant access to the full article PDF.
USD 39.95
Price excludes VAT (USA)
Tax calculation will be finalised during checkout.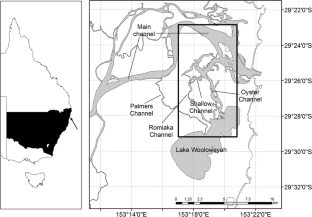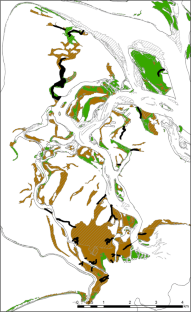 References
Albert RC (1988) The historical context of water quality management for the Delaware estuary. Estuaries 11:99–107

Baker R, Fujiwara M, Minello TJ (2014) Juvenile growth and mortality effects on white shrimp Litopenaeus setiferus population dynamics in the northern Gulf of Mexico. Fisheries Research 155:74–82

Beck MW, Heck KL Jr, Able KW, Childers DL, Eggleston DB, Gillanders BM, Halpern B, Hays CG, Hoshino K, Minello TJ, Orth RJ, Sheridan PF, Weinstein MP (2001) The identification, conservation, and management of estuarine and marine nurseries for fish and invertebrates. Bioscience 51:633–641

Blandon A, zu Ermgassen PS (2014a) Quantitative estimate of commercial fish enhancement by seagrass habitat in southern Australia. Estuarine. Coastal and Shelf Science 141:1–8

Blandon A, zu Ermgassen PSE (2014b) Corrigendum to "quantitative estimate of commercial fish enhancement by seagrass habitat in southern Australia" [Estuar. Coast. Shelf Sci. 141 (20 march 2014) 1–8]. Estuarine, Coastal and Shelf Science 151:370

Boys CA, Pease B (2017) Opening the floodgates to the recovery of nektonic assemblages in a temperate coastal wetland. Marine and Freshwater Research 68:1023–1035

Boys CA, Williams RJ (2012) Succession of fish and crustacean assemblages following reinstatement of tidal flow in a temperate coastal wetland. Ecological Engineering 49:221–232

Browder JA, May LN, Rosenthal A, Gosselink JG, Baumann RH (1989) Modeling future trends in wetland loss and brown shrimp production in Louisiana using thematic mapper imagery. Remote Sensing of Environment 28:45–59

Caraco N, Cole J, Findlay S, Wigand C (2006) Vascular plants as engineers of oxygen in aquatic systems. Bioscience 56:219–225

Creighton, C. (2013) Revitalising Australia's Estuaries. p. 165. Final report on Project 2012–036-DLD to the Fisheries Research and Development Corporation, Canberra

Creighton C, Boon PI, Brookes JD, Sheaves M (2015) Repairing Australia's estuaries for improved fisheries production–what benefits, at what cost? Marine and Freshwater Research 66:493–507

Dauer DM, Ranasinghe JA, Weisberg SB (2000) Relationships between benthic community condition, water quality, sediment quality, nutrient loads, and land use patterns in Chesapeake Bay. Estuaries 23:80–96

Glaister JP (1978a) Impact of river discharge on distribution and production of school prawn Metapenaeus macleayi (Haswell) (Crustacea-Penaeidae) in Clarence River region, northern new South Wales. Australian Journal of Marine & Freshwater Research 29:311–323

Glaister JP (1978b) Movement and growth of tagged school prawns, Metapenaeus macleayi (Haswell) (Crustacea-Penaeidae), in Clarence River region of northern new South Wales. Australian Journal of Marine & Freshwater Research 29:645–657

Grabowski JH, Brumbaugh RD, Conrad RF, Keeler AG, Opaluch JJ, Peterson CH, Piehler MF, Powers SP, Smyth AR (2012) Economic valuation of ecosystem services provided by oyster reefs. Bioscience 62:900–909

Harris GP (2001) Biogeochemistry of nitrogen and phosphorus in Australian catchments, rivers and estuaries: effects of land use and flow regulation and comparisons with global patterns. Marine and Freshwater Research 52:139–149

Hart C, Gaston TF, Taylor MD (2018) Utilisation of a recovering wetland by a commercially important species of penaeid shrimp. Wetlands Ecology and Management

Loneragan, N. R., R. A. Kenyon, P. J. Crocos, R. D. Ward, S. Lehnert, M. Haywood, S. Arnold, R. Barnard, M. Burford, N. Caputi, M. Kangas, F. Manson, R. McCulloch, J. Penn, M. Sellars, P. Grewe, Y. Ye, B. Harch, M. Bravington and P. Toscas (2003) Developing techniques for enhancing prawn fisheries, with a focus on brown tiger prawns (Penaeus esculentus) fishery in Exmouth Gulf. p. 287. CSIRO, Cleveland

Lotze HK, Lenihan HS, Bourque BJ, Bradbury RH, Cooke RG, Kay MC, Kidwell SM, Kirby MX, Peterson CH, Jackson JBC (2006) Depletion, degradation, and recovery potential of estuaries and coastal seas. Science 312:1806–1809

Mazumder D (2009) Ecology of burrowing crabs in temperate saltmarsh of south-East Australia. In: Saintilan N (ed) Saltmarsh ecology. CSIRO Publishing, Melbourne, pp 115–131

Melville AJ, Connolly RM (2003) Spatial analysis of stable isotope data to determine primary sources of nutrition for fish. Oecologia 136:499–507

Melville AJ, Connolly RM (2005) Food webs supporting fish over subtropical mudflats are based on transported organic matter not in situ microalgae. Marine Biology 148:363–371

Montgomery SS, Walsh CT, Haddon M, Kesby CL, Johnson DD (2010a) Using length data in the Schnute model to describe growth in a metapenaeid from waters off Australia. Marine and Freshwater Research 61:1435–1445

Montgomery SS, Walsh CT, Kesby CL, Johnson DD (2010b) Studies on the growth and mortality of school prawns. p. 90. Industry and investment NSW, fisheries final report series no. 119 FRDC Project No 2001(/029)

Morton RM, Pollock BR, Beumer JP (1987) The occurrence and diet of fishes in a tidal inlet to a saltmarsh in southern Moreton Bay, Queensland. Australian Journal of Ecology 12:217–237

Nagelkerken I, Sheaves M, Baker R, Connolly RM (2015) The seascape nursery: a novel spatial approach to identify and manage nurseries for coastal marine fauna. Fish and Fisheries 16:362–371

Penn J (1980) Spawning and fecundity of the western king prawn, Penaeus latisulcatus Kishinouye, in western Australian waters. Marine and Freshwater Research 31:21–35

Pollard DA (1984) A review of ecological studies on seagrass—fish communities, with particular reference to recent studies in Australia. Aquatic Botany 18:3–42

Preston N (1985) The effects of temperature and salinity on survival and growth of larval Penaeus plebejus, Metapenaeus macleayi and M. bennettae. p. 31-40. In: Rothlisberg PC, Hill BJ, Staples DJ (eds) Second Australian National Prawn Seminar Cleveland

R Core Team (2016) R: a language and environment for statistical computing. R Foundation for Statistical Computing, Vienna

Rabalais NN, Turner RE, Gupta BKS, Platon E, Parsons ML (2007) Sediments tell the history of eutrophication and hypoxia in the northern Gulf of Mexico. Ecological Applications 17:S129–S143

Raoult V, Gaston TF, Taylor MD (2018) Habitat-fishery linkages in two large estuarine fisheries: the key role of saltmarsh in supporting fisheries productivity. Hydrobiologia. https://doi.org/10.1007/s10750-10017-13490-y

Rozas LP, Reed DJ (1993) Nekton use of marsh-surface habitats in Louisiana (USA) deltaic salt marshes undergoing submergence. Marine Ecology Progress Series 96:147–157

Rozas LP, Caldwell P, Minello TJ (2005) The fishery value of salt marsh restoration projects. Journal of Coastal Research SI40:37–50

Ruello NV (1973) Influence of rainfall on distribution and abundance of school prawn Metapenaeus macleayi in Hunter River region (Australia). Marine Biology 23:221–228

Saintilan N (2004) Relationships between estuarine geomorphology, wetland extent and fish landings in new South Wales estuaries. Estuarine, Coastal and Shelf Science 61:591–601

Schnute J (1981) A versatile growth model with statistically stable parameters. Canadian Journal of Fisheries and Aquatic Sciences 38:1128–1140

Sheaves M, Baker R, Nagelkerken I, Connolly RM (2015) True value of estuarine and coastal nurseries for fish: incorporating complexity and dynamics. Estuaries and Coasts 38:401–414

Taylor, M. D. (2016) Identifying and understanding nursery habitats for exploited penaeid shrimp in NSW estuaries. p. 1-8. 25th annual NSW coastal conference, 9-11th November, 2016. Coffs Harbour, http://www.coastalconference.com/2016/papers2016/Matt%20Taylor.pdf

Taylor MD, Smith JA, Boys CA, Whitney H (2016) A rapid approach to evaluate putative nursery sites for penaeid prawns. Journal of Sea Research 114:26–31

Taylor MD, Fry B, Becker A, Moltschaniwskyj NA (2017a) Recruitment and connectivity influence the role of seagrass as a penaeid nursery habitat in a wave dominated estuary. Science Total Environment 584–585:622–630

Taylor MD, Fry B, Becker A, Moltschaniwskyj NA (2017b) The role of connectivity and physicochemical conditions in effective habitat of two exploited penaeid species. Ecological Indicators 80:1–11

Taylor MD, Gaston T, Raoult V (2017c) The economic value of fisheries harvest supported by saltmarsh and mangrove productivity in two Australian estuaries. Ecological Indicators. https://doi.org/10.1016/j.ecolind.2017.1008.1044

Turner RE (1977) Intertidal vegetation and commercial yields of penaeid shrimp. Transactions of the American Fisheries Society 106:411–416

Tyler KJ, Becker A, Moltschaniwskyj NM, Taylor MD (2017) Rapid salinity changes impact the survival and physiology of a penaeid prawn: implications of flood events on recruitment to the fishery. Fisheries Management and Ecology 24:478–487

Voyer M, Barclay K, McIlgorm A, Mazur N (2016) Social and economic evaluation of NSW coastal professional wild-catch fisheries: valuing coastal fisheries. p. 208. University of Technology, Sydney. Report to Australian Fisheries Research and Development Corporation on Project 2014(/301)

Watson RA, Coles RG, Long WJL (1993) Simulation estimates of annual yield and landed value for commercial penaeid prawns from a tropical seagrass habitat, northern Queensland, Australia. Australian Journal of Marine & Freshwater Research 44:211–219

Webley JA, Connolly RM, Young RA (2009) Habitat selectivity of megalopae and juvenile mud crabs (Scylla serrata): implications for recruitment mechanism. Marine Biology 156:891–899

Williams, R. J. and I. Thiebaud (2007) An analysis of changes to aquatic habitats and adjacent land-use in the downstream portion of the Hawkesbury Nepean River over the past sixty years. p. 97. NSW Fisheries, Cronulla
Acknowledgements
We thank T. Gaston, C. Hart, T. Ryan, I. McLeod, C. Mckluckie, V. Raoult, K. Russel and C. Copeland for input at various stages of this project. This project was supported by the Australian Government's National Environmental Science Programme: Marine Biodiversity Hub.
About this article
Cite this article
Taylor, M.D., Creighton, C. Estimating the Potential Fishery Benefits from Targeted Habitat Repair: a Case Study of School Prawn (Metapenaeus macleayi) in the Lower Clarence River Estuary. Wetlands 38, 1199–1209 (2018). https://doi.org/10.1007/s13157-018-1022-9
Received:

Accepted:

Published:

Issue Date:

DOI: https://doi.org/10.1007/s13157-018-1022-9
Keywords