Abstract
Freshwaters are currently one of the most threatened habitats and many studies have focused on their plant species diversity. However, information regarding the contribution of various waterbody types to macrophyte diversity is either lacking or focused on Western Europe. Thus, we decided to study the species diversity of four waterbody types (rivers, streams, canals and ponds) in a model area located in two distinct bioregions (the Western Carpathian and the Pannonian) in Central Europe. We sampled altogether 100 localities (25 per waterbody type) situated along a 400 km-long watercourse of the Váh river. Local (alpha), among-site (beta) and regional (gamma) diversity were analysed. The results showed that the highest species number at local and regional level was found in ponds and canals. Streams are habitats with the lowest local and regional diversity, and the lowest number of red-list and unique species. However, none of the used diversity measures showed statistically significant difference among habitat types. Thus, we can state that all waterbody types contribute to macrophyte diversity to a comparable degree at the broad-scale level in the Central European landscape.
Access options
Buy single article
Instant access to the full article PDF.
USD 39.95
Price includes VAT (USA)
Tax calculation will be finalised during checkout.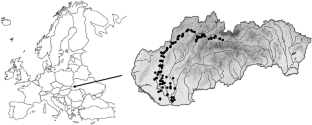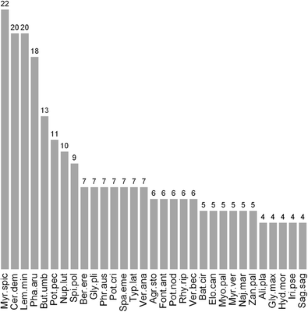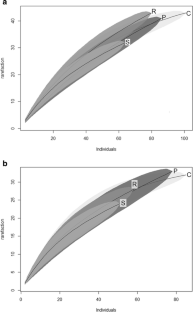 References
Akasaka M, Takamura N, Mitsuhashi H, Kadono Y (2010) Effects of land use on aquatic macrophyte diversity and water quality of ponds. Freshw Biol 55:909–922. https://doi.org/10.1111/j.1365-2427.2009.02334.x

Armitage PD, Szoszkiewicz K, Blackburn JH, Nesbitt I (2003) Ditch communities: a major contributor to floodplain biodiversity. Aquat Conserv Mar Freshwat Ecosyst 13:165–185. https://doi.org/10.1002/aqc.549

Baattrup-Pedersen A, Riis T (1999) Macrophyte diversity and composition in relation to substratum characteristics in regulated and unregulated Danish streams. Freshw Biol 42:375–385. https://doi.org/10.1046/j.1365-2427.1999.444487.x

Baattrup-Pedersen A, Friberg N, Larsen SE, Riis T (2005) The influence of channelisation on riparian plant assemblages. Freshw Biol 50:1248–1261. https://doi.org/10.1111/j.1365-2427.2005.01383.x

Baattrup-Pedersen A, Szoszkiewicz K, Nijboer R, O'Hare M, Ferreira T (2006) Macrophyte communities in unimpacted European streams: variability in assemblage patterns, abundance and diversity. Hydrobiologia 566:179–196. https://doi.org/10.1007/s10750-006-0096-1

Baláži P, Hrivnák R (2016) The relationship between macrophyte assemblages and environmental variables in drainage and irrigation canals in Slovakia. Biologia 71:516–527. https://doi.org/10.1515/biolog-2016-0060

Biggs J, Williams P, Whitfield M, Nicolet P, Brown P, Brown C, Hollis J, Arnold D, Pepper T (2007) The freshwater biota of British agricultural landscape and their sensitivity to pesticides. Agric Ecosyst Environ 122:137–148. https://doi.org/10.1016/j.agee.2006.11.013

Bornette G, Piegay H, Citterio A, Amoros C, Godreau V (2001) Aquatic plant diversity in four river floodplains: a comparison at two hierarchical levels. Biol Conserv 10:1683–1701. https://doi.org/10.1023/A:1012090501147

Bosiacka B, Pieńkowski P (2012) Do biogeographic parameters matter? Plant species richness and distribution of macrophytes in relation to area and isolation of ponds in NW polish agricultural landscape. Hydrobiologia 689:79–90. https://doi.org/10.1007/s10750-011-0850-x

Chambers PA, Lacoul P, Murphy KJ, Thomaz SM (2008) Global diversity of aquatic macrophytes in freshwater. Hydrobiologia 595:9–26. https://doi.org/10.1007/s10750-007-9154-6

Chappuis E, Ballesteros E, Garcia E (2012) Distribution and richness of aquatic plants across Europe and Mediterranean countries: patterns, environmental driving factors and comparison with total plant richness. J Veg Sci 23:985–997. https://doi.org/10.1111/j.1654-1103.2012.01417.x

Chester ET, Robson BJ (2013) Anthropogenic refuges for freshwater biodiversity: their ecological characteristics and management. Biol Conserv 166:64–75. https://doi.org/10.1016/j.biocon.2013.06.016

Chytrý M, Pyšek P, Wild J, Pino J, Maskell LC, Vilà M (2009) European map of alien invasions based on the quantitative assessment across habitats. Divers Distrib 15:98–107. https://doi.org/10.1111/j.1472-4642.2008.00515.x

Davies BR, Biggs J, Williams PJ, Whitfield M, Nicolet P, Sear D, Bray S, Maund S (2008a) Comparative biodiversity of aquatic habitats in the European agricultural landscape. Agric Ecosyst Environ 125:1–8. https://doi.org/10.1016/j.agee.2007.10.006

Davies BR, Biggs J, Williams PJ, Lee JT, Thompson S (2008b) A comparison of the catchment sizes of rivers, streams, ponds, ditches and lakes: implications for protecting aquatic biodiversity in an agricultural landscape. Hydrobiologia 597:7–17. https://doi.org/10.1007/s10750-007-9227-6

Dorotovičová C (2012) Ekologické aspekty rozšírenia makrofytov v umelých vodných tokoch južného Slovenska [ecological aspects of macrophytes distribution in artificial watercourses in south Slovakia]. Unpublished dissertation, ComeniusUniversity in Bratislava

Dorotovičová C (2013) Man-made canal as a hotspot of aquatic macrophyte biodiversity in Slovakia. Limnologica 43:277–287. https://doi.org/10.1016/j.limno.2012.12.002

Dudgeon D, Arthington AH, GessnerMO KZ-I, Knowler DJ, Lévêque C, Naiman RJ, Prieur-Richard A-H, Soto D, Stiassny MLJ, Sullivan CA (2006) Freshwater biodiversity: importance, threats, status and conservation challenges. Biol Rev 81:163–182. https://doi.org/10.1017/S1464793105006950

Eliáš P Jr, Dítě D, Kliment J, Hrivnák R, Feráková V (2015) Red list of ferns and flowering plants of Slovakia, 5th edition (October 2014). Biologia 70:218–228. https://doi.org/10.1515/biolog-2015-0018

Ellenberg H (2009) Vegetation ecology of Central Europe, Fourth edn. CambridgeUniversityPress, Cambridge

European Commission (1992) The Council Directive 92/43/EEC on the conservation of natural habitats and of wild fauna and flora (May 1992)

European Union (2000) Directive 2000/60/EC of the European Parliament and of the council of 23 October 2000 establishing a framework for community action in the field of water policy. Off. J. Eur. Communities L 327:1–72

Ferreira MT, Moreira IS (1999) River plants from an Iberian basin and environmental factors influencing their distribution. Hydrobiologia 415:101–107. https://doi.org/10.1007/978-94-017-0922-4_15

Figuerola J, Santamaria L, Green AJ, Luque I, Alvarez R, Charalambidou I (2005) Endozoochorous dispersal of aquatic plants: does seed gut passage affect plant performance? Am J Bot 92(4):696–699. https://doi.org/10.3732/ajb.92.4.696

Futák J (1966) Fytogeografické členenie [Phytogeographical classification]. In Futák J. (ed.) Flóra Slovenska I. Vydavateľstvo Slovenskej akadémie vied, Bratislava, pp. 533–538

GotelliNJ CRK (2001) Quantifying biodiversity: procedures and pitfalls in the measurement and comparison of species richenss. Ecol Lett 4:379–391. https://doi.org/10.1046/j.1461-0248.2001.00230.x

Goulder R (2008) Conservation of aquatic plants in artificial watercourses: are main drains a substitute for vulnerable navigation canals? Aquat Conserv Mar Freshwat Ecosyst 18:163–174. https://doi.org/10.1002/aqc.828

Grinberga L (2010) Environmental factors influencing the species diversity of macrophytes in middle-sized streams in Latvia. Hydrobiologia 656:233–241. https://doi.org/10.1007/s10750-010-0432-3

Haslam SM (2006) River plants. CambridgeUniversity Press, Cambridge

Haury J, Peltre MC, Tremolières M, Barbe J, Thiebaut G, Bernez I, Daniel H, Chatenet P, Muller S, Dutartre A, Laplace-Treyture C, Cazaubon A, Lambert-Servien E (2006) A new method to assess water trophy and organic pollution: the Macrophyte biological index for rivers (IBMR):its application to different types of rivers and pollution. Hydrobiologia 570:153–158. https://doi.org/10.1007/978-1-4020-5390-0_22

Herzon I, Helenius J (2008) Agricultural drainage ditches, their biological importance and functioning. Biol Conserv 141:1171–1183. https://doi.org/10.1016/j.biocon.2008.03.005

Hindák F, Hindáková A (2001) Červený zoznam siníc/cyanobaktérií a rias Slovenska. 2. Verzia [red list of cyanobacteria and algae of Slovakia, second version], (December 2001). Ochrana Prírody 20(suppl):14–22

Hrivnák R, Oťaheľová H, Valachovič M, Paľove-Balang P, Kubinská A (2010) Effect of environmental variables on the aquatic macropyhte composition pattern in streams: a case study from Slovakia. Fundam Appl Limnol 177:115–124. https://doi.org/10.1127/1863-9135/2010/0177-0115

Hrivnák R, Kochjarová J, Oťaheľová H, Paľove-Balang P, Slezák M, Slezák P (2014) Environmental drivers of macrophyte species richness in artificial and natural aquatic water bodies – comparative approach from two central european regions. Ann Limnol Int J Limnol 50:269–278. https://doi.org/10.1051/limn/2014020

Lacoul P, Freedman B (2006) Environmental influences on aquatic plants in freshwater ecosystems. Environ Rev 14:89–136. https://doi.org/10.1139/A06-001

Linton S, Goulder R (2000) Botanical conservation value related to origin and management of ponds. Aquatic conservation: marine and freshwater ecosystems 10: 77–91. https://doi.org/10.1002/(SICI)1099-0755(200003/04)10:2<77::AID-AQC391>3.0.CO;2-Y

Lukács BA, Tóthmérész B, Borics G, Várbíró G, Juhász P, Kiss B, Müller Z, Tóth LG, Erős T (2015) Macrophyte diversity of lakes in the Pannon ecoregion (Hungary). Limnologica 53:74–83. https://doi.org/10.1016/j.limno.2015.06.002

Marhold K, Hindák F (1998) Checklist of non-vascular and vascular plants of Slovakia. Veda, Bratislava

Markwell KA, Fellows CS (2008) Habitat and biodiversity of non-farm water storages: a case study in Southeast Queensland, Australia. Environ Manag 41:234–248

Medvecká J, Kliment J, Májeková J, Halada Ľ, Zaliberová M, Gojdičová E, Feráková V, Jarolímek I (2012) Inventory of alien species of Slovakia. Preslia 84:257–309

Miklós L, Hrnčiarova T (2002) Atlas krajiny Slovenskej republiky. Ministerstvo životného prostredia Slovenskej republiky, Bratislava

Millennium Ecosystem Assessment (2005) Ecosystems and human well-being: biodiversity synthesis. World Resources Institute, Washington, DC

Milsom TP, Sherwood AJ, Rose SC, Town SJ, Runham SR (2004) Dynamics and management of plant communities in ditches bordering arable fenland in eastern England. Agric Ecosyst Environ 103:85–99. https://doi.org/10.1016/j.agee.2003.10.012

Mouillot D, Bellwood DR, Baraloto C, Chave J, Galzin R, Harmelin-Vivien M, Kulbicki M, Lavergne S, Lavorel S, Mouquet N, Paine CET, Renaud J, Thuiller W (2013) Rare species support vulnerable functions in high-diversity ecosystems. PLoS Biol doi: https://doi.org/10.1371/journal.pbio.1001569

Mueller MH, van der Valk AG (2002) The potential role of ducks in wetland seed dispersal. Wetlands 22(1):170–178

Neff KP, Baldwin AH (2005) Seed dispersal into wetlands: techniques and results for restored tidal freshwater marsh. Wetlands 25(2):392–404 doi: 10.1672/14

Nicolet P, Ruggiero A, Biggs J (2007) Second European pond workshop: conservation of pond biodiversity in a changing European landscape. Ann Limnol Int J Limnol 43:77–80. https://doi.org/10.1051/limn:2007019

Oertli B, Auderset JD, Castella E, Juge R, Cambin D, Lachavanne JB (2002) Does size matter? The relationship between pond area and biodiversity. Biol Conserv 104:59–70. https://doi.org/10.1016/S0006-3207(01)00154-9

Oksanen J, Blanchet FG, Kindt R, Legendre P, Minchin PR, O'Hara RB, Simpson GL, Solymos P, Stevens MHH, Wagner H (2016) Vegan: community ecology package. R Packag Version 2:3–3 http://CRAN.R-project.org/package=vegan

Paradis E, Claude J, Strimmer K (2004) APE: Analyses of Phylogenetics and Evolution in R language. Bioinformatics 20(2):289-290

Pinheiro J, Bates D, DebRoy S, Sarkar D, R Core Team (2017) nlme: Linear and Nonlinear Mixed Effects Models. R package version 3.1-131. https://CRAN.R-project.org/package=nlme

Pyšek P, Bacher S, Chytrý M, Jarošík V, Wild J, Celesti-Grapow L, Gassó N, Kenis M, Lambdon PW, Netwing W, Pergl J, Roques A, Sádlo J, Solarz W, Vilà M, Hulme PE (2010) Contrasting patterns in the invasions of European terrestrial and freshwater habitats by alien plants, insects and vertebrates. Glob Ecol Biogeogr 19:317–331. https://doi.org/10.1111/j.1466-8238.2009.00514.x

R Core Team (2016) R: a language and environment for statistical computing. R Foundation for Statistical Computing, Vienna, Austria URL https://www.R-project.org/

Rhazi L, Grillas P, Saber E-R, Rhazi M, Brendonck L, Waterkeyn A (2012) Vegetation of Mediterranean temporary pools: a fading jewel? Hydrobiologia 689:23–36. https://doi.org/10.1007/s10750-011-0679-3

Riis T, Sand-Jensen K, Larsen SE (2001) Plant distribution and abundance in relation to physical uropean map of alien invasions based on the quantitative assessment acsystems. Hydrobiologia 448:217–228. https://doi.org/10.1023/A:1017580424029

Rossi J-P (2011) Rich: an R package to analyse species richness. Diversity 3(1):112–120. https://doi.org/10.3390/d3010112

Schaumburg J, Schranz C, Hofmann G, Stelzer D, Schneider S, Schmedtje U (2004) Macrophytes and phytobenthos as indicators of ecological status in German lakes – a contribution to the implementation of the water framework directive. Limnologica 34:302–314. https://doi.org/10.1016/S0075-9511(04)80003-3

Scheffer M, van Geest JG, Zimmer K, Jeppesen E, SØndergaard M, Butler GM, Hanson MA, Declerck S, De Meester L (2006) Small habitat size and isolation can promote species richness: second-order effects on biodiversity in shallow lakes and ponds. Oikos 112:227–231. https://doi.org/10.1111/j.0030-1299.2006.14145.x

Schneider R, Sharitz RR (1988) Hydrochory and regeneration in a bald cypress water tupelo swamp forest. Ecology 69(4):1055–1063. https://doi.org/10.2307/1941261

Svitok M, Hrivnák R, Oťaheľová H, Dúbravková D, Paľove-Balang P, Slobodník V (2011) The importance of local and regional factors on the vegetation of created wetlands in Central Europe. Wetlands 31:663–674. https://doi.org/10.1007/s13157-011-0182-7

Toivonen H, Huttunen P (1995) Aquatic macrophytes and ecological gradients in 57 small lakes in southern Finland. Aquat Bot 51(3):197–221. https://doi.org/10.1016/0304-3770(95)00458-C

Waldon B (2012) The conservation of small water reservoirs in the KrajeńskeLake land (north-West Poland). Limnologica 42:320–327. https://doi.org/10.1016/j.limno.2012.07.006

Wiegleb G, Dahms H-U, Byeon WI, Choi G (2017) To what extent can constructed wetlands enhance biodiversity? International Journal of Environmental Science and Development 8:561–569. https://doi.org/10.18178/ijesd.2017.8.8.1016

Williams PJ, Whitfield M, Biggs J, Bray S, Fox G, Pascale N, Sear D (2004) Comparative biodiversity of rivers, streams, ditches and ponds in an agricultural landscape in southern England. Biol Conserv 115:329–341. https://doi.org/10.1016/S0006-3207(03)00153-8
Acknowledgements
We would like to thank Judita Kochjarová and Barbara Immerová for their assistance during the field work, to Marek Svitok for consultation regarding the data analyses, to Ladislav Hamerlík and two anonymous reviewers for useful and improving comments. This study was supported by the Slovak Research and Development Agency under contract No. APVV-16-0236 and VEGA 2/0030/17.
About this article
Cite this article
Bubíková, K., Hrivnák, R. Comparative Macrophyte Diversity of Waterbodies in the Central European landscape. Wetlands 38, 451–459 (2018). https://doi.org/10.1007/s13157-017-0987-0
Received:

Accepted:

Published:

Issue Date:
Keywords
Aquatic plants;species richness

β diversity

γ diversity

Ponds

Lotic habitats