Abstract
This study examined the potential for electrical conductivity (EC) to serve as an indicator of groundwater-driven wetland-stream connectivity in the Prairie Pothole Region. Focus was on the Broughton's Creek Watershed (Manitoba, Canada) where thirteen wetlands and a creek were monitored in 2013–2014. A connectivity index (CI), computed by incorporating EC data in a hyperbolic solute export model, identified a potential for both shallow and deep groundwater-driven wetland-stream connectivity to occur, although shallower connections were rarer. Both raw EC and CI values were strongly correlated to wetland volume capacity, indicating the importance of storage and flow generation processes for wetland-stream connectivity potential. The proposed CI was instrumental in reaching that conclusion, making it a simple yet physically-based metric of wetland behavior that should be tested in multiple environments to confirm or infirm its validity.
Access options
Buy single article
Instant access to the full article PDF.
USD 39.95
Price excludes VAT (USA)
Tax calculation will be finalised during checkout.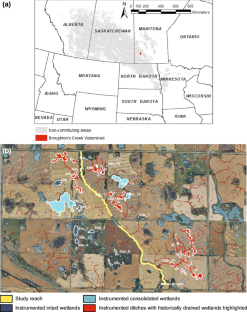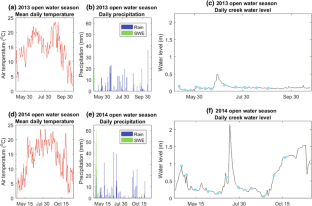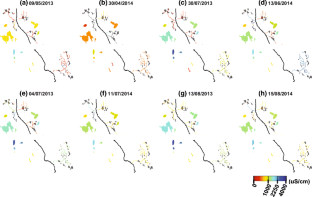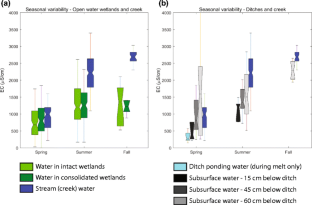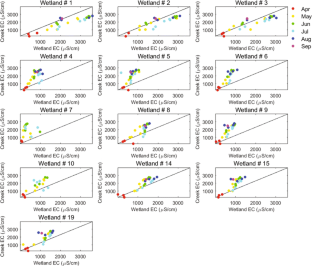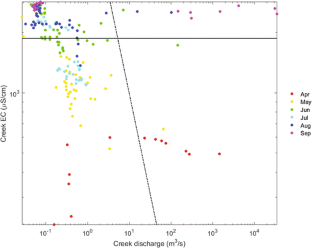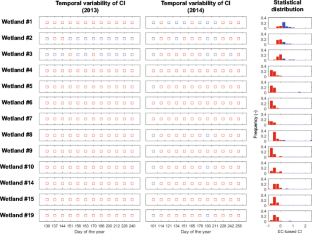 Notes
Specific conductance, electrical conductance and electrical conductivity are terms that are functionally synonymous and often used interchangeably. Here we decided to use the term electrical conductivity for measures that were corrected to constant temperature of 20°C for comparison across seasons.
References
Arndt JL, Richardson JL (1989) Geochemistry of hydric soil salinity in a recharge-throughflow-discharge prairie-pothole wetland system. Soil Science Society of America Journal 53:848–855

Arndt JL and Richardson JL (1992) Carbonate and gypsum chemistry in saturated, neutral pH soil environments. In Robarts RD and Bothwell ML (eds.), Aquatic ecosystems in semi-arid regions: implications for resource management. Environment Canada, National Hydrology Research Institute Symposium Series 7, Saskatoon, SK, pp 179-187

Arndt JL, Richardson JL (1993) Temporal variations in the salinity of shallow groundwater from the periphery of some North Dakota wetlands (USA). Journal of Hydrology 141:75–105

Barica J (1975) Geochemistry and nutrient regime of saline eutrophic lakes in the Erickson-Elphinstone district of southwestern Manitoba. Fisheries and Marine Service Technical Report 511:82

Basu NB, Destouni G, Jawitz JW, Thompson SE, Loukinova NV, Darracq A, Zanardo S, Yaeger M, Sivapalan M, Rinaldo A, Rao PSC (2010) Nutrient loads exported from managed catchments reveal emergent biogeochemical stationarity. Geophysical Research Letters 37. doi: 10.1029/2010gl045168

Boelter DH, Verry ES (1977) Peatland and water in the northern lake states. USDA Forest Service Technical Report NC-31:22

Bracken LJ, Wainwright J, Ali G, Roy AG, Smith MW, Tetzlaff D, Reaney S (2013) Concepts of hydrological connectivity: research approaches, pathways and future agendas. Earth-Science Reviews 119:17–34

Brunet NN, Westbrook CJ (2012) Wetland drainage in the Canadian prairies: nutrient, salt and bacteria characteristics. Agriculture, Ecosystems and Environment 146:1–12

Cherry JA, Beswick BT, Clister WE, Lucthman M (1971) Flow patterns and hydrochemistry of two shallow ground water regimes in the Lake Agassiz basin, southern Manitoba. In: Turnock AE (ed) Geoscience studies in Manitoba, Geological Association of Canada Special Paper number, vol 9, pp 321–332

Cohen MJ, Creed IF, Alexander L, Basu NB, Calhoun AJK, Craft C, D'Amico E, DeKeyser E, Fowler L, Golden HE, Jawitz JW, Kalla P, Kirkman LK, Lane CR, Lang M, Leibowitz SG, Lewis DB, Marton J, McLaughlin DL, Mushet DM, Raanan-Kiperwas H, Rains MC, Smith L, Walls SC (2016) Do geographically isolated wetlands influence landscape functions? Proceedings of the National Academy of Sciences of the United States of America 113:1978–1986

Dumanski S, Pomeroy JW, Westbrook CJ (2015) Hydrological regime changes in a Canadian prairie basin. Hydrological Processes 29:3893–3904

Godsey SE, Kirchner JW, Clow DW (2009) Concentration-discharge relationships reflect chemostatic characteristics of US catchments. Hydrological Processes 23:1844–1864

Godwin RB, Martin RJ (1975) Calculation of gross and effective drainage areas for the Prairie Provinces. Canadian Hydrology Symposium - 1975. Associate Committee on Hydrology, National Research Council of Canada, pp 219–223

Grisak GE, Cherry JA, Vonoff JA, Blumele JP (1976) Hydrogeologic and hydro-chemical properties of fractured till in the Interior Plains Region. In: Legett RF (ed) Glacial Till, Royal Society of Canada Special Publication number, vol 12, pp 304–335

Hayashi M, van der Kamp G, Rudolph DL (1998) Water and solute transfer between a prairie wetland and adjacent uplands, 2. Chloride cycle. Journal of Hydrology 207:56–67

Hayashi M, van der Kamp G, Schmidt R (2003) Focused infiltration of snowmelt water in partially frozen soil under small depressions. Journal of Hydrology 270:214–229

Hayashi M, van der Kamp G, Rosenberry DO (2016) Hydrology of prairie wetlands: understanding the integrated surface-water and groundwater processes. Wetlands 1–18

Heagle DJ, Hayashi M, van der Kamp G (2007) Use of solute mass balance to quantify geochemical processes in a prairie recharge wetland. Wetlands 27:806–818

Hendry MJ, Cherry JA, Wallick EI (1986) Origin and distribution of sulfate in a fractured till in southern Alberta, Canada. Water Resources Research 22:45–61

Ingram H (1983) Hydrology, chapter 3. In: Gore A (ed) Mires: swamp, bog. Fen and Moor. Elsevier Scientific Publishing Company, New York, pp 47–155

Johnson NM, Likens GE, Bormann FH, Fischer DW, Pierce RS (1969) A working model for the variation in stream water chemistry at the Hubbard brook experimental Forest, New Hampshire. Water Resources Research 5:1353–1363

Keller CK, Vanderkamp G, Cherry JA (1991) Hydrogeochemistry of a Clayey Till: 1. Spatial variability. Water Resources Research 27:2543–2554

Knudby C, Carrera J (2005) On the relationship between indicators of geostatistical, flow and transport connectivity. Advances in Water Resources 28:405–421

Labaugh JW (1986) Wetland ecosystem studies from a hydrologic perspective. Water Resources Bulletin 22:1–10

LaBaugh JW and Swanson GA (2004) Spatial and temporal variability in specific conductance and chemical characteristics of wetland water and in water column biota in the wetlands in the Cottonwood Lake Area. In Winter TC (ed.), Hydrological, chemical, and biological characteristics of a prairie pothole wetland complex under highly variable climate conditions - the Cottonwood Lake area, east-central North Dakota. United States Geological Survey Professional Paper 1675, Denver, CO, pp 35–54

LaBaugh JW, Winter TC, Adomaitis VA, Swanson GA (1987) Hydrology and chemistry of selected prairie wetlands in the Cottonwood Lake Area, Stutsma County, North Dakota. U.S. Geological Survey Professional Paper 1431. pp 26

LaBaugh JW, Winter TC, Swanson GA, Rosenberry DO, Nelson RD, Euliss NH (1996) Changes in atmospheric circulation patterns affect midcontinent wetlands sensitive to climate. Limnology and Oceanography 41:864–870

LaBaugh JW, Winter TC, Rosenberry DO (1998) Hydrologic functions of prairie wetlands. Great Plains Research 8:17–37

LaBaugh JW, Mushet DM, Rosenberry DO, Euliss NH, Goldhaber MB, Mills CT, Nelson RD (2016) Changes in pond water levels and surface extent due to climate variability Alter solute sources to closed-basin prairie-pothole wetland ponds, 1979 to 2012. Wetlands 36(Suppl 2):343. doi:10.1007/s13157-016-0808-x

Leibowitz SG, Brooks RT (2008) Hydrology and landscape connectivity of vernal pools. In: Calhoun AJK, DeMaynadier PG (eds) Science and conservation of vernal pools in northeastern North America. CRC Press, Boca Raton, pp 31–54

Leibowitz SG, Vining KC (2003) Temporal connectivity in a prairie pothole complex. Wetlands 23:13–25

Martin FRJ (2001) Addendum no. 8 to hydrology Report #104. Agriculture and Agri-Food Canada PFRA technical Service, Regina, Saskatchewan, Canada, pp 109 pp

McLaughlin DL, Cohen MJ (2013) Realizing ecosystem services: wetland hydrologic function along a gradient of ecosystem condition. Ecological Applications 23:1619–1631

Mushet DM, Goldhaber, MB, Mills CT, McLean KI, Aparicio VM, McCleskey RB, Holloway JM, Stockwell CA (2015) Chemical and biotic characteristics of prairie lakes and large wetlands in south-central North Dakota - Effects of a changing climate. U.S. Geological Survey Scientific Investigations Report 2015–5126, pp 55

Musolff A, Schmidt C, Selle B, Fleckenstein JH (2015) Catchment controls on solute export. Advances in Water Resources 86:133–146

Nachshon U, Ireson A, van der Kamp G, Wheater H (2013) Sulfate salt dynamics in the glaciated plains of North America. Journal of Hydrology 499:188–189

National Wetlands Working Group (1988) Wetlands of Canada. Ecological land classification series, no. 24. Environment Canada, Ottawa, p 452

PFRA-Hydrology-Division (1983) The determination of gross and effective drainage areas in the prairie provinces. Agriculture Canada PFRA Engineering Branch, Regina, Saskatchewan, Canada, p 22

Phillips RW, Spence C, Pomeroy JW (2011) Connectivity and runoff dynamics in heterogeneous basins. Hydrological Processes 25:3061–3075

Pomeroy JW, Shook K, Fang K, Dumanski K, Westbrook C, Brown T (2014) Improving and testing the prairie hydrological model at smith creek research basin. Saskatoon, SK

Pringle C (2003) What is hydrologic connectivity and why is it ecologically important? Hydrological Processes 17:2685–2689

Rains MC (2011) Water sources and hydrodynamics of Closed-Basin depressions, cook inlet region, Alaska. Wetlands 31:377–387

Rains MC, Leibowitz SG, Cohen MJ, Creed IF, Golden HE, Jawitz JW, Kalla P, Lane CR, Lang MW, McLaughlin DL (2016) Geographically isolated wetlands are part of the hydrological landscape. Hydrological Processes 30:153–160

Rózkowska AD, Rózkowski A (1969) Seasonal changes of slough and lake chemistry in southern Saskatchewan, Canada. Journal of Hydrology 7(1):13

Rózkowski A (1969) Chemistry of ground and surface waters in the Moose Mountain area, southern Saskatchewan. Geological Survey of Canada Paper 67-9:111

Shaw DA, Vanderkamp G, Conly M, Pietroniro A, Lawrence M (2012) The fill-spill hydrology of prairie wetland complexes during drought and deluge. Hydrological Processes 26:3147–3156

Siegel DI (1988) The recharge-discharge function of wetlands near Juneau, Alaska: part II. geochemical investigations. Groundwater 26:580–586

Sloan CE (1972) Ground-water hydrology of prairie potholes in North Dakota. U.S. Geological Survey Professional paper 585-C. Washington D.C, p 28

Sokal RR, Rohlf JF (1997) Biometry. W.H. Freeman and Company, United States of America

Spence C, Woo MK (2006) Hydrology of subarctic Canadian shield: heterogeneous headwater basins. Journal of Hydrology 317:138–154

Stichling W, Blackwell SR (1957) Drainage area as a hydrologic factor on the glaciated Canadian prairies. International Association of Scientific Hydrology. Publication 45:365–376

Swanson GA, Winter TC, Adomaitis VA, Labaugh JW (1988) Chemical characteristics of prairie lakes in south-central North Dakota USA - their potential for influencing use by fish and wildlife. US Department of the Interior, fish and wildlife Service technical Report 18:44. pp 44

Tiner RW (2003) Geographically isolated wetlands of the United States. Wetlands 23:494–516

Toth J (1999) Groundwater as a geological agent: An overview of the causes, processes, and manifestations. Hydrogeology Journal 7:1–14

Van der Kamp G, Hayashi M (1998) The groundwater recharge function of small wetlands in the semi-arid northern prairies. Great Plains Research 8:39–56

Van der Kamp G, Hayashi M (2009) Groundwater-wetland ecosystem interaction in the semiarid glaciated plains of North America. Hydrogeology Journal 17:203–214

Williamson DA (2011) Manitoba water quality standards, objectives and guidelines. Manitoba water Stewardship, Report 2011–01. Winnipeg, Manitoba, Canada, p 72

Winter TC (1989) Hydrologic studies of wetlands in the northern prairie. In: van der Valk AG (ed) Northern prairie wetlands. Iowa State University Press, Ames, Iowa, USA, pp 16–54

Winter TC, LaBaugh JW (2003) Hydrologic considerations in defining isolated wetlands. Wetlands 23:532–540

Winter TC, Rosenberry DO (1995) The interaction of ground water with prairie pothole wetlands in the Cottonwood Lake area, east-central North Dakota, 1979-1990. Wetlands 15:193–211

Yang W, Wang X, Gabor S, Boychuck L, Badiou P (2008) Water quantity and quality benefits from wetland conservation and restoration in the Broughton's creek watershed. Ducks Unlimited Canada publication, p 48

Yang WH, Wang XX, Liu YB, Gabor S, Boychuk L, Badiou P (2010) Simulated environmental effects of wetland restoration scenarios in a typical Canadian prairie watershed. Wetlands Ecology and Management 18:269–279
Acknowledgements
Special funding was provided by Manitoba's Water Stewardship Fund and Environment Canada's Lake Winnipeg Basin Stewardship Fund. We acknowledge Mike Chiasson, Halya Petzold, Cody Ross, Samuel Bansah, Adrienne Schmall and Lauren Timlick for technical help. We are also grateful to Lyle Boychuk and Bryan Page for providing spatial data for the Broughton's Creek Watershed.
Electronic supplementary material
About this article
Cite this article
Ali, G., Haque, A., Basu, N.B. et al. Groundwater-Driven Wetland-Stream Connectivity in the Prairie Pothole Region: Inferences Based on Electrical Conductivity Data. Wetlands 37, 773–785 (2017). https://doi.org/10.1007/s13157-017-0913-5
Received:

Accepted:

Published:

Issue Date:

DOI: https://doi.org/10.1007/s13157-017-0913-5
Keywords
Wetland-stream connectivity

Prairie Pothole Region

Groundwater

Electrical conductivity