Abstract
Knowledge about the effects of global change factors on litter decomposition is critical for accurate prediction of future carbon (C) and nutrient cycles in terrestrial ecosystems. Here, we collected Deyeuxia angustifolia and Carex lasiocarpa litters from freshwater marshes in Northeast China, and conducted an incubation study to examine the effects of nitrogen (N) enrichment (0 and 25 mg N g−1 litter), temperature (5, 15, and 25 °C), and litter evenness on litter mixing effect and decomposition. Non-additive effects were more common than additive effects during decomposition of litter mixtures, and synergistic effect was detected in two thirds of the litter mixtures. Moreover, litter mixing effects on decomposition varied with N enrichment, incubation temperature, and litter evenness. Both increased proportions of D. angustifolia in litter assemblages and elevated temperature generally accelerated litter decomposition. However, N enrichment slowed litter decomposition at 5 and 15 °C, but had positive or neutral effect at 25 °C. Our results highlight the importance of the interactive effects of N enrichment, temperature, and plant community structure on litter mixing effects during decomposition, and suggest that accelerated litter decomposition induced by climate warming and altered vegetation community would be modulated by N enrichment in freshwater marshes of Northeast China.
Access options
Buy single article
Instant access to the full article PDF.
USD 39.95
Price excludes VAT (USA)
Tax calculation will be finalised during checkout.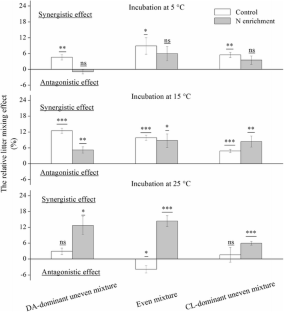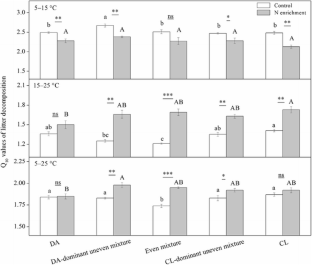 References
Aerts R (1997) Climate, leaf litter chemistry and leaf litter decomposition in terrestrial ecosystems: a triangular relationship. Oikos 79:439–449

Aerts R, de Caluwe H (1997) Initial litter respiration as indicator for long-term leaf decomposition of Carex species. Oikos 80:353–361

Aerts R, Cornelissen JHC, van Logtestijn RSP, Callaghan TV (2007) Climate change has only a minor impact on nutrient resorption parameters in a high-latitude peatland. Oecologia 151:132–139

Barantal S, Schimann H, Fromin N, Hӓttenschwiler S (2014) C, N and P fertilization in an Amazonian rainforest supports stoichiometric dissimilarity as a driver of litter diversity effects on decomposition. Proceedings of the Royal Society B 281:20141682

Bernal B, Mitsch WJ (2012) Comparing carbon sequestration in temperate freshwater wetland communities. Global Change Biology 18:1636–1647

Bonanomi G, Incerti G, Antignani V, Capodilupo M, Mazzoleni S (2010) Decomposition and nutrient dynamics in mixed litter of Mediterranean species. Plant and Soil 331:481–496

Breeuwer A, Heijmans M, Robroek BJM, Limpens J, Berendse F (2008) The effect of increased temperature and nitrogen deposition on decomposition in bogs. Oikos 117:1258–1268

Bridgham SD, Johnston CA, Pastor J, Updegraff K (1995) Potential feedbacks of northern wetlands on climate change. Bioscience 45:262–274

Briones MJI, Ineson P (1996) Decomposition of eucalyptus leaves in litter mixtures. Soil Biology and Biochemistry 28:1381–1388

Butenschoen O, Scheu S, Eisenhauer N (2011) Interactive effects of warming, soil humidity and plant diversity on litter decomposition and microbial activity. Soil Biology and Biochemistry 43:1902–1907

Conant RT, Ryan MG, Ågren GI, Birge HE, Davidson EA, Eliasson PE, Evans SE, Frey SD, Giardina CP, Hopkins FM, Hyvönen R, Kirschbaum MF, Lavallee JM, Leifeld J, Parton WJ, Steinweg JM, Wallenstein MD, Wetterstedt JAM, Bradford MA (2011) Temperature and soil organic matter decomposition rates – synthesis of current knowledge and a way forward. Global Change Biology 17:3392–3404

Davidson EA, Janssens IA (2006) Temperature sensitivity of soil carbon decomposition and feedbacks to climate change. Nature 440:165–173

Ferreira V, Castagneyrol B, Koricheva J, Gulis V, Chauvet E, Graca MAS (2015) A meta-analysis of the effects nutrient enrichment on litter decomposition in streams. Biological Reviews 90:669–688

Gartner TB, Cardon ZG (2004) Decomposition dynamics in mixed-species leaf litter. Oikos 104:230–246

Gessner MO, Swan CM, Dang CK, McKie BG, Bardgett RD, Wall DH, Hättenschwiler S (2010) Diversity meets decomposition. Trends in Ecology & Evolution 25:372–380

Handa IT, Aerts R, Berendse F, Berg MP, Bruder A, Butenschoen O, Chauvet E, Gessner MO, Jabiol J, Makkonen M, McKie BG, Malmqvist B, Peeters ETHM, Scheu S, Schmid B, van Ruijven J, Vos VCA, Hättenschwiler S (2014) Consequences of biodiversity loss for litter decomposition across biomes. Nature 509:218–221

Hättenschwiler S, Tiunov AV, Scheu S (2005) Biodiversity and litter decomposition in terrestrial ecosystems. Annual Review of Ecology, Evolution, and Systematics 36:191–218

Kirschbaum MUF (1995) The temperature dependence of soil organic matter decomposition, and the effect of global warming on soil organic storage. Soil Biology and Biochemistry 27:753–760

Knorr M, Frey SD, Curtis PS (2005) Nitrogen additions and litter decomposition: a meta-analysis. Ecology 86:3252–3257

Lecerf A, Marie G, Kominoski JS, LeRoy CJ, Bernadet C, Swan CM (2011) Incubation time, functional litter diversity, and habitat characteristic predict litter-mixing effects on decomposition. Ecology 92:160–169

Lu RK (2000) Soil agrochemistry and analytical methods. Chinese Agricultural Science and Technology Press, Beijing Chinese

Madritch MD, Cardinale BJ (2007) Impacts of tree species diversity on litter decomposition in northern temperate forests of Wisconsin, USA: a multi-site experiment along a latitudinal gradient. Plant and Soil 292:147–159

Mao R, Zeng DH (2012) Non-additive effects vary with the number of component residues and their mixing proportions during residue mixture decomposition: a microcosm study. Geoderma 170:112–117

Mao R, Song CC, Zhang XH, Wang XW, Zhang ZH (2013) Response of leaf, sheath and stem nutrient resorption to 7 years of N addition in freshwater wetland of Northeast China. Plant and Soil 364:385–394

Nelson DW, Sommers LE (1996) Total carbon, organic carbon and organic matter. In: Sparks DL, Page AL, Helmke PA, Loeppert RH, Soltanpour PN, Tabatabai MA, Johnston CT, Sumner ME (eds) Methods of soil analysis. Part 3. Chemical methods, soil science society of America book series, number 5. Soil Science Society of America, Wisconsin, pp. 961–1010

Powers JS, Salute S (2011) Macro- and micronutrient effects on decomposition of leaf litter from Teo tropical tree species: inferences from a short-term laboratory incubation. Plant and Soil 346:245–257

Ramirez KS, Craine JM, Fierer N (2012) Consistent effects of nitrogen amendments on soil microbial communities and processes across biomes. Global Change Biology 18:1918–1927

Rosemond AD, Swan CM, Kominoski JS, Dye SE (2010) Non-additive effects of litter mixing are suppressed in a nutrient-enriched stream. Oikos 119:326–336

Song C, Xu X, Tian H, Wang Y (2009) Ecosystem-atmosphere exchange of CH4 and N2O and ecosystem respiration in wetlands in the Sanjiang Plain, Northeastern China. Global Change Biology 15:692–705

Song C, Liu D, Yang G, Song Y, Mao R (2011) Effect of nitrogen addition on decomposition of Calamagrostis angustifolia litters from freshwater marshes of Northeast China. Ecological Engineering 37:1578–1582

Song Y, Song C, Li Y, Hou C, Yang G, Zhu X (2013) Short-term effect of nitrogen addition on litter and soil properties in Calamagrostis angustifolia freshwater marshes of Northeast China. Wetlands 33:505–513

Srivastava DS, Cardinale BJ, Downing AL, Duffy JE, Jouseau C, Sankaran M, Wright JP (2009) Diversity has stronger top-down than bottom-up effects on decomposition. Ecology 90:1073–1083

Swan CM, Gluth MA, Horne CL (2009) Leaf litter species evenness influences nonadditive breakdown in a headwater stream. Ecology 90:1650–1658

Thormann MN, Szumigalski AR, Bayley SE (1999) Aboveground peat and carbon accumulation potentials along a bog-fen-marsh wetland gradient in southern boreal Alberta, Canada. Wetlands 19:305–317

Vivanco L, Austin AT (2011) Nitrogen addition stimulates forest litter decomposition and disrupts species interactions in Patagonia, Argentina. Global Change Biology 17:1963–1974

Yan M, Deng W, Chen P (2002) Climate change in the Sanjiang Plain disturbed by large-scale reclamation. Journal of Geographical Sciences 12:405–412

Zhang X, Song C, Mao R, Yang G, Tao B, Shi F, Zhu X, Hou A (2014) Litter mass loss and nutrient dynamics of four emergent macrophytes during aerial decomposition in freshwater marshes of the Sanjiang plain, Northeast China. Plant and Soil 385:139–147

Zhang X, Song C, Mao R, Song Y, Meng H (2015) Comparing differences in early-stage decay of macrophyte shoots between in the air and on the sediment surface in a temperate marsh. Ecological Engineering 81:14–18
Acknowledgements
This research was supported by National Natural Science Foundation of China (Nos. 31570479, 41103037, and 31100357), "Strategic Priority Research Program – Climate Change: Carbon Budget and Related Issue" of the Chinese Academy of Sciences (No. XDA05050508), and the Youth Innovation Promotion Association of CAS (No. 2013152). We thank the Sanjiang Experimental Station of Wetland Ecology for providing working facilities, and the editor and the anonymous reviewer for their constructive comments on the manuscript.
Electronic supplementary material
About this article
Cite this article
Zhang, XH., Sun, XX. & Mao, R. Effects of Litter Evenness, Nitrogen Enrichment and Temperature on Short-Term Litter Decomposition in Freshwater Marshes of Northeast China. Wetlands 37, 145–152 (2017). https://doi.org/10.1007/s13157-016-0855-3
Received:

Accepted:

Published:

Issue Date:

DOI: https://doi.org/10.1007/s13157-016-0855-3
Keywords
Carex lasiocarpa
Deyeuxia angustifolia

Litter mixing effects

Microbial respiration

The Sanjiang Plain

Wetland