Abstract
Land conversion from wetlands to farmlands is pervasive in coastal areas. However, comparisons of soil microbial community structure between native wetlands and long-term reclaimed farmlands have received less attention. We investigated this issue in two Phragmities austrialis wetlands with different hydrological regimes (permanent and seasonally inundated) based on phospholipid fatty acid (PLFA) analysis and 16S rRNA pyrosequencing. In the permanent wetland, the farmland had higher contents of fungal (+331 %), bacterial (+60 %), actinomycetic (+50 %), and total (+81 %) PLFAs compared with the native wetland. In the drained wetland, the farmland had higher fungal (+982 %) PLFAs contents, but lower contents of bacterial (−78 %), actinomycetic (−98 %) and total (−54 %) PLFAs compared with the native wetland. Bacteria and actinomycetes were dependent on wetland hydrological conditions, while fungi were sensitive to other alterations. Fungal/bacterial-PLFAs ratios were higher in farmlands than wetlands. The relative abundances of Proteobacteria, Firmicutes and Bacteroidetes were higher in farmlands than wetlands. Compared with PLFA, 16S rRNA differentiated fewer differences in bacterial community composition. Farmlands had lower bacterial Shannon-Wiener index compared with the permanent wetland, but not for the seasonal wetland. In conclusion, native wetlands and associated farmlands have differences in microbial community structure and diversity, which are mainly dependent on hydrological and nutrient conditions.
Access options
Buy single article
Instant access to the full article PDF.
USD 39.95
Price excludes VAT (USA)
Tax calculation will be finalised during checkout.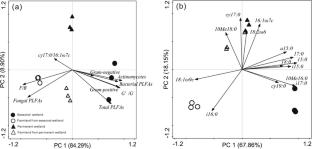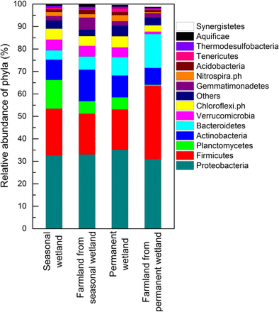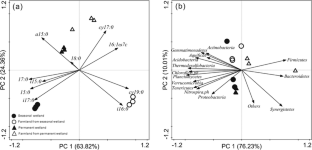 References
An S, Tian Z, Cai Y, Wen T, Xu D, Jiang H, Yao Z, Guan B, Sheng S, Ouyang Y, Cheng X (2013) Wetlands of Northeast Asia and high Asia: an overview. Aquat Sci 75(1):63–71. doi:10.1007/s00027-012-0281-4

Bååth E, Anderson TH (2003) Comparison of soil fungal/bacterial ratios in a pH gradient using physiological and PLFA-based techniques. Soil Biol Biochem 35(7):955–963. doi:10.1016/S0038-0717(03)00154-8

Bååth E, Frostegård Å, Fritze H (1992) Soil bacterial biomass, activity, phospholipid fatty acid pattern, and pH tolerance in an area polluted with alkaline dust deposition. Appl Environ Microbiol 58(12):4026–4031

Bossio DA, Scow KM (1995) Impact of carbon and flooding on the metabolic diversity of microbial communities in soils. Appl Environ Microbiol 61(11):4043–4050

Bossio DA, Scow KM (1998) Impacts of carbon and flooding on soil microbial communities: phospholipid fatty acid profiles and substrate utilization patterns. Microb Ecol 35(3–4):265–278. doi:10.1007/s002489900082

Bossio DA, Fleck JA, Scow KM, Fujii R (2006) Alteration of soil microbial communities and water quality in restored wetlands. Soil Biol Biochem 38(6):1223–1233. doi:10.1016/j.soilbio.2005.09.027

Caporaso JG, Lauber CL, Walters WA, Berg-Lyons D, Lozupone CA, Turnbaugh PJ, Fierer N, Knight R (2011) Global patterns of 16S rRNA diversity at a depth of millions of sequences per sample. Proc Natl Acad Sci 108(25):4516–4522. doi:10.1073/pnas.1000080107

Cashin GE, Dorney JR, Richardson CJ (1992) Wetland alteration trends on the North Carolina coastal plain. Wetlands 12(2):63–71. doi:10.1007/BF03160587

Chang EH, Chiu CY (2015) Changes in soil microbial community structure and activity in a cedar plantation invaded by moso bamboo. Appl Soil Ecol 91:1–7. doi:10.1016/j.apsoil.2015.02.001

Chowdhury N, Marschner P, Burns R (2011) Response of microbial activity and community structure to decreasing soil osmotic and matric potential. Plant Soil 344:241–254. doi:10.1007/s11104-011-0743-9

Coleman JM, Huh OK, Braud D Jr (2008) Wetland loss in world deltas. J Coast Res 24(1A):1–14. doi:10.2112/05-0607.1

Crecchio C, Gelsomino A, Ambrosoli R, Minati JL, Ruggiero P (2004) Functional and molecular responses of soil microbial communities under differing soil management practices. Soil Biol Biochem 36(11):1873–1883. doi:10.1016/j.soilbio.2004.05.008

Cuenca G, Meneses E (1996) Diversity patterns of arbuscular mycorrhizal fungi associated with cacao in Venezuela. Plant Soil 183(2):315–322

Cui J, Liu C, Li Z, Wang L, Chen X, Ye Z, Fang C (2012) Long-term changes in topsoil chemical properties under centuries of cultivation after reclamation of coastal wetlands in the Yangtze estuary, China. Soil Tillage Res 123:50–60. doi:10.1016/j.still.2012.03.009

Ditterich F, Poll C, Pronk GJ, Heister K, Chandran A, Rennert T, Kögel-Knabner I, Kandeler E (2016) Succession of soil microbial communities and enzyme activities in artificial soils. Pedobiologia 59:93–104. doi:10.1016/j.pedobi.2016.03.002

Djukic I, Zehetner F, Mentler A, Gerzabek MH (2010) Microbial community composition and activity in different alpine vegetation zones. Soil Biol Biochem 42(2):155–161. doi:10.1016/j.soilbio.2009.10.006

Drenovsky RE, Vo D, Graham KJ, Scow KM (2004) Soil water content and organic carbon availability are major determinants of soil microbial community composition. Microb Ecol 48(3):424–430. doi:10.1007/s00248-003-1063-2

Du Z, Ren T, Hu C (2010) Tillage and residue removal effects on soil carbon and nitrogen storage in the North China plain. Soil Sci Soc Am J 74(1):196–202. doi:10.2136/sssaj2009.0048

Edgar RC (2013) UPARSE: highly accurate OTU sequences from microbial amplicon reads. Nat Methods 10(10):996–998. doi:10.1038/nmeth.2604

Edgar RC, Haas BJ, Clemente JC, Quince C, Knight R (2011) UCHIME improves sensitivity and speed of chimera detection. Bioinformatics 27(16):2194–2200. doi:10.1093/bioinformatics/btr381

Frostegård Å, Bååth E (1996) The use of phospholipid fatty acid analysis to estimate bacterial and fungal biomass in soil. Biol Fertil Soils 22(1–2):59–65. doi:10.1007/BF00384433

Frostegård Å, Bååth E, Tunlio A (1993) Shifts in the structure of soil microbial communities in limed forests as revealed by phospholipid fatty acid analysis. Soil Biol Biochem 25(6):723–730

Grayston SJ, Campbell CD, Bardgett RD, Mawdsley JL, Clegg CD, Ritz K, Griffiths BS, Rodwell JS, Edwards SJ, Davies WJ, Elston DJ, Millard P (2004) Assessing shifts in microbial community structure across a range of grasslands of differing management intensity using CLPP, PLFA and community DNA techniques. Appl Soil Ecol 25(1):63–84. doi:10.1016/S0929-1393(03)00098-2

Hansen VD, Nestlerode JA (2014) Carbon sequestration in wetland soils of the northern Gulf of Mexico coastal region. Wetl Ecol Manag 22(3):289–303. doi:10.1007/s11273-013-9330-6

He Y, Zhang MX (2001) Study on wetland loss and its reasons in China. Chin Geogr Sci 11(3):241–245. doi:10.1007/s11769-001-0020-6

He JZ, Zheng Y, Chen CR, He YQ, Zhang LM (2008) Microbial composition and diversity of an upland red soil under long-term fertilization treatments as revealed by culture-dependent and culture-independent approaches. J Soils Sediments 8(5):349–358. doi:10.1007/s11368-009-0120-y

He JZ, Ge Y, Xu Z, Chen C (2009) Linking soil bacterial diversity to ecosystem multifunctionality using backward-elimination boosted trees analysis. J Soils Sediments 9(6):547–554. doi:10.1007/s11368-009-0120-y

Hu Y, Wang L, Tang Y, Li Y, Chen J, Xi X, Zhang Y, Fu X, Wu J, Sun Y (2014) Variability in soil microbial community and activity between coastal and riparian wetlands in the Yangtze River estuary–potential impacts on carbon sequestration. Soil Biol Biochem 70:221–228. doi:10.1016/j.soilbio.2013.12.025

Jin X, Huang J, Zhou Y (2012) Impact of coastal wetland cultivation on microbial biomass, ammonia-oxidizing bacteria, gross N transformation and N2O and NO potential production. Biol Fertil Soils 48(4):363–369. doi:10.1007/s00374-011-0631-8

Li Y, Wang Y, Xu S, Hu B, Wang Z-L (2016) Effects of mariculture and solar-salt production on sediment microbial community structure in a coastal wetland. J Coast Res 32. doi:10.2112/JCOASTRES-D-16-00093.1

Magoč T, Salzberg SL (2011) FLASH: fast length adjustment of short reads to improve genome assemblies. Bioinformatics 27(21):2957–2963

Margesin R, Jud M, Tscherko D, Schinner F (2009) Microbial communities and activities in alpine and subalpine soils. FEMS Microbiol Ecol 67(2):208–218. doi:10.1111/j.1574-6941.2008.00620.x

McCaig AE, Glover LA, Prosser JI (2001) Numerical analysis of grassland bacterial community structure under different land management regimens by using 16S ribosomal DNA sequence data and denaturing gradient gel electrophoresis banding patterns. Appl Environ Microbiol 67(10):4554–4559. doi:10.1128/AEM.67.10.4554-4559.2001

Moore-Kucera J, Dick RP (2008) PLFA profiling of microbial community structure and seasonal shifts in soils of a Douglas-fir chronosequence. Microb Ecol 55(3):500–511. doi:10.1007/s00248-007-9295-1

Pankhurst CE, Yu S, Hawke BG, Harch BD (2001) Capacity of fatty acid profiles and substrate utilization patterns to describe differences in soil microbial communities associated with increased salinity or alkalinity at three locations in South Australia. Biol Fertil Soils 33:204–217. doi:10.1007/s003740000309

Portnoy JW (1999) Salt marsh diking and restoration: biogeochemical implications of altered wetland hydrology. Environ Manag 24(1):111–120. doi:10.1007/s002679900219

Ramsey PW, Rillig MC, Feris KP, Holben WE, Gannon JE (2006) Choice of methods for soil microbial community analysis: PLFA maximizes power compared to clpp and pcr-based approaches. Pedobiologia 50(3):275–280. doi:10.1016/S0929-1393(03)00098-2

Rousk J, Elyaagubi FK, Jones DL, Godbold DL (2011) Bacterial salt tolerance is unrelated to soil salinity across an arid agroecosystem salinity gradient. Soil Biol Biochem 43(9):1881–1887. doi:10.1016/j.soilbio.2011.05.007

Šantrůčková H, Picek T, Tykva R, Šimek M, Pavlů B (2004) Short-term partitioning of 14C-[U]-glucose in the soil microbial pool under varied aeration status. Biol Fertil Soils 40(6):386–392. doi:10.1007/s00374-004-0790-y

Schloss PD, Westcott SL, Ryabin T, Hall JR, Hartmann M, Hollister EB, Lesniewski RA, Oakley BB, Parks DH, Robinson CJ, Sahl JW, Stres B, Thallinger GG, Van Horn DJ, Weber CF (2009) Introducing mothur: open-source, platform-independent, community-supported software for describing and comparing microbial communities. Appl Environ Microbiol 75(23):7537–7541. doi:10.1128/AEM.01541-09

Shepard CC, Crain CM, Beck MW (2011) The protective role of coastal marshes: a systematic review and meta-analysis. PLoS One 6(11):27374. doi:10.1371/journal.pone.0027374

Smit E, Leeflang P, Gommans S, van den Broek J, van Mil S, Wernars K (2001) Diversity and seasonal fluctuations of the dominant members of the bacterial soil community in a wheat field as determined by cultivation and molecular methods. Appl Environ Microbiol 67(5):2284–2291. doi:10.1128/AEM.67.5.2284-2291.2001

Stark C, Condron LM, Stewart A, Di HJ, O'Callaghan M (2007) Effects of past and current crop management on soil microbial biomass and activity. Biol Fertil Soils 43(5):531–540. doi:10.1007/s00374-006-0132-3

Thiet RK, Frey SD, Six J (2006) Do growth yield efficiencies differ between soil microbial communities differing in fungal: bacterial ratios? Reality check and methodological issues. Soil Biol Biochem 38(4):837–844

Tian J, Dippold M, Pausch J, Blagodatskaya E, Fan M, Li X, Kuzyakov Y (2013) Microbial response to rhizodeposition depending on water regimes in paddy soils. Soil Biol Biochem 65:195–203. doi:10.1016/j.soilbio.2013.05.021

Wang Q, Garrity GM, Tiedje JM, Cole JR (2007) Naive Bayesian classifier for rapid assignment of rRNA sequences into the new bacterial taxonomy. Appl Environ Microbiol 73(16):5261–5267. doi:10.1128/AEM.00062-07

Wang W, Niu J, Zhou X, Wang Y (2011) Long-term change in land management from subtropical wetland to paddy field shifts soil microbial community structure as determined by PLFA and T-RFLP. Pol J Ecol 59(1):37–44

Wang Y, Sheng HF, He Y, Wu JY, Jiang YX, Tam NFY, Zhou HW (2012) Comparison of the levels of bacterial diversity in freshwater, intertidal wetland, and marine sediments by using millions of illumina tags. Appl Environ Microbiol 78(23):8264–8271. doi:10.1128/AEM.01821-12

Wang Y, Wang ZL, Feng X, Guo C, Chen Q (2014) Long-term effect of agricultural reclamation on soil chemical properties of a coastal saline marsh in Bohai rim, northern China. PLoS One 9(4):93727. doi:10.1371/journal.pone.0093727

Xu Z, Yu G, Zhang X, Ge J, He N, Wang Q, Wang D (2015) The variations in soil microbial communities, enzyme activities and their relationships with soil organic matter decomposition along the northern slope of Changbai Mountain. Appl Soil Ecol 86:19–29. doi:10.1016/j.apsoil.2014.09.015

Yu Y, Wang H, Liu J, Wang Q, Shen T, Guo W, Wang R (2012) Shifts in microbial community function and structure along the successional gradient of coastal wetlands in Yellow River estuary. Eur J Soil Biol 49:12–21. doi:10.1016/j.ejsobi.2011.08.006

Yuan Y, Dai X, Xu M, Wang H, Fu X, Yang F (2015) Responses of microbial community structure to land-use conversion and fertilization in southern China. Eur J Soil Biol 70:1–6. doi:10.1016/j.ejsobi.2015.06.002

Zelles L, Rackwitz R, Bai QY, Beck T, Beese F (1995) Discrimination of microbial diversity by fatty acid profiles of phospholipids and lipopolysaccharides in differently cultivated soils. Plant Soil 170:115–122. doi:10.1007/BF02183059

Zhang Q-C, Shamsi IH, Xu D-T, Wang G-H, Lin X-Y, Jilani G, Hussain N, Chaudhry AN (2012) Chemical fertilizer and organic manure inputs in soil exhibit a vice versa pattern of microbial community structure. Appl Soil Ecol 57:1–8. doi:10.1016/j.apsoil.2012.02.012

Zogg GP, Zak DR, Ringelberg DB, White DC, MacDonald NW, Pregitzer KS (1997) Compositional and functional shifts in microbial communities due to soil warming. Soil Sci Soc Am J 61(2):475–481. doi:10.2136/sssaj1997.03615995006100020015x
Acknowledgments
We thank an Associate Editor and two anonymous reviewers for valuable comments that improved this paper. We appreciate Xi Yang for field soil collection. This research was supported by the Natural Science Foundation of Tianjin (15JCYBJC49200 and 15JCQNJC08100), and the Innovation Team Training Plan of the Tianjin Education Committee (TD12-5037).
About this article
Cite this article
Xu, S., Wang, Y., Guo, C. et al. Comparison of Microbial Community Composition and Diversity in Native Coastal Wetlands and Wetlands that Have Undergone Long-Term Agricultural Reclamation. Wetlands 37, 99–108 (2017). https://doi.org/10.1007/s13157-016-0843-7
Received:

Accepted:

Published:

Issue Date:

DOI: https://doi.org/10.1007/s13157-016-0843-7
Keywords
Wetland cultivation

Microbial community structure

Bacterial diversity

Phospholipid fatty acid (PLFA)

16S rRNA

Operational taxonomic unit (OTU)