Abstract
The Araguaia River floodplain is a large wetland in the tropical savanna belt (cerrado) in the southern Amazon basin. Studies using multitemporal satellite Landsat 5 TM images with a spatial resolution of 30 m indicate a surface area at maximum flood level of 88,119 km2. During the low-water period, only 3.3 % of the area is covered by water. Flooding is the result of the annual rise in the water level of the Araguaia River and of local rainfall and insufficient drainage during the rainy season. Sedimentology studies have distinguished between an active recent and sub-recent floodplain, which covers ~20 % of the area, and a paleo-floodplain probably several hundreds of thousand years in age. Paleo-floodplain sediments are strongly weathered and marked by the clay mineral association of kaolinite, gibbsite, goethite, and Al-chlorite, predominantly formed from feldspars and micas. The active paleo-floodplain participates in the hydrological cycle but does not receive recent sediments from the river. Higher-lying, not flooded areas (inactive paleo-floodplain) are probably the remnants of paleo-levees, now in an advanced stage of erosion. A hypothesis to explain the genesis of the floodplain is proposed herein.
Access options
Buy single article
Instant access to the full article PDF.
US$ 39.95
Tax calculation will be finalised during checkout.
Subscribe to journal
Immediate online access to all issues from 2019. Subscription will auto renew annually.
US$ 79
Tax calculation will be finalised during checkout.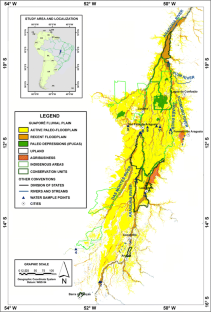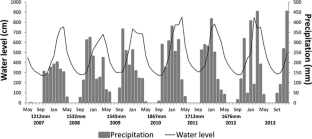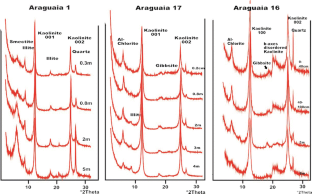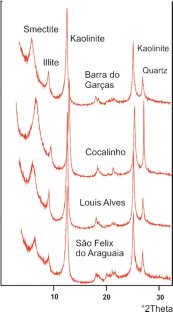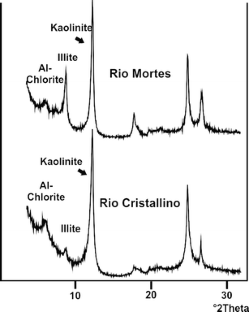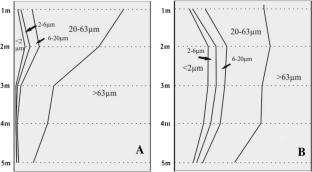 References
Aquino S, Latrubesse E, Bayer M (2009) Assessment of Wash Load Transport in the Araguaia River (Aruanã Gauge Station), Central Brazil. Latin American Journal of Sedimentology and Basin Analysis 16:119–128

Araújo JB, Carneiro RG (1977) Planície do Araguaia, reconhecimento geológico-geofísico. Petrobrás/RENOR, Belém, 11p, Relatório Técnico

Atterberg A (1912) Die mechanische Bodenanalyse und die Klassifikation der Mineralböden in Schweden. International Mitt f Bodenkunde 2:312–342

BRASIL, Ministério das Minas e Energia, Secretaria Geral (1981) Projeto RADAMBRASIL, Folha SC 22, Tocantins: geologia, geomorfologia, pedologia, vegetação e uso potencial da terra. Levantamento dos Recursos Naturais, vol 22, MME, Rio de Janeiro

BRASIL, Ministério do Meio Ambiente, IBAMA, ELETRONORTE, PROAVES (2001) Plano de Manejo: Parque Nacional do Araguaia – TO. MMA, Brasília

Congalton RG (1991) A review of assessing the accuracy of classifications of remotely sensed data. Remote Sensing Environment 37:35–46

Dias, AP (2014) Análise Espacial Aplicada à Delimitação de Áreas Úmidas da Planície de Inundação do Médio Araguaia, MSc Thesis, Faculdade de Engenharia Florestal – Universidade Federal de Mato Grosso, 78 p

Furch K, Junk WJ (1997) Physicochemical conditions in floodplains. In: Junk WJ (ed) The central amazon floodplain: ecology of a pulsing system ecological studies, vol 126. Springer, Berlin, pp. 69–108

Hales FW (1981) Anomalias magnéticas de origem profunda na Fossa do Araguaia e no Pantanal: suas implicações geológicas. Mineração e Metalurgia 44(425):24–30

Hamilton SK, Sippel SJ, Melack JM (2002) Comparison of inundation patterns among south American floodplains. Journal of Geophysical Research 107:LBA 5–1–LBA 5–14. doi:10.1029/2000JD000306

Irion G (1976) Quaternary sediments of the upper Amazon lowlands of Brazil. Biogeographica 7:163–167

Irion G (1981) Holzplantage im Urwald? Naturwissenschaften 68:137–138. doi:10.1007/BF01047251

Irion G (1984) Clay minerals of Amazonian soils. In: Sioli H (ed) The Amazon limnology and landscape ecology of a mighty tropical river and its basin. Dr W Junk Publishers, Dordrecht, pp. 201–214

Irion G (1991) Minerals in rivers. In: Degens E, Kempe S, Richey JE (eds) Biogeochemistry of major world rivers. Wiley, New York, pp. 265–281

Irion G, Kalliola R (2010) Fluvial landscape evolution in lowland Amazonia during the Quaternary. In: Hoorn C, Wesselingh F (eds) Amazonia, landscape and species evolution: a look into the past. Blackwell Publishing, Chichester, pp. 185–197

Junk WJ, Da Silva CJ, Nunes da Cunha C, Wantzen KM (2011) The Pantanal: Ecology, biodiversity and sustainable management of a large neotropical seasonal wetland. Pensoft, Sofia

Junk WJ, Piedade MTF, Lourival R, Wittmann F, Kandus P, Lacerda LD, Bozelli RL, Esteves FA, Nunes da Cunha C, Maltchick L, Schöngart J, Schaeffer-Novelli Y, Agostinho AA (2014) Brazilian wetlands: definition, delineation, and classification for research, sustainable management, and protection. Aquatic Conservation: Marine and Freshwater Environments 24:5–22

Latrubesse EM (2003) The late quaternary paleohydrology of large South-American fluvial systems. In: Gregory K, Benito G (eds) Palaeohydrology: understanding global change. Wiley, New York, pp. 193–212

Latrubesse EM, Stevaux JC (2002) Geomorphology and environmental aspects of the Araguaia fluvial basin, Brazil. Zeitschrift für Geomorphologie 129:109–127

Latrubesse EM, Amsler ML, Morais RP, Aquino S (2009) The geomorphologic response of a large pristine alluvial river to tremendous deforestation in the south American tropics: the case of the Araguaia River. Geomorphology 113:239–252. doi:10.1016/j.geomorph.2009.03.014

Mather PM (1999) Computer processing of remotely-sensed images: an introduction, 2 edn. Wiley, Chichester 292p

Piedade MTF, Junk WJ, Sousa Jr PT, da Cunha Nunes, C, Schöngart J, Wittmann F, Candotti E, Girard P (2012) As áreas úmidas no âmbito do Código Florestal brasileiro. In: Comitê Brasil em Defesa das Florestas e do Desenvolvimento Sustentável (ed): Código Florestal e a ciência: o que nossos legisladores ainda precisam saber Sumários executivos de estudos científicos sobre impactos do projeto de Código Florestal Comitê Brasil, Brasília, pp 9–17

Pouilly M, Beck SG, Morales M, Ibanez C (2004) Diversidad biológica em la llanura de inundación del Rio Mamoré: Importância ecológica de la dinâmica fluvial. Centro de Ecologia Simon I. Patino, Santa Cruz 383p

Salgado-Laboriau ML (1997) Late quaternary paleoclimate in the savannas of South America. Journal of Quaternary Science 125:371–379

Salgado-Laboriau ML, Casseti V, Ferraz-Vicentini KR, Martin L, Soubies F, Suguio K, Turcq B (1997) Late quaternary vegetational and climatic changes in cerrado and palm swamp from Central Brazil. Palaeogeography, Palaeoclimatology, Palaeoecology 128:215–226

Sioli H (1956) Uber Natur und Mensch im brasilianischen Amazonasgebiet. Erdkunde 10:89–109

Valente CR (2007) Controles físicos na evolução das unidades geoambientais da bacia do Rio Araguaia, Brasil Central. Thesis, Federal University of Goias (UFG)

Valente CR, Latrubesse EM (2012) Fluvial archive of peculiar avulsive fluvial patterns in the largest quaternary intracratonic basin of tropical South America: the Bananal Basin, Central-Brazil. Palaeogeography, Palaeoclimatology, Palaeoecology 356–357:62–74. doi:10.1016/j.palaeo.2011.10.002

Valente CR, Latrubesse EM, Ferriera LG (2013) Relationships among vegetation, geomorphology and hydrology in the Bananal Island tropical wetlands, Araguaia River basin, Central Brazil. Journal of South American Earth Sciences 46:150–160. doi:10.1016/j.jsames.2012.12.003

Veloso JAV (1997) The seismological observatory of the University of Brasília: accomplishment and prospects. UnB: Brasília

Veloso HP, Japiasu AMS, Goes Filho L, Leite PF (1974) As regiões fitoecológicas, sua natureza e seus recursos econômicos: estudo fitogeográfico da área abrangida pelas folhas SB. 22 Araguaia e SC. 22 Tocantins. In: Brasil, Ministério das Minas e Energia, Secretaria Geral. Projeto RADAMBRASIL, Folha SB.22 Araguaia e parte da Folha SC.22 Tocantins: geologia, geomorfologia, pedologia, vegetação e uso potencial da terra. Levantamento dos Recursos Naturais, vol 4. MME, Rio de Janeiro, pp 1–119

Villamizar EAR (2013) Química da água para a classificação dos rios e igarapés da bacia amazônica. Thesis, National Institute for Amazonian Research (INPA) and State University of Amazonas (UEA)
Acknowledgments
This article was conceived and written within the framework of the program of the National Institute for Wetland Research and Technology (INCT-INAU). We gratefully acknowledge the financial assistance of the Brazilian National Council for Scientific and Technological Development (CNPq); the Science Foundation of the State of Mato Grosso (FAPEMAT), and the Federal University of Mato Grosso.
About this article
Cite this article
Irion, G., Nunes, G.M., Nunes-da-Cunha, C. et al. Araguaia River Floodplain: Size, Age, and Mineral Composition of a Large Tropical Savanna Wetland. Wetlands 36, 945–956 (2016). https://doi.org/10.1007/s13157-016-0807-y
Received:

Accepted:

Published:

Issue Date:
Keywords
Araguaia floodplain

Wetland area

Mineralogy

Hydrochemistry

Remote sensing

Paleo-floodplain