Abstract
We examined effects of flooding on supply rates of 14 nutrients in floodplain areas invaded by Phalaris arundinacea (reed canarygrass), areas restored to young successional forests (browsed by white-tailed deer and unbrowsed), and remnant mature forests in the Upper Mississippi River floodplain. Plant Root Simulator ion-exchange probes were deployed for four separate 28-day periods. The first deployment occurred during flooded conditions, while the three subsequent deployments were conducted during progressively drier periods. Time after flooding corresponded with increases in NO3 −-N, K+ and Zn+2, decreases in H2PO4 −-P, Fe+3, Mn+2, and B(OH)4-B, a decrease followed by an increase in NH4 +-N, Ca+2, Mg+2 and Al+3, and an increase followed by a decrease for SO4 −2-S. Plant community type had weak to no effects on nutrient supply rates compared to the stronger effects of flooding duration. Our results suggest that seasonal dynamics in floodplain nutrient availability are similarly driven by flood pulses in different community types. However, reed canarygrass invasion has potential to increase availability of some nutrients, while restoration of forest cover may promote recovery of nutrient availability to that observed in reference mature forests.
Access options
Buy single article
Instant access to the full article PDF.
USD 39.95
Price excludes VAT (USA)
Tax calculation will be finalised during checkout.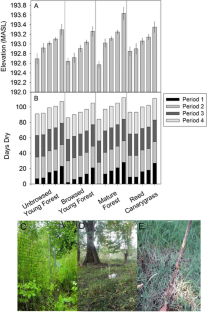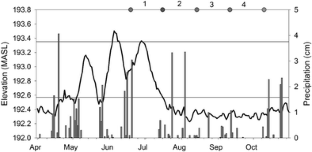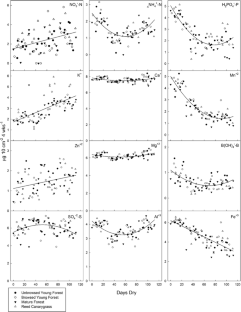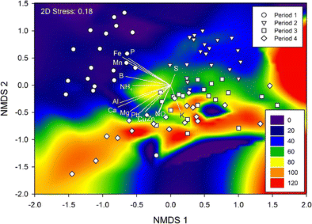 References
Baldwin DS, Mitchell AM (2000) The effects of drying and reflooding on the sediment and soil nutrient dynamics of lowland river floodplain systems: a synthesis. Regul Rivers Res Manag 6:457–467

Butler LM, Kielland K (2008) Acceleration of vegetation turnover and element cycling by mammalian herbivory in riparian ecosystems. J Ecol 96:136–144

Clarke KR, Gorley RN (2006) Primer v6: User Manual/Tutorial. Plymouth Marine Laboratory, Plymouth

Conchou O, Fustec E (1988) Influence of hydrological fluctuations on the growth and nutrient dynamics of Phalaris arundinacea L. in a riparian environment. Plant Soil 112:53–60

Danell K, Bergstrom R, Edenius L (1994) Effects of large mammalian browsers on architecture, biomass, and nutrients of woody plants. J Mammal 75:833–844

Darke AK, Walbridge MR (2000) Al and Fe biogeochemistry in a floodplain forest: implications for P retention. Biogeochemistry 51:1–32

De Jager NR, Cogger BJ, Thomsen MA (2013) Interactive effects of flooding and deer (Odocoileus virginianus) browsing on floodplain forest recruitment. For Ecol Manag 303:11–19

Drohan PJ, Merkler DJ, Buck BJ (2005) Suitability of the Plant Root Simulator probe for use in the Mojave Desert. Soil Sci Soc Am J 69:1482–1491

Edwards KR, Cizkova H, Zemanova K, Santruckova H (2006) Plant growth and microbial processes in a constructed wetland planted with Phalaris arundinacea. Ecol Eng 27:153–165

Ehrenfeld JG (2003) Effects of exotic plant invasions on soil nutrient cycling processes. Ecosystems 6:503–523

Gallardo A (2003) Spatial variability of soil properties in a floodplain forest in Northwest Spain. Ecosystems 6:564–576

Goodwell AE, Zhu Z, Dutta D, Greenberg JA, Kumar P, Garcia MH, Rhoads BL, Holmes RR, Parker G, Beretta DP, Jacobson RB (2014) Assessment of floodplain vulnerability during extreme Mississippi River Flood 2011. Environ Sci Technol 48:2619–2625

Houser JN, Richardson WB (2010) Nitrogen and phosphorus in the Upper Mississippi River: transport, processing, and effects on the river ecosystem. Hydrobiologia 640:71–88

Johnston CA (1991) Sediment and nutrient retention by freshwater wetlands: effects on surface water quality. Crit Rev Environ Control 21:491–565

Junk WJ, Wantzen KM (2004) The flood pulse concept: new aspects, approaches and applications-an update. In: Welcomme RL, Petr T (eds) Proceedings of the Second International Symposium on the Management of Large Rivers for Fisheries, vol 2. RAP Publication, Bangkok, pp 117–149

Junk WJ, Bayley PB, Sparks RE (1989) The flood pulse concept in river-floodplain systems, p. 110–127. Can Special Publ Fisheries Aquat Sci 106:110–127

Knutson MG, McColl LE, Suarez SA (2005) Breeding bird assemblages associated with stages of forest succession in large river floodplains. Nat Areas J 25:55–70

Kreiling RM, Schubauer-Berigan JP, Richardson WB, Bartsch LA, Hughes PE, Cavanaugh JC, Strauss EA (2013) Wetland management reduces sediment and nutrient loading to the Upper Mississippi River. Biogeochemistry 42:573–583

Lavergne S, Molofsky J (2004) Reed canarygrass (Phalaris arundinacea) as a biological model in the study of plant invasions. Crit Rev Plant Sci 23:415–429

McClain ME, Boyer EW, Dent CL, Gergel SE, Grimm NB, Groffman PM, Hart SC, Harvey JW, Johnston CA, Mayorga E, McDowell WH, Pinay G (2003) Biogeochemical hot spots and hot moments at the interface of terrestrial and aquatic ecosystems. Ecosystems 6:301–312

Mitsch WJ, Gosselink JG (2007) Wetlands, 4th edn. John Wiley and Sons, Inc., Hoboken

Olde Venterink H, Davidson TE, Kiehl K, Leonardson L (2002) Impact of drying and re-wetting on N, P, and K dynamics in wetland soil. Plant Soil 243:119–130

Pastor J, Dewey B, Naiman NJ, McInnes PF, Cohen Y (1993) Moose browsing and soil fertility in the boreal forests of Isle Royale National Park. Ecology 74:467–480

Qian P, Schoenau JJ (1996) Ion exchange resin membrane (IERM): a new approach for in situ measurement of nutrient availability in soil. Plant Nutr Fertil Sci 2:322–330

Qian P, Schoenau JJ (2002) Practical applications of ion exchange resins in agricultural and environmental soil research. Can J Soil Sci 82:9–21

Qian P, Schoenau JJ, Huang WZ (1992) Use of ion exchange membranes in routine soil testing. Commun Soil Sci Plant Anal 23:1791–1804

Reddy KR, D'Angelo EM (1994) Soil processes regulating water quality in wetlands. In: Mitsch WJ (ed) Global Wetlands: Old World and New. Elsevier, Amsterdam, pp 309–324

Reddy KR, Kadlec RH, Flaig E, Gale PM (1999) Phosphorus retention in streams and wetlands: a review. Crit Rev Environ Sci Technol 29:83–146

Roden EE, Edmonds JW (1997) Phosphate mobilization in iron-rich anaerobic sediments: microbial Fe (III) oxide reduction versus iron-sulfide formation. Arch Hydrobiol 139:347–378

Ruess RW, McNaughton SJ (1987) Grazing and the dynamics of nutrient and energy regulated microbial processes in the Serengeti grasslands. Oikos 49:101–110

SAS Institute, Inc (2013) Step-by-Step Programming with Base SAS 9.4. SAS Inst, Cary

Schwendenmann L (2000) Soil properties of boreal riparian plant communities in relation to natural succession and clear-cutting, Peace River lowlands, Wood Buffalo National Park, Canada. Water Air Soil Pollut 122:449–467

Thomas CR, Miao S, Sindhoj E (2009) Environmental factors affecting temporal and spatial patterns of soil redox potential in Florida everglades wetlands. Wetlands 29:1133–1145

Thomsen M, Brownell K, Urich R, Groshek M, Kirsch E (2012) Control of reed canarygrass promotes wetland herb and tree seedling establishment in Upper Mississippi River floodplain. Wetlands 32:543–555

Tockner K, Stanford J (2002) Riverine floodplains: present state and future trends. Environ Conserv 3:308–330

Tockner K, Malard F, Ward JV (2000) An extension of the flood pulse concept. Hydrol Process 14:2861–2883

Turner RE, Rabalais NN, Justic D (2008) Gulf of Mexico hypoxia: alternative states and a legacy. Environ Sci Technol 42:2323–2327

Van Cappellen P (2003) Biomineralization and global biogeochemical cycles. Rev Mineral Geochem 54:357–381

Yin Y, Nelson JC, Lubinski KS (1997) Bottomland hardwood forests along the Upper Mississippi River. Nat Areas J 17:164–173

Zedler JB, Kercher S (2004) Causes and consequences of invasive plants in wetlands: opportunities, opportunists, and outcomes. Crit Rev Plant Sci 23:431–452
Acknowledgments
Funding for this research was provided by the U.S. Army Corps of Engineers' Upper Mississippi River Restoration Program and through a cooperative agreement between the USGS Upper Midwest Environmental Sciences Center and the University of Wisconsin-La Crosse River Studies Center. Logistical support for field work and maintenance of the study site as an experiment was provided by Randy Urich and the environmental stewardship staff at the La Crescent field office of the U.S. Army Corps of Engineers, St. Paul District. Any use of trade names of products does not imply endorsement by the United States Government.
About this article
Cite this article
Kreiling, R.M., De Jager, N.R., Swanson, W. et al. Effects of Flooding on Ion Exchange Rates in an Upper Mississippi River Floodplain Forest Impacted by Herbivory, Invasion, and Restoration. Wetlands 35, 1005–1012 (2015). https://doi.org/10.1007/s13157-015-0675-x
Received:

Accepted:

Published:

Issue Date:

DOI: https://doi.org/10.1007/s13157-015-0675-x
Keywords