Abstract
We assessed the role of vegetation and hydrology in the Si cycle in the Okavango Delta. Our results show a large storage of biogenic Si (BSi) in vegetation and the sediments. The biological storage is among the highest observed so far for any ecosystem worldwide. Floodplain vegetation accumulates similar amounts of BSi in both the temporary floodplains and the permanent floodplains, with most values observed between 20 and 100 g Si m−2. This vegetation Si, after litterfall, contributes to a large biogenic Si storage in the sediments. In temporary floodplains, sediments contain less BSi (375–1950 g Si m−2 in the top 5 cm) than in the permanent floodplains (1950–3600 g Si m−2 in the top 5 cm). BSi concentrations in the floodplain sediments decline exponentially indicating rapid dissolution. In the occasional and seasonal floodplains, unidirectional solute transfer from floodplains to the islands will remove Si from the riverine systems. Our work clearly emphasizes the crucial role of floodplains and wetlands in Si transport through tropical rivers, and the potential interference of hydrology with this role.
Access options
Buy single article
Instant access to the full article PDF.
US$ 39.95
Tax calculation will be finalised during checkout.
Subscribe to journal
Immediate online access to all issues from 2019. Subscription will auto renew annually.
US$ 79
Tax calculation will be finalised during checkout.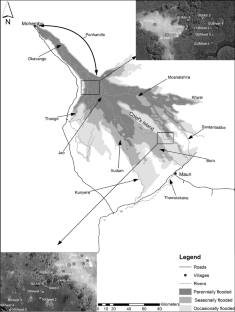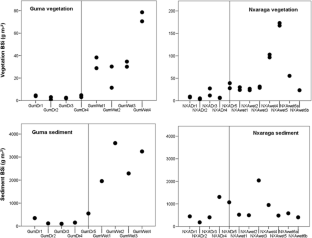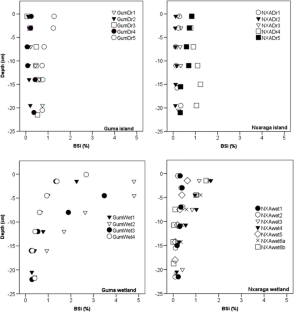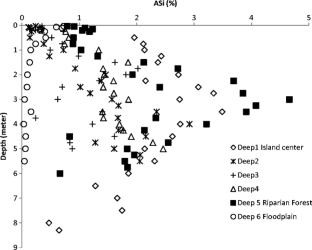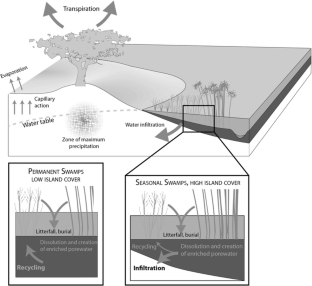 References
Alexandre A, Meunier J-D, Colin F, Koud J-M (1997) Plant impact on the biogeochemical cycle of silicon and related weathering processes. Geochimica et Cosmochimica Acta 61:677–682

Barao L, Clymans W, Vandevenne FI, Meire P, Conley DJ, Struyf E (2014) Pedogenic and biogenic alkaline extracted Si distributions along a temperate land-use gradient. European Journal of Soil Science, in press.

Bauer P, Thabeng G, Stauffer F, Kinzelbach W (2004) Estimation of the evapotranspiration rate from diurnal groundwater level fluctuations in the Okavango Delta, Botswana. Journal of Hydrology 288:344–355

Bauer P, Supper R, Zimmermann S, Kinzelbach W (2006) Geoelectrical imaging of groundwater salinization in the Okavango Delta, Botswana. Journal of Applied Geophysics 60:126–141

Bernal B, Mitsch W (2013) Carbon sequestration in freshwater wetlands in Costa Rica and Botswana. Biogeochemistry 115:77–93

Blecker SW, McCulley RL, Chadwick OA, Kelly EF (2006) Biologic cycling of silica across a grassland bioclimosequence. Global Biogeochemical Cycles 20:GB3023

Carey JC, Fulweiler RW (2012) The terrestrial silica pump. PLoS ONE 7:e52932

Carey JC, Fulweiler RW (2013) Nitrogen enrichment increases net silica accumulation in a temperate salt marsh. Limnology and Oceanography 58(1):99–111

Carey JC & Fulweiler RW (2014) Silica uptake by Spartina – evidence of multiple modes of accumulation from salt marshes around the world. Frontiers in Plant Science: 5

Cary L, Alexandre A, Meunier J-D, Boeglin J-L, Braun J-J (2005) Contribution of phytoliths to the suspended load of biogenic silica in the Nyong basin rivers (Cameroon). Biogeochemistry 74:101–114

Clymans W, Struyf E, Govers G, Vandevenne F, Conley DJ (2011) Anthropogenic impact on amorphous silica pools in temperate soils. Biogeosciences 8:2281–2293. doi:10.5194/bg-8-2281-2011

Conley DJ (2002) Terrestrial ecosystems and the global biogeochemical silica cycle. Global Biogeochemical Cycles 16:1121

Cooke J, Leishman MR (2011) Is plant ecology more siliceous than we realise? Trends in Plant Science 16:61–68

Davidson TA, Mackay AW, Wolski P, Mazebedi R, Murray-Hudson M, Todd M (2012) Seasonal and spatial hydrological variability drives aquatic biodiversity in a flood-pulsed, sub-tropical wetland. Freshwater Biology 57:1253–1265

Demaster DJ (1981) The supply and accumulation of silica in the marine-environment. Geochimica et Cosmochimica Acta 45:1715–1732

Derry LA, Kurtz AC, Ziegler K, Chadwick OA (2005) Biological control of terrestrial silica cycling and export fluxes to watersheds. Nature 433:728–731

Ding TP, Zhou JX, Wan DF, Chen ZY, Wang CY, Zhang F (2008) Silicon isotope fractionation in bamboo and its significance to the biogeochemical cycle of silicon. Geochimica et Cosmochimica Acta 72:1381–1395

Frings P, Clymans W, Jeppesen E, Lauridsen T, Struyf E, Conley DJ (2014) Lack of steady-state in the global biogeochemical Si cycle: emerging evidence from lake Si sequestration. Biogeochemistry 117:255–277

Gumbricht T, McCarthy J, McCarthy TS (2004) Channels, wetlands and islands in the Okavango Delta, Botswana, and their relation to hydrological and sedimentological processes. Earth Surface Processes and Landforms 29:15–29

Hamilton S (2010) Biogeochemical implications of climate change for tropical rivers and floodplains. Hydrobiologia 657:19–35

Hilley GE, Porder S (2008) A framework for predicting global silicate weathering and CO2 drawdown rates over geologic time-scales. Proceedings of the National Academy of Sciences of the United States of America 105:16855–16859

Jennerjahn TC, Knoppers BA, de Souze WFL, Brunskill GJ, Silva EIL, Adi S et al (2006) Factors controlling dissolved silica in tropical rivers. In: Ittekot V (ed) The silicon cycle. Island Press, Washington, D. C, pp 29–51

Mackay AW, Davidson T, Wolski P, Woodward S, Mazebedi R, Masamba WRL, Todd M (2012) Diatom sensitivity to hydrological and nutrient variability in a subtropical, flood-pulse wetland. Ecohydrology 5:491–502

McCarthy TS, McIver JR, Cairncross B, Ellery WN, Ellery K (1989) The inorganic-chemistry of peat from the maunachira channel-swamp system, Okavango Delta, Botswana. Geochimica et Cosmochimica Acta 53:1077–1089

McCarthy TS, Ellery WN, Dangerfield JM (1998) The role of biota in the initiation and growth of islands on the floodplain of the Okavango alluvial fan, Botswana. Earth Surface Processes and Landforms 23:291–316

McCarthy JM, Gumbricht T, McCarthy T, Frost P, Wessels K, Seidel F (2003) Flooding patterns of the Okavango wetland in Botswana between 1972 and 2000. AMBIO: A Journal of the Human Environment 32:453–457

McCarthy TS, Humphries MS, Mahomed I, Le Roux P, Verhagen BT (2012) Island forming processes in the Okavango Delta, Botswana. Geomorphology 179:249–257

McKeague JA, Cline MG (1963) Silica in soil solutions: II. The adsorption of monosilicic acid by soil and by other substances. Canadian Journal of Soil Science 43:83–96

Meunier JD, Keller C, Guntzer F, Riotte J, Braun JJ, Anupama K (2014) Assessment of the 1 % Na2CO3 technique to quantify the phytolith pool. Geoderma 216:30–35

Mitsch W, Bernal B, Nahlik A, Mander Ü, Zhang L, Anderson C, Jørgensen S, Brix H (2013) Wetlands, carbon, and climate change. Landscape Ecology 28:583–597

Müller F, Struyf E, Wanner A, Hartmann J, Jensen K (2013) A comprehensive study of silica pools and fluxes in Wadden Sea salt marshes. Estuaries and Coasts 36:1150–1164

Ramberg L, Wolski P (2008) Growing islands and sinking solutes: processes maintaining the endorheic Okavango Delta as a freshwater system. Plant Ecology 196:215–231

Saccone L, Conley DJ, Koning E, Sauer D, Sommer M, Kaczorek D, Blecker SW, Kelly EF (2007) Assessing the extraction and quantification of amorphous silica in soils of forest and grassland ecosystems. European Journal of Soil Science 58:1446–1459

Sawula G, Martins E (1991) Major ion chemistry of the lower Boro River, Okavango Delta, Botswana. Freshwater Biology 26:481–493

Schaller J, Struyf E (2013) Silicon controls microbial decay and nutrient release of grass litter during aquatic decomposition. Hydrobiologia 709:201–212

Schoelynck J, Bal K, Backx H, Okruszko T, Meire P, Struyf E (2010) Silica uptake in aquatic and wetland macrophytes: a strategic choice between silica, lignin and cellulose? New Phytologist 186:385–391

Schoelynck J, Müller F, Vandevenne F, Bal K, Barão L, Smis A, Opdekamp W, Meire P, Struyf E (2014) Silicon-vegetation interaction in multiple ecosystems: a review. Journal of Vegetation Science 25:301–313

Struyf E, Conley DJ (2009) Silica: an essential nutrient in wetland biogeochemistry. Frontiers in Ecology and the Environment 7(2):88–94

Struyf E, Conley DJ (2012) Emerging understanding of the ecosystem silica filter. Biogeochemistry 107:9–18

Struyf E, Van Damme S, Gribsholt B, Middelburg JJ, Meire P (2005) Biogenic silica in freshwater marsh sediments and vegetation. Marine Ecology Progress Series 303:51–60

Struyf E, Dausse A, Van Damme S, Bal K, Gribsholt B, Boschker HTS, Middelburg JJ, Meire P (2006) Tidal marshes and biogenic silica recycling at the land-sea interface. Limnology and Oceanography 51(2):838–846

Struyf E, Van Damme S, Gribsholt B, Bal K, Beauchard O, Middelburg JJ, Meire P (2007) Phragmites australis and silica cycling in tidal wetlands. Aquatic Botany 87:134–140

Struyf E, Opdekamp W, Backx H, Jacobs S, Conley DJ, Meire P (2009) Vegetation and proximity to the river control amorphous Si storage in a riparian wetland (Bierbza National Park, Poland). Biogeosciences 6:623–631

Struyf E, Mörth M, Humborg C, Conley DJ (2010) An enormous amorphous silica pool in boreal wetlands. Journal of Geophysical Research 115:G04008

Tréguer PJ, De La Rocha CL (2013) The world ocean silica cycle. Annual Review of Marine Science 5:477–501

Wolski P, Savenije HHG, Murray-Hudson M, Gumbricht T (2006) Modelling of the flooding in the Okavango Delta, Botswana, using a hybrid reservoir-GIS model. Journal of Hydrology 331:58–72

Wolski P, Stone D, Tadross M, Wehner M, Hewitson B (2014) Attribution of floods in the Okavango basin, Southern Africa. Journal of Hydrology 511:350–358

Zimmermann S, Bauer P, Held R, Kinzelbach W, Walther JH (2006) Salt transport on islands in the Okavango Delta: numerical investigations. Advances in Water Resources 29:11–29
Acknowledgments
We would like to thank several funding agencies for their funding contributions: University of Botswana, EU Marie Curie Program (Hobits), National Geographic Explorer Grant, the Swedish National Science Foundation (VR) and the Knut and Alice Wallenberg Foundation. We would like to thank BELSPO for funding the project SOGLO. This research was carried out under Permit EWT 8/36/4 XVI(6) from the Government of Botswana. Part of the funding was provided by the University of Botswana Office of Research and Development.
About this article
Cite this article
Struyf, E., Mosimane, K., Van Pelt, D. et al. The Role of Vegetation in the Okavango Delta Silica Sink. Wetlands 35, 171–181 (2015). https://doi.org/10.1007/s13157-014-0607-1
Received:

Accepted:

Published:

Issue Date:
Keywords
Tropical wetlands

Biogenic silica

Okavango Delta

Hydrology