Abstract
We present an eco-morphodynamic analysis on causes of erosion along degraded mangrove-mud coasts, and the causes of failure to rehabilitate these coasts. Our analyses are based on studies in Thailand, British Guyana and Suriname, and observations in Indonesia, the Philippines and southern China, where degradation is directly attributed to the erection of fish/shrimp ponds too close to the waterline. Ecological determinants of low success rates of rehabilitation efforts are well explained in literature, and are briefly summarized in this paper. Our analyses show that ongoing erosion of degraded mangrove-mud coasts are also the result of a disturbed balance in fine sediment dynamics, and the subsequent change in mudflat morphology. The initial drivers for this degradation are a decrease in on-shore sediment flux and a local increase in wave height near the fish/shrimp ponds. A positive feed-back loop is initiated by which stable, convex-up cross sectional profiles of mud flats evolve towards unstable, concave-up profiles. This loop is induced by an unfavorable feedback between tide-induced sedimentation and wave-induced erosion, deteriorating habitat conditions for mangrove recruitment. Based on the current analysis, we present ingredients for a more sustainable use of mangrove-mud coastal systems, and a more successful rehabilitation of eroding mangrove-mud coasts.
Access options
Buy single article
Instant access to the full article PDF.
USD 39.95
Price includes VAT (USA)
Tax calculation will be finalised during checkout.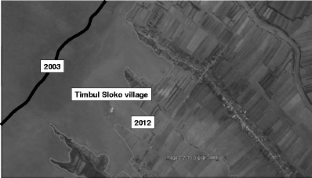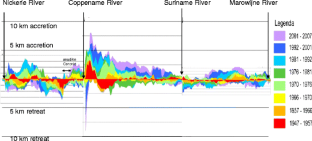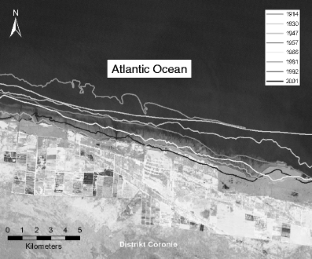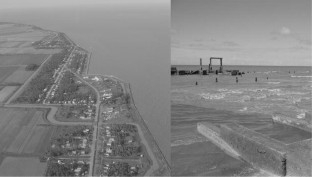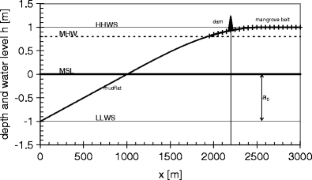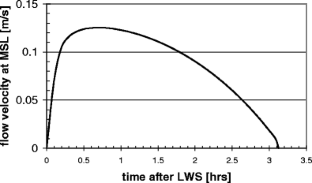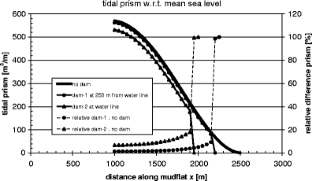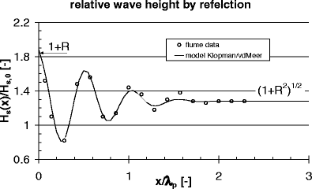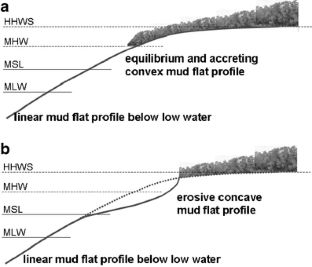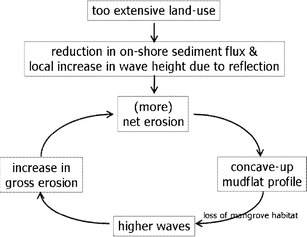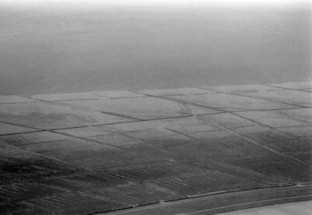 References
Anthony EJ, Gratiot N (2012) Coastal engineering and large-scale mangrove destruction in Guyana, South America: averting an environmental catastrophe in the making. Ecological Engineering 47:268–273

Anthony EJ, Gardel A, Gratiot N, Proisy C, Allison MA, Dolique F, Fromard F (2010) The Amazon-influenced muddy coast of South America: a review of mud-bank-shoreline interaction. Earth-Science Reviews 103:99–121

Augustinus PGEF (1978) The changing shoreline of Suriname (South America) PhD thesis, University of Utrecht, The Netherlands

Augustinus PGEF (2004) Construction seawall Coronie; morphodynamic aspects and natural coastal defense. Sunecon Suriname Engineering Consultants

Bakker JP, Esselink P, Dijkema KS, van Duin WE, de Jong DJ (2002) Restoration of salt marshes in the Netherlands. Hydrobiologia 478:29–51

Balke T, Bouma TJ, Horstman EM, Webb EL, Erftemeijer PLA, Herman PMJ (2011) Windows of opportunity: thresholds to mangrove seedling establishment on tidal flats. Marine Ecology Progress Series 440:1–9

Ball MC (1980) Patterns of secondary succession in a mangrove forest of southern Florida. Oecologia 44:226–235

Chen LZ, Wang WQ, Zhang YH, Lin GH (2009) Recent progresses in mangrove conservation, restoration and research in China. Journal of Plant Ecology 2:45–54

Connell JH, Slatyer RO (1977) Mechanisms of succession in natural communities and their role in community stability and organization. American Naturalist 111:1119–1144

Dean RG (1977) Equilibrium beach profiles; US Atlantic and gulf coasts. Oceanographic engineering report No. 12. University of Delaware, Newark

Dean RG, Dalrymple RA (1984) Water wave mechanics for engineers and scientists. World scientific, advanced series on ocean engineering – vol 2

Donato DC, Boone Kauffman J, Murdiyarso D, Kurnianto S, Stidham M, Kanninen M (2011) Mangroves among the most carbon-rich forests in the tropics. Nature Geoscience 4:293–297

Dyer KR, Christie MC, Wright EW (2000) The classification of intertidal mudflats. Continental Shelf Research 20:1079–1097

Ellison AM (2000) Mangrove restoration: do we know enough? Restoration Ecology 8(3):219–229

Erftemeijer PLA, Bualuang A (2002) Participation of local communities in mangrove forest rehabilitation in Pattani Bay, Thailand: learning from successes and failures. In: Gawler M (ed) strategies for wise use of wetlands: best practices in participatory management. Proceedings of a Workshop held at the 2nd International Conference on Wetlands and Development (Nov. 1998, Dakar, Senegal). Wetlands International, IUCN, WWF Publication 56, Wageningen, Netherlands, pp 27–36

Erftemeijer PLA, Lewis RR III (2000) Planting mangroves on intertidal mudflats: habitat restoration or habitat conversion? In: Sumantakul V et al. (eds) Enhancing coastal ecosystem restoration for the 21th "century". Proceedings of a regional seminar for east and Southeast Asian Countries: ECOTONE VIH, Ranong & Phuket, 23–28 May 1999. UNESCO, Bangkok, Thailand, January 2000, pp 156–165

Erftemeijer PLA, Teunissen P (2009) ICZM plan Suriname - mangrove report. Analysis of problems and solutions for the management of mangrove forests along Suriname's 'wild coast'. Lievense – Deltares report, September 2009, 35 pp

FAO (2007) The world's mangroves 1980–2005. FAO Forestry Paper 153, Rome, 89 pp

Field CD (1998) Rehabilitation of mangrove ecosystems: an overview. Marine Pollution Bulletin 37:383–392

Friedrichs CT (2011) Tidal flat morphodynamics: a synthesis. In: Hansom JD and Flemming BW (eds) Treatise on estuarine and coastal science, volume 3: estuarine and coastal geology and geomorphology. Elsevier, 34 pp

Friedrichs CT, Aubrey DG (1996) Uniform bottom shear stress and equilibrium hypsometry of intertidal flats. In: Pattriaratchi C (ed) Mixing in estuaries and coastal seas. American Geophysical Union, Washington, pp 1061–1077

Friess DA, Krauss KW, Horstman EM, Balke T, Bouma TJ, Galli D, Webb EL (2012) Are all intertidal wetlands naturally created equal? Bottlenecks, thresholds and knowledge gaps to mangrove and saltmarsh ecosystems. Biological Reviews 87(2):346–366

Gedan KB, Kirwan ML, Wolanski E, Barbier EB, Silliman BR (2011) The present and future role of coastal wetland vegetation in protecting shorelines: answering recent challenges to the paradigm. Climatic Change 106:7–29

Giesen W, Wulffraat S, Zieren M, Scholten L (2007) Mangrove guidebook for Southeast Asia. FAO and Wetlands International

Healy T, Wang Y, Healy JA (eds) (2002) Muddy coasts of the world: processes, deposits and function. Elsevier, Proceedings in Marine Science 4

Holthuijsen LH (2007) Waves in oceanic and coastal waters. Cambridge University Press

Johnstone IM (1983) Mangrove succession and climax. Chapter 12. In: Teas HJ (ed) Biology and ecology of mangroves. Tasks for vegetation science 8. The Hague, Junk

Kjerfve B (1990) Manual for investigation of hydrological processes in mangrove ecosystems. University of South Carolina, Columbia

Klopman G, van der Meer JW (1999) Random wave measurements in front of reflective structures. J Waterway, Port, Coastal, Ocean Eng 125:39–45

Le Hir P, Roberts W, Cazaillet O, Christie M, Bassoulet P, Bacher C (2000) Characterization of interitdal flat hydrodynamics. Continental Shelf Research 20:1079–1097

Lee SC (1995) Response of mud shore profiles to waves. PhD thesis, University of Florida, Gainesville, Florida, USA

Lee SC, Mehta AJ (1997) Problems in characterizing dynamics of mud shore profiles. ASCE, Journal of Hydraulic Engineering 123(4):351–361

Lewis RR III (2005) Ecological engineering for successful management and restoration of mangrove forests. Ecological Engineering 24:403–418

Lewis RR III (2001) Mangrove Restoration - costs and measures of successful ecological restoration. Proceedings of the Mangrove Valuation Workshop, Universiti Sains Malaysia, Penang, 4–8 April, 2001. Beijer International Institute of Ecological Economics, Stockholm, Sweden

Lewis RR III (2009) Methods and criteria for successful mangrove forest restoration. Chapter 28. In: Perillo GME, Wolanski E, Cahoon DR, Brinson MM (Eds), Coastal wetlands: an integrated ecosystem approach, Elsevier, pp.787–800

Lewis RR, Quarto A, Enright J, Corets E, Primavera J, Ravishankar T, Stanley DO, Djamaluddin R (2006) Five steps to successful ecological restoration of mangroves. Mangrove Action Project / Yayasan Akar Rumput Laut, Yogyakarta, 64 pp

Manson FJ, Loneraagan NR, Harch BD, Skilleter GA, Williams L (2005) A broad-scale analysis of links between coastal fisheries production and mangrove extent: a case-study for northeastern Australia. Fisheries Research 74(1–3):69–85

Peng YS, Zhou YW, Hou YW, Chen GZ (2008) The restoration of mangrove wetlands: a review. Acta Ecologica Sinica 28:786–797

Plaziat JC, Augustinus PGEF (2004) Evolution of progradation/erosion along the French Guiana mangrove coast: a comparison of mapped shorelines since the 18th century with Holocene data. Marine Geology 208:127–143

Primavera JH, Esteban JMA (2008) A review of mangrove rehabilitation in the Philippines: successes, failures and future prospects. Wetlands Ecology and Management 16:345–358

Roberts W, Le Hir P, Whitehouse RSJ (2000) Investigation using simple mathematical models of the effect of tidal currents and waves on the profile shape of intertidal mudflats. Continental Shelf Research 20:1079–1097

Rönnbäck P (1999) The ecological basis for economic value of seafood production supported by mangrove ecosystems. Ecological Economics 29(2):235–252

Saenger P, Siddiqi NA (1993) Land from the sea: the mangrove forestation program of Bangladesh. Ocean and Coastal Management 20:23–39

Samson MS, Rollon RN (2008) Growth performance of planted mangroves in the Philippines: revisiting forest management strategies. Ambio 37:234–240

Spalding M, Kainuma M, Collins L (2010) World atlas of mangroves. Earthscan, London

Spurgeon J (1998) The socio-economic costs and benefits of coastal habitat rehabilitation and creation. Marine Pollution Bulletin 37:373–382

Stanley OD, Lewis RR III (2009) Strategies for mangrove rehabilitation in an eroded coastline of Selangor, Peninsular Malaysia. Journal of Coastal Development 12:142–154

Stevenson NJ, Lewis RR, Burbridge PR (1999) Disused shrimp ponds and mangrove rehabilitation. In: Streever W (ed) 'An International Perspective on Wetland Rehabilitation'. Kluwer, pp. 277–297

Suwannodom S, Siriboon S, Paphavasit N (1998) An approach to rehabilitate mangrove forests in Thailand. In: Proceedings of the Fifth International Conference on Remote Sensing for Marine and Coastal Environments, San Diego, California, 5–7 October 1998. Volume II, pp 241–247

Svendsen IA (2006) Introduction to nearshore hydrodynamics. World scientific, advanced series on ocean engineering – vol 24

Thampanya U, Vermaat JE, Sinsakul S, Panapitukkul N (2006) Coastal erosion and mangrove progradation of Southern Thailand. Estuarine, Coastal and Shelf Science 68:75–85

Tomlinson PB (1986) The botany of mangroves. Cambridge University Press, Cambridge, 413 pp

UNEP-WCMC (2006) In the front line: shoreline protection and other ecosystem services from mangroves and coral reefs. UNEP-WCMC, Cambridge, 33 pp

Winterwerp JC, Borst WG, de Vries MB (2005) Pilot study on the erosion and rehabilitation of a mangrove mud coast. Journal of Coastal Research 21(2):223–231

Zhang Y-H, Huang G, Wang W, Chen L, Lin G (2012) Interactions between mangroves and exotic Spartina in an anthropogenically disturbed estuary in southern China. Ecology 93:588–597
Acknowledgments
We thank the "Programme Strategic Alliances between the People's Republic of China and the Netherlands" for funding part of this research (PSA 04-PSA-E-01; 2008DFB90240). A second part was financed under the "Mangrove Capital" project, implemented by BPSDAL, Deltares, the Nature Conservancy, Wageningen University and Wetlands International. We also thank the Associate Editor and two anonymous reviewers for their constructive comments on the first version of our manuscript.
About this article
Cite this article
Winterwerp, J.C., Erftemeijer, P.L.A., Suryadiputra, N. et al. Defining Eco-Morphodynamic Requirements for Rehabilitating Eroding Mangrove-Mud Coasts. Wetlands 33, 515–526 (2013). https://doi.org/10.1007/s13157-013-0409-x
Received:

Accepted:

Published:

Issue Date:
Keywords
Mangrove rehabilitation

Fish/shrimp ponds

Coastal erosion

Eco-morphodynamic conditions

Sediment dynamics

Waves