Abstract
Despite the ecological, conservation, and cultural significance of Japan's alpine and subalpine moorland ecosystems, the patterns of species composition in plant communities in these ecosystems have not been fully described. The objectives of this study were to classify and describe the species composition of moorland plant communities and to examine the relationships between the classified community types and measured environmental variables within the subalpine zone of northern Japan. Plant communities were sorted into six types, whose strongest indicator species were Sieversia pentapetala, Schizocodon soldanelloides, Moliniopsis japonica, Vaccinium oxycoccos, Carex thunbergii, and Hosta sieboldii, respectively. The differences in species composition among these types were mainly related to the variations in soil solution pH and electric conductivity and in elevation and temperature. Each community type represented a unique combination of plant species, with some rare and endangered species. Describing and classifying the vegetation by providing indicators for a representative range of moorland community types should facilitate the identification and conservation of these valuable communities.
Access options
Buy single article
Instant access to the full article PDF.
USD 39.95
Price includes VAT (USA)
Tax calculation will be finalised during checkout.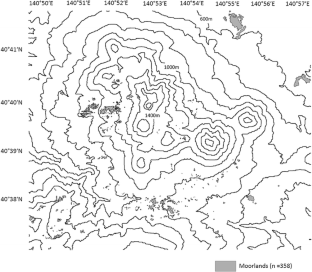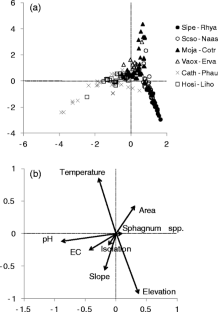 References
Aomori Prefecture (2006) Red list of plants in Aomori Prefecture. Available at: http://www.pref.aomori.lg.jp/nature/nature/red-rest.html

Bureau RC (2002) What is the Ramsar Convention on Wetlands? Ramsar Convention Bureau, Gland

Chapin FS III, McGuire AD, Randerson J, Pielke R Sr, Baldocchi D, Hobbie SE, Roulet N, Eugster W, Kasischke E, Rastetter EB, Zimov SA, Running SW (2000) Arctic and boreal ecosystems of western North America as components of the climate system. Global Change Biology 6(S1):211–223

Daimaru H, Yasuda M (2009) Global warming and mountain wet meadows in Japan. Chikyu Kankyo 14:175–182 (in Japanese)

Development Core Team R (2009) R: a language and environment for statistical computing. R Foundation for Statistical Computing, Vienna

Dufrene M, Legendre P (1997) Species assemblages and indicator species: the need for a flexible asymmetrical approach. Ecological Monographs 67:345–366

Galeuchet DJ, Perret C, Fischer M (2005) Performance of Lychnis flos-cuculi from fragmented populations under experimental biotic interactions. Ecology 86:1002–1011

Gorham E (1991) Northern peatlands: role in the carbon cycle and probable responses to climatic warming. Ecological Applications 1:182–195

Gorham E, Bayley SE, Schindler DW (1984) Ecological effects of acid deposition upon peatlands: a neglected field in "acid-rain" research. Canadian Journal of Fisheries and Aquatic Sciences 41:1256–1268

Hajek M, Hekera P, Hajkova P (2002) Spring fen vegetation and water chemistry in the Western Carpathian flysch zone. Folia Geobotanica 37:205–224

Hajkova P, Hajek M, Apostolova I (2006) Diversity of wetland vegetation in the Bulgarian high mountains, main gradients and context-dependence of the pH role. Plant Ecology 184:111–130

Kamiyama C, Oikawa S, Kubo T, Hikosaka K (2010) Light interception in species with different functional groups coexisting in moorland plant communities. Oecologia 164:591–599

Keuper F, Dorrepaal E, Van Bodegom PM, Aerts R, Van Logtestijn RSP, Callaghan TV (2011) A Race for Space? How Sphagnum fuscum stabilizes vegetation composition during long-term climate manipulations. Global Change Biology 17:2162–2171

Kudo G (1991) Effects of snow-free period on the phenology of alpine plants inhabiting snow patches. Arctic and Alpine Research 23:436–443

Legendre P, Legendre L (1998) Numerical ecology, 2nd English edition. Elsevier Science, Amsterdam

Lienert J, Fischer M, Diemer M (2002) Local extinctions of the wetland specialist Swertia perennis L. (Gentianaceae) in Switzerland: a revisitation study based on herbarium records. Biological Conservation 103:65–76

McCune B, Grace JB (2002) Analysis of ecological communities. MjM Software Design, Gleneden Beach, Oregon

Ministry of the Environment (2007) Red list of plants and Red Data Book in Japan. Available at: http://www.biodic.go.jp/rdb/rdb_f.html

Mochida Y, Sato M, Kikuchi T (1997) The vegetation of the south Hakkoda mountains, northern Honshu, Japan. Ecological Review 23:295–300

Muraoka H, Takakura S (1988) Explanatory text of the geological map of the Hakkôda Geothermal area. Miscellaneous Map Series (No. 21–4), Geological Survey of Japan, Tsukuba 27 p (in Japanese)

Nekola JC (2004) Vascular plant compositional gradients within and between Iowa fens. Journal of Vegetation Science 15:771–780

Sasaki T, Katabuchi M, Kamiyama C, Shimazaki M, Nakashizuka T, Hikosaka K (2012a) Diversity partitioning of moorland plant communities across hierarchical spatial scales. Biodiversity and Conservation 21:1577–1588

Sasaki T, Katabuchi M, Kamiyama C, Shimazaki M, Nakashizuka T, Hikosaka K (2012b) Nestedness and niche-based species loss in moorland plant communities. Oikos 121:1783–1790

Tachibana H, Takahashi M, Sato M, Sasaki J (2001) Microtopography and vegetation of disturbed area around the boardwalk in the Uryu-numa Mire, western Hokkaido. Reports of the Taisetsuzan Institute of Science 35:19–34 (in Japanese with English summary)

Vitt DH, Chee W (1990) The relationship of vegetation to surface water chemistry and peat chemistry in fens of Alberta, Canada. Vegetatio 89:87–106

Wahren CH, Williams RJ, Papst WA (1999) Alpine and subalpine wetland vegetation on the Bogong High Plains, southeastern Australia. Australian Journal of Botany 47:165–188

Wheeler BD, Proctor MCF (2000) Ecological gradients, subdivisions and terminology of north-west European mires. Journal of Ecology 88:187–203

Wright DH, Patterson BD, Mikkelson GM, Cutler A, Atmar W (1998) A comparative analysis of nested subset patterns of species composition. Oecologia 113:1–20
Acknowledgments
We thank the members of our lab for their kindness in helping with the field work, especially Yukari Abe, Sawako Imahiro, Akira Inoue, and Yuta Nihonmatsu. We also thank Koji Yonekura for advice about species identification and Hiroko Kurokawa for helpful comments and discussions on an earlier draft of this manuscript. This work was supported by the Global Environmental Research Fund of Japan's Ministry of the Environment (no. D-0904), with additional support from Tohoku University's Global COE program "Ecosystem Adaptability Science for the Future" (no. J03) and a Grant-in-Aid for Young Scientists B (no. 23710278) from the Ministry of Education, Culture, Sports, Science and Technology of Japan.
About this article
Cite this article
Sasaki, T., Katabuchi, M., Kamiyama, C. et al. Variations in Species Composition of Moorland Plant Communities Along Environmental Gradients Within a Subalpine Zone in Northern Japan. Wetlands 33, 269–277 (2013). https://doi.org/10.1007/s13157-013-0380-6
Received:

Accepted:

Published:

Issue Date:
Keywords
Alpine plants

Biodiversity conservation

Classification

Indicator species