Abstract
Management of wetlands is often constrained by lack of a precise typology of habitats. Regional landscape attributes need to be considered in the integrative research of wetlands to allow habitat-specific management. Here we investigated the distribution and the habitat diversity of the wetlands in the Amazonian Piedmont in the Caquetá Department of Colombia. Based on the landscape approach we combined geomorphic, hydro-chemical and biotic attributes. We used remote sensing based interpretation and ground truth verification. We found 896 wetlands covering up to 11 % of the study area. Our estimate of the wetland area does not reflect the true historic wetland area (occasionally flooded area) because 76.9 % of the flooded active floodplain area has been converted to pastures. Including the pastures the estimated wetland area is 29.3 % of the study region. We identified 7 wetland habitats. The method we applied can be used to map small and middle sized wetlands achieving an acceptable overall accuracy. These wetlands provide important ecosystem services and act as corridors for biodiversity in human-dominated landscapes such as the Caquetá region. Our results provide support for the wise use of tropical wetlands and may help to improve landscape management in the Amazon basin.
Access options
Buy single article
Instant access to the full article PDF.
USD 39.95
Price excludes VAT (USA)
Tax calculation will be finalised during checkout.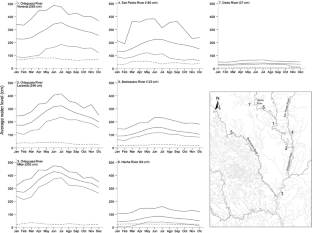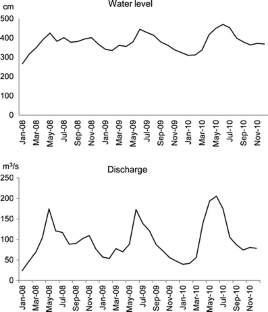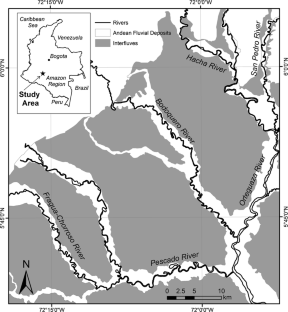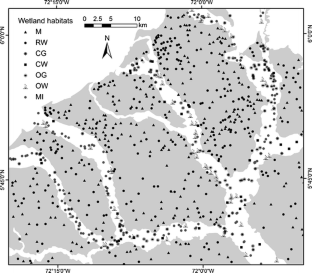 References
Abell R, Thieme ML, Revenga C, Bryer M, Kottelat M, Bogutskaya N, Coad B, Mandrak N, Balderas SC, Bussing W, Stiassny MLJ, Skelton P, Allen GR, Unmack P, Naseka A, Ng R, Sindorf N, Robertson J, Armijo E, Higgins JV, Heibel TJ, Wikramanayake E, Olson D, López HL, Reis RE, Lundberg JG, Sabaj Pérez MH, Petry P (2008) Freshwater ecoregions of the world: a new map of biogeographic units for freshwater biodiversity conservation. BioScience 58:403–414

Adger WN, Luttrell C (2000) Property rights and the utilisation of wetlands. Ecological Economics 35:75–89

Amoros C, Petts GE (eds) (1993) Hydrosystèmes Fluviaux. Macon, Paris

Arcila-Niño O, González-León G, Gutiérrez-Rey F, Rodríguez-Salazar A, Salazar-Cardona CA (2000) Caquetá. Construcción de un territorio amazónico en el siglo XX. Pages 25–41. Insituto Amazónico de Investigaciones Científicas Sinchi, Bogotá, Colombia

Bedford BL (1996) The need to define hydrologic equivalence at the landscape scale for freshwater wetland mitigation. Ecological Applications 6:57–68

Bishop YMM, Fienberg SE, Holland PW (1975) Discrete multivariate analysis: theory and practice. M.I.T. Press, Cambridge

Bray JR, Curtis JT (1957) An ordination of the upland forest communities of Southern Wisconsin. Ecological Monographs 27:325–349

Brinson MM (1993) A hydrogeomorphic classification for wetlands. Technical Report WRP-DE-4 U.S. Army Engineer Waterways Experiment Station, Vicksburg, Mississippi, USA

Brinson MM, Malvárez AI (2002) Temperate freshwater wetlands: types, status, and threats. Environmental Conservation 29:115–133

Canevari PID, Blanco DE, Castro G, Bucher EH (eds) (2001) Los Humedales de América del Sur. Una Agenda para la Conservación de la Biodiversidad y las Políticas de Desarrollo. Wetlands International, Netherlands

Carle M (2011) Estimating wetland losses and gains in Coastal North Carolina: 1994–2001. Wetlands 31:1275–1285

Charlton R (2008) Fundamentals of fluvial geomorphology. Routledge, London, New York, Canada

Clausen JC, Ortega IM, Glaude CM, Relyea RA, Garay G, Guineo O (2006) Classification of wetlands in a Patagonian National Park, Chile. Wetlands 26:217–229

Congalton RG (1991) A review of assessing the accuracy of classifications of remotely sensed data. Remote Sensing of Environment 37:35–46

Congalton RG (2001) Accuracy assessment and validation of remotely sensed and other spatial information. International Journal of Wildland Fire 10:321–328

Cowardin LM, Carter V, Golet FC, LaRoe ET (1979) Classification of wetlands and deepwater habitats of the United States., U. S. Department of the Interior, Fish and Wildlife Service, Washington, D.C., Washington, DC, USA. FWS/OBS -79/31

Diegues AC (2002) Povos e Águas – Inventário de áreas úmidas brasileiras, NUPAUB-USP, 2ed

Duivenvoorden JF (1996) Patterns of tree species richness in rain forests of the Middle Caqueta Area, Colombia, NW Amazonia. Biotropica 28:142–158

Duque SR, Ruiz JE, Gómez J, Roessler E (1997) Limnologia. In: Codazzi IGA (ed) Zonificación ambiental para el plan colombo-brasilero (eje Apaporis – Tabatinga: PAT). Editorial Linotipia, Santafé de Bogotá, Colombia

Eslava J, López V, Olaya O (1986) Los Climas de Colombia. Sistemas de Caldas & Lang (1918). Atmosfera 5:35–81

ESRI (2011) ArcGIS Desktop: Release 10. Environmental Systems Research Institute, Redlands, CA

Etter A, McAlpine C, Phinn S, Pullar D, Possingham H (2006a) Characterizing a tropical deforestation wave: a dynamic spatial analysis of a deforestation hotspot in the Colombian Amazon. Global Change Biology 12:1409–1420

Etter A, McAlpine C, Phinn S, Pullar D, Possingham H (2006b) Unplanned land clearing of Colombian rainforests: spreading like disease? Landscape and Urban Planning 77:240–254

Etter A, McAlpine C, Pullar D, Possingham H (2006c) Modelling the conversion of Colombian lowland ecosystems since 1940: drivers, patterns and rates. Journal of Environmental Management 79:74–87

Finlayson CM, van der Valk AG (1995) Wetland classification and inventory: a summary. Plant Ecology 118:185–192

Frazier PS, Page KJ (2000) Water body detection and delineation with Landsat TM data. Photogrammetric Engineering and Remote Sensing 66:1461–1467

Frazier P, Ryder D, McIntyre E, Stewart M (2012) Understanding riverine habitat inundation patterns: remote sensing tools and techniques. Wetlands 32:225–237

Gentry AH (1992) Tropical forest biodiversity - distributional patterns and their conservational significance. Oikos 63:19–28

Gopal B (2005) Relevance and policy dimensions of research on biodiversity in freshwater ecosystems: a developing country perspective. Hydrobiologia 542:19–21

Gutierrez-Rey F, Acosta-Munoz LE, Salazar-Cardona CA (2003) Perfiles Urbanos en la Amazonia Colombiana: Un Enfoque para el Desarrollo Sostenible. Pages 71–84. Instituto Amazonico de Investigaciones Cientificas Sinchi, Bogota, Colombia

Hui F, Xu B, Huang H, Yu Q, Gong P (2008) Modelling spatial-temporal change of Poyang Lake using multitemporal Landsat imagery. International Journal of Remote Sensing 29:5767–5784

IDEAM (2011) Sistema de informacion nacional ambiental. Instituto de hidrologia, meteorologia y estudios ambientales, Bogota

IGAC (1979) Proyecto Radargrametrico del Amazonas, La Amazonia Colombiana y sus recursos. IGAC-CIAF-Mindefensa, Proradam, Bogota, Colombia

IGAC (1999) Paisajes fisiográficos de Orinoquia - Amazonia (ORAM). Instituto Geográfico Agustín Codazzi Santafé de Bogotá, Colombia

ITC-ILWIS (2005) The Integrated Land and Water Information System. International Institute for Aerospace Survey and Earth Sciences (ITC), Enschede, Netherlands

Jensen JR (2000) Remote sensing of the environment: an earth resource perspective. Prentice-Hall, Upper Saddle River

Junk WJ (1993) Wetlands of tropical South America. Wetlands of the world: inventory, ecology and management. Vol. I:679–739

Junk WJ (2002) Long-term environmental trends and the future of tropical wetlands. Environmental Conservation 29:414–435

Junk WJ, Bayley PB, Sparks RE (1989) The flood pulse concept in river-floodplain systems. Can Spec Publ Fish Aquat Sci 106:110–127

Junk WJ, Furch K (1985) The physical and chemical properties of Amazonian waters and their relationships with the biota. In: Prance GT, Lovejoy TE (eds) Key Environments Amazonia. Pergamon Press, Oxford, pp 3–17

Junk WJ, Piedade MTF (2004) Status of knowledge, ongoing research, and research needs in Amazonian wetlands. Wetlands Ecology and Management 12:597–609

Junk WJ, Piedade MTF (2005) The Amazon River basin. In: Fraser LH, Keddy PA (eds) The world's largest wetlands: ecology and conservation. Cambridge University Press, Cambridge, p 498

Junk WJ, Piedade MTF, Schöngart J, Cohn-Haft M, Adeney J, Wittmann F (2011) A classification of major naturally-occurring Amazonian lowland wetlands. Wetlands 31:623–640

Lasillavacia (2012) http://www.lasillavacia.com/historia/la-reserva-minera-en-la-amazonia-que-el-ministro-de-ambiente-aprobo-sin-estudiar-35135. Accessed 12 Sep 2012

Leopold L, Wolman MG, Miller JP (1964) Fluvial processes in geomorphology. W.H. Freeman, San Francisco

MacKay H, Finlayson CM, Fernández-Prieto D, Davidson N, Pritchard D, Rebelo LM (2009) The role of Earth Observation (EO) technologies in supporting implementation of the Ramsar Convention on Wetlands. Journal of Environmental Management 90:2234–2242

Malhi Y, Roberts JT, Betts RA, Killeen TJ, Li W, Nobre CA (2008) Climate change, deforestation, and the fate of the Amazon. Science 319:169–172

Maltby E (2009) The changing wetland paradigm. In: Maltby E, Barker T (eds) The Wetlands Handbook. Wiley-Blackwell, Oxford, pp 3–42

Maltchik L (2003) Three new wetlands inventories in Brazil. Interciencia 28:421–423

Meidinger DV (2000) Protocol for Quality Assurance and Accuracy Assessment of Ecosystem Maps. B.C. Ministry of Forests, Victoria, BC, Canada

Mertes LAK, Dunne T (2008) Effects of tectonism, climate change, and sea-level change on the form and behaviour of the modern Amazon River and its floodplain. John Wiley & Sons, Ltd

Millenium Ecosystem Assessment (2005) Ecosystems and human well-being: wetlands and water synthesis. World Resources Institute, Washington, DC

Mitsch WJ, Gosselink JG (2000) The value of wetlands: importance of scale and landscape setting. Ecological Economics 35:25–33

Mitsch WJ, Gosselink JG (2007) Wetlands, 4th edn. John Wiley and Sons, Inc., Hoboken

Mitsch WJ, Gosselink JG, Anderson CJ, Zhang L (2009) Wetland ecosystems. Wiley, New York

Myers N, Mittermeier RA, Mittermeier CG, da Fonseca GAB, Kent J (2000) Biodiversity hotspots for conservation priorities. Nature 403:853–858

Naranjo LG (1995) An evaluation of the first inventory of South American wetlands. Plant Ecology 118:125–129

Nazareno AG, Feres JM, de Carvalho D, Sebbenn AM, Lovejoy TE, Laurance WF (2012) Serious new threat to brazilian forests. Conservation Biology 26:5–6

Neiff JJ (2001) Humedales de la Argentina: sinopsis, problemas y perspectivas futuras. In: Cirelli AF (ed) El agua en Iberoamérica. Funciones de los humedales, calidad de vida y agua segura. CYTED. Programa Iberoamericano de Ciencia y Tecnología para el Desarrollo, pp 83–112

Nunes da Cunha C, Junk WJ (2011) A preliminary classification of habitats of the Pantanal of Mato Grosso and Mato Grosso do Sul, and its relation to national and international wetland classification systems. In: Junk WJ, da Silva CJ, Nunes da Cunha C, Wantzen KM (eds) The Pantanal: Ecology, Biodiversity and Sustainble Management of a Large Neotropical Seasonal Wetland. Pensoft publishers Sofia-Moscow, pp 127–141

Odum HT (1983) Systems ecology: an introduction. John Wiley, NY

Ozesmi SL, Bauer ME (2002) Satellite remote sensing of wetlands. Wetlands Ecology and Management 10:381–402

Polunin NVC, Gopal B, Graham NAJ, Hall S, Ittekkot V, Mühlig-Hofmann A (2008) Trends and global prospects of the Earth's aquatic ecosystems. In: Pulunin NVC (ed) Aquatic ecosystems: trends and global prospects. Cambridge University Press, Cambridge, p 512, New York

Prance GT (1982) A review of the phytogeographic evidences for pleistocene climate changes in the neotropics. Annals of the Missouri Botanical Garden 69:594–624

Ramsar (2006) The Ramsar Convention Manual: a guide to the Convention on Wetlands (Ramsar, Iran, 1971), 4th ed. Ramsar Convention Secretariat, Gland, Switzerland

Rebelo LM, Finlayson CM, Nagabhatla N (2009) Remote sensing and GIS for wetland inventory, mapping and change analysis. Journal of Environmental Management 90:2144–2153

Saldarriaga JG, van der Hammen T (eds) (1993) Aspectos ambientales para el ordenamienmto territorial del occidente del departemento del Caquetá. IGAC, Tropenbos, Bogota, Colombia

Scott DA (1989) Design of wetland data sheet for database on Ramsar Sites. Photocopied report to Ramsar Bureau. Gland, Switzerland

Scott DA, Carbonell M (eds) (1986) A directory of neotropical wetlands. IUCN, Gland, Switzerland

Semeniuk CA, Semeniuk V (1995) A geomorphic approach to global classification for inland wetlands. Plant Ecology 118:103–124

Sioli H (1950) Das wasser im Amazonasgebiet. Forsch. Fortschr 274–280

Sioli H (ed) (1984) The Amazon: Limnology and landscape ecology of a mighty tropical river and its basin. Dr. W. Junk Publishers, Dordrecht Netherlands and Boston and Hingham

Story M, Congalton RG (1986) Accuracy assessment—A users perspective. Photogrammetric Engineering and Remote Sensing 52:397–399

Strahler AN (1952) Dynamic basis of geomorphology. Geological Society of America Bulletin 63:923

Turner RK, van den Bergh JCJM, Söderqvist T, Barendregt A, van der Straaten J, Maltby E, van Ierland EC (2000) Ecological-economic analysis of wetlands: scientific integration for management and policy. Ecological Economics 35:7–23

Villota H (1992) El sistema CIAF de clasificación fisiográfica del terreno. Revista CIAF 13:55–70

Wantzen KM, Couto EG, Mund EE, Amorim RSS, Siqueira A, Tielbörger K, Seifan M (2012) Soil carbon stocks in stream-valley-ecosystems in the Brazilian Cerrado agroscape. Agriculture, Ecosystems and Environment 151:70–79

Wantzen KM, Da Cunha CN, Junk WJ, Girard P, Rossetto OC, Penha JM, Couto EG, Becker M, Priante G, Tomas WM, Santos SA, Marta J, Domingos I, Sonoda F, Curvo M, Callil C (2008) Towards a sustainable management concept for ecosystem services of the Pantanal wetland. Ecohydrology and Hydrobiology 8:115–138

Wantzen KM, Junk WJ (2000) The importance of stream-wetland-systems for biodiversity: a tropical perspective. In: Gopal B, Junk WJ, Davies JA (eds) Biodiversity in Wetlands: assessment, function and conservation. Backhuys, Leiden, pp 11–34

Warner BG, Rubec CDA (eds) (1997) The Canadian Wetland Classification System. Wetlands 2Research Centre, University of Waterloo, Waterloo, Ontario

Wiens JA (2002) Riverine landscapes: taking landscape ecology into the water. Freshwater Biology 47:501–515

Zedler JB, Kercher S (2005) Wetland resources: status, trends, ecosystem services, and restorability. Annual Review of Environment and Resources 30:39–74

Zoltai SC, Vitt DH (1995) Canadian wetlands: environmental gradients and classification. Plant Ecology 118:131–137

Zuluaga G (2008) Conservation of the Biological and Cultural Diversity of the Colombian Amazon Piedmont: Dr. Schultes' Legacy. Ethnobotany Research & Applications; Vol 3 (2005)
Acknowledgments
This study was funded through Instituto Amazónico de Investigaciones Científicas Sinchi and Ramsar Convention (Small Grants Fund, Project SGF/00/COL/1). Especially we thank EAWAG and DAAD (LFR), and National Institute for Science and Technology in Wetlands (INCT-INAU) (KMW). The comments by the associated editor, two anonymous reviewers, and Kristy Deiner and Luis Cayetano of EAWAG, Dübendorf, Switzerland, helped to improve the manuscript.
About this article
Cite this article
Ricaurte, L.F., Jokela, J., Siqueira, A. et al. Wetland Habitat Diversity in the Amazonian Piedmont of Colombia. Wetlands 32, 1189–1202 (2012). https://doi.org/10.1007/s13157-012-0348-y
Received:

Accepted:

Published:

Issue Date:

DOI: https://doi.org/10.1007/s13157-012-0348-y
Keywords
Aquatic habitat

Conservation

Landscape

South America

Sustainable management

Wetland classification