Abstract
Cattail (Typha angustifolia)-dominated temperate marshes have high productivity and are valuable resources in the prairie pothole region of the northern USA. Whereas bryophytes of peatlands have been studied extensively, bryophytes in marsh assemblages in wetlands without peat accumulation have been largely overlooked, and bryophyte contribution to productivity in these systems has not been assessed. We studied bryophyte assemblage composition and biomass productivity in restored and natural marshes in northwestern Minnesota. Bryophyte species richness was low in all marshes but increased from submerged toward upland marsh vegetation zones. Under the cattail canopy, a dense carpet of Leptodictyum riparium dominated the bryophyte assemblage. Unlike marshes in the northern prairie pothole region and eastern Great Lakes region that are dominated by species of Drepanocladus, prairie wetlands in western Minnesota were dominated by L. riparium with D. aduncus relatively uncommon. Bryophyte biomass in natural marshes was comparable to that of bryophyte-dominated peatlands and increased over time in restored marshes. Natural wetlands had higher species richness, bryophyte cover and bryophyte biomass than restored wetlands and even after 34 years, the bryophyte assemblage in restored wetlands was not comparable to natural wetlands.
Access options
Buy single article
Instant access to the full article PDF.
USD 39.95
Price excludes VAT (USA)
Tax calculation will be finalised during checkout.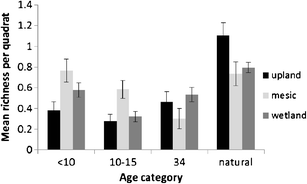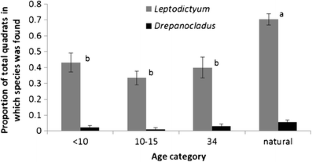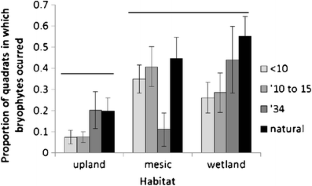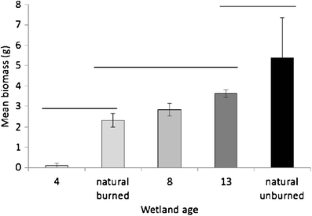 References
Aronson MF, Galatowitsch S (2008) Long-term vegetation development of restored prairie pothole wetlands. Wetlands 28:883–895

Baley SE, Mewhort RL (2004) Plant community structure and functional differences between marshes and fens in the southern boreal region of Alberta, Canada. Wetlands 24:277–294

Bayley SE, Guimond JK (2008) Effects of river connectivity of marsh vegetation community structure and species richness in montain floodplain wetlands in Jasper National Park, Alberta, Canada. Ecoscience 15:377–388

Blann KS, Anderson JL, Sands GR, Vondracek B (2009) Effects of agricultural drainage on aquatic ecosystems: a review. Critical Reviews in Environmental Science and Technology 39:909–1001

Bray JR, Lawrence DB, Pearson LC (1959) Primary production in some Minnesota terrestrial communities for 1957. Oikos 10:38–49

Campbell C, Vitt DH, Halsey L, Campbell I, Thormann MN, Bayley SE (2000) Net primary production and standing biomass in wetlands of continental Western Canada. Canadian Forest Service, Northern Forestry Centre, Edmonton, Alberta, Canada. Information Report NOR-X-369

Campbell DA, Cole CA, Brooks RP (2002) A comparison of created and natural wetlands in Pennsylvania, USA. Wetlands Ecology and Management 10:41–49

Caners RT, Macdonald ES, Belland R (2009) Recolonization potential of bryophyte diaspore banks in harvested boreal mixed-wood forest. Plant Ecology 204:55–68

Churchill SP (1976) Mosses of the Great Plains: introduction and catalogue. Prairie Naturalist 8:44–57

Clymo RS (1970) The growth of Sphagnum: methods of measurement. Journal of Ecology 58:13–49

Clymo RS, Hayward PM (1982) The ecology of Sphagnum. In: Smith AJE (ed) Bryophyte ecology. Chapman and Hall, New York, pp 229–289

Crum HA (1983) Mosses of the great lakes forest. University of Michigan Herbarium, Ann Arbor

Crum HA, Anderson LE (1981) Mosses of Eastern North America volume 2. Columbia University Press, New York

Dahl TE (1990) Wetlands - losses in the United States, 1780's to 1980's. U.S. Fish and Wildlife Service Report to Congress, Washington, D.C

During HJ (1979) Life strategies of bryophytes: a preliminary review. Lindbergia 5:2–18

Eggers SD, Reed DM (1997) Wetland plants and plant communities of Minnesota and Wisconsin, 2nd edn. U. S. Army Corps of Engineers, St. Paul District

Elling AE, Knighton MD (1984) Sphagnum moss recovery after harvest in a Minnesota bog. Journal of Soil Water Conservation 39:109–211

Esri ® (2012) ArcGIS software and ArcMap. Available via: http://www.arcgis.com/home/webmap/viewer.html. Accessed April 2012

Euliss NH, Gleason RA, Olness A, McDougal RL, Murkin HR, Robarts RD, Bourbonniere RA, Warner BG (2006) North American prairie wetlands are important nonforested land-based carbon storage sties. Science of the Total Environment 361:179–188

Galatowitsch SM, van der Valk AG (1994) Restoring prairie wetlands: an ecological approach. Iowa State University Press, Ames, pp 11–39

Galatowitsch SM, van der Valk AG (1996) The vegetation of restored and natural prairie wetlands. Ecological Applications 6:102–112

Glime JM (2007) Bryophyte ecology. Volume 1. Bryophyte ecology. Ebook sponsored by Michigan Technological University and the International Association of Bryologists. Available via: http://www.bryoecol.mtu.edu/. Accessed 2 February 2012

Glime JM, Wetzel RG, Kennedy BJ (1982) The effects of bryophytes on succession from alkaline marsh to Sphagnum bog. American Midland Naturalist 108:209–223

Grigal DF (1985) Sphagnum production in forested bogs of northern Minnesota. Canadian Journal of Botany 63:1204–1207

Hedenäs L (2008) Amblestigeaceae. Bryophyte Flora of North America, Provisional Publication, Buffalo Museum of Science. Available via: http://www.mobot.org/plantscience/bfna/V2/AmblAmblystegiaceae.htm. Accessed 30 May 2012

SAS Institute Incorporated (2008) Base SAS 9.2. Procedures guide. Cary, NC, USA

Janssens JA (1983) Past and extant distribution of Drepanocladus in North America with notes on the differentiation of fossil fragments. Journal of the Hattori Botanical Laboratory 54:251–298

Janssens JA (1992) Bryophytes. In: Wright HE, Coffin BA, Aaseng NE (eds) The patterned peatlands of Minnesota. University of Minnesota Press, Minneapolis, pp 43–57

Janssens JA (2000) County Atlas of Minnesota Mosses. The Minnesota county biological survey, Minnesota Department of Natural Resources, State of Minnesota. Lambda-MAX Ecological Research

Janssens JA, Glaser PH (1986) The bryophyte flora and major peat-forming mosses at Red Lake Peatland, Minnesota. Canadian Journal of Botany 64:427–442

Kuhry P, Nicholson BJ, Gignac LD, Vitt DH, Bayley SE (1993) Development of Sphagnum-dominated peatlands in boreal continental Canada. Canadian Journal of Botany 71:10–22

Larcher W (1983) Physiological plant ecology. Springer, New York

Li Y, Vitt DH (1994) The dynamics of moss establishment: temporal responses to nutrient gradients. The Bryologist 97:357–364

Merrill GLS (1991) Bryophytes of Konza Prairie research natural area, Kansas. The Bryologist 94:383–391

Moss EH (1953) Marsh and bog vegetation in northwestern Alberta. Canadian Journal of Botany 31:448–470

Nicholson BJ (1995) The wetlands of Elk Island National Park: vegetation classification, water chemistry and hydrotopographic relationships. Wetlands 15:119–133

O'Keefe van der Linden J, Farrar DR (1983) An ecological study of the bryophytes of a natural prairie in northwestern Iowa. The Bryologist 86:1–13

Rincòn E, Grime JP (1989) An analysis of seasonal patterns of bryophyte growth in a natural habitat. Journal of Ecology 77:447–455

Sanford MR, Timme SL (1996) Bryophyte diversity in open tallgrass prairies and prairies altered by strip mining. Proceedings of the North American Prairie Conference 16:51–72

Schofield WB (1985) Introduction to bryology. Macmillan Publishing Company, New York

Schuster RM (1992) The hepaticae and anthocerotae of North America, volume VI. Field Museum of Natural History, Chicago

Seabloom EW, Van der Valk AG (2003) The development of vegetative zonation patterns in restored prairie pothole wetlands. Journal of Applied Ecology 40:92–100

Serrano Y (1996) The mosses of disturbed areas in the municipality of Bayamón, Puerto Rico. The Bryologist 99:81–84

Slack NG, Vitt DH, Horton DG (1980) Vegetation gradients of minerotrophically rich fens in western Alberta. Canadian Journal of Botany 58:330–350

Stark LR (2002) Phenology and its repercussions on the reproductive ecology of mosses. The Bryologist 105:204–218

Swinehart AL, Parker GR (2000) Palaeoecology and development of peatlands in Indiana. American Midland Naturalist 143:267–297

Timme S, Redfearn PL (1997) Checklist of the liverworts and hornworts of the interior highlands of North America in Arkansas, Illinois, Missouri, and Oklahoma. Evansia 14:89–105

Vitt DH (1990) Growth and production dynamics of boreal mosses over climatic, chemical and topographic gradients. Botanical Journal of the Linnean Society 104:35–59

Vitt DH (1994) An overview of factors that influence the development of Canadian peatlands. Memoirs of the Entomological Society of Canada 169:7–20

Vitt DH, Kuhry D (1992) Changes in moss-dominated wetland ecosystems. In: Bates JW, Farmer AM (eds) Bryophytes and lichens in a changing environment Oxford University Press 178–210

Vitt DH, Halsey LA, Bray J, Kinser A (2003) Patterns of bryophyte richness in a complex boreal landscape: identifying key habitats at McClelland Lake wetland. The Bryologist 106:372–382

Whitehouse HE, Bayley SE (2005) Vegetation patterns and biodiversity of peatland plant communities surrounding mid-boreal wetland ponds in Alberta, Canada. Canadian Journal of Botany 83:621–637

Whittaker RH, Bormann FH, Likens GE, Siccama TG (1974) The Hubbard Brook study: forest biomass and production. Ecological Monographs 44:233–254

Young DA (1994) Wetlands are not wastelands: a study of functions and evaluation of Canadian wetlands. In: Mitsch WJ (ed) Global wetlands: old world and new. Elsevier Science, Amsterdam, pp 683–689

Zales WM (1971) Bryophytes of Goose Lake Prairie, Illinois. Transactions of the Illinois State Academy of Science 64:222–224

Zoltai SC, Vitt DH (1995) Canadian wetlands – environmental gradients and classification. Vegetatio 118:131–137
Acknowledgments
Work on the Waterfowl Production Areas was completed with a permit from the Detroit Lakes Wetlands Management District of the United States Fish and Wildlife Service (USFWS). We thank Rebecca Esser at the USFWS office for providing information on wetlands and burning regimes and locating appropriate study sites. We thank Susan Studlar, West Virginia University for specimen identifications that facilitated our work and Claudia Murphy for help with field work. Funding was provided through a faculty development grant from Minnesota State University, Moorhead.
About this article
Cite this article
Fuselier, L.C., Donarski, D., Novacek, J. et al. Composition and Biomass Productivity of Bryophyte Assemblages in Natural and Restored Marshes in the Prairie Pothole Region of Northern Minnesota. Wetlands 32, 1067–1078 (2012). https://doi.org/10.1007/s13157-012-0337-1
Received:

Accepted:

Published:

Issue Date:

DOI: https://doi.org/10.1007/s13157-012-0337-1
Keywords
Bryophytes

Productivity

Minnesota

Wetland restoration

Prairie pothole region

Leptodictyum riparium
Drepanocladus