Abstract
The Wetland Reserve Program (WRP) prescribes management of vegetation in moist-soil wetlands for waterfowl and other wildlife. This study used a block design on 18 sites in the Mississippi Alluvial Valley (MAV) in Mississippi to evaluate effectiveness of management prescriptions. Objectives were to determine appropriate timing of vegetation surveys and whether vegetation community metrics on private lands differed among management strategies (2008–2009): 1) active (e.g., annual soil disturbance), early drawdown of standing water (i.e., by 15 June), 2) active, late drawdown (≥3 weeks after early drawdown), and 3) passive, natural evaporation. A Vegetative Forage Quality Index (VFQI) was developed to assess quality of plant communities as forage for waterfowl. The study examined VFQI, plant community diversity and richness, percent (%) occurrence of grass, % woody species, and mean number of plant life-forms among management categories (α = 0.10). Plant community metrics were measured June–October but only October metrics revealed differences in both years (p ≤ 0.09). Active-early had the greatest VFQI, diversity, mean number of plant life-forms, and percent abundance of grasses in October 2008 and 2009 (p ≤ 0.07). Results suggest that quality forage for waterfowl may be achieved through active management with early draw-down.
This is a preview of subscription content, log in to check access.
Access options
Buy single article
Instant access to the full article PDF.
US$ 39.95
Price includes VAT for USA
Subscribe to journal
Immediate online access to all issues from 2019. Subscription will auto renew annually.
US$ 99
This is the net price. Taxes to be calculated in checkout.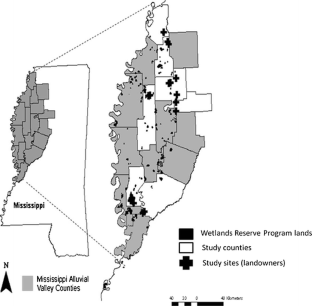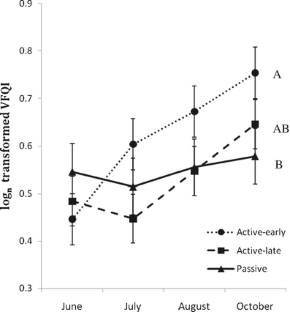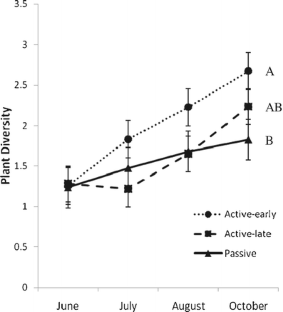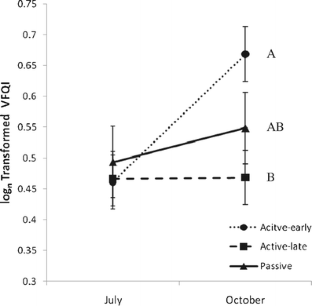 References
Adamus PR, Clairain EJ Jr., Smith RD, Young RE (1987) Wetland Evaluation Techniques (WET). Volume 2. U.S. Army Corp of Engineers Waterways Experimental Station Technical Report, Vicksburg, MS. Y-87

Andreas BK, Lichvar RW (1995) Floristic index for establishing assessment standards: as case study for Northern Ohio. Corps of Engineers Research Report Summary, Washington, DC. WRP-DE-8

Andreas BK, Mack JJ, McCormac JS (2004) Floristic quality assessment index (FQAI) for vascular plants and mosses for the state of Ohio. Ohio Environmental Protection Agency, Division of Surface Water, Wetland Ecology Group, Columbus, OH

Anderson JT, Smith LM (1999) Carrying capacity and diel use of managed playa wetlands by non-breeding waterbirds. Wildlife Society Bulletin 27:281–291

Botta-Dukát Z (2005) Roa's quadratic entropy as a measure of functional diversity based on multiple traits. Journal of Vegetation Science 16:533–540

Bourdaghs M, Johnston CA, Regal RR (2006) Properties and performance of the floristic quality index in Great Lakes coastal wetlands. Wetlands 26:718–735

Brasher MG, Steckel JS, Gates RJ (2007) Energetic carrying capacity of actively and passively managed wetlands for migrating ducks in Ohio. Journal of Wildlife Management 71:2532–2541

Brown SC (1999) Vegetation similarity and avifaunal food value of restored and natural marshes in Northern New York. Restoration Ecology 7:56–68

Callicutt JT, Hagy HM, Schummer ML (2011) The food preference paradigm: a review of fall-winter food use by North American dabbling ducks. Journal of Fish and Wildlife Management 2:29–40

Cox RR, Afton AD (1996) Evening flights of female northern pintails from a major roost site. The Condor 98:810–819

Dahl TE (2006) Status and trends of wetlands in the conterminous United States 1998 to 2004. U.S. Department of the Interior, Fish and Wildlife Service, Washington

Ducks Unlimited, Inc. (2006) Wetland reserve program. <http://www.ducks.org Accessed 7 Sept 2007

Ervin GN, Herman BD, Bried JT, Holly DC (2006) Evaluating non-native species and wetland indicator status as components of wetlands floristic assessment. Wetlands 26:1114–1129

Fleming KS (2010) Effects of management and hydrology on vegetation, winter waterbird use, and water quality on Wetlands Reserve Program Lands, Mississippi. Thesis, Mississippi State University, Mississippi State, MS

Foster MA, Gray MJ, Kaminski RM (2010) Agricultural seed biomass for migrating and wintering waterfowl in the Southeastern United States. Journal of Wildlife Management 74:489–495

Fredrickson LH, Taylor ST (1982) Management of seasonally flood impoundments for wildlife. U.S. Fish and Wildlife Service, Resource Publication 148, Washington, DC.

Fredrickson LH, King SL, Kaminski RM, Eds (2005) Ecology and management of bottomland hardwood systems: The state of our understanding. University of Missouri-Columbia. Gaylord Memorial Laboratory Special Publication. No. 10. Puxico, MO

Hagy HM (2010) Winter food and waterfowl dynamics in managed moist-soil wetlands in the Mississippi Alluvial Valley. Dissertation, Mississippi State University, Mississippi State, MS

Hair JD (1980) Measurements of ecological diversity. In: Schemnitz SD (ed) Wildlife management techniques manual, 4th edn. The Wildlife Society, Inc., Washington, pp 269–275

Haufler JB (2005) Fish and wildlife benefits of Farm Bill conservation programs 2000–2005 update. The Wildlife Society Technical Review, Bethesda, MD. 05-2

Johnson FA, Montalbano F (1984) Selection of plant communities by wintering waterfowl on Lake Okeechobee, Florida. Journal of Wildlife Management 48:174–178

Jorde DG, Krapu GL, Crawford RD (1983) Feeding ecology of mallards wintering in Nebraska. Journal of Wildlife Management 47:1044–1053

Kaminski RM, Davis JB, Eggis HW, Gerard PD, Reinecke KJ (2003) True metabolizable energy for wood ducks from acorns compared to other waterfowl foods. Journal of Wildlife Management 67:542–550

King SL, Twedt DJ, Wilson RR (2006) The role of the Wetlands Reserve Program in conservation efforts in the Mississippi River Alluvial Valley. Wildlife Society Bulletin 34:914–919

Krebs CJ (1989) Ecological methodology. Harper and Row Publishers, New York

Kross J, Kaminski RM, Reinecke KJ, Penny EJ, Pearse AT (2008) Moist-soil seed abundance in managed wetlands in the Mississippi Alluvial Valley. Journal of Wildlife Management 72:707–714

Kushlan JA, Steinkamp MA, Parson KC, Capp J, Cruz MA, Coulter M, Davidson I, Dickson L, Edelson N, Elliot R, Erwin RM, Hatch S, Kress S, Milko R, Miller S, Mills K, Paul R, Phillips R, Salvia JE, Sydeman B, Trapp J, Wheeler J, Wohl K (2002) Waterbird conservation for the Americas: the North American Waterbird Conservation Plan, Version 1. Waterbird Conservation for the Americas, Washington

Laubhan MK, Fredrickson LH (1992) Estimating seed production of common plants inseasonally flooded wetlands. Journal of Wildlife Management 56:329–337

Legagneux P, Blaize C, Latraube F, Gautier J, Bretagnolle V (2009) Variation in home-range size and movement of wintering dabbling ducks. Journal of Ornithology 150:183–193

Loucks OL (1970) Evolution of diversity, efficiency, and community stability. American Zoologist 10:17–25

Matthews JW, Tessene PA, Wiesbrook SM, Zercher BW (2005) Effects of area and isolation on species richness and indices of Floristic Quality in Illinois, USA Wetlands. Wetlands 25:607–615

Meeks RL (1969) The effect of draw-down date on wetland plant succession. The Journal of Wildlife Management 33:817–821

Merendino MT, Smith LM (1991) Influence of drawdown date and reflooding depth on wetland vegetation establishment. Wildlife Society Bulletin 19:143–150

Mitsch WJ, Gosselink JG (2007) Wetlands, 4th edn. Wiley., Hoboken

National Climatic Data Center (2009) World's largest archive of climate data. <http://www.ncdc.noaa.gov/oa/ncdc.html>. Accessed 9 Nov 2009

Natural Resources Conservation Service (2004) Farm Bill 2002 <http://www.nrcs.usda.gov/programs/farmbill/2002/pdf/ConsProv.pdf>. Accessed 7 Sept 2007

Natural Resources Conservation Service (2007) Wetland Reserve Progr<http://www.nrcs.usda.gov/programs/wrp/2007_ContractInfo/2007WRPFactSheet.pdf>. Accessed 7 Sept 2007

Natural Resources Conservation Service (2010) The PLANTS database. <http://plants.usda.gov>. Accessed 1 January 2010

Naylor LW, Eadie JM, Smith WD, Eichholz M, Gray MJ (2005) A simple method to predict seed yield in moist-soil habitats. Wildlife Society Bulletin 33:1335–1341

Nelms KD (ed) (2007) Wetland management for waterfowl handbook, 2nd edn. Natural Resource Conservation Service, Greenwood

Reinecke KJ, Heitmeyer ME (1988) Waterfowl use of forested wetlands in the southern United States, an overview. In: Weller MW (ed) Waterfowl in winter. University of Minnesota Press, Minneapolis, pp 307–325

Reinecke KJ, Kaminski RM, Moorhead DJ, Hodges JD, Nassar JR (1989) Mississippi Alluvial Valley. In: Smith LM, Pederson RL, Kaminski RM (eds) Habitat management for migrating and wintering waterfowl in North America. Texas Tech University, Lubbock, pp 203–224

Roberts-Pichette P, Gillespie L (1999) Terrestrial vegetation biodiversity monitoring protocols. Ecological Monitoring and Assessment Network Publication 9, Burlington, ON

SAS Institute (2009) SAS/STAT user's guide. SAS Institute, Cary

Schummer, ML, Hagy HM, Fleming KS, Cheshier JC, Callicutt JT (2012 In Press) A guide to moist-soil wetland plants of the Mississippi Alluvial Valley. University Press of Mississippi, Jackson, Mississippi.

Sherfy MH, Kirkpatrick RL (1999) Additional regression equations for predicting seed yield of moist-soil plants. Wetlands 19:709–714

Smith LM, Pederson RL, Kaminski RM (eds) (1989) Habitat management for migrating and wintering waterfowl in North America. Texas Tech University Press, Lubbock

Strader RW, Stinson PH (eds) (2005) Moist-soil guidelines for U.S. Fish and Wildlife Service Southern Region. U.S. Fish and Wildlife Service, Jackson, MS

Tacha TC, Warde WD, Burnham EP (1982) Use and interpretation of statistics in wildlife journals. Wildlife Society Bulletin 10:355–362

Taft JB, Hauser C, Robinson KR (2006) Estimating floristic integrity in tall grass prairie. Biological Conservation 131:42–51

Taft JB, Wilhelm GS, Ladd DM, Masters LA (1997) Floristic quality assessment for vegetation in Illinois, a method for assessing vegetation integrity. Erigenia 15:3–95

van der Valk AG (1981) Succession in wetlands: a Gleasonian approach. Ecology 62:688–696

Weller MW, Fredrickson LH (1974) Avian ecology of managed glacial wetlands. Living Bird 12:269–291

White J (1987) Illinois natural areas inventory technical report, volume 1, survey method and results. Illinois Natural Areas Inventory, Urbana

Whittaker RH (1972) Evolution and measurement of species diversity. Taxon 21:213–251

Zar JH (1974) Biostatistical analysis. Prentice-Hill, Inc., Eaglewood Cliffs
Acknowledgments
Funding was provided by the NRCS, Agriculture Wildlife Conservation Center (AWCC), partnered with the Gulf Coast-Cooperative Ecosystem Study Unit, and the Mississippi State University (MSU) Forest and Wildlife Research Center (FWRC) through the MSU Department of Wildlife, Fisheries, and Aquaculture (WFA). The project was a Cooperative Ecosystem Study Unit Agreement Number: 68-7482-9-500. The project was entitled, "Evaluating actively and passively managed moist-soil wetlands enrolled in the Wetlands Reserve Program (WRP) in the Mississippi Alluvial Valley". E. Hackett (AWCC) and K. Nelms (NRCS, Greenwood, MS) provided logistical and technical support. In-kind support was provided by Ducks Unlimited, Inc., Southern Regional Office, Ridgeland, MS. Support and cooperation from 18 private WRP landowners and hunt clubs ensured project completion. Drs. W. Burger and S. Riffell provided statistical guidance. Drs. J. Jones and V. Maddox assisted with plant identification, and R. Hardman assisted with vegetative surveys. J. Callicut, J. Cheshier, Dr. H. Hagy, Dr. J. Madsen, and J. Straub provided additional support. This manuscript has been approved for publication as Forest and Wildlife Research Center journal article WF358.
Appendix
Appendix
Table 3.
About this article
Cite this article
Fleming, K.S., Kaminski, R.M., Tietjen, T.E. et al. Vegetative Forage Quality and Moist-soil Management on Wetlands Reserve Program Lands in Mississippi. Wetlands 32, 919–929 (2012). https://doi.org/10.1007/s13157-012-0325-5
Received:

Accepted:

Published:

Issue Date:
Keywords
Management

Moist-soil wetland

Vegetative Forage Quality Index

Waterfowl

Wetlands Reserve Program