Abstract
Beaver (Castor spp.) are considered a riverine or lacustrine animal, but surveys of tidal channels in the Skagit Delta (Washington, USA) found beaver dams and lodges in the tidal shrub zone at densities equal or greater than in non-tidal rivers. Dams were typically flooded by a meter or more during high tide, but at low tide they impounded water, allowing beaver to swim freely while quadrupling pool habitat for fish compared to channels without dams. Seven fish species were caught in low-tide pools, including threatened juvenile Chinook salmon (Oncorhynchus tshawytscha), whose densities (by volume) averaged 3.2 times higher in low-tide pools than shallows. Accounting for the total contribution of pools and shallows to juvenile Chinook abundance, beaver pools tripled shrub zone channel capacity for juvenile Chinook salmon at low tide relative to herbaceous zone marsh without beaver pools. Current Chinook recovery efforts focus on restoring herbaceous zone tidal marsh for rearing juveniles, but this focus overlooks presently rare and poorly understood habitat, like tidal shrub marsh, that was historically common and likely important to beaver and small estuarine or anadromous fish.
This is a preview of subscription content, log in to check access.
Access options
Buy single article
Instant access to the full article PDF.
US$ 39.95
Tax calculation will be finalised during checkout.
Subscribe to journal
Immediate online access to all issues from 2019. Subscription will auto renew annually.
US$ 99
Tax calculation will be finalised during checkout.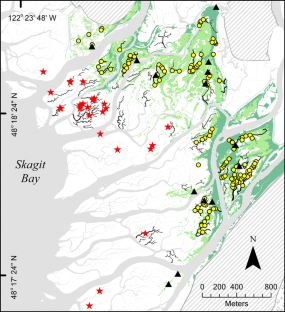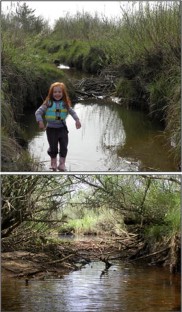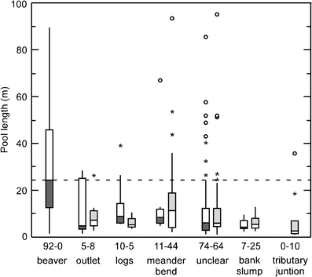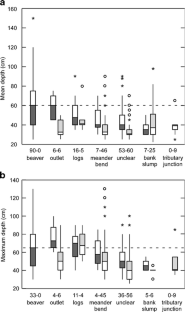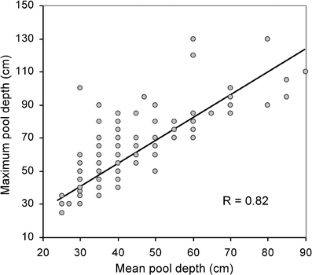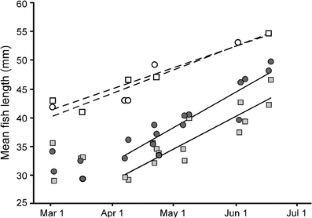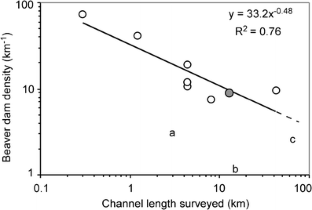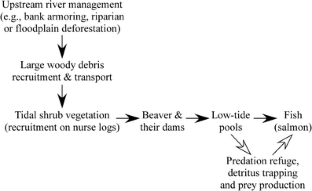 References
Aleksiuk M (1968) Scent-mound communication, territoriality, and population regulation in beaver (Castor canadensis Kuhl). Journal of Mammalogy 49:759–762

Anderson CB, Pastur GM, Lencinas MV, Wallem PK, Moorman MC, Rosemond AD (2009) Do introduced North American beavers Castor canadensis engineer differently in southern South America? An overview with implications for restoration. Mammal Review 39:33–52

Bell M, Neumann H (1997) Prehistoric intertidal archaeology and environments in the Severn Estuary, Wales. World Archaeology 29:95–113

Benjamini Y, Hochberg Y (1995) Controlling false discovery rate: a practical and powerful approach to multiple testing. Journal of the Royal Statistical Society, Series B 57:289–300

Berendsen HJA (1998) Birds-eye view of the Rhine-Meuse Delta (The Netherlands). Journal of Coastal Research 14:740–752

Casola JH, Cuo L, Livneh B, Lettenmaier DP, Stoelinga M, Mote PW, Wallace JM (2009) Assessing the impacts of global warming on snowpack in the Washington Cascades. Journal of Climate 22:2758–2772

Cencini C (1998) Physical processes and human activities in the evolution of the Po Delta, Italy. Journal of Coastal Research 14:774–793

Clarke WC, Hirano T (1995) Osmoregulation. In: Groot C, Margolis L, Clarke WC (eds) Physiological Ecology of Pacific Salmon. University of British Columbia Press, Vancouver, pp 319–377

Collen P, Gibson RJ (2001) The general ecology of beavers (Castor spp.), as related to their influence on stream ecosystems and riparian habitats, and the subsequent effects on fish—a review. Reviews in Fish Biology and Fisheries 10:439–461

Collins BD, Montgomery DR, Sheikh AJ (2003) Reconstructing the historical riverine landscape of the Puget Lowland. In: Montgomery DR, Bolton S, Booth DB, Wall L (eds) Restoration of Puget Sound Rivers. University of Washington Press, Seattle, pp 79–128

Cuo L, Lettenmaier DP, Alberti M, Richey JE (2009) Effects of a century of land cover and climate change on the hydrology of Puget Sound basin. Hydrological Processes 23:907–933

Day J, Ibáñez C, Scarton F, Pont D, Hensel P, Day J, Lane R (2011) Sustainability of Mediterranean deltaic and lagoon wetlands with sea-level rise: The importance of river input. Estuaries and Coasts 34:483–493

Hood WG (2007) Large woody debris influences vegetation zonation in an oligohaline tidal marsh. Estuaries and Coasts 30:441–450

Holm S (1979) A simple sequentially rejective multiple test procedure. Scandinavian Journal of Statistics 6:65–70

Jenkins SH, Busher PE (1979) Castor canadensis. Mammalian Species 120:1–8

Kirwan ML, Murray AB (2008) Ecological and morphological response of brackish tidal marshland to the next century of sea level rise: Westham Island, British Columbia. Global and Planetary Change 60:471–486

Leidholt-Bruner K, Hibbs DE, McComb WC (1992) Beaver dam locations and their effects on distribution and abundance of coho salmon fry in two coastal Oregon streams. Northwest Science 66:218–223

MacCracken JG, Lebovitz AD (2005) Selection of in-stream wood structures by beaver in the Bear River, Southwest Washington. Northwestern Naturalist 86:49–58

Mantua N, Tohver I, Hamlet A (2010) Climate change impacts on streamflow extremes and summertime stream temperature and their possible consequences for freshwater salmon habitat in Washington State. Climate Change 102:187–223

Naiman RJ, Johnston CA, Kelley JC (1988) Alteration of North American streams by beaver. Bioscience 38:753–762

Nolet BA, Baveco JM (1996) Development and viability of a translocated beaver Castor fiber population in the Netherlands. Biological Conservation 75:125–137

North MEA, Teversham JM (1984) The vegetation of the floodplains of the lower Fraser, Serpentine and Nicomekl Rivers, 1859 to 1890. Syesis 17:47–66

Ojala E, Louekari S (2002) The merging of human activity and natural change: temporal and spatial scales of ecological change in the Kokemäenjoki river delta, SW Finland. Landscape and Urban Planning 61:83–98

Pasternack GB, Hilgartner WB, Brush GS (2000) Biogeomorphology of an upper Chesapeake Bay river-mouth tidal freshwater marsh. Wetlands 20:520–537

Pelto MS (2006) The current disequilibrium of North Cascade glaciers. Hydrological Processes 20:769–779

Pollock MM, Pess G, Beechie TJ, Montgomery DR (2004) The importance of beaver ponds to coho salmon production in the Stillaguamish River Basin, Washington, USA. North American Journal of Fisheries Management 24:749–760

Pollock MM, Heim M, Werner D (2003) Hydrologic and geomorphic effects of beaver dams and their influence on fishes. American Fisheries Society Symposium 37:213–233

Riera-Mora S, Esteban-Amat A (1994) Vegetation history and human activity during the last 6000 years on the central Catalan coast (northeastern Iberian Peninsula). Vegetation History and Archaeobotony 3:7–23

Rosell F, Bozsér O, Collen P, Parker H (2005) Ecological impact of beavers Castor fiber and Castor canadensis and their ability to modify ecosystems. Mammal Review 35:248–276

Rosell F, Nolet BA (1997) Factors affecting scent-marking behavior in Eurasian beaver (Castor fiber). Journal of Chemical Ecology 23:673–689

Suzuki N, McComb WC (1998) Habitat classification models for beaver (Castor canadensis) in the streams of the central Oregon Coast Range. Northwest Science 72:102–110

Yang Z, Khangaonkar T (2009) Modeling tidal circulation and stratification in Skagit River estuary using an unstructured grid ocean model. Ocean Modelling 28:34–49

Zar JH (1984) Biostatistical analysis. Prentice Hall, Englewood Cliffs

Zippin C (1958) The removal method of population estimation. Journal of Wildlife Management 22:82–89
Acknowledgements
Thanks to Pete Kairis and Jeff Par for help sampling fish, to Eric Beamer for advice on depletion seining. Supported by Environmental Protection Agency Science to Achieve Results (STAR) grant # RD-83301401.
About this article
Cite this article
Hood, W.G. Beaver in Tidal Marshes: Dam Effects on Low-Tide Channel Pools and Fish Use of Estuarine Habitat. Wetlands 32, 401–410 (2012). https://doi.org/10.1007/s13157-012-0294-8
Received:

Accepted:

Published:

Issue Date:
Keywords
Castor canadensis

Oligohaline wetlands

Tidal scrub-shrub wetlands

Juvenile salmon

Ecosystem engineer