Abstract
Phalaris arundinacea (reed canarygrass) is recognized as a problematic invader of North American marshes, decreasing biodiversity and persisting in the face of control efforts. Less is known about its ecology or management in forested wetlands, providing an opportunity to apply information about factors critical to an invader's control in one wetland type to another. In a potted plant experiment and in the field, we documented strong competitive effects of reed canarygrass on the establishment and early growth of tree seedlings. In the field, we demonstrated the effectiveness of a novel restoration strategy, combining site scarification with late fall applications of pre-emergent herbicides. Treatments delayed reed canarygrass emergence the following spring, creating a window of opportunity for the early growth of native plants in the absence of competition from the grass. They also allowed for follow-up herbicide treatments during the growing season. We documented greater establishment of wetland herbs and tree seedlings in treated areas. Data from small exclosures suggest, however, that deer browsing can limit tree seedling height growth in floodplain restorations. Slower tree growth will delay canopy closure, potentially allowing reed canarygrass re-invasion. Thus, it may be necessary to protect tree seedlings from herbivory to assure forest regeneration.
This is a preview of subscription content,
to check access.
Access this article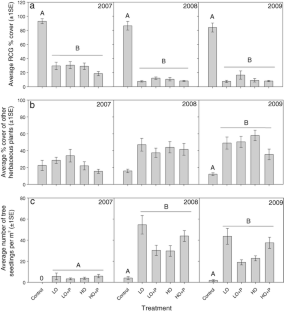 Similar content being viewed by others
References
Abernethy VJ, Willby NJ (1999) Changes along a disturbance gradient in the density and composition of propagule banks in floodplain aquatic habitats. Plant Ecology 140:177–190

Annen CA (2008) Effects of tillage and growth regulator pretreatments on reed canarygrass (Phalaris arundinacea L.) control with Sethoxydim. Natural Areas Journal 28:6–13

Baskin CC, Baskin JM (1998) Seeds: ecology, biogeography, and evolution of dormancy and germination. Academic, San Diego, CA, USA

Côté SD, Rooney TP, Tremblay J-P, Dussault C, Waller DM (2004) Ecological impacts of deer overabundance. Annual Reviews of Ecology, Evolution and Systematics 35:113–147

De Jager NR, Thomsen MA, Yin Y (2012). Threshold effects of flood duration on the vegetation and soils of the Upper Mississippi River Floodplain, USA. Forest Ecology and Management 270:135–146

Fierke MK, Kauffman JB (2005) Structural dynamics of riparian forests along a black cottonwood successional gradient. Forest Ecology and Management 215:149–162

Foster RD, Wetzel PR (2005) Invading monotypic stands of Phalaris arundinacea: a test of fire, herbicide, and woody and herbaceous native plant groups. Restoration Ecology 13:318–324

Galatowitsch SM, Anderson NO, Ascher PD (1999) Invasiveness in wetland plants in temperate North America. Wetlands 19:733–755

Galatowitsch SM, Whited DC, Lehtinen R, Husveth J, Schik K (2000) The vegetation of wet meadows in relation to their land-use. Environmental Monitoring and Assessment 60:121–144

Green EK, Galatowitsch SM (2002) Effects of Phalaris arundinacea and nitrate-N addition on the establishment of wetland plant communities. Journal of Applied Ecology 39:134–144

Groninger JW (2005) Increasing the impact of bottomland hardwood afforestation. Journal of Forestry 103:184–188

Healy MT, Zedler JB (2010) Setbacks in replacing Phalaris arundinacea monotypes with sedge meadow vegetation. Restoration Ecology 18:155–164

Hobbs NT (1996) Modification of ecosystems by ungulates. Journal of Wildlife Management 60:695–713

Hovick SM, Reinartz JA (2007) Restoring forest in wetlands dominated by reed canarygrass: the effects of pre-planting treatments on early survival of planted stock. Wetlands 27:24–39

Iannone BV III, Galatowitsch SM (2008) Altering light and soil N to limit Phalaris arundinacea reinvasion in sedge meadow restorations. Restoration Ecology 16:689–701

Jenkins NJ, Yeakley JA, Stewart EM (2008) First-year responses to managed flooding of Lower Columbia River bottomland vegetation dominated by Phalaris arundinacea. Wetlands 28:1018–1027

Junk WJ, Bayley PB, Sparks RE (1989) The flood pulse concept in river-floodplain systems. Canadian Special Publication of Fisheries and Aquatic Sciences 106:110–127

Kellogg CH, Bridgham SD (2004) Disturbance, herbivory, and propagule dispersal control dominance of an invasive grass. Biological Invasions 6:319–329

Kercher SM, Zedler JB (2004) Multiple disturbances accelerate the invasion of reed canarygrass in a mesocosm study. Oecologia 138:455–464

Kercher SM, Carpenter QJ, Zedler JB (2004) Interrelationships of hydrologic disturbance, reed canarygrass (Phalaris arundinacea L.) and native plants in Wisconsin wet meadows. Natural Areas Journal 24:316–325

Kim KD, Ewing K, Giblin DE (2006) Controlling Phalaris arundinacea (reed canarygrass) with live willow stakes: a density-dependent response. Ecological Engineering 27:219–227

Knutson MG, Klaas EE (1998) Floodplain forest loss and changes in forest community composition and structure in the Upper Mississippi River: a wildlife habitat at risk. Natural Areas Journal 18:138–150

Knutson MG, McColl LE, Suarez SA (2005) Breeding bird assemblages associated with stages of forest succession in large river floodplains. Natural Areas Journal 25:55–70

Lavergne S, Molofsky J (2004) Reed canarygrass (Phalaris arundinacea) as a biological model in the study of plant invasions. Critical Reviews in Plant Sciences 23:415–429

Lavergne S, Molofsky J (2006) Control strategies for the invasive reed canarygrass (Phalaris arundinacea L.) in North American wetlands: the need for an integrated management plan. Natural Areas Journal 26:208–214

Lavergne S, Molofsky J (2007) Increased genetic variation and evolutionary potential drive the success of an invasive grass. Proceedings of the National Academy of Sciences 104:3883–3888

Liang SY, Seagle SW (2002) Browsing and microhabitat effects on riparian forest woody seedling demography. Ecology 83:212–227

Lindig-Cisneros R, Zedler JB (2002) Phalaris arundinacea seedling establishment: effects of canopy complexity in fen, mesocosm, and restoration experiments. Canadian Journal of Botany 80:617–624

Lyons KE (1998) Element stewardship abstract for Phalaris arundinacea. The Nature Conservancy, Arlington, VA, USA

Merigliano MF, Lesica P (1998) The native status of reed canarygrass (Phalaris arundinacea L.) in the inland Northwest, USA. Natural Areas Journal 18:223–230

Middleton B, Wu XB (2008) Landscape pattern of seed banks and anthropogenic impacts in forested wetlands of the northern Mississippi River Alluvial Valley. Ecoscience 15:231–240

Mitsch WJ, Gosselink JG (1993) Wetlands, 2nd edn. Van Nostrand Reinhold, New York, NY, USA

Perry LG, Galatowitsch SM (2004) The influence of light availability on competition between Phalaris arundinacea and a native wetland sedge. Plant Ecology 170:73–81

Reinhardt Adams C, Galatowitsch SM (2006) Increasing the effectiveness of reed canarygrass (Phalaris arundinacea L.) control in wet meadow restorations. Restoration Ecology 14:441–451

Reinhardt Adams C, Kauth PJ, Sorenson JW (2011) Assessing competition between reed canarygrass (Phalaris arundinacea) and swamp white oak (Quercus bicolor). Ecological Restoration 29:332–338

Romano SP (2010) Our current understanding of the Upper Mississippi River System floodplain forest. Hydrobiologia 640:115–124

Ruzicka KJ, Groninger JW, Zaczek JJ (2010) Deer browsing, forest edge effects, and vegetation dynamics following bottomland forest restoration. Restoration Ecology 18:702–710

Seavy NE, Garaldi T, Golet GH, Griggs FT, Howell CA, Kelsey R, Small SL, Viers JH, Weigand JF (2009) Why climate change makes riparian restoration more important than ever: recommendations for practice and research. Ecological Restoration 27:330–338

U.S. Army Corps of Engineers (2011) Water Levels of Rivers and Lakes. http://www2.mvr.usace.army.mil/WaterControl/new/layout.cfm. Updated daily

Urich R, Swenson G, Nelson E (eds) (2002) Upper Mississippi River and Illinois River floodplain forests. Upper Mississippi River Conservation Committee, Rock Island, IL, USA

Waller DM, Alverson WS (1997) The white-tailed deer: a keystone herbivore. Wildlife Society Bulletin 25:217–226

Yin Y, Wu Y, Bartell SM, Cosgriff R (2009) Patterns of forest succession and impacts of flood in the Upper Mississippi River floodplain ecosystem. Ecological Complexity 6:463–472

Zak D, McInnes R, Gelbrecht J (2011) Preface: restoration, biogeochemistry and ecological services of wetlands. Hydrobiologia 674:1–4

Zedler JB, Kercher S (2004) Causes and consequences of invasive plants in wetlands: opportunities, opportunists, and outcomes. Critical Reviews in Plant Sciences 23:431–452
Acknowledgments
This work was supported by a UW-L Faculty Research Grant, an Undergraduate Research Grant, and a College of Science and Health Dean's Research Fellowship. The United States Geologic Survey Upper Midwest Environmental Sciences Center provided funding for field assistants. DuPont and BASF Corporation donated the Oust® and Pendulum® herbicides used in the study. The authors thank the Environmental Stewardship staff at the La Crescent Field Office of the United States Army Corps of Engineers, St. Paul District for help in the field and site treatment expenses, Lee Shambeau for assistance with revisions, and the reviewers of our manuscript for their thoughtful comments. Any use of trade names or products does not imply endorsement by the United States Government.
Appendix A
Appendix A
About this article
Cite this article
Thomsen, M., Brownell, K., Groshek, M. et al. Control of Reed Canarygrass Promotes Wetland Herb and Tree Seedling Establishment in an Upper Mississippi River Floodplain Forest. Wetlands 32, 543–555 (2012). https://doi.org/10.1007/s13157-012-0289-5
Received:

Accepted:

Published:

Issue Date:

DOI: https://doi.org/10.1007/s13157-012-0289-5
Keywords