Abstract
On 1 September 2008, Hurricane Gustav passed over the Atchafalaya River Basin (ARB) in south-central Louisiana. Anticipating physicochemical shifts due to concentrated precipitation and wind stress generated by this strong category 2 storm, we deployed a continuous recording multiparameter water quality sonde in a southern ARB bayou 3 days prior to storm arrival to document conditions before, during, and after hurricane landfall. Quarter-hourly physicochemical measurements taken over a 2-week period indicated that dissolved oxygen (DO), pH, and specific conductance all reached annual lows immediately following storm passage. The most pronounced post-storm fluctuation involved DO. Daily mean DO concentration dropped to hypoxic level (DO ≤ 2 mg/L) within 3 days of landfall, followed by near anoxic conditions within 5 days that resulted in extensive system-wide fish kills. Within 6 weeks, however, DO returned to, and pH was near pre-storm levels. To evaluate the impact of Hurricane Gustav on ARB physicochemistry, we contrasted data on DO, pH, temperature, and specific conductance collected from 16 lower ARB sampling sites over a 54-day interval prior to storm landfall with data collected during a 45-day post-storm period. Results indicated that water quality was highly dissimilar (P < 0.0001) between the two periods.
This is a preview of subscription content, log in to check access.
Access options
Buy single article
Instant access to the full article PDF.
US$ 39.95
Price includes VAT for USA
Subscribe to journal
Immediate online access to all issues from 2019. Subscription will auto renew annually.
US$ 99
This is the net price. Taxes to be calculated in checkout.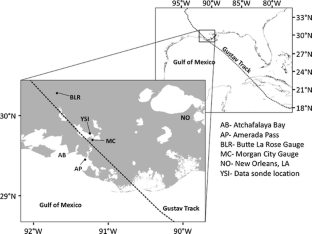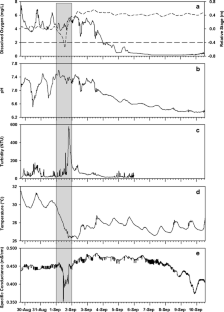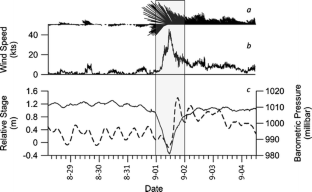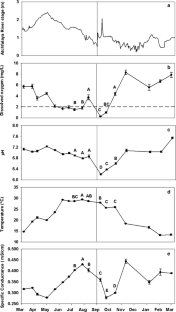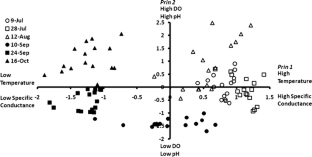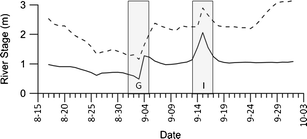 References
Balthis WL, Hyland JL, Bearden DW (2006) Ecosystem responses to extreme natural events: impacts of three sequential hurricanes in fall 1999 on sediment quality and condition of benthic fauna in the Neuse River estuary, North Carolina. Environ Monit Assess 119:367–389

Berg R (2009) Tropical cyclone report: Hurricane Ike. National Hurricane Center (AL092008) Miami, Florida

Beven JL II, Kimberlain TB (2009) Tropical cyclone report: Hurricane Gustav. National Hurricane Center (AL072008) Miami, Florida

Bonvillain CP, Ferrara AM, Fontenot QC (2008) Relative abundance and biomass estimate of a spotted gar population in a seasonally connected large river floodplain lake. Proc Annu Conf Southeast Assoc Fish and Wildl Agencies 62:177–182

Burkholder J, Eggleston D, Glasgow H, Brownie C, Reed R, Janowitz G, Posey M, Melia G, Kinder C, Corbett R, Toms D, Alphin T, Deamer N, Springer J (2004) Comparative impacts of two major hurricane seasons on the Neuse River and western Pamlico Sound ecosystems. Proc Natl Acad Sci 101:9291–9296

Denes TA, Bayley SE (1983) Long-term rainfall, runoff, and discharge in the Atchafalaya River Basin, Louisiana. Proc LA Acad Sci 46:114–121

Fontenot QC, Rutherford DA, Kelso WE (2001) Effects of environmental hypoxia associated with the annual flood pulse on the distribution of larval sunfish and shad in the Atchafalaya River Basin, Louisiana. Trans Am Fish Soc 130:107–116

Greenwood MFD, Stevens PW, Matheson RE Jr (2006) Effects of the 2004 hurricanes on the fish assemblages in two proximate southwest Florida estuaries: change in the context of interannual variability. Estuar Coasts 29:985–996

Grumm RH (2008) Heavy rainfall associated with Hurricane Gustav August-September 2008. http://nws.met.psu.edu/severe/2008/01Sep2008.pdf. Accessed 4 November 2010

Hardle W, Simar L (2007) Applied multivariate statistical analysis. Springer, Berlin

Havens KE, Jin K, Rodusky AJ, Sharfstein B, Brady MA, East TL, Iricanin N, James RT, Harwell MC, Steinman AD (2001) Hurricane effects on a shallow lake ecosystem and its response to a controlled manipulation of water level. The Scientific World 1:44–70

Hickey CW (1998) Benthic chamber for use in rivers: testing against oxygen mass balances. J Environ Eng 114:828–845

Hupp CR, Demas CR, Kroes DE, Day RH, Doyle TW (2008) Recent sedimentation patterns within the central Atchafalaya Basin, Louisiana. Wetlands 28:125–140

James RT, Chimney MJ, Sharfstein B, Engstrom DR, Schottler SP, East T, Jin K (2008) Hurricane effects on a shallow lake ecosystem, Lake Okeechobee, Florida (USA). Fundam Appl Limnol 172:273–287

Jin K, Chang N, Ji Z, James RT (2011) Hurricanes affect the sediment and environment in Lake Okeechobee. Crit Rev Environ Sci Technol 41:382–394

Kaller MD, Kelso WE, Halloran BT, Rutherford DA (2011) Effects of spatial scale on assessment of dissolved oxygen dynamics in the Atchafalaya River Basin, Louisiana. Hydrobiologia 658:7–15

Knott DM, Martore RM (1991) The short term effects of Hurricane Hugo on fishes and decapods crustaceans in the Ashley River and adjacent marsh creeks, South Carolina. J Coast Res 8:335–356

Lambou VW (1990) Importance of bottomland hardwood forest zones to fishes and fisheries: the Atchafalaya Basin; a case history. In: Gosselink JG, Lee LC, Muir TA (eds) Ecological processes and cumulative impacts: illustrated by Bottomland Hardwood Wetland Ecosystems. Lewis, Chelsea, pp 125–193

Louisiana Department of Wildlife and Fisheries (LDWF) (2008) The impact of Hurricane Ike on the fisheries resources of Louisiana. Preliminary Report, Baton Rouge, Louisiana

Makkaveev PN (2009) The features of the correlation between the pH values and the dissolved oxygen at the Chistaya Balka test area in the northern Caspian Sea. Oceanology 49:466–472

Mallin MA, Posey MH, Shank GC, McIver MR, Ensign SH, Alphin TD (1999) Hurricane effects on water quality and benthos in the Cape Fear watershed: natural and anthropogenic impacts. Ecol Appl 9:350–362

Mallin MA, Posey MH, McIver MR, Parsons DC, Ensign SH, Alphin TD (2002) Impacts and recovery from multiple hurricanes in a piedmont-coastal plain river system. Bioscience 52:999–1010

Matlock MD, Kasprzak KR, Osborn GS (2003) Sediment oxygen demand in the Arroyo Colorado River. J Am Water Resour Assoc 39:267–275

Paerl HW, Bales JD, Ausley LW, Buzzelli CP, Crowder LB, Eby LA, Fear JM, Go M, Peierls BL, Richardson TL, Ramus JS (2001) Ecosystem impacts of three sequential hurricanes (Dennis, Floyd, and Irene) on the United States' largest lagoonal estuary, Pamlico Sound, NC. Proc Natl Acad Sci 98:5655–5660

Paperno R, Tremain DM, Adams DH, Sebastian AP, Sauer JT, Dutka-Gianelli J (2006) The disruption and recovery of fish communities in the Indian River Lagoon, Florida, following two hurricanes in 2004. Estuar Coasts 29:1004–1010

Poirrier MA, del Rey ZR, Spalding EA (2008) Acute disturbance of Lake Pontchartrain benthic communities by Hurricane Katrina. Estuar Coasts 31:1221–1228

Rutherford DA, Gelwicks KR, Kelso WE (2001) Physicochemical effects of the flood pulse on fishes in the Atchafalaya River Basin, Louisiana. Trans Am Fish Soc 130:276–288

Sabo MJ, Bryan CF, Kelso WE, Rutherford DA (1999a) Hydrology and aquatic habitat characteristics of a riverine swamp: I. Influence of flow on water temperature and chemistry. Regul Rivers 15:505–523

Sabo MJ, Bryan CF, Kelso WE, Rutherford DA (1999b) Hydrology and aquatic habitat characteristics of a riverine swamp: II. Hydrology and the occurrence of chronic hypoxia. Regul Rivers 15:525–542

SAS Institute (2003) Version 9.1.3. SAS Institute, Cary

Stevens PW, Blewett DA, Casey JP (2006) Short-term effects of a low dissolved oxygen event on estuarine fish assemblages following the passage of Hurricane Charley. Estuar Coasts 29:997–1003

Tabb DC, Jones AC (1962) Effect of Hurricane Donna on the aquatic fauna of North Florida Bay. Trans Am Fish Soc 91:375–378

Tilmant JT, Curry RW, Jones R, Szmant A, Zieman JC, Flora M, Robblee MB, Smith D, Snow RW, Wanless H (1994) Hurricane Andrew's effects on marine resources. Bioscience 44:230–237

Tomasko DA, Anastasiou C, Kovach C (2006) Dissolved oxygen dynamics in Charlotte Harbor and its contributing watershed, in response to Hurricanes Charley, Frances, and Jeanne-impacts and recovery. Estuar Coasts 29:932–938

Van Dolah RF, Anderson GS (1991) Effects of Hurricane Hugo on salinity and dissolved oxygen conditions in the Charlestown Harbor estuary. J Coastal Res 8:83–94

Van Vrancken J, O'Connell M (2010) Effects of Hurricane Katrina on freshwater fish assemblages in a small tributary of Lake Pontchartrain, Louisiana. Trans Am Fish Soc 139:1723–1732

Wainright SC, Hopkinson CS Jr (1997) Effects of sediment resuspension on organic matter processing in coastal environments: a simulation model. J Marine Syst 11:353–368

Waterman DM, Waratuke AR, Motta D, Catano-Lopera YA, Zhang H, Garcia MH (2011) In situ characterization of resuspended-sediment oxygen demand in Bubbly Creek, Chicago, Illinois. J Environ Eng. doi:10.1061/(ASCE)EE.1943-7870.0000382

Xu YJ (2006) Organic nitrogen retention in the Atchafalaya River Swamp. Hydrobiologia 560:133–143
Acknowledgments
We thank Melissa Fries and Jason Hughes for field assistance and Jonathan West for YSI support. This manuscript was approved for publication by the director of the Louisiana Agricultural Experiment Station as manuscript 11-241-5508.
About this article
Cite this article
Bonvillain, C.P., Halloran, B.T., Boswell, K.M. et al. Acute Physicochemical Effects in a Large River-Floodplain System Associated with the Passage of Hurricane Gustav. Wetlands 31, 979 (2011). https://doi.org/10.1007/s13157-011-0213-4
Received:

Accepted:

Published:
Keywords
Atchafalaya River Basin

Dissolved oxygen

Hypoxia

Louisiana

Water quality