Abstract
Wetlands provide a variety of services to society; however, their use as breeding habitat by mosquitoes has caused concern that they pose a risk to human health. As mosquito-borne diseases are undergoing a global resurgence, there is a need to better understand the factors that influence mosquito production in wetlands. Seasonal pools offer a model system in which to study mosquito production as they provide breeding habitat for many mosquito species. In the northeastern US, larval spotted salamanders (Ambystoma maculatum) and wood frog tadpoles (Lithobates sylvaticus) are common in pools and may affect mosquito growth and survival through predation or competition. To determine if these species interact, we conducted surveys of pools and found that larval mosquitoes were less abundant in pools with higher densities of larval salamanders. Experiments on mosquito oviposition and survival found that mosquitoes avoided ovipositing in habitats containing larval salamanders and tadpoles and had low survival in the presence of salamanders. These data indicate that predation by larval salamanders may influence the breeding distribution of mosquitoes by imposing selective pressure on ovipositing adults. Therefore, developing measures to protect amphibians in seasonal pools may contribute to controlling mosquito production in wetlands, potentially minimizing disease risk to humans.
Access options
Buy single article
Instant access to the full article PDF.
USD 39.95
Price excludes VAT (USA)
Tax calculation will be finalised during checkout.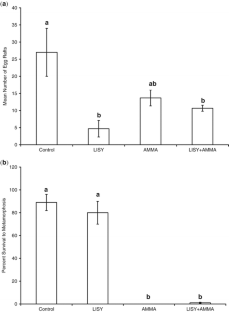 References
Batzer DP, Wissinger SA (1996) Ecology of insect communities in nontidal wetlands. Annual Review of Entomology 41:75–100

Blaustein L, Margalit J (1996) Priority effects in temporary pools: nature and outcome of mosquito larva toad tadpoles interactions depend on order of entrance. Journal of Animal Ecology 65:77–84

Blaustein L, Kiflawi M, Eitam A, Mangel M, Cohen JE (2004) Oviposition habitat selection in response to risk of predation in temporary pools: mode of detection and consistency across venue. Behavioural Ecology 138:300–305

Brodman R, Dorton R (2006) The effectiveness of pond-breeding salamanders as agents of larval mosquito control. Journal of Freshwater Ecology 21:467–474

Brodman R, Ogger J, Kolacyzk M, Long AJ, Pulver RA, Bogard T (2003) Mosquito control by pond-breeding salamander larvae. Herpetological Review 34:116–199

Brooks RT, Hayashi M (2002) Depth-area-volume and hydroperiod relationships of ephemeral (vernal) forest pools in southern New England. Wetlands 22:247–255

Calhoun AJK, Reilly P (2008) Conserving vernal pool habitat through community based conservation. In: Calhoun AJK, deMaynadier PG (eds) Science and Conservation of Vernal Pools in Northeastern North America. CRC Press, Boca Raton

Calhoun AJK, Miller NA, Klemens MW (2005) Conserving pool-breeding amphibians in human-dominated landscapes through local implementation of Best Development Practices. Wetlands Ecology and Management 13:291–304

Chase JM, Schulman RS (2009) Wetland isolation facilitates larval mosquito density through the reduction of predators. Ecological Entomology 34:741–747

Costanza R, d'Arge R, de Groot R, Farber S, Grasso M et al (1999) The value of the world's ecosystem services and natural capital. Nature 387:253–259

Dale PER, Knight JM (2008) Wetlands and mosquitoes: a review. Wetlands Ecology and Management 16:255–276

DuRant SE, Hopkins WA (2008) Amphibian predation on larval mosquitoes. Canadian Journal of Zoology 86:1159–1164

Gibbons JW (2003) Terrestrial habitat: a vital component for herpetofauna of isolated wetlands. Wetlands 23:630–635

Gubler DJ (1998) Resurgent vector-borne diseases as a global health problem. Emerging Infectious Diseases 4:442–450

Harper EB, Rittenhouse TAG, SemLitsch RD (2008) Demographic consequences of terrestrial habitat loss for pool-breeding amphibians: predicting extinction risks associated with inadequate size of buffer zones. Conservation Biology 22:1205–1215

Johnson BB, Pflugh KK (2008) Local officials' and citizens' views on freshwater wetlands. Society and natural Resources 21:387–403

Malan HL, Appleton CC, Day JA, Dini J (2009) Wetlands and invertebrate disease hosts: are we asking for trouble? Water SA 35:753–768

Mokany A (2007) Impact of tadpoles and mosquito larvae on ephemeral pond structure and processes. Marine and Freshwater Research 58:436–444

Mokany A, Shine R (2003) Competition between tadpoles and mosquito larvae. Oecologia 135:615–620

Petranka JW, Kennedy CA (1999) Pond tadpoles with generalized morphology: is it time to reconsider their functional roles in aquatic communities? Oecologia 120:621–631

Reiskind MH, Wilson ML (2004) Culex restuans (Diptera: Culicidae) oviposition behavior determined by larval habitat quality and quantity in southeastern Michigan. Journal of Medical Entomology 41:179–186

Rittenhouse TAG, Semlitsch RD (2007) Distribution of amphibians in terrestrial habitat surrounding wetlands. Wetlands 27:153–161

Service MW (1993) Mosquito Ecology: Field Sampling Methods. Elsevier, New York

Silberbush A, Blaustein L (2008) Oviposition habitat selection by a mosquito in response to a predator: are predator-released kariomones air-borne cues? Journal of Vector Ecology 33:208–211

Smith CK, Petranka JW (1987) Pre size-distributions and size-specific foraging success of Ambystoma larvae. Oecologia 71:239–244

Tietze NS, Mulla MS (1991) Biological control of Culex mosquitoes (Diptera: Culicidae) by the tadpole shrimp, Triops longicaudatus (Notostraca: Triopsidae). Journal of Medical Entomology 28:24–31

Wellborn GA, Skelly DK, Werner EE (1996) Mechanisms creating community structure across a freshwater habitat gradient. Annual Review of Ecology and Systematics 27:337–363

Zedler JB, Kercher S (2005) Wetland resources: status, trends, ecosystem services, and restorability. Annual Review of Environment and Resources 30:39–74
Acknowledgments
We thank J. Kokas for assistance with mosquito identification and A. Cochran and J. Cochran for assistance with field work. Financial support was provided by the NSF REU Site program (#0552630 to J. D. Wehr and J. D. Lewis) and by the Louis Calder Center-Biological Field Station of Fordham University.
About this article
Cite this article
Rubbo, M.J., Lanterman, J.L., Falco, R.C. et al. The Influence of Amphibians on Mosquitoes in Seasonal Pools: Can Wetlands Protection Help to Minimize Disease Risk?. Wetlands 31, 799–804 (2011). https://doi.org/10.1007/s13157-011-0198-z
Received:

Accepted:

Published:

Issue Date:

DOI: https://doi.org/10.1007/s13157-011-0198-z
Keywords