Abstract
Wetlands in tropical wet-dry climates are governed by distinct and extreme seasonal hydrologic fluctuations. In this study, we investigated the plant community response to seasonal flooding and drought in Palo Verde Marsh, Costa Rica. Climate change models for the region predict reduced rainfall and a drier wet season which would likely alter seasonal hydrologic cycles and prompt vegetation change. We quantified compositional change following disturbance emphasizing seasonal differences in plant life-form abundance across life history stages via standing vegetation, seed bank, and seedling recruitment measurements. Whereas the dry season standing vegetation was dominated by emergent species, aquatic species (floating-rooted, free-floating, and submerged life forms) were more dominant during the wet season. Seed bank and seedling recruitment measurements indicated that many species are resilient with life history traits that enable them to respond rapidly to extreme hydrologic filters. Interestingly, species richness was highest during seasonal flooding. Our results highlight the importance of early-wet season rainfall for plant regeneration and community change. Our findings also indicate that a drier future would likely have a large impact upon wetland plant communities with a decrease in species richness and an increase in the abundance of drought-tolerant emergent species.
Access options
Buy single article
Instant access to the full article PDF.
US$ 39.95
Tax calculation will be finalised during checkout.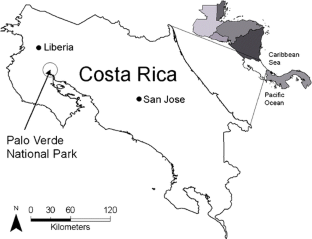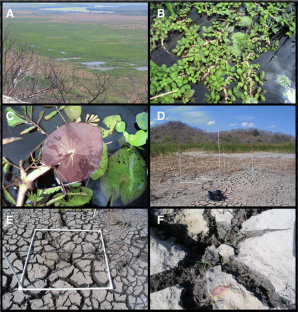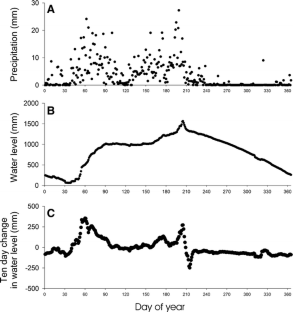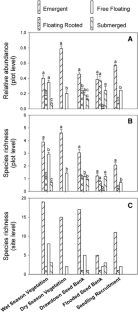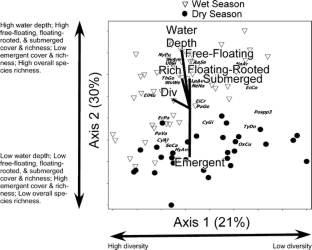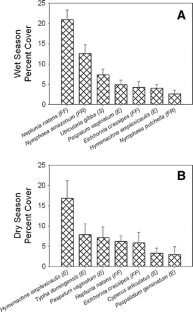 References
Baldwin DS, Mitchell AM (2000) The effects of drying and re-flooding on the sediment and soil nutrient dynamics of lowland river-floodplain systems: a synthesis. Regulated Rivers: Res Manage 16:457–467

Bray JR, Curtis JT (1957) An ordination of the upland forest communities of southern Wisconsin. Ecol Monogr 27:325–349

Brock MA, Rogers KH (1998) The regeneration potential of the seed bank of an ephemeral floodplain in South Africa. Aquat Bot 61:123–135

Brock MA, Nielsen DL, Shiel RJ, Green JD, Langley JD (2003) Drought and aquatic community resilience: the role of eggs and seeds in sediments of temporary wetlands. Freshw Biol 48:1207–1218

Bullock SH, Mooney HA, Medina E (1995) Seasonally dry tropical forests. Cambridge University Press, Cambridge

Casanova MT, Brock MA (2000) How do depth, duration and frequency of flooding influence the establishment of wetland plant communities? Plant Ecol 147:237–250

Cherry JA, Gough L (2006) Temporary floating island formation maintains wetland plant species richness: The role of the seed bank. Aquat Bot 85:29–36

Crow GE (2002) Aquatic plants of Palo Verde National Park and the Tempisque River Valley. National Biodiversity Institute, Santo Domingo de Heredia

Daubenmire R (1972) Phenology and other characteristics of tropical semi-deciduous forest in north-western Costa Rica. J Ecol 60:147–170

Dufrene M, Legendre P (1997) Species assemblages and indicator species: the need for a flexible asymmetrical approach. Ecol Monogr 67:345–366

Engelbrecht BMJ, Comita LS, Condit R, Kursar TA, Tyree MT, Turner BL, Hubbell SP (2007) Drought sensitivity shapes species distribution patterns in tropical forests. Nature 447:80–82

Finlayson CM (2005) Plant ecology of Australia's tropical floodplain wetlands: a review. Ann Bot 96:541–555

Finlayson CM, Woodroffe CD (1996) Wetland vegetation. In: Finlayson CM, Von Oertzen I (eds) Landscape and Vegetative Ecology of the Kakadu Region, Northern Australia. Kluwer, Dordrecht, pp 81–112

Finlayson CM, Cowie ID, Bailey BJ (1990) Sediment seedbanks in grassland on the Magela Creek floodplain, Northern Australia. Aquat Bot 38:163–176

Froud-Williams RJ, Chancellor RJ, Drennan DSH (1984) The effects of seed burial and soil disturbance on emergence and survival of arable weeds in relation to minimal cultivation. J Appl Ecol 21:629–641

Giorgi F (2006) Climate change hot-spots. Geophys Res Lett 33:L08707

Guzmán Alvarez JA (2007) Effect of land cover changes on the water balance of the Palo Verde Wetland, Costa Rica. M.S. Thesis, International Institute for Geo-information Science and Earth Observation, Enschede, Netherlands

Hammel BE, Grayum MH, Herrera C, Zamora N (eds) (2004) Manual de Plantas de Costa Rica. Missouri Botanical Garden, St. Louis

Hernández Esquivel DA (1990) Flora acuática y sus cambios anuales en un humedal estacional de Costa Rica. M.S. Thesis, Universidad Nacional, Heredia, Costa Rica

Holdridge LR (1967) Life zone ecology. Tropical Science Center, San Jose

Howard GW (1985) The Kafue Flats of Zambia: a wetland ecosystem comparable with floodplain areas of northern Australia. Proc Ecol Soc Aust 13:293–306

Janzen DH (1983) Costa Rican natural history. University of Chicago Press, Chicago

Junk WJ (1997) The Central Amazon Floodplain: ecology of a pulsing system. Springer, Berlin

Junk WJ, Piedade MTF (1997) Plant life in the floodplain with special reference to herbaceous plants. In: Junk WJ (ed) The Central Amazon Floodplain: ecology of a pulsing system. Springer, Berlin, pp 147–186

Keddy PA (1992) Assembly and response rules—two goals for predictive community ecology. J Veg Sci 3:157–164

Kozlowski TT (1999) Soil compaction and growth of woody plants. Scand J For Res 14:596–619

Kruskal JB (1964) Multidimensional scaling by optimizing goodness of fit to a nonmetric hypothesis. Psychometrika 29:1–27

Loaiciga HA, Robinson TH (1995) Sampling of agrochemicals for environmental assessment in rice paddies: dry tropical wetlands, Costa Rica. Ground Water Monit Rem 15:107–118

Lowery B, Schuler RT (1991) Temporal effects of subsoil compaction on soil strength and plant growth. Soil Sci Soc Am J 55:216–223

Mateo-Vega J (2001) Características generales de la cuenca del Río Tempisque. In: Jiménez JA, González E (eds) La cuenca del Río Tempisque: perspectivas para un manejo integrado. Organization for Tropical Studies, San Jose, pp 32–72

Mather PM (1976) Computational methods of multivariate analysis in physical geography. Wiley, London

Maurer EP, Adam JC, Wood AW (2009) Climate model based consensus on the hydrologic impacts of climate change to the Rio Lempa basin of Central America. Hydrol Earth Syst Sci 13:183–194

McCoy MB, Rodriguez JM (1994) Cattail (Typha domingensis) eradication methods in the restoration of a tropical, seasonal, freshwater marsh. In: Mitsch WJ (ed) Global wetlands: old world and new. Elsevier Science, Amsterdam, pp 469–482

McCune B, Grace JB (2002) Analysis of ecological communities. MjM Software Design, Gleneden Beach, Oregon

McCune B, Medford MJ (1999) PC-ORD. Multivariate analysis of ecological data, Version 4. MjM Software Design, Gleneden Beach, Oregon

Middleton B (1999) Succession and herbivory in monsoonal wetlands. Wetlands Ecol Manage 6:189–202

Middleton BA, van der Valk AG, Mason DH, Williams RL, Davis CB (1991) Vegetation dynamics and seed banks of a monsoonal wetland overgrown with Paspalum distichum L. in Northern India. Aquat Bot 40:239–259

Mitsch WJ, Gosselink JG (2007) Wetlands. Wiley, New York

Murphy PG, Lugo AE (1986) Ecology of tropical dry forest. Annu Rev Ecol Syst 17:67–88

Murphy P, Lugo A (1995) Dry forests of Central America and the Caribbean. In: Bullock SH et al (eds) Seasonally dry tropical forests. Cambridge University Press, Cambridge, pp 9–34

Nahlik AM, Mitsch WJ (2011) Methane emissions from tropical freshwater wetlands located in different climatic zones of Costa Rica. Glob Chang Biol 17:1321–1334

Neelin JD, Münnich M, Su H, Meyerson JE, Holloway CE (2006) Tropical drying trends in global warming models and observations. Proc Natl Acad Sci 103:6110–6115

Osland MJ, González E, Richardson CJ (2011) Restoring diversity after cattail invasion: disturbance, resilience, and seasonality in a tropical dry wetland. Ecol Appl 21:715–728

Piedade MTF, Junk WJ, D'Ângelo SA, Wittmann F, Schöngart J, do Nascimento Barbosa KM, Lopes A (2010) Aquatic herbaceous plants of the Amazon floodplains: state of the art and research needed. Acta Limnol Bras 22:165–178

Powers JS, Becknell JM, Irving J, Pèrez-Aviles D (2009) Diversity and structure of regenerating tropical dry forests in Costa Rica: geographic patterns and environmental drivers. For Ecol Manage 258:959–970

Rauscher S, Giorgi F, Diffenbaugh N, Seth A (2008) Extension and intensification of the Meso-American mid-summer drought in the twenty-first century. Climate Dyn 31:551–571

Reddy KR, DeLaune RD (2008) Biogeochemistry of wetlands: science and applications. CRC, Boca Raton

Sculthorpe CD (1967) The biology of aquatic vascular plants. Edward Arnold Publishers, London

Sørenson T (1948) A method of establishing groups of equal amplitude in plant sociology based on similarity of species content, and its application to analyses of the vegetation on Danish commons. Biol Skr K Dan Vidensk Selska 5:1–34

Touchon JC, Warkentin KM (2009) Negative synergism of rainfall patterns and predators affects frog egg survival. J Anim Ecol 78:715–723

Trama FA (2005) Manejo activo y restauración del Humedal Palo Verde: cambios en las coberturas de vegetación y respuesta de las aves acuáticas. M.S., Universidad Nacional de Costa Rica, Heredia, Costa Rica

Trama FA, Rizo-Patrón FL, Kumar A, González E, Somma D, McCoy MB (2009) Wetland cover types and plant community changes in response to cattail-control activities in the Palo Verde Marsh, Costa Rica. Ecol Restor 27:278–289

van der Valk AG (1981) Succession in wetlands: a Gleasonian approach. Ecology 62:688–696

van der Valk AG, Davis CB (1978) Role of seed banks in vegetation dynamics of prairie glacial marshes. Ecology 59:322–335

van der Valk AG, Middleton BA, Williams RL, Mason DH, Davis CB (1993) The biomass of an Indian monsoonal wetland before and after being overgrown with Paspalum distichum L. Vegetatio 109:81–90

Vargas JA (1995) The Gulf of Nicoya estuary, Costa Rica: past, present, and future cooperative research. Helgol Mar Res 49:821–828

Yuan LY, Liu GH, Li W, Li EH (2007) Seed bank variation along a water depth gradient in a subtropical lakeshore marsh, Longgan Lake, China. Plant Ecol 189:127–137
Acknowledgments
This study was conducted with the support of a Fulbright Fellowship, an NSF IRES Grant, an OTS Research Fellowship, a Duke University Graduate School Pre-Dissertation Research Travel Award, a Duke University Provost's Pre-Dissertation International Field Research Grant, and the Duke Wetland Center Case Studies Endowment. We are very grateful to N. González, A. McHugh, A. Osland, G. Murillo, A. Blanco Sibaja, and D. González for their assistance. The hydrology and climate data were obtained from OTS records with the help of J. Serrano and W. Lopez. We appreciate the tremendous support provided by the OTS staff at the Palo Verde Biological Station and also in the San Jose and Durham offices. We also thank MINAE and the PVNP Rangers for their assistance and permission to conduct this research. We are grateful to B.A. Middleton and two anonymous reviewers for their comments on an earlier draft of this manuscript. The information in this document has been subjected to review by the U.S. Environmental Protection Agency National Health and Environmental Effects Research Laboratory and approved for publication. Approval does not signify that the contents reflect the views of the Agency, nor does mention of trade names or commercial products constitute endorsement or recommendation for use. This is contribution number 1408 from the Gulf Ecology Division.
About this article
Cite this article
Osland, M.J., González, E. & Richardson, C.J. Coastal Freshwater Wetland Plant Community Response to Seasonal Drought and Flooding in Northwestern Costa Rica. Wetlands 31, 641–652 (2011). https://doi.org/10.1007/s13157-011-0180-9
Received:

Accepted:

Published:

Issue Date:
Keywords
Climate change

Palo Verde National Park

Plant life forms

Seasonal hydrology

Seed bank

Tropical dry wetland