Abstract
In prairie wetland restorations, seeds may be limiting plant recolonization but this has never been quantified in the field. We evaluated the seed rain in restored and natural wetlands to determine if seed limitation constrains plant recolonization. We were particularly interested in determining whether Carex species, dominant vegetation of seasonally flooded zones, are seed limited in restorations. We quantified seed rain over two years using seed traps and compared seed rain with on-site vegetation and seed banks. The seed rain, vegetation, and seed banks of restorations were dominated by annual species rather than the target non-invasive, native perennial vegetation. Invasive perennials were not dominant in the seed rain, vegetation, or seed banks of new restorations, despite the fact that they are abundant in many older restorations. The seed rain of natural wetlands was dominated by invasive perennials, which did not reflect the prevalence of native perennial vegetation onsite. Carex species were seed limited in both wetland types. Carex species need to be sown into prairie wetland restorations to overcome dispersal limitations and to pre-empt the perennial invasive species. In addition, landscape-scale perennial invasive species management is necessary to reduce the seed supply of undesirable species to all wetlands.
Access options
Buy single article
Instant access to the full article PDF.
US$ 39.95
Tax calculation will be finalised during checkout.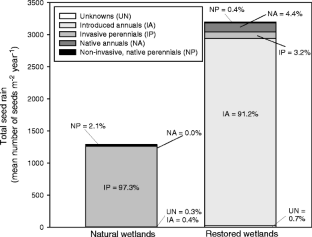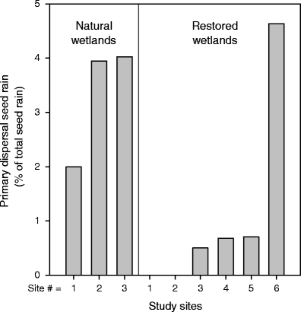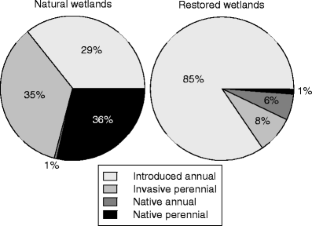 References
Aronson MFJ, Galatowitsch SM (2008) Long-term vegetation development of restored prairie pothole wetlands. Wetlands 28:883–895

Au AYY, Corlett RT, Hau BCH (2006) Seed rain into upland plant communities in Hong Kong, China. Plant Ecology 186:13–22

Barbosa KC, Pizo MA (2006) Seed rain and seed limitation in a planted gallery forest in Brazil. Restoration Ecology 14:504–515

Barkley TM (ed) (1986) Flora of the Great Plains. University Press of Kansas, Lawrence

Buisson E, Dutoit T, Torre F, Römermann C, Poschlod P (2006) The implications of seed rain and seed bank patterns for plant succession at the edges of abandoned fields in Mediterranean landscapes. Agriculture, Ecosystems and Environment 115:6–14

Burrows CJ (1994) Seed trapping in Ahuriri Summit Bush Scenic Reserve, Port Hills, Western Banks Peninsula. New Zealand Journal of Botany 32:183–215

Casler MD, Phillips MM, Krohn AL (2009) DNA polymorphisms reveal geographic races of reed canarygrass. Crop Science 49:2139–2148

Chabrerie O, Alard D (2005) Comparison of three seed trap types in a chalk grassland: toward a standardised protocol. Plant Ecology 176:101–112

Chacón P, Cavieres LA (2008) Recovery of alpine plants after a severe human disturbance in the Andes of central Chile. Arctic, Antarctic, and Alpine Research 40:617–623

Crain CM, Albertson LK, Bertness MD (2008) Secondary succession dynamics in estuarine marshes across landscape-scale salinity gradients. Ecology 89:2889–2899

del Castillo RF, Ríos MAP (2008) Changes in seed rain during secondary succession in a tropical montane cloud forest region in Oaxaca, Mexico. Journal of Tropical Ecology 24:433–444

Delphey PJ, Dinsmore JJ (1993) Breeding bird communities of recently restored and natural prairie potholes. Wetlands 13:200–206

De Steven D, Sharitz RR, Singer JH, Barton CD (2006) Testing a passive revegetation approach for restoring coastal plain depression wetlands. Restoration Ecology 14:452–460

DiVittorio CT, Corbin JD, D'Antonio CM (2007) Spatial and temporal patterns of seed dispersal: an important determinant of grassland invasion. Ecological Applications 17:311–316

Donath TW, Hölzel N, Otte A (2003) The impact of site conditions and seed dispersal on restoration success in alluvial meadows. Applied Vegetation Science 6:13–22

Drake DR (1998) Relationships among the seed rain, seed bank and vegetation of a Hawaiian forest. Journal of Vegetation Science 9:103–112

Dungan RJ, Norton DA, Duncan RP (2001) Seed rain in successional vegetation, Port Hills Ecological District, New Zealand. New Zealand Journal of Botany 39:115–124

Ekeleme F, Okezie Akobundu I, Isichei AO, Chikoye D (2000) Influence of fallow type and land-use intensity on weed seed rain in a forest/savanna transition zone. Weed Science 48:604–612

Elmarsdottir A, Aradottir AL, Trlica MJ (2003) Microsite availability and establishment of native species on degraded and reclaimed sites. Journal of Applied Ecology 40:815–823

Fraser LH, Madson EB (2008) The interacting effects of herbivore exclosures and seed addition in a wet meadow. Oikos 117:1057–1063

Galatowitsch SM, Biederman LA (1998) Vegetation and seedbank composition of temporarily flooded Carex meadows and implications for restoration. International Journal of Ecology and Environmental Sciences 24:253–270

Galatowitsch SM, van der Valk AG (1994) Restoring prairie wetlands: an ecological approach. Iowa State University Press, Ames

Galatowitsch SM, van der Valk AG (1996a) Characteristics of recently restored wetlands in the prairie pothole region. Wetlands 16:75–83

Galatowitsch SM, van der Valk AG (1996b) Vegetation and environmental conditions in recently restored wetlands in the prairie pothole region of the USA. Plant Ecology 126:89–99

Galatowitsch SM, van der Valk AG (1996c) The vegetation of restored and natural prairie wetlands. Ecological Applications 6:102–112

Galatowitsch SM, Anderson NO, Ascher PD (1999) Invasiveness in wetland plants in temperate North America. Wetlands 19:733–755

Hardesty BD, Parker VT (2003) Community seed rain patterns and a comparison to adult community structure in a West African tropical forest. Plant Ecology 164:49–64

Hobbs RJ (2002) The ecological context: a landscape perspective. In: Perrow MR, Davy AJ (eds) Handbook of ecological restoration: principles of restoration. Cambridge University Press, New York, pp 24–46

Holl KD, Loik ME, Lin EHV, Samuels IA (2000) Tropical montane forest restoration in Costa Rica: overcoming barriers to dispersal and establishment. Restoration Ecology 8:339–349

Iannone BV III, Galatowitsch SM (2008) Altering light and soil N to limit Phalaris arundinacea reinvasion in sedge meadow restorations. Restoration Ecology 16:689–701

Jefferson RG, Usher MB (1989) Seed rain dynamics in disused chalk quarries in the Yorkshire Wolds, England, with special reference to nature conservation. Biological Conservation 47:123–136

Kettenring KM, Galatowitsch SM (2011) Carex seedling emergence in restored and natural prairie wetlands. Wetlands: doi:10.1007/s13157-011-0160-0

LaBaugh JW (1989) Chemical characteristics of water in wetlands and lakes in the Northern Prairie of North America. In: van der Valk AG (ed) Northern Prairie Wetlands. Iowa State University Press, Ames, pp 56–90

Larsson E-L (2003) Two ways of trapping seeds in alpine environments, Lapland, Sweden. Nordic Journal of Botany 23:333–343

Leck MA (2003) Seed-bank and vegetation development in a created tidal freshwater wetland on the Delaware River, Trenton, New Jersey, USA. Wetlands 23:310–343

Leck MA, Schütz W (2005) Regeneration of Cyperaceae, with particular reference to seed ecology and seed banks. Perspectives in Plant Ecology, Evolution and Systematics 7:95–133

Leck MA, Simpson RL (1994) Tidal freshwater wetland zonation: seed and seedling dynamics. Aquatic Botany 47:61–75

Leibowitz SG, Vining KC (2003) Temporal connectivity in a prairie pothole complex. Wetlands 23:13–25

McCune B, Grace JB (2002) Analysis of ecological communities. MjM Software Design, Gleneden Beach

McEuen AB, Curran LM (2004) Seed dispersal and recruitment limitation across spatial scales in temperate forest fragments. Ecology 85:507–518

McIntyre S, Hobbs RJ (1999) A framework for conceptualizing human effects on landscapes and its relevance to management and research models. Conservation Biology 13:1282–1292

Mitsch WJ, Wilson RF (1996) Improving the success of wetland creation and restoration with know-how, time, and self-design. Ecological Applications 6:77–83

Molau U, Larsson E-L (2000) Seed rain and seed bank along an alpine altitudinal gradient in Swedish Lapland. Canadian Journal of Botany 78:728–747

Mueller MH, van der Valk AG (2002) The potential role of ducks in wetland seed dispersal. Wetlands 22:170–178

Mueller-Dombois D, Ellenberg H (2002) Aims and methods of vegetation ecology. The Blackburn Press, Caldwell

Mulhouse JM, Galatowitsch SM (2003) Revegetation of prairie pothole wetlands in the mid-continental US: twelve years post-reflooding. Plant Ecology 169:143–159

Page MJ, Harrington RA (2009) Fourteen months of seed rain in three Australian semi-arid communities. Austral Ecology 34:294–305

Polley HW, Derner JD, Wilsey BJ (2005) Patterns of plant species diversity in remnant and restored tallgrass prairies. Restoration Ecology 13:480–487

Rabinowitz D, Rapp JK (1980) Seed rain in a North American tall grass prairie. Journal of Applied Ecology 17:793–802

Rand TA (2000) Seed dispersal, habitat suitability and the distribution of halophytes across a salt marsh tidal gradient. Journal of Ecology 88:608–621

Salonen V (1987) Relationship between the seed rain and the establishment of vegetation in two areas abandoned after peat harvesting. Holarctic Ecology 10:171–174

SAS Institute Inc. (2009) JMP 8.0.1.

Schütz W (2000) Ecology of seed dormancy and germination in sedges (Carex). Perspectives in Plant Ecology, Evolution, and Systematics 3:67–89

Sem G, Enright NJ (1996) The relationship between seed rain and the soil seed bank in a temperate rainforest stand near Auckland, New Zealand. New Zealand Journal of Botany 34:215–226

Spence JR (1990) Seed rain in grassland, herbfield, snowbank, and fellfield in the alpine zone, Craigieburn Range, South Island, New Zealand. New Zealand Journal of Botany 28:439–450

Stewart RE, Kantrud HA (1971) Classification of natural ponds and lakes in the glaciated prairie region, Resource Publication 92; Bureau of Sport Fisheries and Wildlife; U.S. Fish and Wildlife Service; Washington D.C., Jamestown, ND: Northern Prairie Wildlife Research Center Online

Urbanska KM, Fattorini M (2000) Seed rain in high-altitude restoration plots in Switzerland. Restoration Ecology 8:74–79

Urbanska KM, Erdt S, Fattorini M (1998) Seed rain in natural grassland and adjacent ski run in the Swiss Alps: a preliminary report. Restoration Ecology 6:159–165

USDA NRCS (2009) The PLANTS Database (http://plants.usda.gov, 4 September 2010). National Plant Data Center, Baton Rouge, LA 70874-4490 USA

Webster TM, Cardina J, White AD (2003) Weed seed rain, soil seedbanks, and seedling recruitment in no-tillage crop rotations. Weed Science 51:569–575

Welling P, Laine K, Bakker JP (2002) Regeneration by seeds in alpine meadow and heath vegetation in sub-arctic Finland. Journal of Vegetation Science 13:217–226

Wienhold CE, van der Valk AG (1989) The impact of duration of drainage on the seed banks of northern prairie wetlands. Canadian Journal of Botany 67:1878–1884

Winter TC (1989) Hydrologic studies of wetlands in the northern prairie. In: van der Valk AG (ed) Northern prairie wetlands. Iowa State University Press, Ames, pp 16–54

Xiong S, Johansson ME, Hughes FMR, Hayes A, Richards KS, Nilsson C (2003) Interactive effects of soil moisture, vegetation canopy, plant litter and seed addition on plant diversity in a wetland community. Journal of Ecology 91:976–986

Zedler PH (2003) Vernal pools and the concept of "isolated wetlands". Wetlands 23:597–607
Acknowledgments
We thank D. Horan for field and laboratory assistance, and C. Baskin, R. Shaw, A. Markhart, and P. Morrow for manuscript review. Funding was provided by a Brand Fellowship, a Doctoral Dissertation Research Grant, a Dayton Fellowship, and the Agricultural Experiment Station from the University of Minnesota; a Delta Waterfowl Graduate Student Fellowship; and a Garden Club of America Fellowship in Ecological Restoration to KMK.
Electronic supplementary material
Below is the link to the electronic supplementary material.
About this article
Cite this article
Kettenring, K.M., Galatowitsch, S.M. Seed Rain of Restored and Natural Prairie Wetlands. Wetlands 31, 283–294 (2011). https://doi.org/10.1007/s13157-011-0159-6
Received:

Accepted:

Published:

Issue Date:
Keywords
Natural recolonization

Seed availability

Seed bank

Seed dispersal

Seed trap

Wetland restoration