Abstract
We examined the genetic population structure of Spartina alterniflora in Jamaica Bay, Queens, NY and the surrounding area in order to assist the ongoing restoration of Jamaica Bay. AMOVA (Analysis of Molecular Variance) indicated that population differences accounted for 15% of molecular variance (Φ PT = 0.15, p = 0.001). Observed heterozygosity (Ho) ranged from 0.61 to 0.73 among populations. A Mantel test indicated a weak and non-significant correlation between pairwise Φ PT and geographic distance matrices (r = 0.34, p = 0.12). A PCA revealed no obvious grouping pattern for sampled populations. Based on these data, we determined that the studied populations contained similar genetic variability to other populations in the New York vicinity and to those of the entire region. It seems likely that collection of germplasm from within the region will prove sufficient in maintaining overall genetic variation in restoration plantings. Given the small amount of genetic structure among populations within Jamaica Bay, however, it would be prudent to collect widely within the target marsh. We also recommend the practice of propagating plugs of S. alterniflora from wild seed, as opposed to using vegetative cuttings, when creating planting stock, in order to maximize genetic diversity in restored marshes.
Access options
Buy single article
Instant access to the full article PDF.
USD 39.95
Price excludes VAT (USA)
Tax calculation will be finalised during checkout.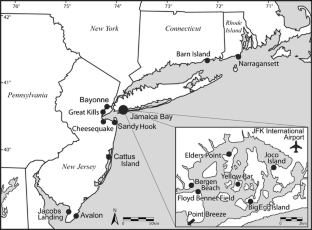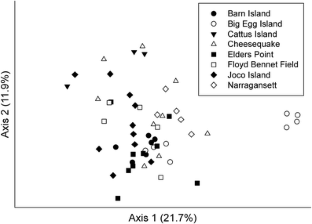 References
Blum MJ et al (2004) Characterization of microsatellite loci in Spartina species (Poaceae). Molecular Ecology Notes 4:39–42

Blum MJ et al (2007) Geographic structure, genetic diversity and source tracking of Spartina alterniflora. Journal of Biogeography 34:2055–2069

Callaway JC, Josselyn MN (1992) The introduction and spread of smooth cordgrass (Spartina alterniflora) in South San Francisco Bay. Estuaries 15:218–226

Craft C et al (1999) Twenty-five years of ecosystem development of constructed Spartina alterniflora (Loisel) marshes. Ecological Applications 9:1405–1419

Excoffier L, Smouse PE, Quattro JM (1992) Analysis of molecular variance inferred from metric distances among DNA haplotypes: application to human mitochondrial DNA restriction data. Genetics 131:479–491

Grevstad FS (2005) Simulating control strategies for a spatially structured weed invasion: Spartina alterniflora (Loisel) in Pacific Coast estuaries. Biological Invasions 7:665–677

Hedrick PW (2005) Genetics of Populations, 3rd edn. Jones and Bartlett, Sudbury

Hufford KM, Mazer SJ (2003) Plant ecotypes: genetic differentiation in the age of ecological restoration. Trends in Ecology and Evolution 18:147–155

Jones TA (2003) The restoration gene pool concept: beyond the native versus non-native debate. Restoration Ecology 2:281–290

Jost L (2008) GST and its relatives do not measure differentiation. Molecular Ecology 17:4015–4026

Kubik C et al (2001) Genetic diversity in seven perennial ryegrass (Lolium perenne L.) cultivars based on SSR markers. Crop Science 41:1565–1572

Lesica P, Allendorf FW (1999) Ecological genetics and the restoration of plant communities: mix or match? Restoration Ecology 7:42–50

McKay JK et al (2005) "How local is local?"—A review of practical and conceptual issues in the genetics of restoration. Restoration Ecology 13:432–440

Mitsch WJ, Gosselink JG (2000) Wetlands, 3rd edn. Wiley, New York

Nielsen R, Tarpy DR, Reeve HK (2003) Estimating effective paternity number in social insects and the effective number of alleles in a population. Molecular Ecology 12:3157–3164

O'Brien DL, Freshwater DW (1999) Genetic diversity within tall form Spartina alterniflora Loisel. along the Atlantic and Gulf Coasts of the United States. Wetlands 19:352–358

Peakall R, Smouse PE (2006) GENALEX 6: genetic analysis in Excel. Population genetic software for teaching and research. Molecular Ecology Notes 6:288–295

Peakall R, Smouse PE, Huffs DR (1995) Evolutionary implications of allozyme and RAPD variation in diploid populations of dioecious buffalograss Buchloë dactyloides. Molecular Ecology 4:135–147

Perkins EJ et al (2002) Development of amplified fragment length polymorphism markers for Spartina alterniflora. Aquatic Botany 74:85–95

Proffitt CE et al (2005) Spartina alterniflora genotype influences facilitation and suppression of high marsh species colonizing an early successional marsh. Journal of Ecology 93:404–416

Proffitt CE, Travis SE, Edwards KR (2003) Genotype and elevation influence Spartina alterniflora colonization and growth in a created salt marsh. Ecological Applications 13:180–192

Richards CL et al (2004) Unexpectedly high clonal diversity of two salt marsh perennials across a severe environmental gradient. Ecology Letters 7:1155–1162

Schuelke M (2000) An economic method for the fluorescent labeling of PCR fragments. Nature Biotechnology 18:233–234

Seliskar DM et al (2002) The regulation of ecosystem functions by ecotypic variation in the dominant plant: a Spartina alterniflora salt-marsh case study. Journal of Ecology 90:1–11

Seneca ED (1974) Germination and seedling response of Atlantic and Gulf coasts populations of Spartina alterniflora. American Journal of Botany 61:947–956

Sloop CM et al (2006) Characterization of 24 additional microsatellite loci in Spartina species (Poaceae). Conservation Genetics 6:1049–1052

Smouse PE, Long JC, Sokal RR (1986) Multiple regression and correlation extension of the Mantel test of matrix correspondence. Systematic Zoology 82:561–573

Somers GF, Grant D (1981) Influence of seed source upon phenology of flowering of Spartina alterniflora Loisel. and the likelihood of cross pollination. American Journal of Botany 68:6–9

Travis SE, Hester MW (2005) A space-for-time substitution reveals the long-term decline in genotypic diversity of a widespread salt marsh plant, Spartina alterniflora, over a span of 1500 years. Journal of Ecology 93:417–430

Travis SE, Grace JB (2010) Predicting performance for ecological restoration: a case study using Spartina alterniflora. Ecological Applications 20:192–204

Travis SE, Proffitt CE, Ritland K (2004) Population structure and inbreeding vary with successional stage in created Spartina alterniflora marshes. Ecological Applications 14:1189–1202

Travis SE, Proffitt CE, Edwards KR (2006) Genetic considerations for the restoration of smooth cordgrass (Spartina alterniflora) within its native range: U.S. Geological Survey Open-File Report 2006–1305

Vivian-Smith G, Stiles EW (1994) Dispersal of salt marsh seeds on the feet and feathers of waterfowl. Wetlands 14:316–319
Acknowledgments
Funding for this project was provided by the U.S. Army Corps of Engineers, U.S. Department of Agriculture Natural Resources Conservation Service (USDA NRCS), Rutgers Center for Turfgrass Science, New Jersey Agricultural Experiment Station, and Rutgers University School of Environmental and Biological Sciences. Field collection was aided by Joseph Lampert, Christine Poulsen, and the USDA Plant Materials Center, Cape May, NJ. Figure 1 was drawn by Drew Siglin. We thank Dr. Rikke Bagger Jørgensen of Risø National Laboratory in Denmark and two anonymous reviewers for helpful suggestions on previous versions of the manuscript.
About this article
Cite this article
Novy, A., Smouse, P.E., Hartman, J.M. et al. Genetic Variation of Spartina alterniflora in the New York Metropolitan Area and Its Relevance for Marsh Restoration. Wetlands 30, 603–608 (2010). https://doi.org/10.1007/s13157-010-0046-6
Received:

Accepted:

Published:

Issue Date:

DOI: https://doi.org/10.1007/s13157-010-0046-6
Keywords