Abstract
This article evaluates German local governments' cost efficiency using a sample of 1,021 municipalities in the state of Baden-Württemberg for the year 2001. We thereby concentrate on overall or 'global' efficiency scores—rather than estimate efficiency for one particular service—and explicitly account for exogenous or non-discretionary influences. The latter not only corrects for influences possibly beyond the control of local policy-makers, but also allows some indication of the determinants of such 'global' efficiency. Our results indicate that there is a substantial divergence in efficiency across municipalities despite a homogeneous institutional setting. As especially smaller municipalities appear less efficient, these results support a case for policy programmes aimed at boundary reviews or more extensive inter-communal cooperation among small municipalities.
Zusammenfassung
Dieser Beitrag evaluiert die Effizienz öffentlicher Leistungserstellung auf Basis der Datengrundlage von 1.021 Kommunen im Bundesland Baden-Württemberg im Jahr 2001. Dabei konzentrieren wir uns auf die Ermittlung von "globalen" Effizienzindikatoren anstelle der Effizienzanalyse bestimmter öffentlicher Dienstleistungen und berücksichtigen explizit exogene Umfeldbedingungen. Letzteres berücksichtigt den Einfluss von Faktoren, die sich der Kontrolle der lokalen politischen Akteure entziehen und macht Einblicke in die Determinanten der "globalen" Effizienz möglich. Unsere Ergebnisse deuten darauf hin, dass es trotz eines homogenen institutionellen Umfelds eine erhebliche Divergenz der Effizienz zwischen den Kommunen gibt. Weil besonders kleinere Kommunen als weniger effizient erscheinen, unterstützen diese Ergebnisse politische Bemühungen zur Überprüfung des räumlichen Zuschnitts von Gemeinden oder einen Ausbau der interkommunalen Kooperation unter den kleinen Kommunen.
Access options
Buy single article
Instant access to the full article PDF.
USD 39.95
Price excludes VAT (USA)
Tax calculation will be finalised during checkout.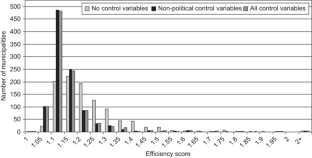 Notes
We should note here that, contrary to the state or federal level, the formation of governing majorities within the local council is not institutionalized in the local law of Baden-Württemberg. Nonetheless, their existence is uncontested. These inter-party cooperations are used to facilitate and, to a certain extent, control the formation of opinions and decision-making.

A more detailed classification and description of these tasks is given in Gern (2005).

Although including these debt service costs does not affect the results in any significant manner; details available upon request.

Only the total number of state and private kindergarten places of the year 2002 was available. While it would be preferable to use only the number of state kindergarten places, the addition of private kindergartens may not be overly problematic. The reason is that these places also imply an 'organizational' burden for the local government.

'Free voter unions' are loose federations of persons not belonging to specific political parties and exist only at the local level.

Still, even in the absence of (strong) opposition parties, there may still be substantial competition for political office when there is fierce competition within the majority party (or parties). While the causal nature of the relations between efficiency and the control variables is not at the heart of the present article, we should also note that efficiency may induce political concentration, rather than the other way around. We are grateful to an anonymous referee for pointing this out.

For more details, see Geys and Moesen (2009a).

Building the best practice frontier based on the decision-making units at hand by definition implies that the ensuing efficiency measures are relative rather than absolute measures—and only have meaning within the specific sample employed. This clearly holds for all the procedures brought forward, and should be kept in mind in empirical applications.
References
Aigner, D.; Lovell, C. A. K.; Schmidt, P. (1977): Formulation and estimation of stochastic frontier production function models. In: Journal of Econometrics 6, 1, 21–37.

Balaguer-Coll, M. T.; Prior, D.; Tortosa-Ausina, E. (2007): On the determinants of local government performance: A two-stage nonparametric approach. In: European Economic Review 51, 2, 425–451.

Battese, G. E.; Coelli, T. J. (1995): A Model for Technical Inefficiency Effects in a Stochastic Frontier Production Function with Panel Data. In: Empirical Economics 20, 325–332.

Bauer, P. W. (1987): A Technique for Estimating a Cost System that allows for Inefficiency. Cleveland. = Federal Reserve Bank of Cleveland Working Paper, No. 8704.

Bönisch, P. (2011): Effiziente Strukturen und Regulierung des Kinderbetreuungssektors. Halle. Unveröffentlichtes Manuskript an der Martin-Luther-Universität Halle-Wittenberg.

Borge, L. E.; Falch, T.; Tovmo, P. (2008). Public Sector Efficiency: The Roles of Political and Budgetary Institutions, Fiscal Capacity, and Democratic Participation. In: Public Choice 136, 3, 475–495.

Christensen, L. R.; Jorgenson, D. W.; Lau, L. J. (1973): Transcendental logarithmic production frontiers. In: Review of Economics and Statistics 55, 1, 28–45.

Coelli, T. J. (1996): A Guide to FRONTIER version 4.1: A Computer Program for Stochastic Frontier Production and Cost Function Estimation. Armidale. = CEPA Working Paper, No. 96/7.

De Borger, B.; Kerstens, K.; Moesen, W.; Vanneste, J. (1994): Explaining differences in productive efficiency: An application to Belgian municipalities. In: Public Choice 80, 3–4, 339–358.

De Borger, B.; Kerstens, K. (1996): Cost efficiency of Belgian local governments: A comparative analysis of FDH, DEA and econometric approaches. In: Regional Science and Urban Economics 26, 2, 145–170.

De Borger, B.; Kerstens, K. (2000). What is known about municipal efficiency? The Belgian case and beyond. In: Blank, J. (ed.): Public Provision and Performance: Contributions from Efficiency and Productivity Measurement. Amsterdam, 299–330.

De Prins, D.; Simar, L.; Tulkens, H. (1984): Measuring labour efficiency in post offices. In: Marchand, M.; Pestieau, P.; Tulkens, H. (eds.): The Performance of Public Enterprises: Concepts and Measurement. Amsterdam, 243–267. = Studies in mathematical and managerial economics, No. 33.

De Witte, K.; Geys, B. (2011): Evaluating efficient public good provision: Theory and evidence from a generalised conditional efficiency model for public libraries. In: Journal of Urban Economics 69, 3, 319–327.

Farrell, M. (1957): The measurement of productive efficiency. In: Journal of the Royal Statistical Society, Series A: General 120, III, 253–281.

Gern, A. (2005): Kommunalrecht Baden-Württemberg. Baden-Baden.

Geys, B. (2006): Looking across borders: A test of spatial policy interdependence using local government efficiency ratings. In: Journal of Urban Economics 60, 3, 443–462.

Geys, B. (2010): Wars, Presidents, and Popularity: The Political Cost(s) of War Re-Examined. In: Public Opinion Quarterly 74, 2, 357–374.

Geys, B.; Heinemann, F.; Kalb, A. (2008): Local Governments in the Wake of Demographic Change: Evidence from German Municipalities. In: Finanzarchiv 64, 4, 434–457.

Geys, B.; Moesen, W. (2009a): Measuring Local Government Technical (In)Efficiency: An Application and Comparison of FDH, DEA and Econometric Approaches. In: Public Performance and Management Review 32, 4, 499–513.

Geys, B.; Moesen, W. (2009b): Exploring Sources of Local Government Technical Inefficiency: Evidence from Flemish Municipalities. In: Public Finance and Management 9, 1, 1–29.

Geys, B.; Vermeir, J. (2008a): Taxation and Presidential Approval: Separate Effects from Tax Burden and Tax Structure Turbulence? In: Public Choice 135, 3–4, 301–317.

Geys, B.; Vermeir, J. (2008b): The Political Cost of Taxation: New Evidence from German Popularity Ratings. In: Electoral Studies 27, 4, 633–648.

Greene, W. H. (1993): The econometric approach to efficiency analysis. In: In: Fried, H.; Lovell, C. A. K.; Schmidt, S. (eds.): The Measurement of Productive Efficiency: Techniques and Applications. New York/Oxford, 68–119.

Heilbrun, J. (1992): Art and Culture as Central Place Functions. In: Urban Studies 29, 2, 205–215.

Hindriks, J.; Gerard, F. (2005). Le palmarès des villes et communes en Wallonie: Une approche en termes d'efficacité. In: Regards Économiques 35, 1, 1–16.

Jondrow, J.; Lovell, C. A. K.; Materov, I.; Schmidt, P. (1982): On the estimation of technical inefficiency in the stochastic frontier production function model. In: Journal of Econometrics 19, 2–3, 233–238.

Kalb, A.; Geys, B.; Heinemann, F. (2012): Value for Money? German Local Government Efficiency in a Comparative Perspective. In: Applied Economics 44, 2, 201–218.

Lovell, C. A. K. (1993): Production frontiers and productive efficiency. In: Fried, H.; Lovell, C. A. K.; Schmidt, S. (eds.): The Measurement of Productive Efficiency: Techniques and Applications. New York/Oxford, 3–67.

Meeusen, W.; van den Broeck, J. (1977): Efficiency estimation from Cobb-Douglas production functions with composed error. In: International Economic Review 18, 2, 435–444.

Méon, P. G.; Weill, L. (2004): Does better governance foster efficiency? An aggregate frontier analysis. In: Economics of Governance 6, 1, 75–90.

Monten, A.; Thater, C. (2011): Determinants of efficiency in child care provision. In: Finanzarchiv 67, 4, 378–403.

Niskanen, W. A. (1975). Bureaucrats and Politicians. In: Journal of Law and Economics 18, 3, 617–643.

Peltzman, S. (1992). Voters as Fiscal Conservatives. In: Quarterly Journal of Economics 107, 2, 327–361.

Samapio De Sousa, M. C.; Stosic, B. (2005): Technical efficiency of the Brazilian municipalities: Correcting nonparametric frontier measurements for outliers. In: Journal of Productivity Analysis 24, 2, 157–181.

Statistisches Landesamt Baden-Württemberg (2009): Der demografische Wandel in Baden-Württemberg. Herausforderung und Chancen. Stuttgart. = Reihe Statistische Analysen, 1/2009.

Statistisches Landesamt Baden-Württemberg (2011a): Personalausgaben, Sachinvestitionen und Schuldenstand des Landes und der Gemeinden/Gv. Online unter: http://www.statistik.baden-wuerttemberg.de/FinSteuern/Landesdaten/LRt1805.asp (letzter Zugriff am 01.07.2012).

Statistisches Landesamt Baden-Württemberg (2011b): Wirtschaftswachstum in Baden-Württemberg und Deutschland. Online unter: http://www.statistik.baden-wuerttemberg.de/VolkswPreise/Landesdaten/BIPwachstum.asp (letzter Zugriff am 01.07.2012).

Stevens, P. A. (2004): Accounting for Background Variables in Stochastic Frontier Analysis. London. = NIESR Discussion Paper, No. 239.

Stevens, P. A. (2005): Assessing the Performance of Local Government. In: National Institute Economic Review 193, 1, 90–101.

Vanden Eeckaut, P.; Tulkens, H.; Jamar, M. A. (1993): Cost efficiency in Belgian municipalities. In: Fried, H.; Lovell, C. A. K.; Schmidt, S. (eds.): The Measurement of Productive Efficiency: Techniques and Applications. New York/Oxford, 300–334.

Vermeir, J.; Heyndels, B. (2006): Tax Policy and Yardstick Voting in Flemish Municipal Elections. In: Applied Economics 38, 19, 2285–2298.

Worthington, A. C.; Dollery, B. (2000): Frontier Efficiency Measurement Techniques. In: Local Government Studies 26, 2, 23–52.
Acknowledgements
Friedrich Heinemann gratefully acknowledges the financial support of the "Förderkreis Wissenschaft und Praxis at the Centre for European Economic Research". Benny Geys thanks the FWO-Vlaanderen (grant nr. G.0022.12) for financial support.
Appendix
Appendix
About this article
Cite this article
Geys, B., Heinemann, F. & Kalb, A. Local Government Efficiency in German Municipalities. Raumforsch Raumordn 71, 283–293 (2013). https://doi.org/10.1007/s13147-012-0191-x
Published:

Issue Date:

DOI: https://doi.org/10.1007/s13147-012-0191-x
Keywords
Schlüsselwörter