Abstract
A combined geochemical, mineralogical, petrographic and geological approach has allowed to constrain the dolomitization process responsible for the formation of massive dolomitic body within the Messinian evaporitic series. We focused our investigations on an example of massive dolomite body, outcropping over the marginal area of the evaporitic basin in the Peloritani Mountains (NE area of Sicily region, Italy). Field observations allowed recognizing several sedimentary structures, such as erosion surfaces, lenses of conglomerates and ripples highlighting a clastic origin. The petrographic study revealed fine-grained and massive structure, scarce porosity, light to pink color and absence of micro-fossils. The chondrite-normalized trace element pattern shows a general enrichment in LREE and depletion in HREE. The isotopic signatures of the studied dolomites (δ18O = – 4.38–1.24‰, V-PDB; δ13C = – 1.48–1.94‰, V-PDB) are comparable with those of type-3 "Calcare di Base" which is the common reference to record the Messinian salinity crisis. The positive co-variant relationship between the δ18O and δ13C values suggests a dolomitization process in the seawater/freshwater mixing zone. The occurrence of the studied dolomites in the evaporitic sequence coupled with the results we gained point towards an origin from "early diagenetic" processes. As a consequence, a model explaining the genetic mechanism for the studied dolomitic rocks can be essentially summarized as: (1) the massive dolostones were originally deposited as evaporitic limestones under rather high-salinity conditions; (2) the dolomitization process occurred in the seawater/freshwater mixing zone that provided Mg-rich fluids over uplifted submarine masses.
Access options
Buy single article
Instant access to the full article PDF.
US$ 39.95
Tax calculation will be finalised during checkout.
Subscribe to journal
Immediate online access to all issues from 2019. Subscription will auto renew annually.
US$ 79
Tax calculation will be finalised during checkout.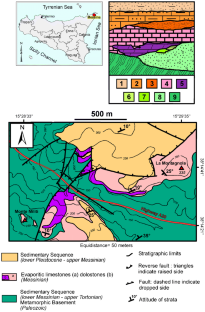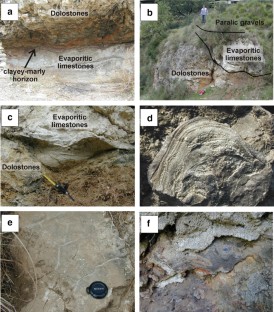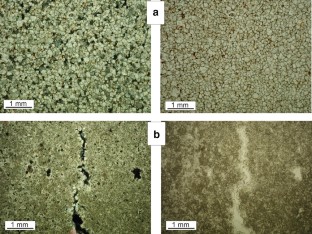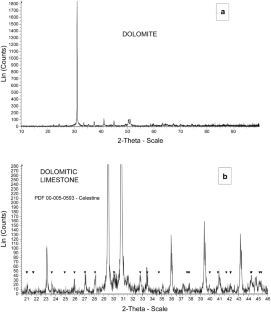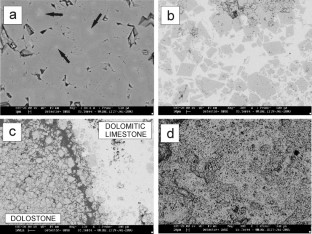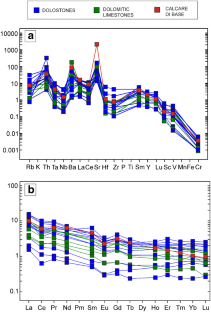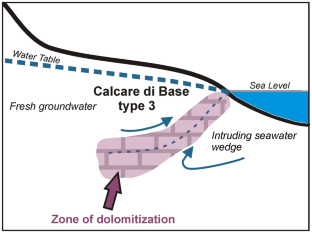 References
Atabey E (1995) Petrography and origin of dolomites of Yaniktepe formation (upper Cretaceous) in Gurun autochthonous, Eastern Taurus Turkey. Mineral Res Expl Bull 117:59–67

Badiozamani K (1973) The Dorag dolomitization model, application to the middle Ordovician of Wisconsin. J Sediment Res 43:965–984

Bau M (1991) Rare-earth element mobility during hydrothermal and metamorphic fluid–rock interaction and the significance of the oxidation state of europium. Chem Geol 93:219–230

Bau M, Möller P (1992) Rare earth element fractionation in metamorphogenic hydrothermal calcite, magnesite and siderite. Mineral Petrol 45:231–246

Behrens EW, Land LS (1972) Subtidal Holocene dolomite, Baffin Bay, Texas. J Sediment Petrol 42:155–161

Bellanca A, Calderone S, Neri R (1983) Evidenze geochimiche e mineralogiche di episodi evporitici nella sequenza diatomitica (Messiniano pre-evaporitico) di Sutera (Sicilia Centrale). Rend Soc Ital Miner Petro 1:1271–1280

Bellanca A, Caruso A, Ferruzza G, Neri R, Rouchy JM, Sprovieri M, Blanc-Valleron MM (2001) Sedimentary record of the transition from marine to hypersaline conditions in the Messinian Tripoli Formation in the marginal areas of the Sicilian Basin. Sed Geol 140:87–106

Ben Avraham Z, Boccaletti M, Cello G, Grasso M, Lentini F, Torelli L, Tortotici L (1990) Principali domini strutturali originatisi dalla collisione continentale neogenico-quaternaria nel Mediterraneo centrale. Mem Soc Geol It 45:453–462

Blanc-Valleron MM, Pierre C, Caulet JP, Caruso A, Rouchy JM, Cespuglio G, Sprovieri R, Pestrea S, Di Stefano E (2002) Sedimentary, stable isotope and micropaleontological records of palaeoceanographic change in the Messinian Tripoli Formation (Sicily, Italy). Palaeogeography 185:255–286

Bonardi G, Caggianelli A, Critelli S, Messina A, Perrone V, Acquafredda P, Carbone G, Careri G, Cirrincione R, D'Errico M, Dominici R, Festa V, Iannace A, Macaione E, Mazzoli S, Notaro P, Parente M, Perri E, Piluso E, Somma R, Sonnino M, Vitale S (2004) Geotraverse across the Calabria-Peloritani Terrane (southern Italy): Field Trip guide book P66. 32nd International Geological Congress IUGS, Florence, 2004

Budd DA (1997) Cenozoic dolomites of carbonate Islands: their attributes and origin. Earth-Sci Rev 42:1–47

Butler GP (1973) Strontium geochemistry of modern and ancient calcium sulphate minerals. In: Purser BH (ed) The Persian Gulf: Holocene sedimentation and diagenesis in a shallow Epicontinental Sea. Springer, Berlin, pp 423–452

Caruso A, Pierre C, Blanc-Valleron MM, Rouchy JM (2015) Carbonate deposition and diagenesis in evaporitic environments: the evaporative and sulphur-bearing limestones during the settlement of the Messinian salinity crisis in Sicily and Calabria. Palaeogeogr Palaeoclimatol Palaeoecol 429:136–162

Catalano S, Monaco C, Tortorici L, Paltrinieri W, Steel N (2004) Neogene-Quaternary tectonic evolution of the Southern Apennines. Tectonics 23(2):1–19

CIESM (2008) The Messinian salinity crisis from mega-deposits to microbiology. A consensus report. CIESM Workshop Monogr 33:1–168

Cirrincione R, Fazio E, Fiannacca P, Ortolano G, Pezzino A, Punturo R (2015) The Calabria-Peloritani Orogen, a composite terrane in Central Mediterranean; its overall architecture and geodynamic significance for a pre-Alpine scenario around the Tethyan basin. Periodico di Mineralogia 84:701–749

Coplen TB, Kendall C, Hopple J (1983) Comparison of stable isotope reference samples. Nature 302:236–238

Decima A, Mckenzie JA, Schreiber BC (1988) The origin of "evaporative" limestones: an example from the Messinian of Sicily (Italy). J Sediment Petrol 58:256–272

Deffeyes KS, Lucia FJ, Weyl PK (1965) Dolomitization of recent and Plio-Pleistocene sediments by marine evaporite waters on Bonaire, Netherlands Antilles. Dolomitization Limest Diagenesis SEPM Spec Pub 13:71–88

Di Stefano A, Lentini R (1995) Ricostruzione stratigrafica e significato paleotettonico dei depositi Plio-Pleistocenici del margine tirrenico tra Villafranca Tirrena e Faro (Sicilia nord-orientale). Stud Geol Camerti 2:219–237

Faccenna C, Davy P, Brun JP, Funiciello R, Giardini D, Mattei M, Nalpas T (1996) The dynamics of back-arc extension: an experimental approach to the opening of the Tyrrhenian Sea. Geophys J Int 126:781–795

Faccenna C, Piromallo C, Crespo-Blanc A, Jolivet L, Rossetti F (2004) Lateral slab deformation and the origin of western Mediterranean arcs. Tectonics 23:1012

Flügel E (2004) Microfacies of carbonate rocks. Analysis, interpretation and application. Springer-Verlag, Berlin (book chapter)

Fouke BW, Reeder RJ (1992) Surface structural controls on dolomite composition: evidence from compositional sector zoning. Geochim Cosmochim Acta 56:4015–4024

Guido A, Jacob J, Gautret P, Laggoun-Défarge F, Mastandrea A, Russo F (2007) Does the calcare di base (Messinian, Northern Calabria) represent a bacterial induced deposit? Geol Romana 40:129–146

Hanor JS (2004) A model for the origin of large carbonate- and evaporite-hosted celestine (SrSO4) deposits. J Sediment Res 74:168–175

Hanshaw BB, Back W, Deike RG (1971) A geochemical hypothesis for dolomitization by groundwater. Econ Geol 66:710–724

Haskin LA, Haskin MA (1968) Rare-earth elements in the Skaergaard intrusion. Geochim Cosmochim Acta 32:433–447

Illing GU, Wells AG, Taylor GM (1965) Penecontemporary dolomites in Persian Gulf. In: Pray AC, Murray RC (eds) Dolomitization and limestone diagenesis: Geo. Econ. Paleontol. Mineral. Spec. Publ., vol. 13, pp 89–111

Lakshtanov LZ, Stipp SL (2004) Experimental study of europium (III) co-precipitation with calcite. Geochim Cosmochim Acta 68:819–827

Land LS (1985) The origin of massive dolomite. J Geol Educ 33:112–125

Land LS (1992) The dolomite problem: stable and radiogenic isotope clues. In: Clauer N, Chaudhuri S (eds) Isotopic signature of sedimentary records. Springer, Berlin, pp 49–68 (Lecture Notes in Earth Science 43)

Lentini F, Carbone S (2014) Geologia della Sicilia-ISPRA. Memorie Descrittive della Carta Geologica d'Italia 95:7–414

Lentini F, Carbone S, Catalano S, Di Stefano A, Gargano C, Romeo M, Strazzulla S, Vinci G (1995) Sedimentary evolution of basins in mobile belts: examples from tertiary terrigenous sequences of the Peloritani Mts (NE Sicily). Terra Nova 7:161–170

Lentini F, Catalano S, Carbone S (2000) Carta Geologica della Provincia di Messina, scala 1: 50.000 e nota illustrativa. S.E.L.C.A., Firenze

Lucia FJ, Major RP (1994) Porosity evolution through hypersaline reflux dolomitization. In: Purser B, Tucker M, Zenger D (eds) Dolomites. International Association of Sedimentologists Special Publication, vol. 21, pp 325–341

Maccarrone M, Montanari L, Pino P (2000) Stratigraphic characters of the Miocene in the Peloritani Mountains (NE Sicily). Mem Soc Geol It 55:243–249

Major R (1984) The midway Atoll coral cap: Meteoric diagenesis. Amplitude of sea-level fluctuation and dolomitization [unpublished PhD thesis]: Brown University, Providence, Rhode Island, USA, pp 133

Manzi V, Lugli S, Roveri M, Schreiber BC, Gennari R (2011) The Messinian "Calcare di Base" (Sicily, Italy) revisited. GSA Bull 123:347–370

Manzi V, Gennari R, Lugli S, Roveri M, Scafetta N, Schreiber BC (2012) High frequency cyclicity in the Mediterranean Messinian evaporites: evidence for solar–lunar climate forcing. J Sediment Res 82:991–1005

Manzi V, Gennari R, Hilgen F, Krijgsman W, Lugli S, Roveri M, Sierro FJ (2013) Age refinement of the Messinian salinity crisis onset in the Mediterranean. Terra Nova 25:315–322

Manzi V, Gennari R, Lugli S, Minelli N, Reghizzi M, Roveri M, Schreiber BC (2016) Comment on "Carbonate deposition and diagenesis in evaporitic environments: the evaporative and sulphur-bearing limestones during the settlement of the Messinian Salinity Crisis in Sicily and Calabria" by Caruso et al., 2015. Palaeogeogr Palaeoclimatol Palaeoecol 429:136–162

Montañez IP (2011) Secondary porosity and late diagenetic cements of the upper Knox group, Central Tennessee region: a temporal and spatial history of fluid flow conduit development within the Knox regional aquifer. Published in: Basin-Wide Diagenetic Patterns Edited by Isabel P. Montañez, Jay M. Gregg, and Kevin L. Shelton, 57, 101–117.

Ogniben L (1957) Petrografia della serie Solfifera Messiniana della Sicilia e considerazioni geologiche relative. Mem Descr Cart Geol D'Italia 33:1–275

Oliveri E, Neri R, Bellanca A, Riding R (2010) Carbonate stromatolites from a Messinian hypersaline setting in the Caltanissetta Basin, Sicily: petrographic evidences of microbial activity and related stable isotope and rare earth element signatures. Sedimentology 57:142–151

Patterson RJ, Kinsman DJJ (1982) Formation of Diagenetic Dolomite in Coastal Sabkha along Arabian (Persian) Gulf. AAPG Bull 66:28–43

Pedley HM, Grasso M (1993) Controls on faunal and sediment ciclicity within the Tripoli and Calcare di Base basins (late Miocene) of central Sicily. Palaeogeogr Palaeoclimatol Palaeoecol 105:337–360

Pedley HM, Grasso M (1994) Upper Miocene peri-Tirrhenian reefs of the Calabrian Arc: sedimentological, tectonic and palaeogeographic implications. Géologie Méditerranéenne 21:123–136

Petrelli M, Perugini D, Poli G, Peccerillo A (2007) Graphite electrode lithium tetraborate fusion for trace element determination in bulk geological samples by laser ablation ICP–MS. Microchim Acta 158:275–282

Rouchy JM, Caruso A (2006) The Messinian Salinity Crisis in the Mediterranean Basin: a reassessment of the data and an integrated scenario. Sed Geol 188:35–67

Roveri M, Lugli S, Manzi V, Schreiber BC (2008a) he Messinian Sicilian stratigraphy revisited: toward a new scenario for the Messinian salinity crisis. Terra Nova 20:483–488

Roveri M, Bertini A, Cosentino D, Di Stefano A, Gennari R, Gliozzi E, Grossi F, Iaccarino SM, Lugli S, Manzi V, Taviani M (2008b) A high-resolution stratigraphic framework for the latest Messinian events in the Mediterranean area. Stratigraphy 5:323–342

Roveri M, Gennari R, Lugli S, Manzi V (2009) The Terminal Carbonate Complex: the record of sea-level changes during the Messinian salinity crisis. GeoActa 8:57–71

Roveri M, Flecker R, Krijgsman W, Lofi J, Lugli S, Manzi V, Sierro FJ, Bertini A, Camerlenghi Ade Lange GJ, Govers R, Hilgen FJ, Hubscher C, Meijer PT, Stoica M (2014) The Messinian Salinity Crisis: past and future of a great challenge for marine sciences. Mar Geol 349:113–125

Shannon RD (1976) Revised effective ionic radii and systematic studies of interatomic distances in halides and chalcogenides. Acta Crystallogr Sect A 32:751–767

Sibley DF, Gregg JM (1987) Classification of dolomite rock texture. J Sediment Res 57(6):967–975

Sturani C (1976) Messinian facies in the Piedmont Basin. Memorie della Societa Geologica Italiana 16:11–25

Usiglio J (1849) Analyse de l'eau de la Mediterranée sur les cotes de France. Annalen der Chemie 27:92–107

Vahrenkamp VC, Swart PK (1990) New distribution coefficient for the incorporation of strontium into dolomite and its implications for the formation of ancient dolomites. Geology 18:387–391

Vai GB (1988) A field trip guide to the Romagna Apennines geology: The Lamone valley. In De Giuli C, Vai GB (eds) Fossil Vertebrates in the Lamone Valley, Romagna Apennines. International Workshop Continental Faunas at the Miocene/Pliocene boundary. Faenza, pp 7–37

Vai GB, Ricci Lucchi F (1977) Algal crusts, autochthonous and clastic gypsum in a cannibalistic evaporite basin: a case history from the Messinian of Northern Apennines. Sedimentology 24:211–244

Varol B, Magaritz M (1992) Dolomitization, time boundaries and unconformities: examples from the dolostone of the Taurus Mesozoic sequence, south-central Turkey. Sediment Geol 76:117–133

Veizer J (1983) Chemical diagenesis of carbonates: theory and application of trace element technique. In: Arthur MA, Anderson TF (eds) Stable isotopes in sedimentary geology: society of economic paleontologists and mineralogists, Short Course 10–3.100.

Wierzbowski H (2007) Effects of pre-treatments and organic matter on oxygen and carbon isotope analyses of skeletal and inorganic calcium carbonate. Int J Mass Spectrom 268:16–29

Wood DA, Joron JL, Treuil M (1979) A re-appraisal of the use of trace elements to classify and discriminate between magma series erupted in different tectonic settings. Earth Planet Sci Lett 45:326–336
Acknowledgements
The authors are grateful to Prof. Stefano Lugli (DSCG, University of Modena and Reggio Emilia) for the useful discussion and the critical reading of the manuscript. The anonymous referees are also acknowledged for the constructive reviews, which improved the quality of the paper. The stable isotope Laboratory of the Palermo section of INGV is acknowledged for δ18O and δ13C analyses.
Additional information
Publisher's Note
Springer Nature remains neutral with regard to jurisdictional claims in published maps and institutional affiliations.
About this article
Cite this article
Di Bella, M., Italiano, F., Romano, D. et al. Massive dolomites in the Messinian evaporitic sequence (Sicily, Italy): multi-analytical characterization and implications for the dolomitization processes. Carbonates Evaporites 35, 29 (2020). https://doi.org/10.1007/s13146-020-00559-8
Keywords
Evaporitic limestone

Messinian salinity crisis

Dolomitization

Intertidal environment

Mixing zone

Peloritani Mts