Abstract
Bromine (Br) is one of the trace elements in halite. Br content and the Br/chlorine (Cl) molar ratio can be used to reveal dry climates, the degree of evaporation, and/or brine concentration. The Br content of basal halite is more useful than that the Br content of halite from later stages when being used to distinguishing marine from nonmarine origins. Evaporite deposits on the Khorat Plateau (KP) have been a primary source of evaporites in southeastern Asia. The origin (i.e., marine, nonmarine, or a combination of the two) of these deposits is still disputed. In this study, we used the Br concentration of basal halite and the Br/Cl molar ratio to explore the origin of these deposits and the environmental changes that took place in the Late Cretaceous. We analyzed a total of 330 halite samples from borehole ZK2893 for cations (K+, Ca2+, Na+, and Mg2+) and anions (Br−, Cl−, and SO42−). The Br content ranged from 24.04 to 277.87 ppm, and the Br/Cl molar ratio ranged from 0.02 to 0.27 ppm. The low Br content (24.04 ppm) and Br × 103/Cl molar ratio (0.02) of the basal halite suggested that no marine water was in the basin when the halite precipitation began. The temporal variations in the Br content and the Br × 103/Cl molar ratio of halite implied that: (1) the climate in this area during the Late Cretaceous was dry, with two dry stages occurring from 92 to 85 Ma and from 80 to 72 Ma; and (2) the drying trend increased from 92 to 85 Ma and from 80 to 72 Ma, with two extremely dry events occurring during the periods 89–85 Ma and 76–73 Ma.
Access options
Buy single article
Instant access to the full article PDF.
USD 39.95
Price excludes VAT (USA)
Tax calculation will be finalised during checkout.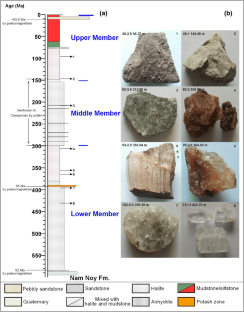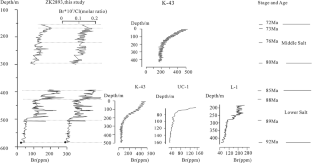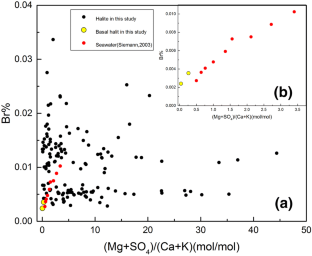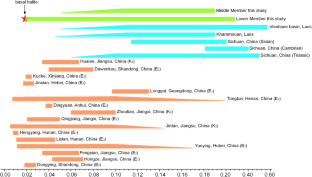 References
Cheng HD, Ma HZ, Tan HB, Xu JX, Zhang XY (2008) Geochemical characteristics of bromide in potassium deposits: review and research perspectives. Bull Mineral Petrol Geochem 4(27):399–408 (in Chinese, with English abstract)

Davis SN, Whittemore DO, Fabryka-Martin J (1998) Uses of chloride/bromide ratios in studies of potable water. Ground Water 36(2):338–350

El Tabakh M, Schreiber BC, Utha-Aroon C, Coshell L, Warren JK (1998) Diagenetic origin of basal anhydrite in the Cretaceous Maha Sarakham salt: Khorat Plateau, NE Thailand. Sedimentology 45(3):579–594

El Tabakh M, Utha-Aroon C, Schreiber BC (1999) Sedimentology of the Cretaceous Maha Sarakham evaporates in the Khorat Plateau of northeastern Thailand. Sed Geol 123:31–62

Fontes JC, Yousefi M, Allison GB (1986) Estimation of the long-term groundwater discharge in the Northern Sahara using stable isotope profiles in soil water. J Hydrol 86:315–327

Francisco JA, Custodio Emilio (2008) Using the Cl/Br ratio as a tracer to identify the origin of salinity in aquifers in Spain and Portugal. J Hydrol 359:189–207

Gao X, Cai KQ, Li DR, Peng Q, Fang QF, Qin H (2012) Mineralogical and geochemical characteristics and genesis of the potassium–magnesium salt deposit in Khammouane Province, Laos. Acta Petrol Mineral 4(31):578–588 (in Chinese, with English abstract)

Gleeson T, Novakowski K, Cook PG, Kyser TK (2009) Constraining groundwater discharge in a large watershed: integrated isotopic, hydraulic, and thermal data from the Canadian Shield. Water Resour Res 45(8):230–233

Haq BU (2014) Cretaceous eustasy revisited. Global Planet Change 113:44–58

Hardie LA (1984) Evaporites: marine or non-marine? Am J Sci 284:193–240

Hardie LA (1996) Secular variation in seawater chemistry: An explanation for the coupled secular variation in the mineralogies of marine limestones and potash evaporites over the past 600 m.y. Geology 24(3):279

Hasegawa H, Imsamut S, Charusiri P, Tada R, Horiuchi Y, Hisada KI (2010) 'Thailand was a desert' during the mid-Cretaceous: equatorward shift of the subtropical high-pressure belt indicated by eolian deposits (Phu Thok Formation) in the Khorat Basin, northeastern Thailand. Island Arc 19(4):605–621

Hite RJ, Japakasetr T (1979) Potash deposits of Khorat Plateau, Thailand and Laos. Econ Geol 74(2):448–458

Holland HD, Horita J, Seyfried WE Jr (1996) On the secular variations in the composition of Phanerozoic marine potash evaporates. Geology 24(11):993–996

Holser WT, Kaplan IR (1966) Isotope geochemistry of sedimentary sulfates. Chem Geol 1:93–135

Horita J, Zimmermann H, Holland HD (2002) Chemical evolution of seawater during the Phanerozoic: implications from the record of marine evaporites. Geochim Cosmochim Acta 66(21):3733–3756

Kendrick MA, Duncan R, Phillips D (2006) Noble gas and halogen constraints on mineralizing fluids of metamorphic versus surficial origin: Mt Isa, Australia. Chem Geol 235(3–4):325–351

Lemarchand D, Gaillardet J, Lewin EÂ, AlleÁgre CJ (2000) The influence of rivers on marine boron isotopes and implications for reconstructing past ocean pH. Nature 408:951–954

Li SP, Ma HZ, Chen YS, Wang SZ, Li WF, Wang QY (2010) Geochemical characteristics of trace elements and ore genesis from potash deposit in Vientiane basin, Laos. Geological Bulletin of China 29(5):760–770 (in Chinese, with English abstract)

Li MH, Yan MD, Wang ZR, Liu XM, Fang XM, Li J (2015) The origins of the Mengye potash deposit in the Lanping-Simao Basin, Yunnan Province, Western China. Ore Geol Rev 69:174–186

Li MH, Yan MD, Fang XM, Zhang ZJ, Wang ZR, Sun SR, Li J, Liu XM (2018) Origins of the Mid-Cretaceous evaporate deposits of the Sakhon Nakhon Basin in Laos: evidence from the stable isotopes of halite. J Geochem Explor 184:209–222

Lin YT (1995) Geochemical behaviour of bromine and its application to prospection for potash resource in Sichuan. Geol Chem Miner 17(3):175–181

Metcalfe I (1988) Origin and assembly of south-east Asia continental terranes. In: Audlley-Charles MG, Hallan A (eds) Gondwana and Tethys, vol 37. Special publication. Geological Society, London, pp 101–118

Qi LL (2010) Study on main factors of tertiary salt mineral sediment in Shandong Province. Master of Engineering, Shandong University of Science and Technology (in Chinese, with English abstract)

Qian ZQ, Qu YH, Liu Q (1994) Potash Deposits. Geological Publishing House, Beijing (in Chinese)

Qin ZJ, Yuan Q, Wei HC, Sheng SR, Shan FS (2013) Sporo-pollen assemblages of the Late Cretaceous Nong Bok Formation in Khammouane, Laos, and their environmental significance for salt formation. Acta Geosci Sin 34(5):638–642

Qu YH (1997) On affinity of potassium bearing brine in Lanping Simao Basin, China to that in ALE Basin, Thailand, and location of target areas for potassium hunting in former basin. Geol Chem Min 19(2):81–84 (in Chinese, with English abstract)

Qu YH, Yuan PQ, Shuai KY, Zhang Y, Cai KQ, Jia SY, Chen CD (1998) Potash forming rules and prospects of lower tertiary in Lanping-Simao Basin, Yunnan. Geological Press, Beijing (in Chinese, with English abstract)

Rahimpour-Bonab H, Kalantarzadeh Z (2005) Origin of secondary potash deposits; a case from Miocene evaporates of NW Central Iran. J Asian Earth Sci 25(1):157–166

Sato K, Liu YY, Wang YB, Yokoyama M, Yoshioka S, Yang ZY, Otofuji Y (2007) Paleomagnetic study of Cretaceous rocks from Pu'er, western Yunnan, China: evidence of internal deformation of the Indochina block. Earth Planet Sci Lett 258:1–15

Siemann MG (2003) Extensive and rapid changes in seawater chemistry during the Phanerozoic: evidence from Br contents in basal halite. Terra Nova 15(4):243–248

Siemann MG, Schramm M (2000) Thermodynamic modelling of the Br partition between aqueous solutions and halite. Geochim Cosmochim Acta 64(10):1681–1693

Sone M, Metcalfe I (2008) Parallel Tethyan sutures in mainland Southeast Asia: new insights for Palaeo-Tethys closure and implications for the Indosinian orogeny. CR Geosci 340(2–3):166–179

Taberner C, Cendón DI, Pueyo JJ, Ayora C (2000) The use of environmental markers to distinguish marine vs. continental deposition and to quantify the significance of recycling in evaporate basins. Sediment Geol 137(3–4):213–240

Tan HB, Ma HZ, Li BK, Zhang XY, Xiao YK (2010) Strontium and boron isotopic constraint on the marine origin of the Khammuane potash deposits in southeastern Laos. Chin Sci Bull 55(27):3181–3188

Utha-Aroon C (1993) Continental origin of the Maha Sarakham evaporates, northeastern Thailand. J Southeast Asia Earth Sci 8(1/4):193–203

Valyashko MG (1956) Geochemistry of bromine in the processes of salt deposition and the use of bromine content as a genetic and protection criterion. Geokhimiya 6:570–589

Vengosh A, Chivas AR, Starinsky A, Kolodny Y, Zhang BZ, Zhang PX (1995) Chemical and boron isotope compositions of non-marine brines from the Qaidam Basin, Qinghai, China. Chem Geol 120(1–2):135–154

Vengosh A, Helvaci C, Karamanderesi IH (2002) Geochemical constraints for the origin of thermal waters from western Turkey. Appl Geochem 18(7):1117–1119

Warren JK (1989) Evaporite sedimentology: importance in hydrocarbon accumulation. Prentice Hall, New York, pp 1–37

Warren JK (2010) Evaporites through time: tectonic, climatic and eustatic controls in marine and nonmarine deposits. Earth Sci Rev 98(3–4):217–268

Warren JK (2016) Evapotites: a geological compendium. Springer, Switzerland, pp 132–135

Wilgus CK, Holser WT (1984) Marine and nonmarine salts of western Interior, United States. Am Assoc Pet Geol Bull 68:765–767

Wu CH, Liu CL, Yi HS, Xia GQ, Zhang H, Wang LC, Li GJ, Wagreich Michael (2017) Mid-Cretaceous desert system in the Simao Basin, southwestern China, and its implications for sea-level change during a greenhouse climate. Palaeogeogr Palaeoclimatol Palaeoecol 468:529–544

Wu CH, Rodríguez-López JP, Liu CL, Sun XM, Wang JY, Xia GQ, Wagreich M (2018) Late Cretaceous climbing erg systems in the western Xinjiang Basin: Palaeoatmosphere dynamics and East Asia margin tectonic forcing on desert expansion and preservation. Mar Pet Geol 93:539–552

Yang ZY, Besse J (1993) Paleomagnetic study of Permian and Mesozoic sedimentary rocks from Northern Thailand supports the extrusion model for Indochina. Earth Planet Sci Lett 117:525–552

Yang ZY, Besse J, Sutheetorn V, Bassoullet JP, Fontaine H, Buffetaut E (1995) Lower-Middle Jurassic paleomagnetic data from the Mae Sot area (Thailand): paleogeographic evolution and deformation history of Southeastern Asia. Earth Planet Sci Lett 136:325–341

Zhang XY, Ma HZ, Han YH (2012) Recent status and prospects on potash deposits on Thailand–Laos Khorat Plateau. Adv Earth Sci 27(5):549–556 (in Chinese, with English abstract)

Zhang XY, Ma HZ, Ma YQ, Tang QL, Yuan XL (2013) Origin of the late Cretaceous potash-bearing evaporates in the Vientiane Basin of Laos: δ11B evidence from borates. J Asian Earth Sci 62:812–818

Zhang XY, Cheng HD, Tan HB, Yuan XL, Li YS, Miao WL, Li TW, Ma HZ (2015) Late Cretaceous potash evaporites in Savannakhet Basin of middle Laos: Geochemical evidences of non-marine inputs. Acta Petrologica Sinica 31(9):2783–2793 (in Chinese, with English abstract)

Zhang XY, Meng FW, Li WX, Tang QL, Ni P (2016) Reconstruction of Late Cretaceous coastal paleotemperature from halite deposits of the Late Cretaceous Nongbok Formation (Khorat Plateau, Laos). Palaeoworld 25:425–430

Zhang DW, Yan MD, Fang XM, Yang YB, Zhang T, Zan JB, Zhang WL, Liu CL, Yang Q (2018) Magnetostratigraphic study of the potash-bearing strata from drilling core ZK2893 in the Sakhon Nakhon Basin, eastern Khorat Plateau. Palaeogeogr Palaeoclimatol Palaeoecol 489:40–51

Zhong XY, Yuan Q, Qin ZJ, Wei HC, Shan FS (2012) The Sporo-pollen analyses and ore-forming age of Nong Bok Formation in Khammouane, Laos. Acta Geosci Sin 33(3):323–330 (in Chinese, with English abstract)

Zhu YZ (2008) The potash deposits in Vientiane Plain, Laos. Geol Resour 1(17):45–49 (in Chinese, with English abstract)
Acknowledgements
This study was supported by the National Key R&D Program of China (Grant no. 2017YFC0602803), the Strategic Priority Research Program of Chinese Academy of Sciences (Grant nos. XDA20070201 and XDA20070101), the International Cooperation Project (Grant no. 131C11KYSB20160072) of the Chinese Academy of Sciences, and the National Natural Science Foundation of China (Grant no. 41620104002). We thank Dr. Zan JB, Dr. Yang YB and Chen Y for their work in drilling the Core ZK2893. We thank LetPub (http://www.letpub.com) for providing linguistic assistance during the preparation of this manuscript.
Additional information
Publisher's Note
Springer Nature remains neutral with regard to jurisdictional claims in published maps and institutional affiliations.
About this article
Cite this article
Sun, S., Li, M., Yan, M. et al. Bromine content and Br/Cl molar ratio of halite in a core from Laos: implications for origin and environmental changes. Carbonates Evaporites 34, 1107–1115 (2019). https://doi.org/10.1007/s13146-019-00508-0
Accepted:

Published:

Issue Date:

DOI: https://doi.org/10.1007/s13146-019-00508-0
Keywords
Br

Br/Cl

Saline lake

Origin

Environment

Laos