Abstract
Because of the small radius of investigation of hydrogeological standard testing methods, the characterization of karst aquifers is still a challenge. The development of a karst conduit system introduces an element of large contrast in hydraulic conductivity in the hydraulic parameter field of a karst aquifer. It leads to complex flow patterns and transport phenomena that differ significantly from those observed in porous and fissured media. While on a local, i.e., borehole scale, the fissured matrix of karst aquifers can be regarded as a continuum, on a regional, i.e., catchment scale, the drainage of the aquifer system is controlled by the conduit system, which may have a highly anisotropic geometry. Therefore, characterization of karst aquifers requires a differentiated approach by the combination of various hydrogeological field methods or the application of large-scale tests, which cover the scale of dominant aquifer heterogeneities. Existing numerical modeling approaches can be applied for integral data interpretation on catchment scale.
Access options
Buy single article
Instant access to the full article PDF.
USD 39.95
Price excludes VAT (USA)
Tax calculation will be finalised during checkout.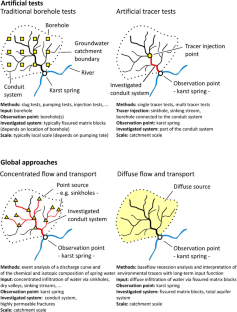 References
Ashton K (1966) The analysis of flow data from karst drainage systems. Trans Cave Res Group Great Br 7(2):161–203

Atkinson TC (1977) Diffuse and conduit flow in limestone terrain in the Mendip Hills, Somerset (Great Britain). J Hydrol 35:93–110

Bakalowicz M (2005) Karst groundwater: a challenge for new resources. Hydrogeol J 13:148–160

Bear J (1972) Dynamics of fluids in porous media. Elsevier, New York

Birk S, Hergarten S (2010) Early recession behaviour of spring hydrographs. J Hydrol 387:24–32

Birk S, Geyer T, Liedl R, Sauter M (2005) Process-based interpretation of tracer tests in carbonate aquifers. Ground Water 43(3):381–388

Birk S, Liedl R, Sauter M (2006) Karst spring responses examined by process-based modeling. Ground Water 286(1–4):832–836

Bourdet D (2002) Well test analysis: the use of advanced interpretation models. Handbook of petroleum exploration and production 3. Elsevier, Amsterdam, p 426

Brown MC, Ford DC (1971) Quantitative tracer methods for investigations of karst hydrology systems, with special reference to the Maligne Basin area, Canada. Trans Cave Res Group Great Br 13(1):37–51

Butscher C, Huggenberger P (2007) Implications for karst hydrology from 3D geological modeling using the aquifer base gradient approach. J Hydrol 342(1–2):184–198

Charlier JB, Bertrand C, Mudry J (2012) Conceptual hydrogeological model of flow and transport of dissolved organic carbon in a small Jura karst system. J Hydrol 460–461:52–64

Covington MD, Wicks CM, Saar MO (2009) A dimensionless number describing the effects of recharge and geometry on discharge from simple karstic aquifers. Water Resour Res 45:W11410. doi:10.1029/2009WR008004

Dörfliger N, Jeannin P-Y, Zwahlen F (1999) Water vulnerability assessment in karst environments: a new method of defining protection areas using a multi-attribute approach and GIS tools (EPIK method). Environ Geol 39(2):165–176

Doummar J, Sauter M, Geyer T (2012) Simulation of flow processes in a large scale karst system with an integrated catchment model (Mike She)—identification of relevant parameters influencing spring discharge. J Hydrol 426:112–123

Dreiss SY (1989) Regional scale transport in a karst aquifer—1. Component separation of spring flow hydrographs. Water Resour Res 25(1):117–125

Dreybrodt W, Gabrovsek F, Romanov D (2005) Processes of speleogenesis: a modeling approach. Carsologica 4, ZRC Publishing, Ljubljana

Drogue C (1992) Hydrodynamics of karstic aquifers: experimental sites in the mediterranean karst, Southern France. International Contribution to Hydrogeology 13, Verlag Heinz Heise, Hannover, Germany, pp 133–149

Einsiedl F (2005) Flow system dynamics and water storage of a fissured-porous karst aquifer characterized by artificial and environmental tracers. J Hydrol 312:312–321

Field MS, Pinsky PF (2000) A two-region nonequilibrium model for solute transport in solution conduits in karstic aquifers. J Contam Hydrol 44:329–351

Forkasiewicz J, Paloc H (1967) Le régime de tarissement de la Foux de la Vis etude préliminaire. In: Proceedings of the Dubrovnik Symposium, October 1965, Hydrology of fractured rocks 1, pp 213-226

Geyer T (2008) Process-based characterization of flow and transport in karst aquifers at catchment scale. PhD thesis, Georg-August-Universität Göttingen

Geyer T, Birk S, Licha T, Liedl R, Sauter M (2007) Multi-tracer test approach to characterize reactive transport in karst aquifers. Ground Water 45(1):36–45

Geyer T, Birk S, Liedl R, Sauter M (2008) Quantification of temporal distribution of recharge in karst systems from spring hydrographs. J Hydrol 348:452–463

Goldscheider N, Drew D (2007) Methods in karst hydrogeology. International Contributions to Hydrogeology 26, Taylor & Francis, London

Goldscheider N, Meiman J, Pronk M, Smart C (2008) Tracer tests in karst hydrogeology and speleology. Int J Speleol 37(1):27–40

Göppert N, Goldscheider N (2008) Solute and colloid transport in karst conduits under low- and high-flow conditions. Ground Water 46(1):61–68

Hangos K, Cameron I (2001) Process modelling and model analysis. Process systems engineering 4. Academic Press, San Diego, p 543

Hergarten S, Birk S (2007) A fractal approach to the recession of spring hydrographs. Geophys Res Lett 34:L11401. doi:10.1029/2007GL030097

Jazayeri Noushabadi MR, Jourde H, Massonnat G (2011) Influence of the observation scale on permeability estimation at local and regional scales through well tests in a fractured and karstic aquifer (Lez aquifer, Southern France). J Hydrol 403:321–336

Jeannin P-Y, Sauter M (1998) Analysis of karst hydrodynamic behaviour using global approach: a review. Bulletin d'Hydrogéologie (Neuchâtel) 16:9–30

Kiraly L (1978) La notion d'unité hydrogéologique dans le Jura (essai de définition). PhD thesis, Université de Neuchâtel

Kiraly L (2002) Karstification and groundwater flow. In: Proceedings of the conference on evolution of karst: from prekarst to cessation. Postojna-Ljubljana, pp 155–190

Kovács A, Perrochet P, Kiraly L, Jeannin P-Y (2005) A quantitative method for the characterisation of karst aquifers based on spring hydrograph analysis. J Hydrol 303:152–164

Kresic N, Stevanovic Z (2010) Groundwater hydrology of springs—engineering, theory, and sustainability. Elsevier, Amsterdam

Liedl R, Sauter M, Hückinghaus D, Clemens T, Teutsch G (2003) Simulation of the development of karst aquifers using a coupled continuum pipe flow model. Water Resour Res 39(3):1–11

Luhmann AJ, Covinton MD, Alexander SC, Chai SY, Schwartz BF, Groten JT, Alexander EC (2012) Comparing conservative and nonconservative tracers in karst and using them to estimate flow path geometry. J Hydrol 448–449:201–211

Maloszewski P, Zuber A (2002) Manual on lumped-parameter models used for the interpretation of environmental tracer data in groundwaters. In: Yurtsever Y (ed) Use of isotopes for analyses of flow and transport dynamics in groundwater systems. IAEA-UIAGS/CD 02-00131, IAEA Vienna, pp 1–50

Maloszewski P, Stichler W, Zuber A, Rank D (2002) Identifying the flow systems in a karstic-fissured-porous aquifer, the Schneealpe, Austria, by modelling of environmental 18O and 3H isotopes. J Hydrol 256:48–59

Maréchal JC, Ladouche B, Dörfliger N, Lachassagne P (2008) Interpretation of pumping tests in a mixed flow karst system. Water Resources Research 44. doi:10.1029/2007WR006288

Reimann T, Geyer T, Shoemaker B, Liedl R, Sauter M (2011) Effects of dynamically variable saturation and matrix-conduit coupling of flow in karst aquifers. Water Resour Res 47:W11503. doi:10.1029/2011WR010446

Renard P, Glenz D, Mejias M (2009) Understanding diagnostic plots for well-test interpretation. Hydrogeol J 17:589–600

Sauter M (1992) Quantification and forecasting of regional groundwater flow and transport in a karst aquifer (Gallusquelle, Malm, SW. Germany). Tübinger Geowissenschaftliche Arbeiten, C13

Sauter M (1995) Delineation of a karst aquifer using geological and hydrological data and information on landscape development. Carbonates Evaporites 10(2):161–170

Shoemaker WB, Kuniansky EL, Birk S, Bauer S, Swain ED (2008) Documentation of a conduit flow process (CFP) for MODFLOW-2005, US Geol Surv Tech Methods, Book 6, Chap A24

Teutsch G, Sauter M (1991) Groundwater modelling in karst terranes: scale effects, data acquisition and field validation. In: Proceedings of 3rd conference on hydrogeology, ecology, monitoring and management of ground water in karst terranes. Nashville, pp 17–35

White WB (1969) Conceptual models for carbonate aquifers. Ground Water 7(3):15–21

White WB (1988) Geomorphology and hydrology of karst terrains. Oxford University Press, New York

Williams PW (1983) The role of the subcutaneous zone in karst hydrology. J Hydrol 61:45–67

Worthington SRH (2009) Diagnostic hydrogeologic characteristics of a karst aquifer (Kentucky, USA). Hydrogeol J 17:1665–1678
Acknowledgments
This work was funded by the Deutsche Forschungsgemeinschaft (DFG; German Research Foundation) under grants no. GE 2173/2-2 and SA 501/24-1.
About this article
Cite this article
Geyer, T., Birk, S., Reimann, T. et al. Differentiated characterization of karst aquifers: some contributions. Carbonates Evaporites 28, 41–46 (2013). https://doi.org/10.1007/s13146-013-0150-9
Accepted:

Published:

Issue Date:

DOI: https://doi.org/10.1007/s13146-013-0150-9
Keywords