Abstract
The comprehensive knowledge of karst surface, caves, waters and biodiversity were examined with special emphasis on planning for environmental management and land use in karst regions using examples of projects performed by the staff from the Karst Research Institute ZRC SAZU. Based on the knowledge of karst, karst phenomena, karst waters and karst biodiversity, karstological monitoring was developed throughout the construction of expressways and planning for railways on karst terrain. Newly revealed karst phenomena were properly preserved. Regular climatic and biological monitoring were developed and implemented, as well as karstology consultation with an emphasis on the impact of the use of caves as natural assets. To understand karst, its evolution dynamics and processes, models were developed with which the study of the risk posed by dam site construction in karst areas was possible. Karst aquifers and their protection were studied using tracer tests and different methods of the transfer of contaminants through the vadose zone and underground flow connections. In assessing the vulnerability and contamination risk of groundwater, a comprehensive method was elaborated. Microorganisms and fauna of dripping water in caves were used as monitors of cave ecosystem health. By applying high-quality karstological research results from individual spheres of karstology and interdisciplinary studies, a foundation for sustainable planning of life in karst regions that will consider the natural and cultural characteristics and vulnerability of karst landscapes has been established.
Access options
Buy single article
Instant access to the full article PDF.
USD 39.95
Price excludes VAT (USA)
Tax calculation will be finalised during checkout.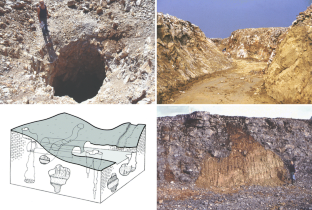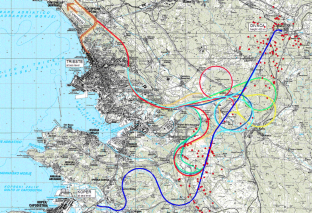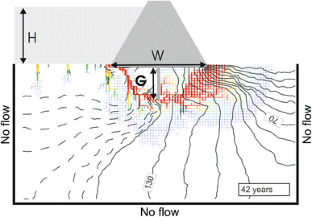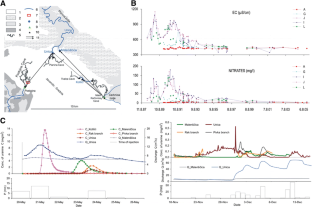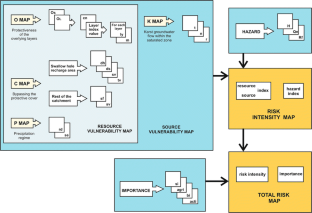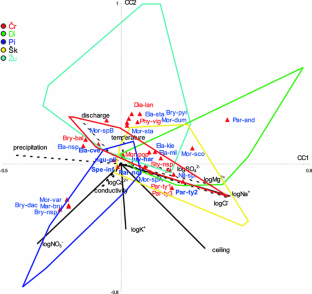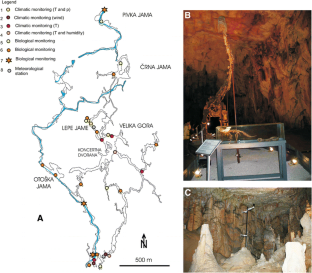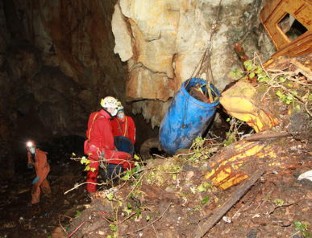 References
Buttner MP, Willeke K, Grinshpun SA (1997) Sampling and analysis of airborne microorganisms. In: Hurst CJ, Knudsen GR, McInerney MJ, Stetzenbach LD, Walter MV (eds) Manual of environmental microbiology. American Society for Microbiolgy, Washington, DC, pp 629–640

Culver DC, Pipan T (2009) The biology of caves and other subterranean habitats. Oxford University Press, Oxford

Culver DC, Sket B (2002) Biological monitoring in caves. Acta Carsol 31:55–64

Directive 2006/118/EC of the European parliament and of the council of 12 December 2006 on the conservation of groundwater against pollution and deterioration (2006) Official Journal of the European Union, L 372/19-L 372/31

Dreybrodt W, Gabrovsek F (2000) Dynamics of the evolution of a single karst conduit. In: Klimchouk A, Ford DC, Palmer A, Dreybrodt W (eds) Speleogenesis: evolution of karst aquifers. National Speleological Society, Huntsville, pp 184–193

Dreybrodt W, Gabrovsek F, Romanov D (2005) Processes of speleogenesis: a modeling approach. Carsologica, 4. Založba ZRC, Ljubljana

Eisenlohr L, Meteva K, Gabrovsek F, Dreybrodt W (1999) The inhibiting action of intrinsic impurities in natural calcium carbonate minerals to their dissolution kinetics in aqueous H2O–CO2 solutions. Geochim Cosmochim Acta 63(7–8):989–1001

Epting J, Romanov D, Huggenberger P, Kaufmann G (2009) Integrating field and numerical modeling methods for applied urban karst hydrogeology. Hydrol Earth Syst Sci 13(7):1163–1184

Gabrovšek F, Kogovšek J, Kovačič G, Petrič M, Ravbar N, Turk J (2010) Recent results of tracer tests in the catchment of the Unica River (SW Slovenia). Acta Carsol 39(1):27–37

Goldscheider N (2010) Delineation of spring protection zones. In: Kresic N, Stevanovic Z (eds) Groundwater hydrology of Springs. Engineering, Theory, Management and Sustainability. Butterworth-Heinemann, Burlington, pp 305–338

Kaufmann G, Braun J (2001) Modelling karst denudation on a synthetic landscape. Terra Nova 13(5):313–320

Kaufmann G, Romanov D, Hiller T (2010) Modeling three-dimensional karst aquifer evolution using different matrix-flow contributions. J Hydrol 388(3–4):241–250

Knez M, Slabe T (2007) Kraški pojavi, razkriti med gradnjo slovenskih avtocest [summary: Karst features discovered during motorway construction in Slovenia]. Založba ZRC, ZRC SAZU, Postojna-Ljubljana

Kogovšek J (1995a) Detailed monitoring of the quality of the water that runs off the motorway and its impact on karst water. Ann 5(7):149–154

Kogovšek J (1995b) The spill of dangerous substances threaten the karst water. The pollution of Rižana in October 1994 due to the oil spill in the accident near Obrov. Ann 5(7):141–148

Kogovšek J (1997) Pollution transport in the vadose zone. In: Günay G, Johnson AI, Tezcan L, Atilla AÖ (eds) Karst waters and environmental impacts: proceedings. Balkema, Rotterdam, pp 161–165

Kogovšek J (1999) New knowledge about the underground water drainage in the Northern part of Javorniki Mountains (high karst). Acta Carsol 28(1):161–200

Kogovšek J (2001) Monitoring the Malenščica water pulse by several parameters in November1997. Acta Carsol 30(1):39–53

Kogovšek J (2004) Physico-chemical properties of waters in the Malenščica recharge area (Slovenia). Acta Carsol 33(1):143–158

Kogovšek J (2010) Characteristics of percolation through karst vadose zone. Carsologica 9. Založba ZRC SAZU, Postojna-Ljubljana

Kogovšek J, Petrič M (2004) Advantages of longer-term tracing—three case studies from Slovenia. Environ Geol 47:76–83

Kogovšek J, Petrič M (2006) Tracer test on the Mala gora landfill near Ribnica in south-eastern Slovenia. Acta Carsol 35(2):91–101

Kogovšek J, Petrič M (2007) Directions and dynamics of flow and transport of contaminants from the landfill near Sežana (SW Slovenia). Acta Carsol 36(3):413–424

Kogovšek J, Petrič M (2010a) Tracer tests as a tool for planning the monitoring of negative impacts of the Mozelj landfill (SE Slovenia) on karst waters. Acta Carsol 39(2):301–311

Kogovšek J, Petrič M (2010b) Water temperature as a natural tracer—a case study of the Malenščica karst spring (SW Slovenia). Geol Croat 63(2):171–177

Kogovšek J, Šebela S (2004) Water tracing through the vadose zone above Postojnska Jama, Slovenia. Environ Geol 45:992–1001

Kogovšek J, Knez M, Mihevc A, Petrič M, Slabe T, Šebela S (1999) Military training area in Kras (Slovenia). Environ Geol 38(1):69–76

Luthar O et al (2008) KRAS: trajnostni razvoj kraške pokrajine. Založba ZRC, Ljubljana

Mangin A (1974) Contribution à l'étude hydrodynamique des aquifères karstiques. 1 Généralités sur le karst et les lois d'écoulement utilisées. Ann Speleol 29(283–332):495–601

Mulec J (2008) Microorganisms in hypogeon: examples from Slovenian karst caves. Acta Carsol 37:153–160

Mulec J (2011) Lampenflora in show caves in Slovenia. In: Prelovšek M, Zupan Hajna N (eds) Pressures and protection of the underground karst: cases from Slovenia and Croatia. Karst Research Institute ZRC SAZU, Postojna, pp 64–73

Mulec J, Kosi G (2009) Lampenflora algae and methods of growth control. J Caves Karst Stud 71:109–115

Mulec J, Kubešová S (2010) Diversity of bryophytes in show caves in Slovenia and relation to light intensities. Acta Carsol 39:587–596

Mulec J, Walochnik J (2010) Airborne microorganisms and relation to atmospheric parameters in big cave systems (Postojnska jama, Slovenia). In: Moškrič A, Trontelj P (eds) Abstract book, 20th international conference on subterranean biology Postojna, Slovenia, 29 August–3 September 2010, Postojna, pp 102–103

Mulec J, Kosi G, Vrhovšek D (2008) Characterization of cave aerophytic algal communities and effects of irradiance levels on production of pigments. J Caves Karst Stud 70:3–12

Mulec J, Krištůfek V, Chroňáková A (2012) Comparative microbial sampling from eutrophic caves in Slovenia and Slovakia using RIDA®COUNT test kits. Int J Speleol 41(2):1–8

Perne M, Gabrovšek F (2010) The problem of rillenkarren development: a modelling perspective. In: Gines A, Knez M, Slabe T, Dreybrodt W (eds) Karst rock features. Karren Sculpturing. ZRC Publishing, Ljubljana, pp 55–61

Petrič M (2010) Characterization, exploitation, and protection of the Malenščica karst spring, Slovenia: case study. In: Krešić N, Stevanović Z (eds) Groundwater hydrology of springs: engineering, theory, management, and sustainability. Butterworth-Heinemann, Burlington, pp 428–441

Petrič M, Šebela S (2005) Hydrogeological research as a basis for the preparation of the plan of monitoring groundwater contamination—a case study of the Stara vas landfill near Postojna (SW Slovenia). Acta Carsol 34(2):489–505

Pipan T (2005) Epikarst—a promising habitat. Copepod fauna, its diversity and ecology: a case study from Slovenia (Europe). ZRC Publishing, Karst Research Institute at ZRC SAZU, Ljubljana

Pipan T, Blejec A, Brancelj A (2006) Multivariate analysis of copepod assemblages in epikarstic waters of some Slovenian caves. Hydrobiologia 559:213–223

Plummer LN, Wigley TML, Parkhurst DL (1978) Kinetics of calcite dissolution in CO2–water systems at 5°C To 60°C and 0.0 to 1.0 atm CO2. Am J Sci 278(2):179–216

Ravbar N (2007) The protection of karst waters, a comprehensive Slovene approach to vulnerability and contamination risk mapping. Založba ZRC, ZRC SAZU, Postojna-Ljubljana

Ravbar N, Goldscheider N (2007) Proposed methodology of vulnerability and contamination risk mapping for the protection of karst aquifers in Slovenia. Acta Carsol 36(3):461–475

Ravbar N, Goldschieder N (2009) Comparative application of four methods of groundwater vulnerability mapping in a Slovene karst catchment. Hydrogeol J 17:725–733

Saiz-Jimenez C, Gonzales JM (2007) Aerobiology and cultural heritage: some reflections and future challenges. Aerobiologia 23:89–90

Simon KS, Pipan T, Culver DC (2007) A conceptual model of the flow and distribution of organic carbon in caves. J Caves Karst Stud 69:279–284

Toranzos GA, McFeters GA (1997) Detection of indicator microorganisms in environmental freshwaters and drinking waters. In: Hurst CJ, Knudsen GR, McInerney MJ, Stetzenbach LD, Walter MV (eds) Manual of environmental microbiology. American Society for Microbiology, Washington, DC, pp 184–194

White WB (2004) Contaminant storage and transport in the epikarst. In: Jones WK, Culver DC, Herman JS (eds) Epikarst, proceedings of the symposium held October 1 through 4, 2003, Shepherdstown, West Virginia, USA. Karst Waters Institute, Charles Town, pp 85–91

Williams PW (1983) The role of the subcutaneous zone in karst hydrology. J Hydrol 61:45–67

Zwahlen F (2004) COST Action 620, Vulnerability and Risk Mapping for the Protection of Carbonate (Karstic) Aquifers, Final report COST Action 620. Brüssel, Luxemburg
About this article
Cite this article
Gabrovšek, F., Knez, M., Kogovšek, J. et al. Development challenges in karst regions: sustainable land use planning in the karst of Slovenia. Carbonates Evaporites 26, 365–380 (2011). https://doi.org/10.1007/s13146-011-0072-3
Accepted:

Published:

Issue Date:

DOI: https://doi.org/10.1007/s13146-011-0072-3
Keywords