Abstract
An analysis of the snowstorm that occurred during January 23–25, 2016 in Jeju Island is presented. This event was considered part of the snowfall pattern that rarely occurs at Jeju Island due to the mild marine climate. In terms of diabatic heating, there are two factors encompassing convection and large-scale condensation. One heating factor was the convective instability due to cold advection at the upper level that was 1.7 times stronger than the continuous cold advection at the lower level. The other heating factor was the latent heat emitted by cloud developed by the instability. In the context of large-scale environment, the result of vertical temperature differential was due to the transition to the strong negative Arctic Oscillation (AO) in January 2016. Under the negative AO phase, blocking tilted to the southeast, compared to normal, occurred in the upper layers. Simultaneously, a trough with a core temperature of −45 °C was rapidly induced over the Korean Peninsula. In this study, the snowstorm occurred with a sea surface temperature 1–2 K higher than normal over the Yellow Sea, and cold advection to lower layers was persistent. Therefore, the snowstorm has not been resolved through consideration of the local instability. A maximum of 12 cm of fresh snow cover was recorded during this snowstorm, which persisted for 3 days due to the impact on its large-scale environment, which generated a strong vertical cold advection differential through the occurrence blocking during January 19–24, 2016, under the strong negative AO phase.
Access options
Buy single article
Instant access to the full article PDF.
USD 39.95
Price excludes VAT (USA)
Tax calculation will be finalised during checkout.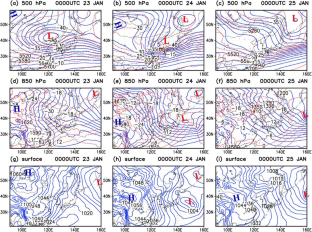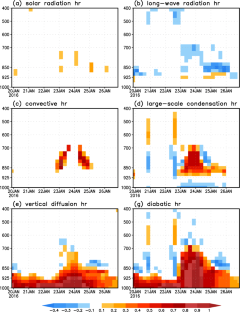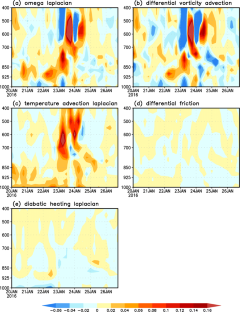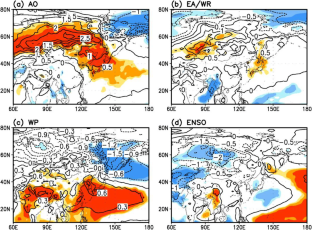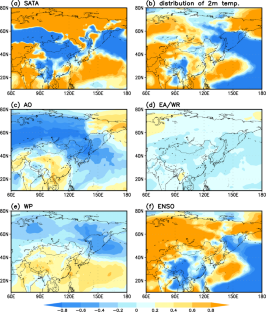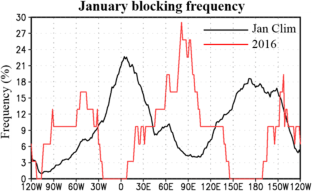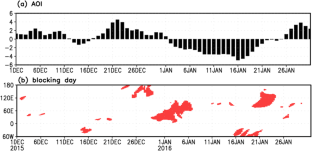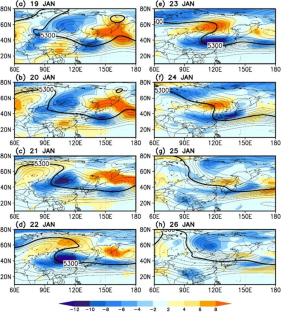 References
Barnston, A.G., Livezey, R.E.: Classification, seasonality and persistence of low-frequency atmospheric circulation patterns. Mon. Wea. Rev. 115, 1083–1126 (1987)

Barriopedro, D., García-Herrera, R., Lupo, A.R., Hernandez, E.: A climatology of northern hemisphere blocking. J. Clim. 19(6), 1042–1063 (2006)

Boyle, J.S., Chen, T.-J.: Synoptic Aspects of the Winter Time East Asian Monsoon, Monsoon Meteorology, C.-P. Chand and T. N. Krishnamurti, pp. 125–160. Oxford University Press (1987)

Cha, Y.-M., Lee, H.-W., Lee, S.-H.: Impacts of the high-resolution sea surface temperature distribution on modeled snowfall formation over the Yellow Sea during a cold-air outbreak. Wea. Forecasting. 26, 487–503 (2011)

Chen, W., Lan, X.-Q., Wang, L., Ma, Y.: The combined effects of the ENSO and the Arctic oscillation on the winter climate anomalies in East Asia. Chin. Sci. Bull. 58, 1355–1362 (2013)

Cheong, S.-H., Byun, K.-Y., Lee, T.-Y.: Classification of snowfalls over the Korean peninsula based on developing mechanism. Atmosphere. 16, 33–48 (2006)

Cheung, H.N., Zhou, W., Mok, H.Y., Wu, M.C.: Relationship between Ural-Siberian blocking and the east Asian winter monsoon in relation to the Arctic oscillation and the El Nino-southern oscillation. J. Clim. 25, 4242–4257 (2012)

Cheung, H.N., Zhou, W., Shao, Y., Chen, W., Mok, H.Y., Wu, M.C.: Observational climatology and characteristics of wintertime atmospheric blocking over Ural-Siberia. Clim. Dyn. 41, 63–79 (2013)

Cheung, H.N., Zhou, W., Leung, Y.T., Shun, C.M., Lee, S.M., Tong, H.W.: A strong phase reversal of the Arctic oscillation in midwinter 2015/2016: role of the stratospheric polar vortex and tropospheric blocking. J. Geophys. Res. 121, 13,443–13,457 (2016)

Deser, C., Magnusdottir, G., Saravanan, R., Phillips, A.: The effects of North Atlantic SST and sea ice anomalies on the winter circulation in CCM3. Part II: direct and indirect components of the response. J. Clim. 17(5), 877–889 (2004)

Dole, R.M., Gordon, N.: Persistent anomalies of the extratropical northern hemisphere wintertime circulation: structure. Mon. Wea. Rev. 114(1), 178–207 (1986)

Heo, K.-Y., Kim, K.-E., Ha, K.-J.: Simulation of snowstorm over the Yellow Sea using a mesoscale coupled model. Asia-Pac. J. Atmos. Sci. 46(4), 437–452 (2010)

Holton, J.R., Gregory, J.H.: An Introduction to Dynamic Meteorology, 5th. Academic press (2012) 532 pp

Lim, Y.-K., Kim, H.-D.: Impact of the dominant large -scale teleconnections on winter temperature variability over East Asia. J. Geophys. Res. 118, 7835–7848 (2013)

Liu, Y.Y., Wang, L., Zhou, W., Chen, W.: Three Eurasian teleconnection patterns: spatial structures, temporal variability. and associated winter climate anomalies. Clim. Dyn. 42, 2817–2839 (2014)

Nakamura, T., Yamazaki, K., Iwamoto, K., Honda, M., Miyoshi, Y., Ogawa, Y., Ukita, J.: A negative phase shift of the winter AO/NAO due to the recent Arctic Sea-ice reduction in late autumn. J. Geophys. Res. Atmos. 120, 3209–3227 (2015)

Nam, H.-G., Kim, B.-G., Han, S.-O., Lee, C., Lee, S.-S.: Characteristics of easterly-induced snowfall in Yeongdong and its relationship to air-sea temperature difference. Asia-Pac. J. Atmos. Sci. 50, 541–551 (2014)

Oh, H.E., Jhun, J.-G., Ha, K.-J., Seo, K.-H.: Combined effect of the East Atlantic/West Russia and Western Pacific teleconnections on the east Asian winter monsoon. Asia-Pac. J. Atmos. Sci. 53(2), 273–285 (2017)

Park, T.-W., Ho, C.-H., Deng, Y.: A synoptic and dynamical characterization of wave-train and blocking cold surge over East Asia. Clim. Dyn. 43, 753–770 (2014)

Pelly, J., Hoskins, B.: A new perspective on blocking. J. Atmos. Sci. 60, 743–755 (2003)

Rex, D.: Blocking action in the middle troposphere and its effect upon regional climate. Tellus. 2(4), 275–301 (1950)

Sumner, E.: A study of blocking in the Atlantic-European sector of the northern hemisphere. Quart. J. Roy. Meteor. Soc. 81(345), 402–416 (1954)

Takaya, K., Nakamura, H.: Mechanisms of intraseasonal amplification of the cold Siberian high. J. Atmos. Sci. 62, 4423–4440 (2005)

Tibaldi, S., Molteni, F.: On the operational predictability of blocking. Tellus. 42(3), 343–365 (1990)

Waldstreicher, J.S.: A foot of snow from a 3000-foot cloud: The Ocean-Effect Snowstorm of 14 January 1999. Bull. Amer. Meteor. Soc. 83, 19–22 (2002)

Wallace, J., Gutzler, D.: Teleconnections in the geopotential height field during the northern hemisphere winter. Mon. Wea. Rev. 109(4), 784–812 (1981)

Wang, L., Chen, W.: An intensity index for the east Asian winter monsoon. J. Clim. 27, 2361–2374 (2014)

Wang, L., Lu, M.-M.: The east Asian winter monsoon. The global monsoon system: research and forecast (3rd edition). Edited by C.-P. Chang, et al. In: 51–61 (2017)

Wang, L., Chen, W., Zhou, W., Chan, J.C.L., Barriopedro, D., Huang, R.H.: Effect of the climate shift around mid 1970s on the relationship between wintertime Ural blocking circulation and east Asian climate. Int. J. Climatol. 30, 153–158 (2010)

Wiedenmann, J.M., Lupo, A.R., Mokhov, I.I., Tikhonova, E.A.: The climatology of blocking anticyclones for the northern and southern hemispheres: block intensity as a diagnostic. J. Clim. 15(23), 3459–3473 (2002)

Yeo, J.-H., Ha, K.-J.: A case study on causes and characteristics of the local snowstorm in Jeju Island during 23 January 2016. Atmosphere. 27(2), 177–188 (2017)

Yun, J.H., Ha, K.-J.: Interdecadal changes in winter surface air temperature over East Asia and their possible causes. Clim. Dyn. 51, 1375–1390 (2017). https://doi.org/10.1007/s00382-017-3960-y

Zhou, W., Chan, J.C.L., Chen, W., Ling, J., Pinto, J.G., Shao, Y.: Synoptic-scale controls of persistent low temperature and icy weather over southern China in January 2008. Mon. Wea. Rev. 137, 3978–3991 (2009)
Acknowledgements
This work was supported by the Korean Ocean Research and Development Institute as "Construction of ocean research stations and their application studies", the Korea Ministry of Environment (MOE) as "Graduate School specialized in Climate Change".
Additional information
Responsible Editor: Tianjun Zhou.
Publisher's Note
Springer Nature remains neutral with regard to jurisdictional claims in published maps and institutional affiliations.
About this article
Cite this article
Yeo, JH., Ha, KJ. Combined Effects of Blocking and AO on a Prolonged Snowstorm in Jeju Island. Asia-Pacific J Atmos Sci 55, 401–414 (2019). https://doi.org/10.1007/s13143-018-0088-x
Received:

Revised:

Accepted:

Published:

Issue Date:

DOI: https://doi.org/10.1007/s13143-018-0088-x
Keywords
Snowstorm

Vertical temperature differential

Large-scale environment

Arctic Oscillation

Blocking