Abstract
A survivorship care plan refers to a written summary of the treatment received and recommendations regarding surveillance and management of late effects. To provide evaluation of a communication skills training (CST) intervention to enhance the transition of lymphoma survivors to cancer survivorship. Nineteen oncologists specializing in lymphoma treatment were recruited and completed a survivorship CST workshop, and two standardized patient assessments (SPAs), one pretraining and one posttraining. Significant improvements in SPA scores were observed in six of the seven SPA assessment categories: use of survivorship care plan, review of disease and treatment details, long-term effects, potential late effects, specific physician recommendations, and additional health maintenance recommendations. The intervention had significant effects on physicians' uptake of new strategies and skills, as measured through pre- and posttraining SPAs, as well as on the physicians' self-efficacy about having these conversations.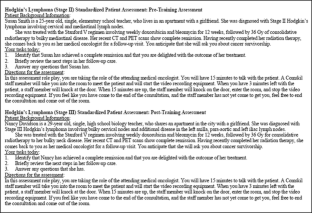 References
1.

Institute of Medicine. Cancer survivorship care planning. www.iom.edu. 2005. 13 Dec 2013.

2.

Institute of Medicine. Employment and health insurance concerns. www.iom.edu. 2005. 4 Dec 2013.

3.

Coleman D, Shigemasa S. Cancer survivorship requires long-term follow-up. Hawaii Med J. 2007; 66(4): 104.

4.

Twombly R. What's in a name: who is a cancer survivor? J Natl Cancer Inst. 2004; 96(19): 1414-1415. doi:10.1093/jnci/96.19.1414.

5.

Greenberg DB, Kornblith AB, Herndon JE, et al. Quality of life for adult leukemia survivors treated on clinical trials of cancer and leukemia group B during the period 1971–1988: predictors for later psychologic distress. Cancer. 1997; 80(10): 1936-1944.

6.

Kornblith AB, Powell M, Regan MM, et al. Long-term psychosocial adjustment of older vs younger survivors of breast and endometrial cancer. Psychooncology. 2007; 16(10): 895-903. doi:10.1002/pon.1146.

7.

Liavaag AH, Dorum A, Fossa SD, Trope C, Dahl AA. Controlled study of fatigue, quality of life, and somatic and mental morbidity in epithelial ovarian cancer survivors: how lucky are the lucky ones? J Clin Oncol. 2007; 25(15): 2049-2056. doi:10.1200/JCO.2006.09.1769.

8.

Costanzo ES, Lutgendorf SK, Mattes ML, et al. Adjusting to life after treatment: distress and quality of life following treatment for breast cancer. Br J Cancer. 2007; 97(12): 1625-1631. doi:10.1038/sj.bjc.6604091.

9.

Connors JM. State-of-the-art therapeutics: Hodgkin's lymphoma. J Clin Oncol. 2005; 23(26): 6400-6408. doi:10.1200/JCO.2005.05.016.

10.

Sehn LH, Berry B, Chhanabhai M, et al. The revised International Prognostic Index (R-IPI) is a better predictor of outcome than the standard IPI for patients with diffuse large B-cell lymphoma treated with R-CHOP. Blood. 2007; 109(5): 1857-1861. doi:10.1182/blood-2006-08-038257.

11.

Moskowitz CH, Schoder H, Teruya-Feldstein J, et al. Risk-adapted dose-dense immunochemotherapy determined by interim FDG-PET in advanced-stage diffuse large B-cell lymphoma. J Clin Oncol. 2010; 28(11): 1896-1903. doi:10.1200/JCO.2009.26.5942.

12.

Dunleavy K, Pittaluga S, Maeda LS, et al. Dose-adjusted EPOCH-rituximab therapy in primary mediastinal B-cell lymphoma. N Engl J Med. 2013; 368(15): 1408-1416. doi:10.1056/NEJMoa1214561.

13.

Mols F, Aaronson NK, Vingerhoets AJ, et al. Quality of life among long-term non-Hodgkin lymphoma survivors: a population-based study. Cancer. 2007; 109(8): 1659-1667. doi:10.1002/cncr.22581.

14.

Hammond CT, Beckjord EB, Arora NK, Bellizzi KM, Jeffery DD, Aziz NM. Non-Hodgkin's lymphoma survivors' fertility and sexual function-related information needs. Fertil Steril. 2008; 90(4): 1256-1258. doi:10.1016/j.fertnstert.2007.08.081.

15.

Doorduijn J, Buijt I, Holt B, Steijaert M, Uyl-de Groot C, Sonneveld P. Self-reported quality of life in elderly patients with aggressive non-Hodgkin's lymphoma treated with CHOP chemotherapy. Eur J Haematol. 2005; 75(2): 116-123. doi:10.1111/j.1600-0609.2005.00438.x.

16.

Merli F, Bertini M, Luminari S, et al. Quality of life assessment in elderly patients with aggressive non-Hodgkin's lymphoma treated with anthracycline-containing regimens. Report of a prospective study by the Intergruppo Italiano Linfomi. Haematologica. 2004; 89(8): 973-978.

17.

Salz T, Oeffinger K, McCabe M, Layne T, Bach P. Survivorship care plans in research and practice. CA Cancer J Clin. 2012; 62: 101-117.

18.

Keesing S, McNamara B, Rosenwax L. Cancer survivors' experiences of using survivorship care plans: a systematic review of qualitative studies. J Cancer Surviv. 2015; 9: 260-268.

19.

Blanch-Hartigan D, Forsythe LP, Alfano CM, et al. Provision and discussion of survivorship care plans among cancer survivors: results of a nationally representative survey of oncologists and primary care physicians. J Clin Oncol. 2014. doi:10.1200/JCO.2013.51.7540. Published online ahead of print April 21 2014.

20.

Rowland JH, Hewitt M, Ganz PA. Cancer survivorship: a new challenge in delivering quality cancer care. J Clin Oncol. 2006; 24(32): 5101-5104. doi:10.1200/JCO.2006.09.2700.

21.

Commission on Cancer. Cancer Program Standards 2012: Ensuring Patient-Centered Care. Chicago: American College of Surgeons; 2012: 2012.

22.

Hewitt ME, Bamundo A, Day R, Harvey C. Perspectives on post-treatment cancer care: qualitative research with survivors, nurses, and physicians. J Clin Oncol. 2007; 25: 2270-2273.

23.

Ganz PA, Hahn EE. Implementing a survivorship care plan for patients with breast cancer. J Clin Oncol. 2008; 26(5): 759-767. doi:10.1200/JCO.2007.14.2851.

24.

Ganz PA, Earle CC, Goodwin PJ. Journal of Clinical Oncology update on progress in cancer survivorship care and research. J Clin Oncol. 2012; 30(30): 3655-3656. doi:10.1200/JCO.2012.45.3886.

25.

Rosenbaum ME, Ferguson KJ, Lobas JG. Teaching medical students and residents skills for delivering bad news: a review of strategies. Acad Med. 2004; 79(2): 107-117.

26.

Bylund CL, Brown R, Gueguen JA, Diamond C, Bianculli J, Kissane DW. The implementation and assessment of a comprehensive communication skills training curriculum for oncologists. Psychooncology. 2010; 19(6): 583-593. doi:10.1002/pon.1585.

27.

Bylund CL, Brown RF, Bialer PA, Levin TT, Lubrano di Ciccone B, Kissane DW. Developing and implementing an advanced communication training program in oncology at a comprehensive cancer center. J Cancer Educ. 2011; 26(4): 604-611. doi:10.1007/s13187-011-0226-y.

28.

Kissane DW, Bylund CL, Banerjee SC, et al. Special series (whole patient): communication skills training for oncology professionals. J Clin Oncol. 2012; 30(11): 1242-1247. doi:10.1200/JCO.2011.39.6184.

29.

Brown RF, Bylund CL. Communication skills training: describing a new conceptual model. Acad Med. 2008; 83(1): 37-44. doi:10.1097/ACM.0b013e31815c631e.

30.

Sloan D. Use of an objective structured clinical examination (OSCE) to measure improvement in clinical competence during the surgical internship. Surgery. 1993; 114: 343 -350.

31.

Razavi D. Brief psychological training for health care professionals dealing with cancer patients: a one year assessment. Gen Hosp Psychiatry. 1991; 13(4): 253-260.

32.

Kirkpatrick DL. Evaluation of training. In: Craig R, Bittlel I, eds. Training and Development Handbook. New York: McGraw Hill; 1967.

33.

Konopasek L, Rosenbaum M, Encandela J, Cole-Kelly K. Evaluating communication skills training courses. In: Kissane DW, Bultz BD, Butow PN, Finaly IG, eds. Handbook of Communication in Oncology and Palliative Care. Oxford: Oxford University Press; 2010: 683-693.
Acknowledgments
The project described was supported by Award Number R01CA151899 from the National Cancer Institute. The content is solely the responsibility of the authors and does not necessarily represent the official views of the National Cancer Institute or the National Institutes of Health. The funders played no role in the design, conduct, or analysis of the study, nor in the interpretation and reporting of the study findings. The researchers were independent from the funders. All authors, external and internal, had full access to all of the data (including statistical reports and tables) in the study and can take responsibility for the integrity of the data and the accuracy of the data analysis.
Conflict of interest
The authors declare that they have no competing interests.
Adherence to ethical standards
All procedures, including the informed consent process, were conducted in accordance with the ethical standards of the responsible committee on human experimentation (institutional and national) and with the Helsinki Declaration of 1975, as revised in 2000.
Additional information
Implications
Practice: Oncologists should create individualized survivorship care plans that include a written summary of the treatment received and recommendations regarding surveillance and management of late effects, and utilize them during consultations with cancer survivors and transitioning patients.
Policy: In order to implement American Society for Clinical Oncology's recommendation for the use of survivorship care plans, training of oncologists in utilization of care plans should be mandated.
Research: Researchers should investigate oncologists' use of survivorship care plans in consultations with cancer survivors in clinics and the effects on patient outcomes such as growth in knowledge about disease and treatment and adherence to physicians' recommendations posttreatment.
About this article
Cite this article
Banerjee, S.C., Matasar, M.J., Bylund, C.L. et al. Survivorship care planning after participation in communication skills training intervention for a consultation about lymphoma survivorship. Behav. Med. Pract. Policy Res. 5, 393–400 (2015). https://doi.org/10.1007/s13142-015-0326-z
Keywords
Lymphoma

Communication skills training

Self-efficacy

Standardized patient assessments

Survivorship care plan