ABSTRACT
In response to rising health care costs associated with obesity rates, some health care insurers are adopting incentivized technology-enhanced wellness programs. The purpose of this study is to evaluate the large-scale implementation of an incentivized Internet-mediated walking program for obese adults and to examine program acceptance, adherence, and impact. A mixed-methods evaluation was conducted to investigate program implementation, acceptance, and adherence rates, and physical activity rates among program participants. Program implementation was shaped by national and state policies, data security concerns, and challenges related to incentivizing participation. Among 15,397 eligible individuals, 6,548 (43 %) elected to participate in the walking program, achieving an average of 6,523 steps/day (SD 2,610 steps). Participants who uploaded step counts for 75 % of days for a full year (n = 2,885) achieved an average of 7,500 steps (SD 3,093). Acceptance and participation rates in this incentivized Internet-mediated walking program suggest that such interventions hold promise for engaging obese adults in physical activity.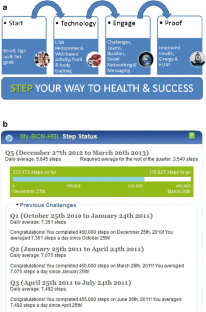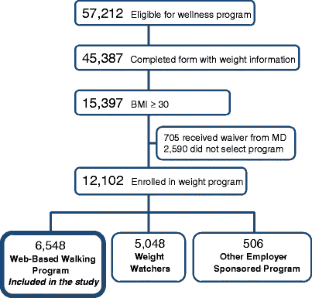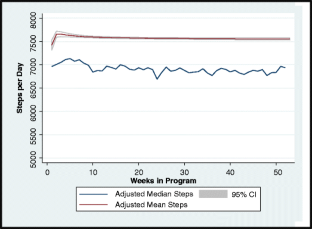 REFERENCES
1.

Finkelstein EA, Fiebelkorn IC, Wang G. State-level estimates of annual medical expenditures attributable to obesity. Obes Res. 2004;12:18-24.

2.

Sullivan PW, Ghushchyan V, Ben-Joseph RH. The effect of obesity and cardiometabolic risk factors on expenditures and productivity in the United States. Obesity. 2008;16:2155-2162.

3.

Wolf AM, Finer N, Allshouse AA, et al. PROCEED: prospective obesity cohort of economic evaluation and determinants: baseline health and healthcare utilization of the U.S. sample. Diabetes Obes Metab. 2008;10:1248-1260.

4.

Field AE, Coakley EH, Spadano JL, et al. Impact of overweight on the risk of developing common chronic diseases during a 10-year period. Arch Intern Med. 2001;161:1581-1586.

5.

Calle EE, Kaaks R. Overweight, obesity and cancer: epidemiological evidence and proposed mechanisms. Nat Rev Cancer. 2004;4:579-591.

6.

New York Times. Obama's health reform speech. Available at http://www.nytimes.com/2009/06/15/health/policy/15obama.text.html. Accessed 8 December 2010.

7.

Center for Disease Control and Prevention. Comprehensive Workplace Health Programs to Address Physical Activity, Nutrition, and Tobacco Use in the Workplace. Available at http://www.cdc.gov/workplacehealthpromotion/nhwp/index.html. Accessed 6 November 2012.

8.

Baicker K, Cutler D, Song Z. Workplace wellness programs can generate savings. Health Aff (Millwood). 2010;29:304-311.

9.

Kaiser Family Foundation and Health Research & Educational Trust. Employer Health Benefits 2010 Annual Survey: Wellness Programs, Health Risk Assessments, and Disease Management Programs. Available at http://ehbs.kff.org/2010.html. Accessed 7 November 2012.

10.

Okie S. The employer as health coach. N Engl J Med. 2007;357:1465-1469.

11.

Pelletier KR. A review and analysis of the clinical and cost-effectiveness studies of comprehensive health promotion and disease management programs at the worksite: update VII 2004–2008. J Occup Environ Med. 2009;51:822-837.

12.

Kroeze W, Werkman A, Brug J. A systematic review of randomized trials on the effectiveness of computer-tailored education on physical activity and dietary behaviors. Ann Behav Med. 2006;31:205-223.

13.

Strecher V. Internet methods for delivering behavioral and health-related interventions (eHealth). Annu Rev Clin Psychol. 2007;3:53-76.

14.

Richardson CR, Buis LR, Janney AW, et al. An online community improves adherence in an Internet-mediated walking program. Part 1: results of a randomized controlled trial. J Med Internet Res. 2010;12:e71.

15.

Slootmaker SM, Chinapaw MJ, Schuit AJ, Seidell JC, Van Mechelen W. Feasibility and effectiveness of online physical activity advice based on a personal activity monitor: randomized controlled trial. J Med Internet Res. 2009;11:e27.

16.

Ware LJ, Hurling R, Bataveljic O, et al. Rates and determinants of uptake and use of an Internet physical activity and weight management program in office and manufacturing work sites in England: cohort study. J Med Internet Res. 2008;10:e56.

17.

Capps K, Harkey JB. Employee health and productivity management programs: The use of incentives, a survey of major U.S. employers. Available at http://www.healthcarevisions.net/f/2008_Use_of_Incentives_Survey-Results-2008.pdf. Accessed 10 August 2012.

18.

Alegria M. AcademyHealth 25th Annual Research Meeting chair address: from a science of recommendation to a science of implementation. Health Serv Res. 2009;44:5-14.

19.

Rubenstein LV, Pugh J. Strategies for promoting organizational and practice change by advancing implementation research. J Gen Intern Med. 2006;21:S58-S64.

20.

Stetler CB, Legro MW, Wallace CM, et al. The role of formative evaluation in implementation research and the QUERI experience. J Gen Intern Med. 2006;21:S1-S8.

21.

Damschroder LJ, Hagedorn HJ. A guiding framework and approach for implementation research in substance use disorders treatment. Psychol Addict Behav. 2011;25:194-205.

22.

Damschroder LJ, Aron DC, Keith RE, Kirsh SR, Alexander JA, Lowery JC. Fostering implementation of health services research findings into practice: a consolidated framework for advancing implementation science. Implement Sci. 2009;4:50.

23.

Forman J, Damschroder LJ. Qualitative content analysis. In: Jacoby L, Siminoff L, eds. Empirical research for bioethics: a primer. Oxford, UK: Elsevier; 2008.

24.

Miles MB, Huberman AM. Qualitative data analysis: a sourcebook. Thousand Oaks: Sage Publications; 1994.

25.

Sandelowski M, Barroso J. Writing the proposal for a qualitative research methodology project. Qual Health Res. 2003;13:781-820.

26.

Michigan Senate Bill. No 849, Sec 414b (2006).

27.

U.S. Department of Labor. FAQs about the HIPAA nondiscrimination requirements. Available at http://www.dol.gov/ebsa/faqs/faq_hipaa_ND.html. Accessed 10 December 2010.

28.

Mello MM, Rosenthal MB. Wellness programs and lifestyle discrimination—the legal limits. N Engl J Med. 2008;359:192-199.

29.

Americans with Disabilities Act of 1990, as Amended. Available at http://www.ada.gov/pubs/adastatute08.htm. Accessed 6 November 2012.

30.

Department of Justice. Americans with Disabilities Act: Title III technical assistance manual covering public accommodations and commercial facilities. Available at http://www.ada.gov/taman3.html. Accessed 14 December 2010.

31.

U.S. Equal Employment Opportunity Commission. Section 902 Definition of the Term Disability: Notice concerning The Americans With Disabilities Act Amendments Act Of 2008. Available at http://www.eeoc.gov/policy/docs/902cm.html. Accessed 10 December 2010.

32.

U.S. Department of Health and Human Services. Minimum necessary requirement. Available at http://www.hhs.gov/ocr/privacy/hipaa/understanding/coveredentities/minimumnecessary.html. Accessed 10 December 2010.

33.

Wang YC, Coxson P, Shen YM, Goldman L, Bibbins-Domingo K. A penny-per-ounce tax on sugar-sweetened beverages would cut health and cost burdens of diabetes. Heal Aff. 2012;31:199-207.

34.

Tudor-Locke C, Hatano Y, Pangrazi RP, Kang M. Revisiting "how many steps are enough?". Med Sci Sports Exerc. 2008;40:S537-S543.

35.

Charness G, Gneezy U. Incentives to exercise. Econometrica. 2009;77:909-931.

36.

Volpp KG, Gurmankin Levy A, Asch DA, et al. A randomized controlled trial of financial incentives for smoking cessation. Cancer Epidemiol Biomarkers Prev. 2006;15:12-18.

37.

Volpp KG, Troxel AB, Pauly MV, et al. A randomized, controlled trial of financial incentives for smoking cessation. N Engl J Med. 2009;360:699-709.

38.

Gneezy U, Rustichini A. Pay enough or don't pay at all. Q J Econ. 2000;115:791-810.

39.

Redmond P, Solomon J, Lin M. Can incentives for healthy behavior improve health and hold down Medicaid costs? Available at http://www.cbpp.org/6-1-07health.pdf. Accessed 14 December 2010.

40.

Steinbrook R. Imposing personal responsibility for health. N Engl J Med. 2006;355:753-756.

41.

Schmidt H, Gerber A, Stock S. What can we learn from German health incentive schemes? BMJ. 2009;339:b3504.

42.

Schmidt H, Voigt K, Wikler D. Carrots, sticks, and health care reform–problems with wellness incentives. N Engl J Med. 2010;362:e3.

43.

Patient Protection and Accountable Care Act. P.L. 111–148. Available at http://frwebgate.access.gpo.gov/cgi-bin/getdoc.cgi?dbname=111_cong_public_laws&docid=f:publ148.111.pdf. Accessed 14 December 2010.
Acknowledgments
The authors thank BCN leadership and employees for participating in interviews and Emily Jenchura, Danielle Cohen, and Jill Bowdler for their assistance with manuscript preparation.
Financial Disclosures
Dr. Zulman's contribution to this study was supported by the Robert Wood Johnson Foundation Clinical Scholars Program and an associated Advanced Fellowship through Veterans Affairs. The funders had no role in study design, data collection and analysis, decision to publish, or preparation of the manuscript.
Competing interests
Dr. Richardson is a scientific advisor to Walkingspree and an unpaid consultant to BCN. She does not receive compensation in these roles and does not have a financial interest in either company. The authors report no other competing interests.
Additional information
Implications
Practice: Insurance-incentivized Internet-mediated walking programs are acceptable to many obese adults and enable them to meet modest physical activity goals; however, some may perceive the financial incentives as coercive.
Policy: The Affordable Care Act's incentivized wellness program policies should be evaluated to determine how such policies affect program adoption and implementation, and whether the policies successfully lead to improved health behaviors at a population level.
Research: Future research is needed to determine the impact of incentivized Internet-mediated walking programs on health outcomes and medical care costs.
Appendix
Appendix
Factors influencing implementation of an incentivized Internet-mediated walking program (examples of interviewees' comments mapping to CFIR constructs)
CFIR constructs
Examples
Outer setting
External polices and incentives
"We always are very mindful of Department of Labor HIPAA guidelines as they are associated with wellness incentive plans"
"And we know there has been a lot of discussion nationally and here at Blue Care Network as a health insurance carrier, about the alarming obesity trends that are going on out there"
"There are some state rules around participation programs … So we couldn't say you have to lose 10 pounds to stay in this level of benefit; that would have been an outcome. So it's really participation … (that) we needed to focus on"
Patient needs and resources
"You know, there were individuals who were like, oh boy, some members aren't going to like that. And they're right. And we need to be prepared to assist those members in understanding why we're doing what we're doing and how it's going to benefit them"
"We're doing the right thing for membership … Helping promote more activity, more wellness, and that, in turn, drives healthcare premiums down, which everyone is after"
"The need of the enrollee is to maintain a healthy lifestyle, and that is definitely consistent with our goal. Now, it may not be a cognitive—it may not actually realize that's one of their goals, but all of us want to be healthy. And I think that recognizing that in a sort of generic global way, that all of us want to be healthy, we did recognize and identify directly with the member. The second piece, which everybody recognizes, especially in a dull economy, is the need to reduce healthcare costs. And I think cost of healthcare generally is identified by the member in terms of the cost of insurance. And so, with this program … there is the possibility with the enhanced program with lowering your premium. So I think that the member was absolutely central to the decision"
"I think probably the biggest thing was what would be the impact on a daily basis to the member; how inconvenient would it be; how intrusive would it be; how would the information be kept confidential so that they weren't worried that someone was going to have view of what they're doing … It's internet based so you have to have internet access and the personal email"
Peer pressure
"We did do some external benchmarking. We're kind of in the forefront of the healthy products suites … we were the first in the market with the Healthy Blue Living product in the country and so we try to continue to work in cutting edge, but we did do some external benchmarking … We didn't find any health plans that offered (a program like this) as a specific option or requirement"
Inner setting
Organizational goals
"We really want to improve the overall health status of our members. If we are able to accomplish that, then the reality is in the long term, healthcare costs will either stabilize or be less … Particularly dealing with obesity, if you can change the patient's behavior as it reflects to obesity or lack of exercise, you can actually preclude certain conditions from arising and, therefore, increase health status and lower the overall cost of healthcare. So I think the first thing was health status; the second thing is lowering overall cost of healthcare; the third thing was member retention in our program. And member retention is important because of the cost of marketing for new membership. And the reason that this was a good member retention program (is because of reduced fees if you meet goals)"
Structural characteristics
"I think the fact that the relationship between IT and the business is one of collaboration and partnership … made this go much faster and much better than it might in other organizations"
Culture
"We're constantly strategizing how we can improve the product, how we can make it more meaningful to the community, and what we can do overall to make it a better product"
"We're innovators!"
"Spirit of cooperation among all of the operational areas that are impacted"
"You know, it's one thing to say, okay, we're going to move forward with this; it's another thing to do so in eight months, and have faith that your culture is going to support a successful launch or implementation and launch. And I think that our culture did support that belief and did support that faith and we were able to move forward"
"I think it helps (to) have a kind of culture of wellness in your company. Because we have people already that are into walking and we encourage walking and we promote walking for our employees, so I think that helps"
"We're considered the product incubator, innovator in the enterprise, and I think we have a very 'can do' nimble approach that makes us not flinch when we get an assignment to build a product"
Implementation climate
"We really didn't think we were moving BMIs in the right direction, having physicians be responsible for watching that kind of thing and working with their patients to improve their BMI … BMIs (were not) getting that much better … and the weight wasn't coming down"
"The economics of Michigan have been so severe and the changes in the delivery of healthcare are changing at a more rapid pace, and the cost is sky rocketing. And I think that we have just tried to be much more adaptive and inventive and imaginative in terms of how we can serve the Michigan population. So I'd say all those things certainly affected the decision making and the process and, again, are very consistent with our culture and our goals and objectives"
Intervention characteristics
Evidence strength/quality
"(We) worked with a leading expert on exploring what would be appropriate options"
Relative advantage
"We looked at … what's happening today in the physician office and we weren't all that impressed that it was really happening"
Design quality/Packaging
"We liked that (the vendor was) willing to offer us suggestions as to how to create a plan that our members would be able to comply with and actually be successful at"
"We need(ed) a program that members could easily read and understand. We needed a customer service component that if members ran into trouble there was somebody there to either email or telephone to answer questions … So we needed a customer service component"
Trialability
"(The vendor) actually provided us with a select number of pedometers to use so that we could sort of be a pilot group … and we liked the results that we got"
Intervention complexity
"It was difficult because we need to determine how to make sure that all of our software and hardware was communicating the way that it should be and that those systems were then communicating with (the vendor) and vice versa …"
"I think a piece we struggled with was how many steps to make people walk. What's the right number and how do you balance that with how many steps is the right number of steps and how can we efficiently monitor that, because you could make it very complicated. And that's kind of the path we were going down originally and, oh, my gosh, that's going to be really way too complicated. We were going to try to customize it, too. If you have a BMI of this, you need to walk this many steps; if your BMI is this, you need to walk this many. But that would have been an administrative nightmare. We got off of that right away"
Cost
"What we did was look at the cost associated with a member who has a BMI of 30 or above … what types of co-morbid conditions are we seeing these members develop? What amount of money are we paying out in claims for these members? … if we can work with these members and get them to achieve- and not even a huge weight loss but just a little bit of a weight loss and we can couple that with an improvement in respiratory health and an improvement in fitness level. All of those things are going to end up having a much higher pay off as far as decreased claims risk in the future"
"It had to fit with the actuarial models in keeping the pricing so that it achieved the goals and improved the health … The expectation is improving the members' health … in the long term of course … lowers healthcare costs. But the formulas don't show a direct cost benefit as such"
Individual characteristics
Knowledge/beliefs about intervention
"Every department … had training … and each department had their own trainer … We've done a lot, a lot of employee communication to help people understand"
"Certainly for our customer service representatives and our clinical health coaches, we had extensive training; we developed policies and procedures; rolled out communication; published articles internally promoting … the new changes to our product"
Self-efficacy
"Overall, I was quite confident. I worked with these people a few years and I know their level of commitment and their passion associated with this particular product, and I know that none of us wanted to not meet the goal. So I was confident that if there was a will, there was a way and that we would find it, and we did. But there were some days where, you know, we were a little challenged"
"It was my job to do it; I was 100 % confident it was going to happen"
Identification with organization
"I think that it's a wonderful thing that the corporation has put their money kind of where their mouth is …"
"I'm very excited about this because this is what healthcare should be, you know, promoting health, trying to decrease health premiums to try to change health behaviors"
"I absolutely support the goals. I mean, what's wrong with trying to make Michiganders happier? What's wrong with lowering the overall cost of healthcare over a protracted period of time? What's wrong with keeping your members because if you have to go out and market new members, you're going to increase your costs … so any one of those are excellent goals"
Process of implementation
Key facilitators
"Overall the entire launch and implementation was very positive. I think that everybody involved was very proactive and very willing to do what needed to be done to make it happen. I think that our vendor was delighted to accommodate our every need and worked hard to do so, which is really very nice. They never lost sight of the fact that we were the customer, which is also very nice"
"It was brought in from the top and the big belief that it was needed and nobody was against it"
Key barriers
"The only resource would have been to have more time. If we had more time, you know, but that just would have just made it more comfortable for everybody. We would have had an opportunity to maybe feel a bit reassured"
"Operations is spread out over so many areas"
"I would say to you that the single most difficult problem with this project was being able to wrap our arms around and define explicitly what the product changes were going to look like, what were the decisions … associated with change, and how are we going to measure it and manage it. And I think it was very difficult because it was unchartered water … And there was some indecisiveness on the approach which probably elongated the project and it might have cost a little bit more because of that"
Planning, engaging, executing
"We have a very formal project implementation process. We use project management methodology. We have established work groups when we do an implementation … regular status reporting. So we adhere very strictly to (project management) methodology and that structure, and having … a dedicated project manager to sort of be the general contractor of the whole thing. I think it is key because (the others have day jobs). You need somebody who is kind of standing on the roof, having eyes and ears for all of it … (an) objective participant … (whose) stake is to collect the success of the initiative. Besides the hardcore methodology side, there's the softer side of managing people, personalities, and it's real helpful because there are some strong personalities in every group"
Reflecting/evaluating
"So it's going to be very interesting to see what happens and I think you've got some short term numbers but we've got to wait until we get the long term effect. Because changing healthcare behaviors is really not a short term issue; it's a long term issue and it's one that you have to have consistency and you have to have durability and what's another word … extensibility over a protracted period of time. So, you know, let's see in a year, let's evaluate and look at what we've been able to accomplish and fine tune it and keep on going"
Implementation complexity
"It was difficult because we need to determine how to make sure that all of our software and hardware was communicating the way that it should be and that those systems were then communicating with WS and vice versa …"
"You know, to implement it as a product line, the biggest complication that we ran into was how do we, in support of HIPAA privacy minimum necessary rules, how do we confirm eligibility … and limit it"
About this article
Cite this article
Zulman, D.M., Damschroder, L.J., Smith, R.G. et al. Implementation and evaluation of an incentivized Internet-mediated walking program for obese adults. Behav. Med. Pract. Policy Res. 3, 357–369 (2013). https://doi.org/10.1007/s13142-013-0211-6
KEYWORDS
Obesity

Exercise

Prevention

Internet

EHealth