ABSTRACT
Although membership changes within teams are a common practice, research into this phenomenon is relatively nascent (Summers et al.; Acad Manag J 55:314–338, 2012). The small literature base, however, does provide insight into skills required for effective adaptation. The purpose of this effort is to provide a brief research synopsis, leading to research hypotheses about medical team training. By generalizing previous scientific findings regarding skills required for effective membership adaptation in different kinds of teams, we posit mechanisms whereby teamwork training might also support adaptation among medical teams (Burke et al.; Qual & Saf Health Care 13:i96–i104, 2004 and Salas et al.; Theor Issues Ergon Sci 8:381–394, 2007). We provide an overview of the membership change literature. Drawing upon literature from both within and outside of the medical domain, we suggest a framework and research propositions to aid in research efforts designed to determine the best content for helping to create adaptable medical teams through team training efforts. For effective adaptation, we suggest ad hoc teams should be trained on generalizable teamwork skills, to share just "enough" and the "right" information, to engage in shared leadership, and to shift from explicit to implicit coordination. Our overarching goal was to present what is known from the general research literature on successful team adaptation to membership changes, and to propose a research agenda to evaluate whether findings generalize to member changes in medical teams.
This is a preview of subscription content, log in to check access.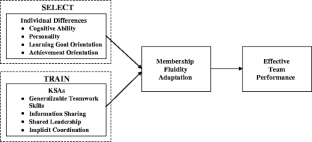 References
1.

Tannenbaum S, Mathieu JE, Salas E, Cohen D. Teams are changing: are research and practice evolving fast enough? Ind Organ Psychol. 2012;5:2-24.

2.

Summers JK, Humphrey SE, Ferris GR. Team member change, flux in coordination, and performance: effects of strategic core roles, information transfer, and cognitive ability. Acad Manag J. 2012;55:314-38.

3.

Kozlowski SWJ, Gully SM, Nason ER, Smith EM. Developing adaptive teams: a theory of compilation and performance across levels and time. In: Ilgen DR, Pulakos ED, eds. The Changing Nature of Work Performance: Implications for Staffing, Personnel Actions, and Development. San Francisco: Jossey-Bass; 1999:240-92.

4.

Alonso A, Baker DP, Holtzman A, Day R, King H, Toomey L, et al. Reducing medical error in the military health system: how can team training help? Hum Resour Manag Rev. 2006;16:396-415.

5.

Salas E, Sims DE, Burke CS. Is there a 'Big Five' in teamwork? Small Group Res. 2005;36:555-99.

6.

Klein G, Pierce L. Adaptive teams. 6th International Command and Control Research and Technology Symposium 2001. p. 28.

7.

Burke CS, Stagl KC, Salas E, Pierce L, Kendall D. Understanding team adaptation: a conceptual analysis and model. J Appl Psychol. 2006;91:1189-207.

8.

Ziller RC. Toward a theory of open and closed groups. Psychol Bull. 1965;64:164-82.

9.

Edmondson AC, Bohmer RM, Pisano GP. Disrupted routines: team learning and new technology implementation in hospitals. Adm Sci Q. 2001;46:685-716.

10.

Hirst G. Effects of membership change on open discussion and team performance: the moderating role of team tenure. Eur J Work Organ Psychol. 2009;18:231-49.

11.

Edmondson AC. Speaking up in the operating room: how team leaders promote learning in interdisciplinary action teams. J Manag Stud. 2003;40:1419-52.

12.

Bushe GR, Chu A. Fluid teams: solutions to the problems of unstable team membership. Organ Dyn. 2011;40:181-8.

13.

LePine JA. Team adaptation and postchange performance: effects of team composition in terms of members' cognitive ability and personality. J Appl Psychol. 2003;88:27-39.

14.

LePine JA. Adaptation of teams in response to unforeseen change: effects of goal difficulty and team composition in terms of cognitive ability and goal orientation. J Appl Psychol. 2005;90:1153-67.

15.

DeRue DS, Hollenbeck JR, Johnson MD, Ilgen DR, Jundt DK. How different team downsizing approaches influence team-level adaptation and performance. Acad Manag J. 2008;51:182-96.

16.

Lewis K, Belliveau M, Herndon B, Keller J. Group cognition, membership change, and performance: investigating the benefits and detriments of collective knowledge. Organ Behav Hum Decis Process. 2007;103:159-78.

17.

Summers JK. Attributions for team member change and the resulting flux on team coordination processes and effectiveness [Dissertation]: The Florida State University; 2009.

18.

Kane AA, Argote L, Levine JM. Knowledge transfer between groups via personnel rotation: effects of social identity and knowledge quality. Organ Behav Hum Decis Process. 2005;96:56-71.

19.

Feldman DC. Who's socializing whom? The impact of socializing newcomers on insiders, work groups, and organizations. Hum Resour Manag Rev. 1994;4:213-33.

20.

Sutton RI, Louis MR. How selecting and socializing newcomers influences insiders. Hum Resour Manag. 1987;26:347-61.

21.

Ancona D. Outward bound: strategies for team survival in an organization. Acad Manag J. 1990;33:334-65.

22.

Gersick CJG, Hackman JR. Habitual routines in task-performing groups. Organ Behav Hum Decis Process. 1990;47:65-97.

23.

Waller MJ. The timing of adaptive group responses to nonroutine events. Acad Manag J. 1999;42:127-37.

24.

Choi H, Thompson L. Old wine in a new bottle: impact of membership change on group creativity. Organ Behav Hum Decis Process. 2005;98:121-32.

25.

Baer M, Leenders R, Oldham G, Vadera A. Win or lose the battle for creativity: the power and perils of intergroup competition. Acad Manag J. 2010;53:827-45.

26.

De La Hera C, Rodriguez F. The effects of member change and continuity on the productive efficiency of work teams. Psychol Spain. 1999;3:88-97.

27.

Nemeth C, Ormiston M. Creative idea generation: harmony versus stimulation. Eur J Soc Psychol. 2007;37:524-35.

28.

Cascio WF. Costing human resources. 4th ed. Dallas: Southwestern College Publishing; 1999.

29.

Argote L. Organizational learning: creating, retaining, and transferring knowledge. Norwell: Kluwer; 1999.

30.

Gruenfeld DH, Mannix EA, Williams KY, Neale MA. Group composition and decision making: how member familiarity and information distribution affect process and performance. Organ Behav Hum Decis Process. 1996;67:1-15.

31.

Kim PH. When what you know can hurt you: a study of experiential effects on group discussion and performance. Organ Behav Hum Decis Process. 1997;69:165-77.

32.

Levine JM, Moreland RL. Culture and socialization in work groups. In: Resnick LB, Levine JM, Teasdale SD, eds. Perspectives on Socially Shared Cognition. Washington, DC: American Psychological Association; 1991:257-79.

33.

Moreland RL, Argote L, Krishnan R. Training people to work in groups. In: Tindale RS, ed. Theory and Research on Small Groups. New York: Plenum Press; 1998:37-60.

34.

Smith-Jentsch KA, Kraiger K, Cannon-Bowers JA, Salas E. Do familiar teammates request and accept more backup? Transactive memory in air traffic control. Hum Factors: J Hum Factors Ergon Soc. 2009;51:181-92.

35.

Woolley AW. Means vs. ends: implications of process and outcome focus for team adaptation and performance. Organ Sci. 2009;20:500-15.

36.

Salas E, Rosen MA, Burke CS, Goodwin GF. The wisdom of collectives in organizations: an update of the teamwork competencies. In: Salas E, Goodwin GF, Burke CS, eds. Team Effectiveness in Complex Organizations: Cross-disciplinary Perspectives and Approaches. New York: Routledge/Taylor & Francis Group; 2009:39-79.

37.

Cannon-Bowers JA, Tannenbaum SI, Salas E, Volpe CE. Defining competencies and establishing team training requirements. In: Guzzo RA, Salas E, eds. Team Effectiveness and Decision Making in Organizations. San Francisco: Jossey-Bass; 1995:333-80.

38.

Cannon-Bowers JA, Salas E, Converse S. Shared mental models in expert team decision making. In: Castellan NJ Jr, ed. Individual and Group Decision Making: Current Issues. Hillsdale: Lawrence Erlbaum Associates, Inc; 1993:221-46.

39.

Burke CS, Salas E, Wilson-Donnelly K, Priest H. How to turn a team of experts into an expert medical team: guidance from the aviation and military communities. Qual Saf Health Care. 2004;13:i96-i104.

40.

Baker DP, Gustafson S, Beaubien JM, Salas E, Barach P. Medical team training programs in health care. In: Henriksen K, Battles JB, Marks ES, Lewin DI, eds. Advanced in Patient Safety: From Research to Implementation. Vol 4. AHRQ: Rockville, MD Feb 2005. Programs, tools and concepts. AHRQ Publication No. 05-0021-02

41.

Diedrich FJ, Entin EE, Hutchins SG, Hocevar SP, Rubineau B, MacMillan J. When do organizations need to change (Part I)? Coping with incongruence. 8th Annual International Command and Control Research and Technology Symposium; Washington, DC: 2003.

42.

Entin EE, Weil S, See K, Serfaty D. Understanding team adaptation via team communication. In: Proceedings of the 2005 Human Systems Integration Conference; Washington, DC: 2005:1–7.

43.

Smith-Jentsch KA, Cannon-Bowers JA, Tannenbaum SI, Salas E. Guided team self-correction. Small Group Res. 2008;39:303-27.

44.

Gaba DM, Howard SK, Fish KJ, Smith BE, Sowb YA. Simulation-based training in Anesthesia Crisis Resource Management (ACRM): a decade of experience. Simul Gaming. 2001;32:175-93.

45.

Howard SK, Gaba DM, Fish KJ, Yang G, Sarnquist FH. Anesthesia crisis resource management training: teaching anesthesiologists to handle critical incidents. Aviat Space Environ Med. 1992;63:763-70.

46.

Sutcliffe KM, Lewton E, Rosenthal MM. Communication failures: an insidious contributor to medical mishaps. Acad Med. 2004;79:186-94.

47.

Mesmer-Magnus JR, DeChurch LA. Information sharing and team performance: a meta-analysis. J Appl Psychol. 2009;94:535-46.

48.

Carson JB, Tesluk PE, Marrone JA. Shared leadership in teams: an investigation of anttecedent conditions and performance. Acad Manag J. 2007;50:1217-34.

49.

Marks MA, Mathieu JE, Zaccaro SJ. A temporally based framework and taxonomy of team processes. Acad Manag Rev. 2001;26:356-76.

50.

Brannick MT, Roach RM, Salas E. Understanding team performance: a multimethod study. Hum Perform. 1993;6:287.

51.

Burtscher MJ, Manser T, Kolbe M, Grote G, Grande B, Spahn DR, et al. Adaptation in anaesthesia team coordination in response to a simulated critical event and its relationship to clinical performance. Br J Anaesth. 2011;106:801-6.

52.

Entin EE, Serfaty D. Adaptive team coordination. Hum Factors: J Hum Factors Ergon Soc. 1999;41:312-25.
Additional information
Implications
Practice: Medical teams may benefit from teamwork training that focuses on generalizable skills, information sharing, shared leadership, and implicit coordination to successfully adapt to non-routine events.
Research: Research is needed to evaluate whether teamwork training improves the adaptation of medical teams.
Policy: Hospital administrators should dedicate resources to evaluate whether teamwork training improves the adaptability of their medical teams.
About this article
Cite this article
Bedwell, W.L., Ramsay, P.S. & Salas, E. Helping fluid teams work: A research agenda for effective team adaptation in healthcare. Behav. Med. Pract. Policy Res. 2, 504–509 (2012). https://doi.org/10.1007/s13142-012-0177-9
KEYWORDS
Team training

Team adaptation

Membership fluidity

Membership change

Membership loss

Adaptive team performance