Abstract
Translational behavioral medicine involves experts from different disciplines and professions interacting to solve complex problems. Coordinating this expertise can be frustrated by the partially tacit nature of expertise and by the various ways in which it manifests in different communities. We describe a method—the Toolbox dialogue method—for addressing these challenges by means of a structured dialogue among team members concerning their respective approaches to complex problems. The Toolbox dialogue method consists of a philosophically grounded questionnaire—the "Toolbox"—deployed in workshops by collaborators from different disciplines and professions. The Health Science Toolbox was modified from an extensively utilized questionnaire designed for Science–Technology–Engineering–Mathematics (STEM) research and has been piloted with translational medicine teams. Eighty-five percent of participants in STEM workshops indicated a positive impact on awareness of the knowledge, opinions, or scientific approach of teammates. In the Health Science Toolbox, 35 % of questionnaire responses changed substantially from pre- to post-workshop, demonstrating impact of the workshops. The Toolbox dialogue method is a relatively brief workshop encounter that can have a positive impact on mutual understanding within translational medicine teams.
References
1.

Benda LE, Poff NL, Tague C, et al. How to avoid train wrecks when using science in environmental problem solving. BioScience. 2002;52:1127-1136.

2.

Eigenbrode SD, O'Rourke M, Althoff D, et al. Employing philosophical dialogue in collaborative science. BioScience. 2007;57:55-64.

3.

Fiore SM. Interdisciplinarity as teamwork—how the science of teams can inform team science. Small Group Res. 2008;39:251-277.

4.

Hall TE, Wilson P, Newman J. Evaluating the short- and long-term effects of a modified deliberative poll on Idahoans' attitudes and civic engagement related to energy options. Journal of Public Deliberation. 2011;7(1):Article 6.

5.

Klein J. Creating Interdisciplinary Campus Cultures: a Model for Strength and Sustainability. San Francisco: Jossey-Bass; 2010.

6.

Kuhn T. The Structure of Scientific Revolutions. 2nd ed. Chicago: University of Chicago Press; 1970.

7.

MacQueen K, McLellan-Lemal E, Bartholow K, Milstein B. Team-based codebook development: structure, process, and agreement. In: Guest G, MacQueen KM, eds. Handbook for Team-Based Qualitative Research. Lanham: AltaMira; 2008:119-135.

8.

McDonald D, Bammer G, Deane P. Research Integration Using Dialogue Methods. Canberra: ANU E-Press; 2009. Available at http://epress.anu.edu.au/dialogue_methods_citation.html. Accessibility verified May 14, 2012.

9.

National Academy of Sciences, Committee on Facilitating Interdisciplinary Research and Committee on Science Engineering and Public Policy (NAS). Facilitating Interdisciplinary Research. Washington: National Academies Press; 2004.

10.

Olson GM, Zimmerman A, Bos N. Scientific Collaboration on the Internet. Cambridge: MIT Press; 2008.

11.

Polanyi M. Personal Knowledge: Towards a Post-Critical Philosophy. Chicago: University of Chicago Press; 1958.

12.

Rescher N. Philosophical Reasoning. New York: Blackwell; 2001.

13.

Winowiecki L, Smukler S, Shirley K, et al. Tools for enhancing interdisciplinary communication. Sustain Sci Pract Pol. 2011;7:74-80.
Acknowledgments
Funding support for this project has been provided through grant UL1RR025014 from the National Institutes of Health National Center for Research Resources, NIH K24 HL068796, and through grant no. 0823058 from the National Science Foundation. Any opinions, findings, and conclusions or recommendations expressed in this material are those of the author(s) and do not necessarily reflect the views of the National Institutes of Health or the National Science Foundation. This work arises out of the efforts of the Toolbox Project; we thank the project personnel for their input and participants in Toolbox workshops for their involvement in our work. We are grateful to the Institute of Translational Health Sciences, especially the Education Core, for support, and to those members of the community who participated in the pilot workshops. We would also like to thank the editors of the special section devoted to Team Approaches to Science, Practice, and Policy in Health, especially Bonnie Spring and Holly Falk-Krzesinski, for their input and advice, and two anonymous referees for Translational Behavioral Medicine for very helpful criticism.
The Health Science Toolbox, copyrighted by the Toolbox Project, is licensed under the Creative Commons Attribution-NonCommercial-NoDerivs 3.0 Unported License. To view a copy of this license, visit http://creativecommons.org/licenses/by-nc-nd/3.0/ or send a letter to Creative Commons, 444 Castro Street, Suite 900, Mountain View, California, 94041, USA.
Additional information
Implications
Practice: Structured philosophical dialogue about fundamental assumptions concerning collaborative research and practice in translational behavioral medicine can facilitate negotiation of key conceptual challenges.
Policy: Methods for improving aspects of team science such as collective understanding should be made available to collaborative projects in the translational health sciences.
Research: The method described in this article supports the identification and analysis of a team's collaborative dynamic.
APPENDIX
APPENDIX
The Health Sciences Toolbox questionnaire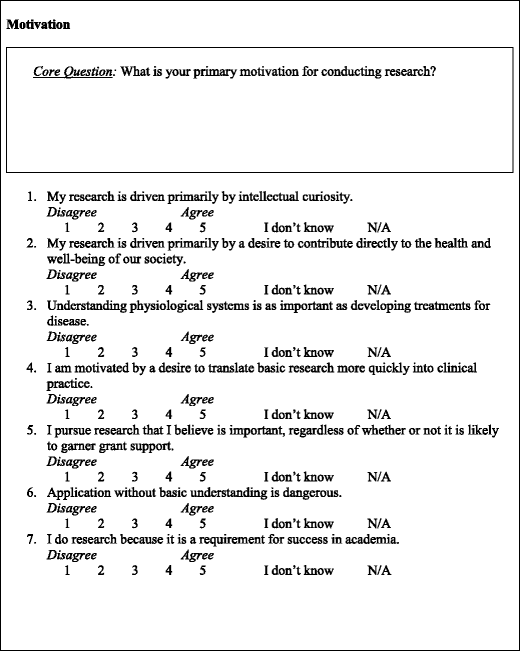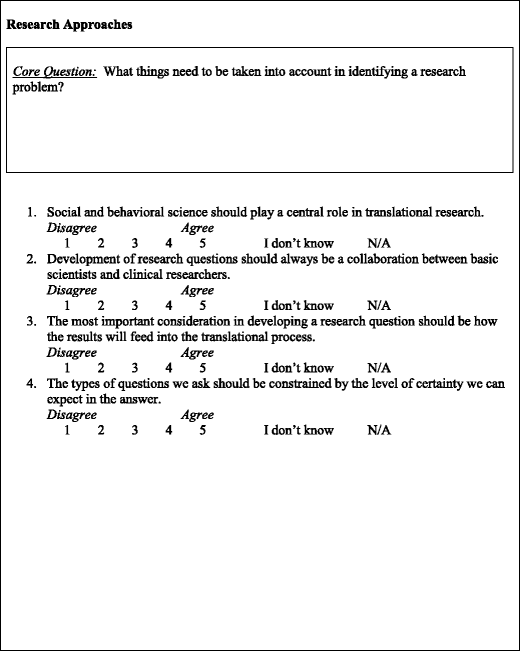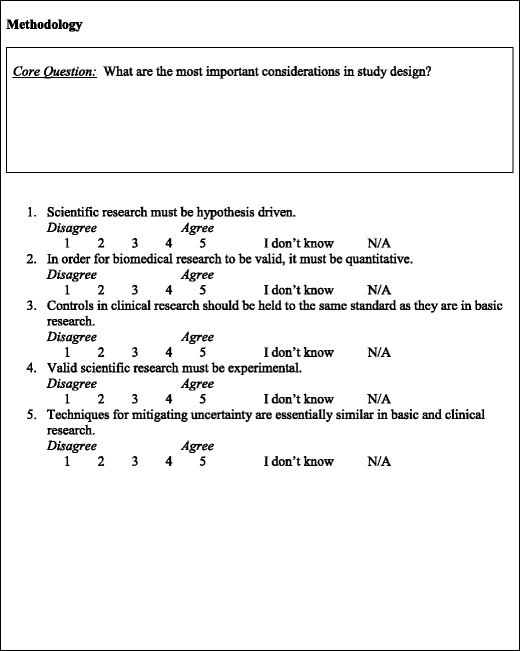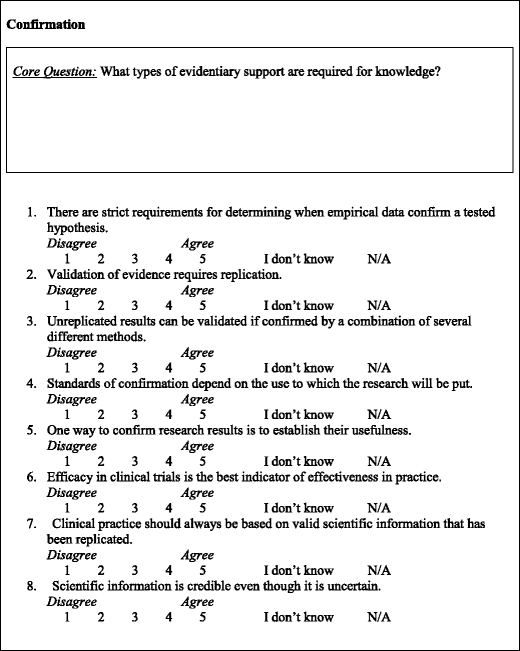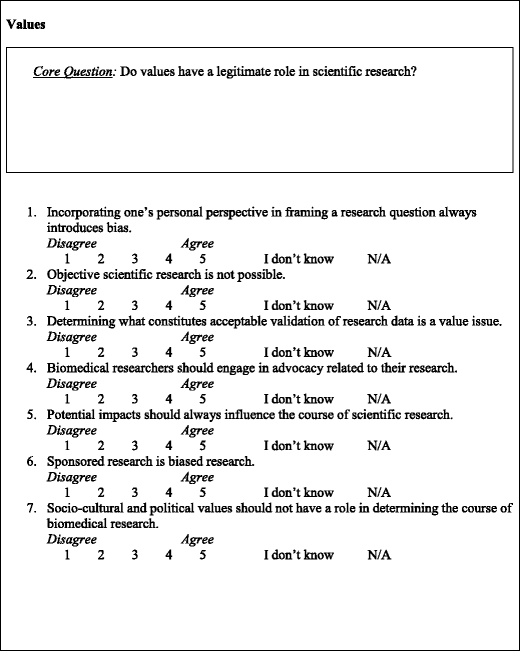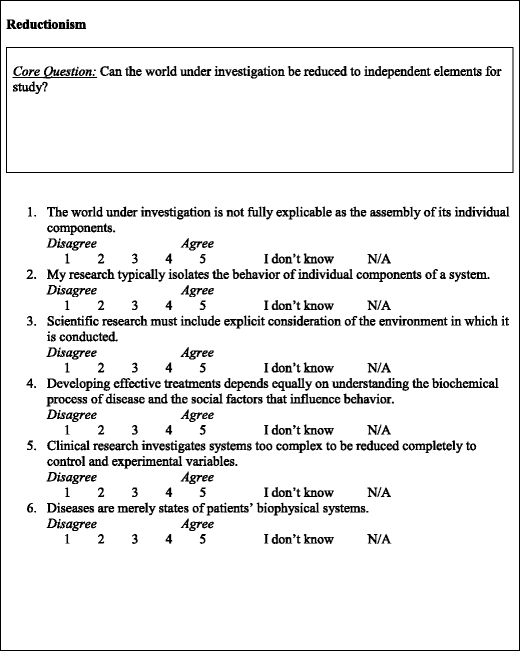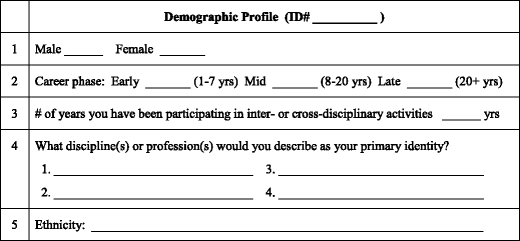 About this article
Cite this article
Schnapp, L.M., Rotschy, L., Hall, T.E. et al. How to talk to strangers: facilitating knowledge sharing within translational health teams with the Toolbox dialogue method. Behav. Med. Pract. Policy Res. 2, 469–479 (2012). https://doi.org/10.1007/s13142-012-0171-2
KEYWORDS
Toolbox dialogue method

Science of team science

Philosophy

Teamwork

Interdisciplinary collaboration