Abstract
18F-Fluorocholine (FCH) PET/CT is evolving as a functional imaging modality for the preoperative imaging of abnormal parathyroid tissue(s) helping to localize eutopic and ectopic parathyroid tissue and limit the extent of surgery. FCH PET/CT may show incidental uptake in various thyroid lesions necessitating further evaluation, whereas the role of 18F-fluorodeoxyglucose (FDG) PET/CT in the detection of incidental thyroid nodules is well documented. The case of a middle-aged woman with dual pathology of parathyroid adenoma and papillary thyroid cancer detected on FCH and FDG PET/CT is presented.
Access options
Buy single article
Instant access to the full article PDF.
USD 39.95
Price includes VAT (USA)
Tax calculation will be finalised during checkout.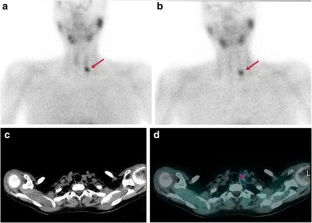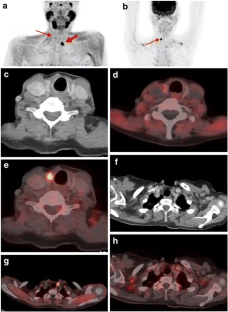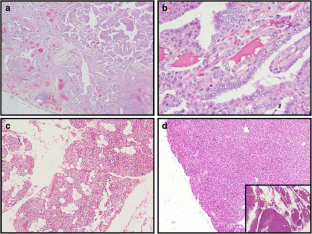 References
1.

Lezaic L, Rep S, Sever MJ, Kocjan T, Hocevar M, Fettich J. 18F-Fluorocholine PET/CT for localization of hyperfunctioning parathyroid tissue in primary hyperparathyroidism: a pilot study. Eur J Nucl Med Mol Imaging. 2014;41:2083–9.

2.

Eccles A, Challapalli A, Khan S, Barwick T, Mangar S. Thyroid lymphoma incidentally detected by 18F-fluorocholine (FCH) PET/CT. Clin Nucl Med. 2013;38:755–7.

3.

Aziz AL, Courbon F, Dierickx LO, Pascal P, Zerdoud S. Oncocytic adenoma of thyroid incidentally detected by 18F-fluorocholine PET/CT. J Nucl Med Technol. 2015;43:133–4.

4.

Wu HB, Wang QS, Wang MF, Li HS. Utility of 11C-choline imaging as a supplement to F-18 FDG PET imaging for detection of thyroid carcinoma. Clin Nucl Med. 2011;36:91–5.

5.

Paone G, Treglia G, Bongiovanni M, Ruberto T, Ceriani L, Giovanella L. Incidental detection of Hürthle cell adenoma by 18F-choline PET/CT scan in a patient with prostate cancer. Rev Esp Med Nucl Imagen Mol. 2013;32:340–1.

6.

Piccardo A, Massollo M, Bandelloni R, Arlandini A, Foppiani L. Lymph node metastasis from tall-cell thyroid cancer negative on 18F-FDG PET/CT and detected by 18F-choline PET/CT. Clin Nucl Med. 2015;40:e417–9.

7.

Soelberg KK, Bonnema SJ, Brix TH, Hegedüs L. Risk of malignancy in thyroid incidentalomas detected by 18F-fluorodeoxyglucose positron emission tomography; a systematic review. Thyroid. 2012;22:918–25.

8.

Hindie E, Ugur O, Fuster D, O'Doherty M, Grassetto G, Urena P, et al. 2009 EANM parathyroid guidelines. Eur J Nucl Med Mol Imaging. 2009;36:1201–16.

9.

Vriens D, de Wilt JH, van der Wilt GJ, Netea-Maier RT, Oyen WJ, de Geus-Oei LF. The role of [18F]-2-fluoro-2-deoxy-d-glucose-positron emission tomography in thyroid nodules with indeterminate fine-needle aspiration biopsy: systematic review and meta-analysis of the literature. Cancer. 2011;117:4582–94.

10.

Savelli G, Basile P, Muni A, Bna C, Pizzocaro C, Pagani R. Focal thyroid uptake during 18F-choline PET/CT: a case report. Case Rep Clin Med. 2015;4:345–8.
Ethics declarations
Conflicts of Interest
None.
Ethical Approval
All procedures performed in studies involving human participants were in accordance with the ethical standards of the institutional and/or national research committee and with the principles of the 1964 Declaration of Helsinki and its later amendments or comparable ethical standards.
Informed Consent
The institutional review board of our institution approved this retrospective study, and the requirement to obtain informed consent was waived.
Additional information
The original version of this article was revised to correct the name of the fifth author.
About this article
Cite this article
Thanseer, N.T.K., Bhadada, S.K., Sood, A. et al. Dual Pathologies of Parathyroid Adenoma and Papillary Thyroid Cancer on Fluorocholine and Fluorodeoxyglucose PET/CT. Nucl Med Mol Imaging 52, 154–158 (2018). https://doi.org/10.1007/s13139-017-0488-3
Received:

Revised:

Accepted:

Published:

Issue Date:
Keywords
Parathyroid adenoma

Papillary thyroid carcinoma

18F-Fluorocholine
18F-Fluorodeoxyglucose

PET/CT