Abstract
This study aims to detect differences in the features of the proposed and supported projects for different priority technology areas (PTAs) of the TUBITAK Prioritized Areas R&D Grant Program together with the analysis on the output, input, and behavioral additionality of the supported projects. Non-existence of a previous study on the evaluation of the Prioritized Grant Program of TUBITAK contributes to the originality of this study in addition to being one of the limited examples about the studies on the efficient allocation of R&D incentives in the literature. During this study, firstly, descriptive statistics of program indicators is analyzed. Then, the relationship between output amount and the characteristics of the supported projects and their calls is estimated for different PTAs by the Ordinary Least Square (OLS) method. Moreover, interviews involving questions to measure output, behavioral and input additionalities are also conducted with a sample of supported project coordinators. Using both quantitative and qualitative methods together, not seen in the literature frequently, increases reliability and originality of the study. Consequently, it is detected that the amount of proposed and supported projects and average requested and given fund per project differ with PTAs and project characteristics. Additionally, the effects of these characteristics on output amount differentiate with PTAs. Moreover, supported projects and their outputs are inadequate to meet the specific targets of the grant program despite their significant project and input additionalities. Some policies, which could be helpful to increase the effectiveness and efficiency of the Program are recommended as a conclusion of this study.
Access options
Buy single article
Instant access to the full article PDF.
USD 39.95
Price excludes VAT (USA)
Tax calculation will be finalised during checkout.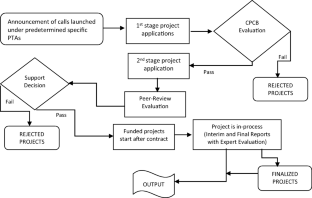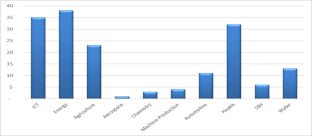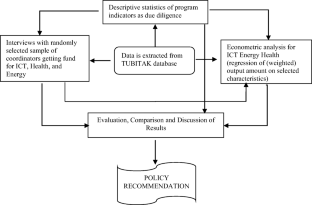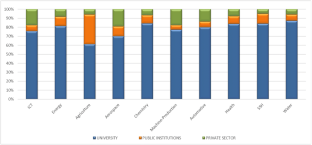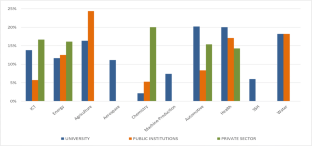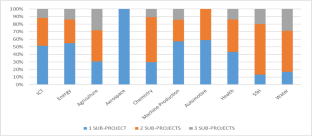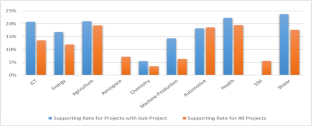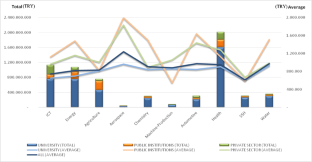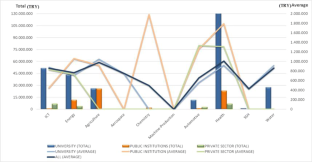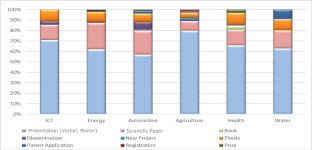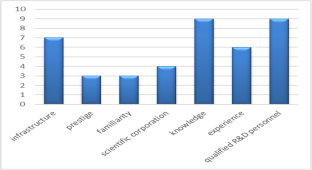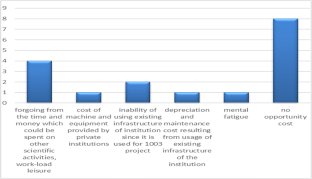 Notes
Average exchange rate in the time horizon of this study is approximately 3.70 TRY/USD
References
Conte, A., Schweizer, P., Dierx, A., & Ilzkovitz, F. (2009). European Commission (September, 2009). Retrieved from Munich Personal RePEc Archive.

Czarnitzki, D., & Hussinger, K (2004). The link between R&D subsidies, R&D spending and technological performance. Centre for European Economic Research (ZEW), Mannheim.

Eilat, H., Golany, B., & Shtub, A. (2008). R&D project evaluation: an integrated DEA and balanced scorecard approach. Omega, 36, 895–912.

European Commission (2011). Impact assessment. Brussels.

Falk, R. (2007). Measuring the effects of public support schemes on firms' innovation activities survey evidence from Austria. Research Policy, 36, 665–679.

Fedderke, J. W., & Goldschmidt, M. (2015). Does massive funding support of researchers work?: evaluating the impact of the South African research chair funding initiative. Research Policy, 44, 467–482.

Feldman, M. P., & Kelley, M. R. (2006). The ex-ante assessment of knowledge spillovers: government R&D policy, economic incentives and private firm behavior. Research Policy, 35, 1509–1521.

Garrison, L. P., Bauch, C. T., Bresnahan, B. W., Hazlet, T. K., Kadiyala, S., & Veenstra, D. L. (2011). Using cost-effectiveness analysis to support research and development portfolio prioritization for product innovation in measles vaccination. The Journal of Infectious Diseases, 204(1), 124–132.

Linton, J., Walsh, S., & Morabito, J. (2002). Analysis, ranking and selection of R&D projects in a portfolio. R&D Management, 32, 139–148.

Tandoğan, V. S. (2011). Impact analysis of industrial research and development subsidy programs in Turkey: an appraisal of quantitative approaches. Ankara: Middle East Technical University.

TUBITAK (2017). Who we are?. Retrieved from https://www.tubitak.gov.tr/en/about-us/ content-who-we-are on 14.10.2017.

Volinskiy, D., Veeman, M., & Adamowicz, W. (2011). Allocation of public funds to R&D: a portfolio choice-styled decision model and a biotechnology case study. 34, 121-139.

Wonglimpiyarat, J. (2008). Building effective research evaluation systems to assist R&D investment decisions. International Journal of Business Innovation and Research, 2(2), 123–140.
Acknowledgments
The authors would like to express their thanks to TUBITAK administration for their permission and support to use data obtained from TUBITAK database.
Additional information
Publisher's Note
Springer Nature remains neutral with regard to jurisdictional claims in published maps and institutional affiliations.
Appendix – Interview Questions
Appendix – Interview Questions
This interview is conducted for the impact analysis study of TUBITAK Prioritized Areas Grant Program. The study aims to make funding mechanism more efficient and effective by detecting the current impacts of funded projects and their PTAs in terms of output and behavioral additionality. During the interview, you will be asked questions about both the pre-funding, funding, and post-funding processes of your project, as well as your opinion about the program itself.
a.

Information about background of the project and current situation
The purpose of the questions in this section is to get information about both your opinions on the Program and other TUBITAK supports before your prioritized area project as well as the features of the project you are funded.
1.

Did you have a joint work/TUBITAK project together with these institutions/organizations?

2.

If you had worked work in another institution before and/or after the projects, which are these institutions? Is there anybody in the project team working in these institutions? Is there any study/TUBTIAK Project you conduct together with anybody whom you have studied with in these institutions?

3.

What are your studies on call subject before your prioritized area project?

4.

Did you have the idea of your prioritized area project before the call?

5.

How did you hear Prioritized Areas Grant Program and the related call? Why did you prefer this Program to get support for your project?

6.

How much did the basic research idea of the project evolve when you applied for the grant?
a.

There was no proof-of-concept/basic research before my project. (or equivalent to this)

b.

Proof-of-concept/basic research studies partially existed while applying to the Program. (or equivalent to this)

c.

The concept was just proven and supported by basic researches before my project. (or equivalent to this)

d.

I have no idea.

a.

Impact and SWOT analyses of the project
Aim of the questions in this part is learning your opinions about both the application-evaluation-operation processes of the Program and the support you get with its outputs and impacts.
1.

Could you evaluate application process of the Program in terms of procedures, bureaucracy, duration, and transparency?

2.

What do you think about the expected university-industry cooperation and application of all public/foundation universities, public institutions, and private sector to the same calls? To what extent university-industry cooperation can be provided via the Program? How could your project and overall Program contribute to bringing the new technologies based on information produced in universities and research centers into use of industry and public institution?

3.

Does your project have any of the following social, economic, and scientific impacts?
a.

Reducing foreign-dependency in technology /increasing global competence of the country (reducing current account deficit)

b.

Contributing to economic growth

c.

Contributing to structural reforms which could be reduced fragilities in the economy

d.

Contributing to social welfare

e.

Contributing to conscious use of the technology

f.

Contributing to an area studied relatively less

g.

Formation of R&D projects within the frame of university-industry cooperation

h.

Creating employment and contributing to raise of qualified R&D personnel (reducing unemployment)
1.

Is there any contribution of your project to the literature? If yes, choose these contributions from the following cases?
a.

Improvement/use of a new approach

b.

Improvement/use of a new dataset

c.

Improvement/use of a new theory

d.

Improvement/use of a new method/model

e.

Improvement/use of a new process

f.

Improvement/use of a new material/product
1.

Did/will your supported project significantly contribute to aims and targets stated in the text of related call? What are these contributions? If you think that, expected impact did not/may not be produced, what are the factors causing this situation?

2.

Could you evaluate the outputs obtained from the project activities and your expectation while applying? If you think that you could not/may not able to create outputs and impacts you desired, what are the factors causing this situation?

3.

Which opportunities are emerged for you, project team members and your institutions as a result of support you get?

4.

Is the funding amount sufficient? Is there any difference between requested and given fund? If yes, how has this revision affected your project? What do you think about the scaling applied for the Program?

5.

If you had not been supported in the scope of this program, what would have you thought about conducting this project? Would there be any changes in your Project when you conducted this project without this support?

6.

Are evaluation and tracing processes of the Program sufficient? Are the performance indicators suitable and objective?
a.

About the policy behind the prioritized areas grant program
The aim of the questions in this part is getting your opinion about the policy and the Prioritized Areas Grant Program and your improvement suggestions.
1.

Has the support you get from the Prioritized Areas Grant Program met your expectation? If you design this program, how would you change it?

2.

Which of the technology areas would you prioritize, except your area, in the scope of the Prioritized Areas Grant Program? For which subject would you prefer to launch call in your area? Why?

3.

If you prepared the text of the call you applied, how would you change it in terms of aims, targets, content, specific issues, and etc.?

4.

Is there any need for a new national or international support mechanism following the Prioritized Areas Grant Program or at the same time with it? If yes, what kind of support mechanism should it be?

5.

Are information activities about TUBITAK supports and the Prioritized Areas Grant Program sufficient?

6.

Would you recommend other scientists in your area to apply for the Prioritized Areas Grant Program and other TUBITAK supports?

7.

Please, evaluate the importance of output types given below in terms of your field of study and PTA of the call you get support
a.

Scientific paper

b.

Presentation

c.

Book/book chapter

d.

Prize

e.

Patent application/registration

f.

Product/model

g.

Company

h.

Dissemination

i.

Thesis

j.

New projects

k.

Others
About this article
Cite this article
Gürbüz, K., Erdil, E. Prioritization and R&D Support Mechanisms: Turkish Case. J Knowl Econ 12, 962–991 (2021). https://doi.org/10.1007/s13132-020-00648-y
Received:

Accepted:

Published:

Issue Date:

DOI: https://doi.org/10.1007/s13132-020-00648-y
Keywords