Abstract
The purpose of this paper is to test three hypotheses with regard to the development of scientific knowledge in relation to cultural dimensions. Two empirical models are formed to identify the causal effects of the cultural dimensions on scientific-knowledge development. The three hypotheses are tested in a case study consisting of 74 countries. Robust standard-error regressions are presented. The results show that the degree of egalitarian and hierarchical ethos across countries aids the growth of scientific knowledge. The empirical evidence complements new insights to the hypothesis of individualism-induced innovation. The evidence in this paper shows that the positive effect of individualism on the growth of scientific knowledge is also considerably lower than that of an egalitarian and hierarchical system. The proposition in this paper shows new insight into the economic and institutional evolution rooted in universal values of culture. As the world economy has been burdened by the enormous inequality of development, cultivating awareness of the competitive advantage hidden in cultural values is an essential prescription for advancing development policy pertaining to knowledge.
Access options
Buy single article
Instant access to the full article PDF.
US$ 39.95
Tax calculation will be finalised during checkout.
Subscribe to journal
Immediate online access to all issues from 2019. Subscription will auto renew annually.
US$ 79
Tax calculation will be finalised during checkout.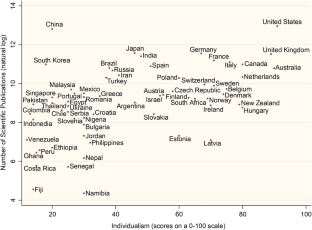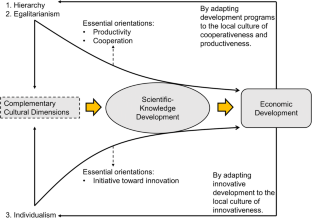 References
Aghion, P., Harris, C., Howitt, P., & Vickers, J. (2001). Competition, imitation and growth with step-by-step innovation. Review of Economic Studies, 68(3), 467–492.

Aghion, P., Bloom, N., Blundell, R., Griffith, R., & Howitt, P. (2005). Competition and innovation: An inverted-U relationship. Quarterly Journal of Economics, 120(2), 701–728.

Aghion, P., Blundell, R., Griffith, R., Howitt, P., & Prantl, S. (2009). The effects of entry on incumbent innovation and productivity. Review of Economics and Statistics, 91(1), 20–32.

Akaike, H. (1973). Information theory and an extension of the maximum likelihood principle. In B. N. Petrov & F. Csaki (Eds.), Second international symposium on information theory (pp. 267–281). Budapest: Akailseoniai–Kiudo.

Alesina, A., Spolaore, E., & Wacziarg, R. (2005). Trade, growth and the size of countries. Handbook of Economic Growth, 1(B), 1499–1542.

Alesina, A., Harnoss, J., & Rapoport, H. (2016). Birthplace diversity and economic prosperity. Journal of Economic Growth, 21(2), 101–138.

Alvard, M. S. (2003). The adaptive nature of culture. Evolutionary Anthropology: Issues, News, and Reviews, 12(3), 136–149.

Aragones, E., Gilboa, I., Postlewaite, A., & Schmeidler, D. (2005). Fact-free learning. American Economic Review, 95(5), 1355–1368.

Arrow, K. J. (1962). The economic implications of learning by doing. Review of Economic Studies, 29(3), 155–173.

Bisin, A., & Verdier, T. (2000). "Beyond the melting pot": Cultural transmission, marriage, and the evolution of ethnic and religious traits. Quarterly Journal of Economics, 115(3), 955–988.

Blaug, M. (1991). The historiography of economics. Aldershot and Brookfield: Edward Elgar.

Breusch, T. S., & Pagan, A. R. (1979). A simple test for heteroscedasticity and random coefficient variation. Econometrica, 47(5), 1287–1294.

Covi, G. (2016). Local systems' strategies copying with globalization: Collective local entrepreneurship. Journal of the Knowledge Economy, 7(2), 513–525.

De Moraes, C. O., Montes, G. C., & Antunes, J. A. P. (2016). How does capital regulation react to monetary policy? New evidence on the risk-taking channel. Economic Modelling, 56, 177–186.

Dubina, I. N., Carayannis, E. G., & Campbell, D. F. J. (2012). Creativity economy and a crisis of the economy? Coevolution of knowledge, innovation, and creativity, and of the knowledge economy and knowledge society. Journal of the Knowledge Economy, 3(1), 1–24.

Easterly, W., & Levine, R. (1997). Africa's growth tragedy: Policies and ethnic divisions. Quarterly Journal of Economics, 112(4), 1203–1250.

Gkouzos, A., & Christofakis, M. (2018). Multiplier effects under a disaggregate economic base model. Journal of Economic Studies, 45(2), 383–400.

Gorodnichenko, Y., & Roland, G. (2011). Which dimensions of culture matter for long-run growth? American Economic Review, 101(3), 492–498.

Gorodnichenko, Y., & Roland, G. (2017). Culture, institutions, and the wealth of nations. Review of Economics and Statistics, 99(3), 402–416.

Gujarati, D. N. (2003). Basic econometrics. NY: McGraw-Hill.

Hansen, C. W. (2013). Economic growth and individualism: The role of informal institutions. Economics Letters, 118(2), 378–380.

Hofstede Insights. (n.d.). Intercultural management: Compare countries. https://www.hofstede-insights.com/product/compare-countries/. Accessed 2 Jul 2018.

Hofstede, G. (1980). Motivation, leadership, and organization: Do American theories apply abroad? Organizational Dynamics, 9(1), 42–63.

Hofstede, G. (1993). Cultural constraints in management theories. Academy of Management Executive, 7(1), 81–94.

Hofstede, G. (1994). The business of international business is culture. International Business Review, 3(1), 1–14.

Hofstede, G. (1999). Problems remain, but theories will change: The universal and the specific in 21st-century global management. Organizational Dynamics, 27(1), 34–44.

Hofstede, G. (2001). Culture's consequences: Comparing values, behaviors, institutions, and organizations across nations. Thousand Oaks: Sage Publications.

Hofstede, G., Hofstede, G. J., & Minkov, M. (2010). Cultures and organizations: Software of the mind. New York: McGraw-Hill.

Jaffe, A. B. (1989). Real effects of academic research. American Economic Review, 79(5), 957–970.

Jones, C. I. (1999). Growth: With or without scale effects? American Economic Review, 89(2), 139–144.

Mankiw, N., Phelps, E., & Romer, P. (1995). The growth of nations. Brookings Papers on Economic Activity, 1995(1), 275–326.

Mansfield, E. (1995). Academic research underlying industrial innovations: Sources, characteristics, and financing. Review of Economics and Statistics, 77(1), 55–65.

Maurseth, P. B. (2018). The effect of the internet on economic growth: Counter-evidence from cross-country panel data. Economics Letters, 172, 74–77.

National Science Foundation. (n.d.). Science and engineering indicators: Scientific and Technical Journal Articles. World Bank: World Development Indicators. https://databank.worldbank.org/source/world-development-indicators. Accessed 7 Oct 2018.

Persson, K. G., & Sharp, P. (2015). An economic history of Europe. Knowledge, institutions and growth, 600 to the present. Cambridge: Cambridge University Press.

Ramsey, J. B. (1969). Tests for specification errors in classical linear least-squares regression analysis. Journal of the Royal Statistical Society, 31(2), 350–371.

Romer, P. M. (1986). Increasing returns and long-run growth. Journal of Political Economy, 94(5), 1002–1037.

Romer, P. M. (1990). Endogenous technological change. Journal of Political Economy, 98(5), S71–S102.

Schwartz, S. H. (2008). The 7 Schwartz cultural value orientation scores for 80 countries. ResearchGate. https://www.researchgate.net/publication/304715744_The_7_Schwartz_cultural_value_orientation_scores_for_80_countries. Accessed 2 July 2018. https://doi.org/10.13140/RG.2.1.3313.3040

Snowdon, B., & Vane, H. R. (2005). Modern macroeconomics: Its origins, development and current state. Cornwall: Edward Elgar Publishing Limited.

United Nations Development Programme. (n.d.). Human development reports, human development data (1990-2017): Human development index. http://hdr.undp.org/en/data. Accessed 7 Oct 2018.

Williams, L. K., & McGuire, S. J. (2010). Economic creativity and innovation implementation: The entrepreneurial drivers of growth? Evidence from 63 countries. Small Business Economics, 34(4), 391–412.

Wittgenstein, L. (1922). Tractatus logico-philosophicus. London: Routledge 1961 reprint.

Wooldridge, J. M. (2010). Econometric analysis of cross section and panel data. MA: MIT press.
Acknowledgments
The author is grateful to the anonymous reviewers and journal editors for their time and constructive comments. The data that support the findings of this study are publicly available from the sources cited in the text and reference list.
Ethics declarations
Competing Interests
The author declares that there are no financial and/or non-financial competing interests.
Additional information
Publisher's Note
Springer Nature remains neutral with regard to jurisdictional claims in published maps and institutional affiliations.
About this article
Cite this article
Yong, E.L. Understanding Cultural Determinants of Scientific-Knowledge Development: Empirical Conceptualization from a Cross-Country Investigation. J Knowl Econ 11, 1646–1662 (2020). https://doi.org/10.1007/s13132-020-00626-4
Received:

Accepted:

Published:

Issue Date:
Keywords
Cultural dimension

Egalitarianism

Hierarchy

Individualism

Innovation

Knowledge