Abstract
Knowledge-based economy is a new economy in which the production, distribution, and use of knowledge is the main source of growth and wealth creation, which the knowledge-based economy companies are the engine of this system. These companies are usually private organization or cooperative companies, which their synergy is science and wealth, knowledge-based economic development, scientific and economic goals, and commercialization of research results. This study was conducted to investigate factors affecting these companies' development. To this end, the target groups, including corporate executives and experts from the Ministry of Health was surveyed. Also, the fuzzy AHP technique is used to rate the judgments. For this purpose, eight factors, including technological factors, social and market conditions, political, administrative, economic, legal, and environmental factors are investigated. Finally, the views of these two groups have been compared and the differences in both approaches are discussed regarding the development of knowledge-based companies.
Access options
Buy single article
Instant access to the full article PDF.
USD 39.95
Price excludes VAT (USA)
Tax calculation will be finalised during checkout.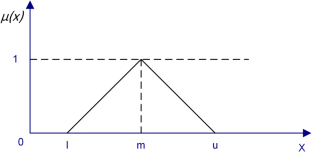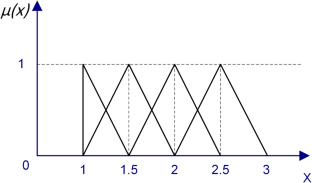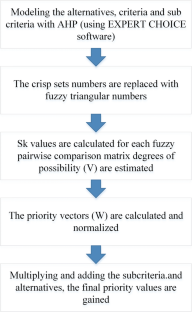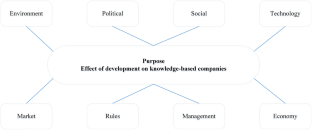 References
Al-Harbi, K. M. A. S. (2001). Application of the AHP in project management. International Journal of Project Management, 19(1), 19–27. https://doi.org/10.1016/S0263-7863(99)00038-1.

Amidon, D. M. (2001). Origin of the knowledge-based firms. Management Systems Research, 7, 212–223.

Amiri, M. P. (2010). Project selection for oil-fields development by using the AHP and fuzzy TOPSIS methods. Expert Systems with Applications, 37(9), 6218–6224. https://doi.org/10.1016/j.eswa.2010.02.103.

Asllanaj, F., Milandri, A., Jeandel, G., & Roche, J. R. (2002). A finite difference solution of non-linear systems of radiative–conductive heat transfer equations. International Journal for Numerical Methods in Engineering, 54(11), 1649–1668. https://doi.org/10.1002/nme.490.

Beccali, M., Cellura, M., & Mistretta, M. (2003). Decision-making in energy planning. Application of the Electre method at regional level for the diffusion of renewable energy technology. Renewable Energy, 28(13), 2063–2087. https://doi.org/10.1016/S0960-1481(03)00102-2.

Bellman, R. E., & Zadeh, L. A. (1977). Local and fuzzy logics. In J. M. Dunn & G. Epstein (Eds.), Modern uses of multiple-valued logic. Boston: Kluwer.

Caetano, M., & Amaral, D. C. (2011). Roadmapping for technology push and partnership: a contribution for open innovation environments. Technovation, 31(7), 320–335. https://doi.org/10.1016/j.technovation.2011.01.005.

Chan, E. H., Suen, H. C., & Chan, C. K. (2006). MAUT-based dispute resolution selection model prototype for international construction projects. Journal of Construction Engineering and Management, 132(5).

Chang, D. Y. (1996). Applications of the extent analysis method on fuzzy AHP. European Journal of Operational Research, 95(3), 649–655. https://doi.org/10.1016/0377-2217(95)00300-2.

de FSM Russo, R., & Camanho, R. (2015). Criteria in AHP: a systematic review of literature. Procedia Computer Science, 55, 1123–1132.

Deng, H. (1999). Multicriteria analysis with fuzzy pairwise comparison. International Journal of Approximate Reasoning, 21(3), 215–231. https://doi.org/10.1016/S0888-613X(99)00025-0.

Dunk, A. S. (2011). Product innovation, budgetary control, and the financial performance of firms. The British Accounting Review, 43(2), 102–111. https://doi.org/10.1016/j.bar.2011.02.004.

Ertuğrul, İ., & Karakaşoğlu, N. (2008). Comparison of fuzzy AHP and fuzzy TOPSIS methods for facility location selection. [journal article]. The International Journal of Advanced Manufacturing Technology, 39(7), 783–795. https://doi.org/10.1007/s00170-007-1249-8.

Falahati, A., Navid, B. J., Barimizadeh, E., & Koolivand, E. (2013). Identifying and prioritizing capabilities and skills necessary for marketing knowledge-based companies of science and Technology Park in Kermanshah. European Online Journal of Natural and Social Sciences, 2(3).

Fattahi, R., Vahidi, H., Hosseinpour, M., Jalaeifar, F., & Masoomi, M. (2014). Solid waste management modeling in small islands by using the improved CHANG'S FAHP method: case study, LAVAN island, PERSIAN gulf. Advances in Civil and Environmental Engineering, 2(2), 20–36.

Ghorbani, Z. (2015). Iran and knowledge-based economy: challenges and solutions. Journal of Applied Environmental and Biological Sciences, 5(2090–4274), 475–481.

Gumus, A. T. (2009). Evaluation of hazardous waste transportation firms by using a two step fuzzy-AHP and TOPSIS methodology. Expert Systems with Applications, 36(2, Part 2), 4067–4074. https://doi.org/10.1016/j.eswa.2008.03.013.

Jia-quan, W. (2005). Delphi-AHP method for allocation of waste loads in a region. Journal of Harbin Institute of Technology, 37(1), 84–88.

Kaasa, A. (2009). Effects of different dimensions of social capital on innovative activity: evidence from Europe at the regional level. Technovation, 29(3), 218–233. https://doi.org/10.1016/j.technovation.2008.01.003.

Kahraman, C., Cebeci, U., & Ulukan, Z. (2003). Multi-criteria supplier selection using fuzzy AHP. Logistics Information Management, 16(6), 382–394. https://doi.org/10.1108/09576050310503367.

Karamouz, M., Zahraie, B., Kerachian, R., Jaafarzadeh, N., & Mahjouri, N. (2007). Developing a master plan for hospital solid waste management: a case study. Waste Management, 27(5), 626–638. https://doi.org/10.1016/j.wasman.2006.03.018.

Kiker, G. A., Bridges, T. S., Varghese, A., Seager, T. P., & Igor Linkov, I. (2005). Application of multicriteria decision analysis in environmental decision making. Integrated Environmental Assessment and Management, 1(2), 95–108.

Klir, G. J., & Yuan, B. (1995). Fuzzy sets, fuzzy logic, and fuzzy systems (Vol. 6). World scientific publishing co Pte ltd.

Landry, R., Amara, N., & Ouimet, M. (2007). Determinants of knowledge transfer: evidence from Canadian university researchers in natural sciences and engineering. [journal article]. The Journal of Technology Transfer, 32(6), 561–592. https://doi.org/10.1007/s10961-006-0017-5.

Levitas, E. F., McFadyen, M. A., & Loree, D. (2006). Survival and the introduction of new technology: a patent analysis in the integrated circuit industry. Journal of Engineering and Technology Management, 23(3), 182–201. https://doi.org/10.1016/j.jengtecman.2006.06.008.

LotfiNejad, F., RashidZadeh, H., Fattahi, R., & Vahidi, H. (2013). Assessment and strategic planning for in-door and out-door sports with the application of SWOT analysis and AHP in fuzzy environment. International Journal of Sport Studies, 3(11), 1281–1291.

Magnus, W., Karrass, A., & Solitar, D. (2004). Combinatorial group theory: Presentations of groups in terms of generators and relations. Courier Corporation.

Mcmullan, E. W., & Kentworthy, T. P. (2014). Creativity and entrepreneurial performance: A General Scientific Theory Exploring Diversity in Entrepreneurship. Springer.

Mehrabi, J., Soltani, I., Nilipour, A., & Pegah Kiarasi, P. (2013). Studying knowledge commercialization. International Journal of Academic Research in Business and Social Sciences, 3(7), 267–278.

Mikhailov, L., & Tsvetinov, P. (2004). Evaluation of services using a fuzzy analytic hierarchy process. Applied Soft Computing, 5(1), 23–33. https://doi.org/10.1016/j.asoc.2004.04.001.

Musango, J. K., & Brent, A. C. (2011). A conceptual framework for energy technology sustainability assessment. Energy for Sustainable Development, 15(1), 84–91. https://doi.org/10.1016/j.esd.2010.10.005.

Naseri, R., & Davoodi, R. (2011). Commercialization of nanotechnology in developing countries. Paper presented at the 2011 3rd International Conference on Information and Financial Engineering Singapore,

Önüt, S., & Soner, S. (2008). Transshipment site selection using the AHP and TOPSIS approaches under fuzzy environment. Waste Management, 28(9), 1552–1559. https://doi.org/10.1016/j.wasman.2007.05.019.

Pires, A., Chang, N.-B., & Martinho, G. (2011). An AHP-based fuzzy interval TOPSIS assessment for sustainable expansion of the solid waste management system in Setúbal peninsula, Portugal. Resources, Conservation and Recycling, 56(1), 7–21. https://doi.org/10.1016/j.resconrec.2011.08.004.

Ramanathan, R. (2001). A note on the use of the analytic hierarchy process for environmental impact assessment. Journal of Environmental Management, 63(1), 27–35.

Reeves, G. R. (1990). Decision making: descriptive, normative and prescriptive interactions: D.E. Bell, H. Raiffa and A. Tversky (eds.) Cambridge University press, Cambridge, 1988, x + 623 pages, £20.00. European Journal of Operational Research, 48(1), 166–167. https://doi.org/10.1016/0377-2217(90)90077-O.

Saaty, T. L. (1994). Highlights and critical points in the theory and application of the analytic hierarchy process. European Journal of Operational Research, 74(3), 426–447. https://doi.org/10.1016/0377-2217(94)90222-4.

Şener, B., Süzen, M. L., & Doyuran, V. (2006). Landfill site selection by using geographic information systems. [journal article]. Environmental Geology, 49(3), 376–388. https://doi.org/10.1007/s00254-005-0075-2.

Shagholi, R., & Hussin, S. (2009). Participatory management: an opportunity for human resources in education. Procedia - Social and Behavioral Sciences, 1(1), 1939–1943. https://doi.org/10.1016/j.sbspro.2009.01.341.

Subramaniam, M. Y., & Mark, A. (2005). The influence of intellectual capital on the types of innovative capabilities. Academy of Management Journal, 48(3), 450.

Vahidi, H., Ghazban, F., Abdoli, M., Kazemi, V., & Banaei, S. (2014). Fuzzy analytical hierarchy process disposal method selection for an industrial state; Case Study Charmshahr. Arabian Journal for Science & Engineering (Springer Science & Business Media BV), 39(2).

van Laarhoven, P. J. M., & Pedrycz, W. (1983). A fuzzy extension of Saaty's priority theory. Fuzzy Sets and Systems, 11(1–3), 229–241. https://doi.org/10.1016/S0165-0114(83)80082-7.

Van Looy, B., Ranga, M., Callaert, J., Debackere, K., & Zimmermann, E. (2004). Combining entrepreneurial and scientific performance in academia: towards a compounded and reciprocal Matthew-effect? Research Policy, 33(3), 425–441. https://doi.org/10.1016/j.respol.2003.09.004.

Vetschera, R., & de Almeida, A. T. (2012). A PROMETHEE-based approach to portfolio selection problems. Computers & Operations Research, 39(5), 1010–1020. https://doi.org/10.1016/j.cor.2011.06.019.

Wang, T.-C., & Chen, Y.-H. (2007). Applying consistent fuzzy preference relations to partnership selection. Omega, 35(4), 384–388. https://doi.org/10.1016/j.omega.2005.07.007.

Wang, Y.-M., Luo, Y., & Hua, Z. (2008). On the extent analysis method for fuzzy AHP and its applications. European Journal of Operational Research, 186(2), 735–747. https://doi.org/10.1016/j.ejor.2007.01.050.

Wang, G.-Q., Luo, Y.-M., Li, G.-X., Xu, D.-G., & Zhang, H.-Y. (2008–2009). Optimizing the collection and transportation of municipal solid wastes based on AHP. China Environmental Science, 28(9), 838–842.
About this article
Cite this article
Amini, E., Baniasadi, M., Vahidi, H. et al. Affecting Factors of Knowledge-Based Companies Using Fuzzy AHP Model, Case Study Tehran University Enterprise Park. J Knowl Econ 11, 574–592 (2020). https://doi.org/10.1007/s13132-018-0554-9
Received:

Accepted:

Published:

Issue Date:

DOI: https://doi.org/10.1007/s13132-018-0554-9
Keywords
Knowledge-based companies

Fuzzy AHP model

Tehran University Enterprise Park

Development factors