Abstract
This study tries to analyze and discuss the design process of a smart city application ontology for measuring multidimensional poverty at an urban scale. Starting from the links between smart city concept and human-centered development and moving on to the definition of multidimensional poverty, the literature indicates that there is a need for an orchestrated design of smart city applications for alleviating poverty in its wider sense, based on strong theoretical foundations. The study indicates that a volunteered geographic information (VGI) concept, alongside with a 3-level data structure, should be treated as integral parts of the proposed application structure that uses the human-centered theoretical approach as a baseline to alleviate poverty. The 3-level data structure encompasses a wide range of indicators, referring not only to demographic and spatiotemporal variables, but also covers all essential information for measuring multidimensional poverty index (MPI). Finally, the collected data from this application could be further exploited by local governments and policy makers, as valuable inputs for strategic planning of place-based policies. This study serves as an example of how a smart city application could be used as a tool to effectively improve human-centered policy implications on an urban scale.
Access options
Buy single article
Instant access to the full article PDF.
US$ 39.95
Tax calculation will be finalised during checkout.
Subscribe to journal
Immediate online access to all issues from 2019. Subscription will auto renew annually.
US$ 79
Tax calculation will be finalised during checkout.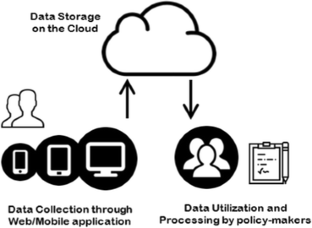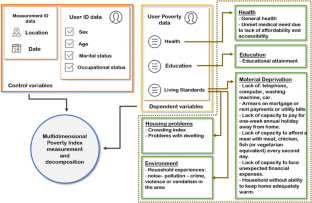 References
Adera, E. O., Waema, T. M., & May, J. (2014). ICT pathways to poverty reduction: empirical evidence from East and Southern Africa. IDRC.

Adeya, C. N. (2002). ICTs and poverty: a literature review. Ottawa, IDRC.

Alkire, S., Apablaza, M., & Jung, E. (2014). Multidimensional poverty measurement for EU-SILC countries. OPHI Research in Progress, 3, 66.

Alkire, S., Foster, J. E., Seth, S., Santos, M. E., Roche, J. M., and Ballon, P. (2015). Multidimensional poverty measurement and analysis. Oxford: Oxford University Press, ch. 9.

Antonelli, C. (2000). Collective knowledge communication and innovation: the evidence of technological districts. Regional Studies, 34(6), 535–547.

Apablaza, M., & Yalonetzky, G. (2013). Decomposing multidimensional poverty dynamics. Young Lives Working Paper, Forthcoming.

Atkinson, A. B., & Marlier, E. (2010). Living conditions in Europe and the Europe 2020 agenda. Income and living conditions in Europe, 21.

Avgerou, C. (2003). The link between ICT and economic growth in the discourse of development. In M. Korpela, R. Montealegro, & A. Poulymenakou (Eds.), Organizational information systems in the context of globalization (pp. 373–386). Dordrecht, The Netherlands: Kluwer.

Avgerou, C. (2008). Information systems in developing countries: a critical research review. Journal of Information Technology, 23(3), 133–146.

Avgerou, C., & Rovere, R. L. (2003). Information systems and the economics of innovation. Edward Elgar Publishing.

Batty, M., Axhausen, K. W., Giannotti, F., Pozdnoukhov, A., Bazzani, A., Wachowicz, M., Ouzounis, G., & Portugali, Y. (2012). Smart cities of the future. The European Physical Journal Special Topics, 214(1), 481–518.

Bovaird, T. (2007). Beyond engagement and participation: users and community co-production of services. Public Administration Review, 67, 846–860.

Braga, C. P. (1998). Inclusion or exclusion, Information for Development (InfoDev), The World Bank, http://www.unesco.org/courier/1998_12/uk/dossier/txt21.htm

Bronfman, J. (2014). Beyond Income: A Study of Multidimensional Poverty in Chile.

Castelnovo, W. (2016). Co-production makes cities smarter: citizens' participation in smart city initiatives. In Co-production in the Public Sector (pp. 97–117). Springer International Publishing.

Chourabi, H., Nam, T., Walker, S., Gil-Garcia, J. R., Mellouli, S., Nahon, K., & Scholl, H. J. (2012). Understanding smart cities: an integrative framework. In System Science (HICSS), 2012 45th Hawaii International Conference on (pp. 2289–2297). IEEE.

Conconi, A., & Ham González, A. (2007). Pobreza multidimensional relativa: Una aplicación a la Argentina. Documentos de Trabajo del CEDLAS.

Connors, J. P., Lei, S., & Kelly, M. (2012). Citizen science in the age of neogeography: utilizing volunteered geographic information for environmental monitoring. Annals of the Association of American Geographers, 102(6), 1267–1289.

Correa, A. F. (2014). An Individual-centered Approach to Multidimensional Poverty: The Cases of Chile, Colombia, Ecuador and Peru. Maastricht Economic and social Research institute on Innovation and Technology (UNU-MERIT) & Maastricht Graduate School of Governance (MGSoG).

Cruz-Jesus, F., Oliveira, T., & Bacao, F. (2012). Digital divide across the European Union. Information Management, 49(6), 278–291.

Diga, K., Nwaiwu, F., & Plantinga, P. (2013). ICT policy and poverty reduction in Africa. Info, 15(5), 114–127.

Doong, S. H., & Ho, S. C. (2012). The impact of ICT development on the global digital divide. Electronic Commerce Research and Applications, 11(5), 518–533.

Eggleston, K., Jensen, R., Zeckhauser, R. (2002). Information and communication technologies, markets, and economic development. The Global Information Technology Report: readiness for the networked world. Oxford University Press, New York, pp.62–75.

Elwood, S. (2008). Volunteered geographic information: future research directions motivated by critical, participatory, and feminist GIS. GeoJournal, 72(3–4), 173–183.

Elwood, S., Goodchild, M. F., & Sui, D. Z. (2012). Researching volunteered geographic information: Spatial data, geographic research, and new social practice. Annals of the association of American geographers, 102(3), 571–590.

European Commission (2010). Europe 2020: a strategy for smart, sustainable and inclusive growth, European Commission, Brussels, 2010.

Foster, S. P. (2000). The digital divide: some reflections. The International Information & Library Review, 32(3–4), 437–451.

Foster, C., & Heeks, R. (2013). Innovation and scaling of ICT for the bottom-of-the-pyramid. Journal of Information Technology, 28(4), 296–315.

Fusco, A., Guio, A. C., & Marlier, E. (2011). Income poverty and material deprivation in European countries (No. 2011-04). LISER.

Garnham, N. (1997). Amartya Sen's "capabilities" approach to the evaluation of welfare: Its application to communications. Javnost-The Public, 4(4), 25–34.

Gigler, B. S. (2011). Informational capabilities—the missing link for the impact of ICT on development. Available at SSRN 2191594.

Gigler, B. S. (2015). Development as freedom in a digital age: experiences from the rural poor in Bolivia. World Bank Publications.

Gigler, B. S., & Bailur, S. (Eds.). (2014). Closing the feedback loop: can technology bridge the accountability gap? World Bank Publications.

Goodchild, M. (2007). Citizens as sensors: the world of volunteered geography. GeoJournal, 69, 211–221.

Goodchild, M. F. (2009). Neogeography and the nature of geographic expertise. Journal of Location Based Services, 3(2), 82–96.

Graham, S., & Marvin, S. (2001). Splintering urbanism: networked infrastructures, technological mobilities and the urban condition. Psychology Press.

Greenberg, A. (2005). ICTs for poverty alleviation: basic tool and enabling sector.

Guio, A. C. (2009). What can be learned from deprivation indicators in Europe. indicator subgroup of the Social Protection Committee, 10.

Haklay, M. (2010). Geographical citizen science—clash of cultures and new opportunities. In GIScience workshop, 1–6.

Haklay, M. (2013). Citizen science and volunteered geographic information: overview and typology of participation. In D. Z. Sui, S. Elwood, & M. F. Goodchild (Eds.), Crowdsourcing geographic information: volunteered geographic information (VGI) in theory and practice (pp. 105–122). Dordrecht: Springer.

Hall, J., Matos, S., & Martin, M. (2014). Innovation pathways at the base of the pyramid: establishing technological legitimacy through social attributes. Technovation, 34(5–6), 265–269.

Harindranath, G., & Sein, M. K. (2007). Revisiting the role of ICT in development. In proceedings of the 9th international conference on social implications of computers in developing countries, São Paulo, Brazil.

Heeks, R. (1999) Information and communication technologies, poverty and development. Development informatics working paper series, Paper No. 5, June 1999, IDPM, Manchester.

Heeks, R. (2008). ICT4D 2.0: the next phase of applying ICT for international development. Computer, 41(6), 26–33.

Hollands, R. G. (2008). Will the real smart city please stand up? City, 12(3), 303–320.

Hudson, H. E. (1984). When telephones reach the village: the role of telecommunications in rural development. Norwood: Ablex.

Hudson, H. E. (2001a) 'Access to the digital economy: issues for rural and developing regions'. Telecommunications Management and Policy Program, University of San Francisco. http://www.usfca.edu/facstaff/hudson/papers/Access%20to%20the%20Digital%20Economy.pdf

Hudson, H. E. (2001b). Telecentre evaluation: issues and strategies. Telecentres: case studies and key issues, 169.

James, J. (2012). The ICT development index and the digital divide: how are they related? Technological Forecasting and Social Change, 79(3), 587–594.

Khalil, M. A., Dongier, P., D'Costa, V., Zhen-Wei, Q. C., Smith, P. L., Sudan, R., Swanson, E., & Wellenius, B. (2009). 2009 information and communications for development: extending reach and increasing impact. Washington, DC: World Bank Group http://documents.worldbank.org/curated/en/2009/01/10647109/2009-information-communications-development-extending-reach-increasing-impact.

Knudsen, A. S., & Kahlia, M. (2012). Review the role of volunteered geographic information in participatory planning: examples from Denmark and Finland. Perspektiv, 21, 35–48.

Komninos, N. (2004). 'Regional intelligence: distributed localised information systems for innovation and development', Int. J. Technology Management, Vol. 28, Nos. 3/4/5/6, pp.483–506.

Komninos, N. (2006). 'The architecture of intelligent cities', Intelligent Environments 06, Institution of Engineering and Technology, pp.13–20.

Komninos, N. (2009). Intelligent cities: towards interactive and global innovation environments. International Journal of Innovation and Regional Development, 1(4), 337–355.

Komninos, N. (2013). Social innovation in smart cities: applications, drivers of intelligence, and governance. Paper presented at the conference "Social Innovations and Conflicts in Urban Development and Planning", Leibniz Institute for Regional Development and Structural Planning (IRS), Berlin, 7–8 November 2013.

Komninos, Ν. (2014). The age of intelligent cities. London and New York: Routledge.

Komninos N., Kakderi C. and Tsarchopoulos P. (2014). New services design for smart cities: a planning road-map for user-driven innovation. Proceedings of the 2014 ACM international workshop on wireless and mobile technologies for smart cities (WiMobCity '14): pp.29–39, Academic OneFile database. https://doi.org/10.1145/2633661.2633664.

Komninos, N., Bratsas, C., Kakderi, C., & Tsarchopoulos, P. (2015). Smart City Ontologies: Improving the effectiveness of smart city applications. Journal of Smart Cities, 1(1).

Kuhn, W. (2007). Volunteered Geographic Information and GIScience. NCGIA, UC Santa Barbara, 13–14 December, 2007.

Kyriakidou, V., Michalakelis, C., & Sphicopoulos, T. (2011). Digital divide gap convergence in Europe. Technology in Society, 33(3), 265–270.

Linders, D. (2012). From e-government to we-government: defining a typology for citizen coproduction in the age of social media. Government Information Quarterly, 29(4), 446–454.

Loh, Y. A. (2015). Approaches to ICT for development (ICT4D): vulnerabilities vs. capabilities. Information Development, 31(3), 229–238.

Madej, M., M. Soniat, L. Dupont, and M. M. Thompson. (2012). Assessing street conditions through volunteer spatial mapping in lakeview assessing street conditions through volunteer spatial mapping in lakeview. Planning and Urban Studies Reports and Presentations.

Madon, S. (2000), "The Internet and socio-economic development: exploring the interaction." Information Technology and People 13.

Madon, S. (2008). Evaluating the developmental impact of e-governance initiatives: An exploratory framework. ICTs and Indian Social Change: Diffusion, Poverty, Governance, 268.

Mansell, R. (1999). Information and communication technologies for development: assessing the potential and the risks. Telecommunications Policy, 23, 35–50.

Mansell, R. (2002). From digital divides to digital entitlements in knowledge societies. Current sociology, 50(3), 407–426.

Mansell, R. and When, U. (1998), Knowledge societies: information technology for sustainable development, Oxford University Press.

Moseson, A. J., Lama, L., & Tangorra, J. (2015). Development by technology seeding. Journal of International Development, 27(4), 489–503.

Nam, T. (2012). Suggesting frameworks of citizen-sourcing via Government 2.0. Government Information Quarterly, 29(1), 12–20.

Nelson, R. R., & Winter, S. G. (1982). The Schumpeterian tradeoff revisited. The American Economic Review, 72(1), 114–132.

OECD. (2011), OECD guide to measuring the information society 2011, OECD Publishing, Paris. doi: https://doi.org/10.1787/9789264113541-en

Panori, A. (2017). A tale of hidden cities. REGION, 4(3), 19–38. 10.18335/region.v4i3.189.

Panori, A., Ballas, D., & Psycharis, Y. (2017). SimAthens: a spatial microsimulation approach to the estimation and analysis of small area income distributions and poverty rates in the city of Athens, Greece. Computers, Environment and Urban Systems, 63, 15–25.

Parr, D. A. (2015). The production of volunteered geographic information: a study of OpenStreetMap in the United States (Doctoral dissertation, Texas State University).

Pigato, M. A. (2001) 'Information and communication technology, poverty, and development in sub-Saharan Africa and South Asia'. Africa Region Working Paper Series No. 20, August 2001. The World Bank. http://www.worldbank.org/afr/wps/wp20.h

Prahalad, C. K., McCracken, P., & McCracken, R. (2009). The new nature of innovation. Copenhagen: Reportfor OECD, FORA.

Ramani, S., & Mukherjee, V. (2014). Can breakthrough innovations serve the poor (bop) and create reputational (CSR) value? Indian case studies. Technovation, 35(5–6), 295–305.

Rippin, N. (2016). Multidimensional Poverty in Germany: A Capability Approach. In Forum for Social Economics (Vol. 45, No. 2-3, pp. 230-255). Routledge.

Schaffers, H., Komninos, N., Pallot, M., Trousse, B., Nilsson, M., & Oliveira, A. (2011). Smart cities and the future internet: towards cooperation frameworks for open innovation. In The Future Internet Assembly (pp. 431–446). Springer Berlin Heidelberg.

Schumpeter, J. A. (1939). Business cycles: a theoretical, historical and statistical analysis of the capitalist process. New York: McGraw-Hill.

Schumpeter, J. A. (1947). The creative response in economic history. The Journal of Economic History, 7(2), 149–159.

Schuurman, D., Baccarne, B., De Marez, L., & Mechant, P. (2012). Smart ideas for smart cities: investigating crowdsourcing for generating and selecting ideas for ICT innovation in a city context. Journal of Theoretical and Applied Electronic Commerce Research, 7(3), 49–62.

Seegolam, A., Sukhoo, A., & Bhoyroo, V. (2015). ICT as an enabler to achieve sustainable development goals for developing countries: a proposed assessment approach. In eChallenges e-2015 Conference (pp. 1–11). IEEE.

Sen, A. (1985). Well-being, agency and freedom: the Dewey lectures 1984. The Journal of Philosophy, 82(4), 169–221.

Sen, A. (1992). Inequality reexamined. Clarendon Press.

Sen, A. (1993). Capability and well-being73. The quality of life, 30.

Sen, A. (1997). Editorial: Human capital and human capability. World Development, 25, 1959–1961.

Sen, A. (1999). Development as freedom. New York: Knopf Press.

Silvestre, B., & Silva Neto, R. (2014). Capability accumulation, innovation, and technology diffusion: lessons from a base of the pyramid cluster. Technovation, 34(5–6), 270–283.

Song, W., and G. Sun. (2010). The role of mobile volunteered geographic information in urban management. In 2010 18th International Conference on Geoinformatics. Beijing, China: IEEE.

Suppa, N. (2015). Towards a multidimensional poverty index for Germany.

Townsend, A. M. (2013). Smart cities: big data, civic hackers, and the quest for a new utopia. WW Norton & Company.

Tulloch, D. L. (2008). Is VGI participation? From vernal pools to video games. GeoJournal, 72(3–4), 161–171.

UN (2015a). The Millennium Development Goals Report 2015, United Nations.

UN (2015b). Transforming our world: the 2030 agenda for sustainable development, United Nations.

UN (2016a). Leaving no one behind: progress towards achieving socially-inclusive development. Report on the World Social Situation 2016, United Nations.

UN (2016b). Draft outcome document of the United Nations Conference on Housing and Sustainable Urban Development (Habitat III), United Nations, September 2016.

UN-Habitat (2016). Urbanization and development: emerging futures. World Cities Report 2016, United Nations.

Weziak-Bialowolska, D. (2016). Spatial Variation in EU Poverty with Respect to Health, Education and Living Standards. Social indicators research, 125(2), 451–479.

Whelan, Christopher T., Nolan, Brian. and Maitre, Bertrand, (2014), Multidimensional Poverty Measurement in Europe: An Application of the Adjusted Headcount Approach, Journal of European Social Policy, 24(2), 183–197.

Wresch, W. (1996). Disconnected: haves and have-nots in the information age. New Brunswick: Rutgers University Press.

Yildirim, N., & Ansal, H. (2011). Foresighting FLOSS (free/libre/opensourcesoftware) from a developing country perspective: the case of Turkey. Technovation, 31, 666–678.
Acknowledgements
We would like to thank the editor and the two anonymous referees for their insightful comments.
Appendix
Appendix
In the following section, all indicators for MPI components are presented based on Weziak-Bialowolska (2016) conceptualization of regional MPI for the EU countries.
Dimension 1: Health (2 out of 3)

Component 1.1: General health

PH010—Reporting bad or very bad conditions

Component 1.2: Unmet medical need due to lack of affordability and accessibility

PH040, PH050—Unmet need for medical examination or treatment because it was not affordable, there was a waiting list, or it was too far to travel/no means of transportation

Component 1.3: Unmet dental need due to lack of affordability and accessibility

PH060, PH070—Unmet need for dental examination or treatment because it was not affordable, there was a waiting list, or it was too far to travel/no means of transportation

Dimension 2: Education

Component 2.1: Educational attainment

PB010, PB140, PE010, PE040—A person of more than 24 years not having at least upper secondary education or in the age range 16–24 years who has finished no more than lower secondary education and is not involved in further education (based on early school leaver definition)

Dimension 3: Living standards (1 out of 3)

Component 3.1: Material deprivation (3 out of 9)

HS070, HS090, HS100, HS110—Household cannot afford a telephone (including a mobile phone), a computer, a washing machine, and a car.

HS010, HS011, HS020, HS021—Households with arrears on mortgage or rent payments or utility bills

HS040—Lack of capacity in a household to afford paying for 1-week annual holiday away from home

HS050—Lack of capacity in a household to afford a meal with meat, chicken, and fish (or vegetarian equivalent) every second day

HS060—Lack of capacity to face unexpected financial expenses

HH050—Household without ability to keep home adequately warm

Component 3.2: Housing problems (2 out of 4)

HH030—Crowding index (average number of people per room available to the household) > 2

HH040, HH080/HH081, HS160—Problems with dwelling such as the following: leaking roof, damp walls/floors/foundation, or rotten window frames or floor; too dark, not enough light; without bath or shower for sole use in dwelling

Component 3.3: Environment (2 out of 3)

HS170, HS180, HS190—Household experiences such as the following: noise from neighbors or from the street; pollution, grime, or other environmental problems; crime, violence, or vandalism in the area
About this article
Cite this article
Panori, A., Kakderi, C. & Tsarchopoulos, P. Designing the Ontology of a Smart City Application for Measuring Multidimensional Urban Poverty. J Knowl Econ 10, 921–940 (2019). https://doi.org/10.1007/s13132-017-0504-y
Received:

Accepted:

Published:

Issue Date:
Keywords
Smart cities

Multidimensional poverty

Development

Policy design