Abstract
In recent years, smart technologies and networking solutions, such as Internet of things (IoT), have been adopted by most leading cities in China as ways to revitalize economic opportunities and strengthen their global resilience to climate change. This paper presents the concept of the smart city, which serves as a complex system by integrating sensors, data, applications, and organizational forms to make cities more agile and sustainable when faced with global climate changes. The paper provides a comprehensive assessment of smart city initiatives in China in recent years. Six key conceptual dimensions of smart city practices are classified: energy, agriculture, transport, buildings, urban services, and urban security operations. Chinese smart city policy and practices explore renewable energy and resources, increase public convenience, and make cities more comfortable and citizen friendly. Critical concerns are explored in such areas as integration (within the urban system, with other cities), governance, innovation, and finance. Finally, a policy vision is outlined to build up public-private collaborative networks, to encourage more innovations and investments in smart city initiatives, and to put more emphasis on smart services.
This is a preview of subscription content, log in to check access.
Access options
Buy single article
Instant access to the full article PDF.
US$ 39.95
Price includes VAT for USA
Subscribe to journal
Immediate online access to all issues from 2019. Subscription will auto renew annually.
US$ 99
This is the net price. Taxes to be calculated in checkout.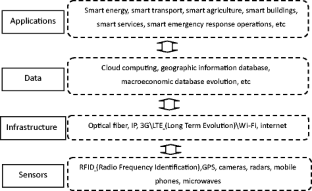 References
Akhras, G. (2000). Smart materials and smart systems for the future. Canadian Military Journal, Autumn, 1, 25–32.

Anthopoulos L, Janssen M, Weerakkody V (2015) Comparing smart cities with different modeling approaches. International World Wide Web Conference Committee (IW3C2). WWW 2015 Companion, Florence, Italy.

Anthopoulos, L., Janssen, M., & Weerakkody, V. (2016). A Unified Smart City Model (USCM) for smart city conceptualization and benchmarking. International Journal of Electronic Government Research, 12(2), 1–17.

Anttiroiko A V, Valkama P, Bailey S J. (2013) Smart cities in the new service economy: building platforms for smart services. AI & Society.

Bakici, T., Almirall, E., & Wareham, J. (2013). A smart city initiative: The case of Barcelona. Journal of the Knowledge Economy, 4(2), 135–148.

Bao, C., & Fang, C. L. (2013). Geographical and environmental perspectives for the sustainable development of renewable energy in urbanizing China. Renewable and Sustainable Energy Reviews, 27, 464–474.

Batty, M., Axhausen, K. W., Giannotti, F., Pozdnoukhov, A., Bazzani, A., Wachowicz, M., Ouzounis, G., & Portugali, Y. (2012). Smart cities of the future. The European Physical Journal Special Topics, 214(1), 481–518.

Bilbil, E. T. (2016). The operationalizing aspects of smart cities: the case of Turkey's smart strategies. Journal of the Knowledge Economy, 11. doi:10.1007/s13132-016-0423-3.

Cai M Y (2010) IBM committed to 'smarter city' plan in China. http://www.chinadaily.com.cn/bizchina/2010-03/26/content_9647559.htm. Accessed in February 2013.

Chen L M (2013) Govt selects pilot cities for smart city project. http://www.chinadaily.com.cn/business/2013-01/30/content_16188420.htm. Accessed in February 2014.

China Institute of Communications (2012) Smart city white paper. http://wenku.baidu.com. Accessed in March 2014.

China Mobile (2012) www.Chinam2m.com.cn. Accessed in March 2014.

Debnath, A. K., Chin, H. C., Haque, M. M., & Yuen, B. (2014). A methodological framework for benchmarking smart transport cities. Cities, 37, 47–56.

Don J. (2016) http://www.chinabusinessreview.com/smart-city-development-in-china/. Accessed in September 2016.

Dvir, R., & Pasher, E. (2004). Innovation engines for knowledge cities: an innovation ecology perspective. Journal of Knowledge Management, 8(5), 16–27.

FINPRO (2011) Internet of Things—China. http://www.doc88.com/p-39297839152.html. Accessed in February 2014.

Frenchman D, Joroff M, Albericci A (2011) Smart cities as engines of sustainable growth. Washington, DC, World Bank.

Giffinger R, Fertner C, Kramar H, Kalasek R, Pichler-Milanovic N, Meijers E (2007) Smart cities: ranking of European medium-sized cities. Vienna: Centre of Regional Science. http://www.smart-cities.eu/download/smart_cities_final_report.pdf. Accessed in May 2011.

Gomez, J., Huete, J. F., Hoyos, O., Perez, L., & Grigori, D. (2013). Procedia Computer Science, 21, 132–139.

Gubbi, J., Buyya, R., Marusic, S., & Palaniswami, M. (2013). Internet of things (IoT): a vision, architectural elements, and future directions. Future Generation Computer Systems, 29, 164,5–11660.

Guo, Y. (2012). Urban resilience in post-disaster reconstruction: towards a resilient development in Sichuan, China. International Journal of Disaster Risk Science, 3(1), 45–55. doi:10.1007/s13753-012-0006-2.

Guo L Q (2013) Research on Chinese smart city standards. Beijing, China Building Industry Press.

Haier (2011) Haier U-Home System. http://www.haier.com/cn/business/Uhome/

Harrison C, Eckman B, Hamilton R, Hartswick P, Kalagnanam J, Paraszczak J, Williams P (2010) Foundations for smarter cities. IBM Journal of Research and Development, 54(4).

Hollands, R. G. (2008). Will the real smart city please stand up? City, 12(3), 303–320.

Jabareen, Y. (2013). Planning the resilient city: concepts and strategies for coping with climate change and environmental risk. Cities, 31(4), 220–229.

Jiang, F., Gao, M., & Wang, Z. J. (2013). Reviews on intelligent building systems in China. Recent Progress in Data Engineering and Internet Technology, 1(156), 441–447.

Kyriazis, D., & Varvarigou, T. (2013). Smart, autonomous and reliable internet of things. Procedia Computer Science, 21, 442–448.

Mattern, F., & Floerkemeier, C. (2010). From the internet of computers to the internet of things. Informatik-Spektrum, 33(2), 107–121.

Ministry of Housing and Urban-Rural Development (MOHURD) (2013) Smart city pilot dossier. http://wenku.baidu.com. Accessed in March 2014.

Nam T, Pardo T A (2011) Conceptualiizing smart city with dimensions of technology, people, and institutions. In: 12th Annual International Conference on Digital Government Research. (25).

National Bureau of Statistics of China (NBSC). Sixth National Population Census, People's Republic of China. China Statistical Yearbook. Beijing: China Statistics Press.

National Bureau of Statistics of China (NBSC). Various years. China Statistical Yearbook.Beijing: China Statistics Press.

Neirotti, P., Marco, A. D., Cagliano, A. C., Mangano, G., & Scorrano, F. (2014). Current trends in Smart City initiatives: some stylised facts. Cities, 38(6), 25–36.

Ningbo Municipal Bureau of Information Industry (2010) Ningbo smart city development plan, 2012. http://english.ningbo.gov.cn/art/2012/12/14/art_46_611724.html. Accessed in March 2014

Paulin, A. (2016). Informating smart cities governance? Let us first understand the atoms! Journal of the Knowledge Economy, 7(2), 329–343.

People's daily Online (2015) http://tc.people.com.cn/n/2015/0515/c183008-27003366.html. Accessed in September 2016.

Potangaroa R, M J Wang, Chang Y (2008) Identifying resilience in those affected by the 2008 Sichuan earthquake. Engineering Management Forum 2008. Erdos, China. http://www.resorgs.org.nz/pubs/Resilience%20in%20Sichuan%20Regan2.pdf.

Ren, D. M. (2011). New energy development and system innovation in China. Sino-Global Energy, 16(1), 31–36 (in Chinese).

Sarma S, Brock D L, Ashton K (2000) The networked physical world, TR MIT-AUTOID-WH-001, MIT Auto-ID Center.

State Grid Corporation of China (2011) Intelligent substation of the world's highest voltage level put into operation. http://www.sgcc.com.cn/. Accessed in February 2014.(33).

UN (United Nations). (2010). World population prospects: The 2010 revision. New York: UN Department of Economic and Social Affairs, Population Division.

Wang Y Y (2012) e-government services reach more Chinese cities http://news.xinhuanet.com/english/china/2012-12/06/c_132024087.htm. Accessed in March 2014.

Wu, F. L. (2015). Planning for Growth: urban and regional planning in China. New York: Routledge.

Wu, K., & Li, B. (1995). Energy development in China. Energy Policy, 23(2), 167–178.

Yang, L., Yang, S. H., & Plotnick, L. (2013). How the internet of things technology enhances emergency response operations. Technological Forecasting and Social Change, 80(9), 1854–1867.

Yao, R. M., Li, B. Z., & Steemers, K. (2005). Energy policy and standard for built environment in China. Renewable Energy, 30, 1973–1988.

Yigitcanlar, T., Velibeyoglu, K., & Fernandez, C. M. (2008). Rising knowledge cities: the role of urban knowledge precincts. Journal of Knowledge Management, 12(5), 8–20.

Yu, L. (2014). Low carbon eco-city: new approach for Chinese urbanization. Habitat International, 44, 102–110.

Zhao S (2011) Agriculture IoT. http://blog.sina.com.cn/s/blog_75b070a40100q8w5.html. Accessed in April 2014.

Zygiaris, S. (2013). Smart city reference model: assisting planners to conceptualize the building of smart city innovation ecosystems. Journal of the Knowledge Economy, 4, 217–231.
About this article
Cite this article
Song, T., Cai, J., Chahine, T. et al. Towards Smart Cities by Internet of Things (IoT)—a Silent Revolution in China. J Knowl Econ (2017). https://doi.org/10.1007/s13132-017-0493-x
Received:

Accepted:

Published:
Keywords
Smart city

Internet of things

China

Sustainability

Policy

Best practices