Abstract
The article is dedicated to business model innovation (BMI) from the perspective of its role in today's competition of large corporate entities. The work aims to make three contributions. First, by relying on strategy-focused and innovation management-focused BMI studies, and linking the two approaches, the author develops the "dynamic concept" of business models' strategy dimension by bringing the two perspectives together. Second, the work examines how BMI can become a source of sustainable competitive advantage though all the main components of successful business models seem very visible and easy to copy. Third, by unpacking key elements of a business model, the paper discloses what BMI does really mean in terms of concrete changes and how these changes affect a competitive position of the firm.
Access options
Buy single article
Instant access to the full article PDF.
USD 39.95
Price excludes VAT (USA)
Tax calculation will be finalised during checkout.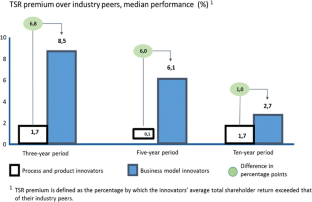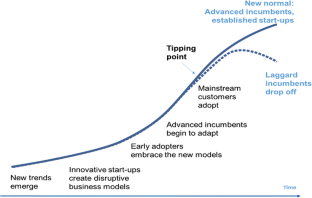 Notes
It was not that long ago that this company was among the most respected long-standing members of "big business" community in the USA. Founded in 1880, for almost an entire century, Kodak was seen as one of the most innovative corporations in the world, renowned for its special devotion to advanced technologies and innovative marketing solutions. It is no coincidence that by 1976, the company already controlled 85 % of the US camera market and 90 % of the film market; right up to the 1990s, the Kodak brand was regularly included in the top five most expensive global brands.

This is noted by Raphael Amit (from Wharton School) and Christoff Zott (from IESE Business School) (Amit, Zott, 2012. P. 43), "Rather than growing by simply bringing innovative new hardware to the market, Apple transformed its business model to encompass an on-going relationship with its customers… In this way, Apple expanded the locus of its innovation from the product space to the business model."

As observed in the specialist study of Nespresso's business model (Matzler et al. 2013. p. 36), "the idea to sell coffee in capsules has now been copied many times but what is hard to copy is the entire system—the business model. This non-duplicable business model provides the foundation for sustained success."

According to a specialist assessment (Wallbank 2013, p. 3) comparing the current effectiveness of the Virgin Blue and Jetstar business models, "as a low-cost carrier, Jetstar is the realityof flying's present and a vision of travel's future."

Business 2010: Embracing the Challenge of Change. White Paper. N.Y.: Economist Intelligence Unit. 2005, p. 9.

As this survey concludes, "business model innovation ranks last on the innovators agenda when it comes to the extent to which companies are willing to invest in this area, both now and in the near future" (Duppen, Inniss 2010, p. 24)

"Like Xerox," wrote Henry Chesbrough from Haas School of Business (Chesbrough 2010. p. 356), "companies have many more processes, and a much stronger shared sense of how to innovate technology, than they do about how to innovate business models."

In the USA, until 1870, livestock intended for meat processing crossed over from one of the main livestock centers in the Midwest to slaughterhouses on the East Coast, and was then resold to consumers in major cities of the region in the form of fresh prefabricated meat. Swift & Co adopted an entirely different approach: by placing slaughterhouses in the main livestock regions and supplying them with powerful refrigeration equipment, the company set about transporting frozen meat in specially equipped wagons by rail to major consumption centers. By drastically cutting costs, the company managed to radically drop prices and quickly gained the dominant position in the industry, with its competitors having no other choice but to adopt this model, which became the industry standard.

With the help of the Moscow Government McDonalds' set up several farms near the city which secured funding to purchase modern equipment. A herd of meat cows was brought from Holland, as well as a specialist type of potato from the USA. The company then built a large complex to produce packed beef, semi-finished potato goods, dairy produce, and the company's sauces and ketchups. It even managed to establish its own fleet of trucks to ensure that its restaurants were supplied according to a strict schedule.
References
Afuah A. (2014). Business model innovation: concepts, analysis, and cases. N.Y. (N.Y.): Routledge.

Amit, R., & Zott, C. (2012). Creating value through business model innovation. MIT Sloan Management Review, 53(3), 41–49.

Baden-Fuller C., Haefliger S. (2013). Business Models and Technological Innovation. Cass Business School, London, http://stage.cassknowledge.com/sites/default/files/article-attachments/business-models-technological-innovation-cass-knowledge.pdf (last accessed 2015/05/10)

Brink, J., & Holmen, M. (2009). Capabilities and radical changes of the business models of new bioscience firms. Creativity and Innovation Management., 18(2), 109–120.

Calof, J. L. (2008). Selling competitive intelligence. Competitive Intelligence Magazine., 11(1), 39–42.

Carayannis, E. G., Sindakis, S., & Walter, C. (2014). Business model innovation as lever of organizational sustainability. The Journal of Technology Transfer, 40(1), 1–20.

Casadesus-Masanell, R., & Ricart, J. E. (2010). From strategy to business models and on to tactics. Long Range Planning, 43, 195–215.

Chesbrough, H. (2010). Business model innovation: opportunities and barriers. Long Range Planning, 43, 354–363.

Dishman, P. L., & Calof, J. L. (2008). Competitive intelligence: a multiphasic precedent to marketing strategy. European Journal of Marketing, 42(7/8), 766–785.

Duppen F., Inniss D. (2010). Global Innovation Survey: Innovation Leader versus Laggard Study. London, Capgemini Consulting. https://www.nl.capgemini-consulting.com/resource-file-access/resource/pdf/Global_Innovation_Survey_2010_3.pdf (last accessed 2015/05/10).

Eyring M. J., Johnson M. W., Nair H. (2011). New Business Models in Emerging Markets. Harvard Business Review. January-February. http://www.harvardbusiness.org/new-business-models-emerging-markets (last accessed 2015/05/10).

Foss N. J., Saebi T. (2015). Business Models and Business Model Innovation: Bringing Organization into Discussion. – in: Business Model Innovation: The Organizational Dimension. Ed. By Foss N.J., Saebi T., N.Y. (N.Y.), Oxford University Press, pp. 1-23.

Girotra K., Netessine S. (2013). Why large companies struggle with business model innovation. Harvard Business Review. September. http://blogs.hbr.org/2013/09/why-large-companies-struggle-with-business-model-innovation/ (last accessed 2015/05/10).

Heger, T., & Rohrbeck, R. (2012). Strategic foresight for collaborative exploration of new business fields. Technological Forecasting and Social Change, 79, 819–831.

Hienerth, C., Keinz, P., & Lettl, C. (2011). Exploring the nature and implementation process of user-centric business models. Long range planning. Vol. 44. Nos, 5–6, 344–374.

Hillestad H. C. (2011). How does multinational enterprise from developed markets succeed in emerging markets? An investigation based on Telenor. Copenhagen. http://studenttheses.cbs.dk/bitstream/handle/10417/2688/hilde_christine_hillestad.pdf?sequence=( last accessed 2015/05/10).

Hirt M., Willmott P. (2014). Strategic principles for competing in the digital age. McKinsey Quarterly. May. http://www.mckinsey.com/insights/strategy/strategic_principles_for_competing_in_the_digital_age (last accessed 2015/08/11).

Ho, Y., Fang, H., & Hsieh, M. (2011). The relationship between business-model innovation and firm value: a dynamic perspective. World Academy of Science, Engineering and Technology, 77, 656–664.

Johnson M., Christensen C., Kagerman H. (2008). Reinventing your business model. Harvard Business Review. December. http://hbr.org/2008/12/reinventing-your-business-model/ar/1 (last accessed 2015/05/10)

Kanani R. (2012). Business model innovation is the fastest path to greatness. Forbes. April 10. http://www.forbes.com/sites/rahimkanani/2012/10/04/business-model-innovation-is-the-fastest-path-to-greatness/ (last accessed 2015/05/10)

Kaplan S. (2012). The business model innovation factory: how to stay relevant when the world is changing. N. Y. (N. Y.)

Koen, P. A., Bertels, H. M., & Elsum, I. R. (2011). The three faces of business model innovation: challenges for established firms. Research-Technology Management., 54(3), 52–59.

Lindgardt Z., Hendren C. (2014). Using business model innovation to reinvent the core. BCG Perspectives. March 27. https://www.bcgperspectives.com/content/articles/growth_innovation_using_business_model_innovation_reinvent_core/print (last accessed 2015/05/10).

Lindgardt Z., Reeves M., Stalk G., Deimler M. (2009). Business model innovation: when the game gets tough, change the game. BCG. http://www.bcg.ru/documents/file36456.pdf (last accessed 2015/05/10).

Magretta J. (2002) Why business models matter. Harvard Business Review. May, pp. 86-92.

Maguire, S., Ojiako, U., & Robson, I. (2009). The intelligence alchemy and the twenty-first century organization. Strategic Change, 18(2), 125–139.

Matzler, K., Bailom, F., Von Den Eichen, S. F., & Kohler, T. (2013). Business model innovation: coffee triumphs for Nespresso. Journal of Business Strategy, 34(2), 30–37.

Osterwalder, A. (2004). The business model ontology: a proposition in the design science approach. Lausanne: University of Lausanne.

Pedersen K., Svarre K., Slepniov D., Lindgren P. (2013). Global business model—a step into a liquid business model. Journal of Multi Business Model Innovation and Technology. Vol. 1, Iss.1, pp.101-114.

Peter M., Jarratt D. (2013). The practice of foresight in long-term planning. Technological Forecasting and Social Change. doi: 10.1016/j.techfore.2013.12.004 (last accessed 2015/08/19).

Rayna T., Striukova L. (2014). The impact of 3D printing technologies on business model innovation. – in: Digital Enterprise Design & Management. Paris, Springer, pp. 119 - 132.

Rohrbeck, R., & Gemunden, H. G. (2011). Corporate foresight: its three roles in enhancing the innovation capacity of the firm. Technological Forecasting and Social Change, 78(2), 231–243.

Shafer, S. M., Smith, H. J., & Linder, J. C. (2005). The power of business models. Business Horizons, 48(3), 199–207.

Teece, D. (2010). Business models, business strategy and innovation. Long Range Planning, 43(1), 172–194.

Trim, P. R. J., & Lee, Y.-I. (2008). A strategic marketing intelligence and multi-organisational resilience framework. European Journal of Markeitng, 42(7/8), 731–745.

Tuff G., Wunker S. (2014). Beacons for business model innovation. Deloitte, N. Y. (N. Y.).

Vishnevsky, K., Meissner, D., & Karasev, O. (2015). Strategic foresight: state-of-the-art and prospects for Russian corporations. Foresight-Russia, 17(5), 460–474.

Wallbank P. (2013). Jetstar vs Virgin. Decoding the New Economy. April 23. http://paulwallbank.com/2013/04/23/jetstar-vs-virgin-airline-flying-in-australia (last accessed 2015/05/18).
Acknowledgments
The article was prepared within the framework of the Basic Research Program at the National Research University Higher School of Economics (HSE) and supported within the framework of the subsidy granted to the HSE by the Government of the Russian Federation for the implementation of the Global Competitiveness Program.
Ethics declarations
Conflict of Interest
The author declares that they have no competing interests.
About this article
Cite this article
Bereznoy, A. Changing Competitive Landscape Through Business Model Innovation: the New Imperative for Corporate Market Strategy. J Knowl Econ 10, 1362–1383 (2019). https://doi.org/10.1007/s13132-015-0324-x
Received:

Accepted:

Published:

Issue Date:

DOI: https://doi.org/10.1007/s13132-015-0324-x
Keywords
Business model

Business model innovation

Competitive strategy

Innovation management

Corporate organization