Abstract
The concept of Smart Specialization (S3) of the European Union suggests that the heterogeneity of European regions should be the basis of innovation rather than the promotion of R&D intensive industries. This strategy entails that even peripheral regions are able to generate regionally based growth. The article discusses theoretical concepts such as Mode 3 Knowledge Production System, Quadruple Helix Innovation system and related variety, and with the aid of these concepts attempts at depicting the possibilities for peripheral non-university regions to engage in innovative development. The article argues that certain alterations in the fourth helix have the potential of opening the actors in the triple helix towards each other for the purpose of innovation development. The case study of the technology center KETEK situated in the Kokkola–Jakobstad region in Finland illustrates the manner in which an increasingly dynamic innovation environment is enabled in a peripheral region through a differentiation of both the knowledge and the political systems, and where the setting up of the intermediate organisation has been central to development.
Access options
Buy single article
Instant access to the full article PDF.
US$ 39.95
Tax calculation will be finalised during checkout.
Subscribe to journal
Immediate online access to all issues from 2019. Subscription will auto renew annually.
US$ 79
Tax calculation will be finalised during checkout.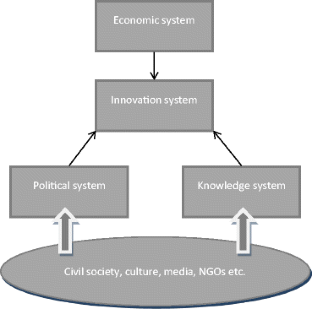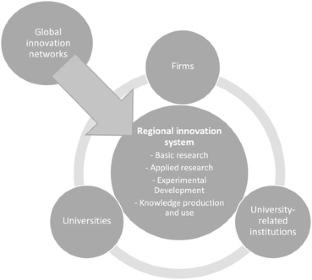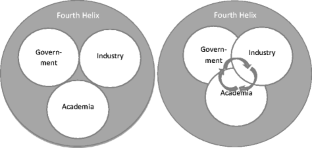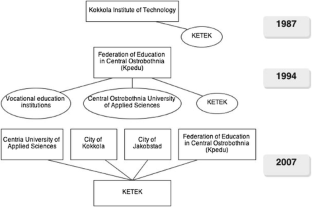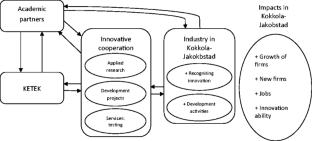 References
Afonso, O. et al. (2010). A growth model for the Quadruple Helix innovation theory. NIPE WP 12.

Arnkil, R., Järvensivu, V., et al. (2010). Exploring Quadruple Helix. Outlining user-oriented innovation models. In Työraportteja 85/2010 Working Papers. Tampere: University of Tampere, Institute for Social Research, Work Research Centre.

Asheim, Bjørn, Boschma, Ron, Cooke, Philip (2011a), Constructing regional advantage: Platform policies based on related variety and differentiated knowledge bases. Regional Studies Special Issue: Regional Innovation Systems: Theory, Empirics and Policy, Volume 45, Issue 7, 2011.

Asheim, B, Moodysson, J., Tödtling, F. (2011b). Constructing regional advantage: Towards State-of-the-Art Regional Innovation System Policies in Europe?. European Planning Studies 19, No. 7, July 2011.

Björk, P. (2014). The DNA of tourism service innovation: a quadruple helix approach. Journal of Knowledge Economy, 5, 181–202.

Bjørn, A. (2009). Guest editorial: introduction to the creative class in European City Regions. Economic Geography, 85(4), 355–362. October 2009.

Boschma, R., Iammarino, S. (2009). Related variety, trade linkages, and regional growth in Italy. Economic Geography, Clark University, 85(3).

Campbell, D. F. J., & Güttel, W. H. (2005). Knowledge production of firms: research networks and the "Scientification" of business R&D. International Journal of Technology Management, 31(1/2), 152–175.

Carayannis, E. G., & Campbel, D. F. J. (2006). "Mode 3": Meaning and Implications from a Knowledge Systems Perspective. In E. G. Carayannis & D. F. J. Campbell (Eds.), Knowledge creation, diffusion, and use in innovation networks and knowledge clusters. A Comparative Systems Approach across the United States, Europe and Asia (pp. 1–25). Westport: Praeger.

Carayannis, E. G., & Campbell, D. F. J. (2009). "Mode 3" and "Quadruple Helix": toward a 21st century fractal innovation ecosystem. International Journal of Technology Management, 46(3/4), 201–234.

Carayannis, E. G., & Campbell, D. F. J. (2012). Mode 3 knowledge production in quadruple helix innovation systems. Twenty-first-century democracy, innovation, and entrepreneurship for development. SpringerBriefs in Business, VI(63), 13. illus.

Eriksson, M., Niitamo, V.-P., & Kulkki, S. (2005). State-of-the-art in utilizing Living Labs approach to user-centric ICT innovation – a European approach. Sweden: Vinnova, Ministry of Enterprise, Energy and Communications.

Esmark, A. (2011). Systems Theory. In M. Bevir (Ed.), The SAGE Handbook of Governance. Thousand Oaks: SAGE publications.

Etzkowitz, H., & Leyesdorff, L. (2000). The dynamics of innovation: from National Systems and "Mode 2" to a Triple Helix of university–industry–government relations. Research Policy, 29, 109–123.

Florida, R. (2002). The rise of the creative class: And how it's transforming work, leisure, community, and everyday life. Cambridge: Basic Books.

Frenken, K., & Verburg, T. (2007). Related variety, unrelated variety and regional economic growth. Regional Studies, 41(5), 685–697.

Gibbons, M., Limoges, C., Nowotny, H., Schwartzman, S., Scott, P., & Trow, M. (1994). The new production of knowledge. The dynamics of science and research in contemporary societies. London: Sage.

Goddard, J., Robertson, D., & Vallance, P. (2012). Universities, technology and innovation centres and regional development: the case of the North-East of England. Cambridge Journal of Economics, 36, 609–627.

Hansen Teis, Winther Lars (2011), Innovation, regional development and relations between high- and low-tech industries. European Urban and Regional Studies 18: 321, Sage Publishing.

Hemlin, S., Allwood, C. M., & Martin, B. R. (2004). Creative Knowledge Environments. The Influences on Creativity in Research and Innovation. Cheltenham: Edward Elgar.

Isaksen, A., Karlsen, J. (2012). Can small regions construct regional advantages? The case of four Norwegian regions. European Urban and Regional Studies 20: 243, Sage Publishing.

Jacobs, J. (1969). The economy of cities. New York: Random House.

Jensen, M. B., Johnson, B., Lorenz, E., & Lundvall, B.-Å. (2007). Forms of knowledge and modes of innovation. Research Policy, 36, 680–693.

Johnson, B., Lorenz, E., & Lundvall, B.-A. (2002). Why all this fuss about codified and tacit knowledge? Industrial and Corporate Change, 11(2), 245–262.

KETEK. (2008). Vuosikertomus/Årsberättelse 2007. Kokkola: Teknologiakeskus KETEK Oy.

Kline, S. J., & Rosenberg, N. (1986). An overview of innovation. In R. Landau & N. Rodenberg (Eds.), The positive sum strategy (pp. 275–304). Washington: National Academy Press.

Kristensen, P. H. (2009). Conclusions: Developing comprehensive, enabling welfare states for offensive experimentalist business. In New modes of globalizing: experimentalism forms of economic organization and enabling welfare institutions. Helsinki: Helsinki School of Economics.

Kristensen, P. H., & Lilja, K. (2009). New modes of globalizing: Experimentalism forms of economic organization and enabling welfare institutions. Helsinki: Helsinki School of Economics.

Kuhn, T. S. (1962). The structure of scientific revolutions. Chicago: The University of Chicago Press.

Landabaso, M. (1997). The promotion of innovation in regional policy: proposals for a regional innovation policy. Entrepeneurship & Regional Development, 9(1), 1–24.

Liljemark, T. (2004). Innovation Policy in Canada. Strategy and Realities. Stockholm: Swedish Institute for Growth Policy Studies.

Luhmann, N. (1997). Die Gesellschaft der Gesellschaft. Frankfurt: Suhrkamp.

Malmberg, A., & Maskell, P. (2006). Localized Learning Revisited. Growth and Change, 37(1), 1–18.

Marcovich, A., & Shinn, T. (2011). From the triple helix to a quadruple helix? The case of dip-pen nanolithography. Minerva, 49, 175–190.

Marshall, A. (1920). Principles of economics. London: Macmillan.

Niemi, K., & Virkkala, S. (2006). Innovative co-operation between Centria Ylivieska and the SME's in Oulu South, Finland. In K. Niemi & S. Virkkala (Eds.), Peripheral localities and innovation policies - Learning from good practices between the Nordic countries. Oslo: Nordic Innovation Centre.

Nordberg, K. (2014). On the democracy and relevance of governance networks. Scandinavian Journal of Public Administration, 18, No 2.

Parsons, T. (1951). The social system. Glencoe, Ill. : Free Press.

Schienstock, G., & Hämäläinen, T. (2001). Transformation of the Finnish innovation system: A network approach, Sitra Reports series 7. Helsinki: Sitra.

Schoonmmaker, M. G., & Carayannis, E. G. (2012). Mode 3: a proposed classification scheme for the knowledge economy and society. Journal of the Knowledge Economy, 3(4), 556–577.

Smart Specialization Platform (2012). Guide to Research and Innovation Strategies for Smart Specialisation (RIS 3), European Union Regional Policy.

Sørensen, E., & Torfing, J. (2007). Theories of democratic network governance. Hampshire: Palgrave Macmillan.

Virkkala, S. (2013). Industrial development and competence building; learning across converging trajectories. In: Mariussen, Å., Virkkala, S. (eds.) Learning Transnational Learning, Routledge.
About this article
Cite this article
Nordberg, K. Enabling Regional Growth in Peripheral Non-University Regions—The Impact of a Quadruple Helix Intermediate Organisation. J Knowl Econ 6, 334–356 (2015). https://doi.org/10.1007/s13132-015-0241-z
Received:

Accepted:

Published:

Issue Date:
Keywords
Innovation system

Quadruple Helix

Regional development