Abstract
This paper aims to explore the role of interpersonal trust and knowledge in the number of Small and Medium Enterprises (SMEs), both conceptually and empirically. The number of SMEs in an economy seems largely to depend on level of knowledge of employees and educational level of leading entrepreneurs. Furthermore, existence of trust in transactions lowers cost of such transactions, as it allows financial agreements to be less dependent on formal regulations and facilitates investment and innovations. This study uses a series of variables to express these structural relationships, which are analysed using a principal component analysis (PCA), a regression analysis and a two-stage least squares (2SLS) analysis. Through our empirical work, we conclude that there is an endogeneity problem between interpersonal trust and the number of SMEs. By solving the endogenous problems, the conclusions confirm two strongly positive effects; knowledge positively affects the number of SMEs, which in turn, positively affects interpersonal trust. Note that the empirical results indicate that interpersonal trust does not affect the number of SMEs. Therefore, although knowledge development can reinforce SMEs, trust becomes widespread in a society when the number of SMEs is greater.
This is a preview of subscription content, log in to check access.
Access options
Buy single article
Instant access to the full article PDF.
US$ 39.95
Price includes VAT for USA
Subscribe to journal
Immediate online access to all issues from 2019. Subscription will auto renew annually.
US$ 99
This is the net price. Taxes to be calculated in checkout.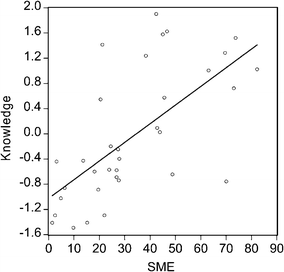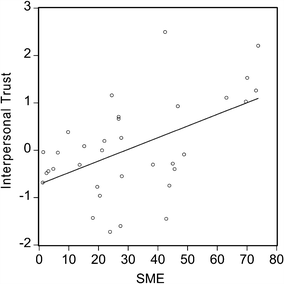 Notes
1.

Using the Davidson and MacKinnon test [24, 25], we find no endogeneity between the KNOWLEDGE and TRUST variables (exogeneity test = 0.46). The same conclusion arises from the regression of KNOWLEDGE on TRUST, as the partial F-statistic assumes the value of 3.31 (F-statistic < 10), while 8.64 % of the squared residuals can be explained by this variable, according to the partial R 2. The conclusion was confirmed by the correlation matrix, which shows a weak, non-statistically significant correlation between the two variables (Table 3). In the same way, based on the regression of TRUST NEIGHBOUR on SME, the partial F-statistic assumes the value 0.41 (F-statistic < 10), while just 1.27 % of the squared residuals can be explained by this variable, according to the partial R 2. Thus, KNOWLEDGE and TRUST NEIGHBOUR can be used as exogenous variables in the evaluation of the system using the 2SLS method.
References
1.

Acs JZ, Szerb L (2010) The global entrepreneurship and development index, paper to be presented at the Summer Conference 2010 on "Opening up innovation: strategy, organization and technology" at Imperial College London Business School, June 16–18, 2010

2.

Adam F (2008) Mapping social capital across Europe: findings, trends and methodological shortcomings of cross-national surveys. Soc Sci Inf 47(2):159–186

3.

Aldrich HE (1999) Organizations evolving. Sage, Thousand Oaks

4.

Aldrich HE, Fiol CM (1994) Fools rush in? The institutional context of industry creation. Acad Manag Rev 19(4):645–670

5.

Anderson A, Miller C (2003) Class matters: human and social capital in the entrepreneurial process. J Socio-Econ 32(1):17–36

6.

Arrow KJ (1974) The limits of organization. Norton, New York

7.

Audretsch DB, Lehmann EE (2005) Does the knowledge spillover theory of entrepreneurship hold for regions? Res Policy 34:1191–1202

8.

Bagchi N (2010) Innovation and knowledge framework for SME competitiveness: case study of SMEs in a pharmaceutical industry cluster. Tech Monitor, Sep–Oct

9.

Bollinger SA, Smith RD (2000) Managing organizational knowledge as a strategic asset. J Knowl Manag 5(1):8–18

10.

Bounfour A (2000) Knowledge management and incentive systems: between the Hau theory and the Ba theory. SIM 5(2):12–40

11.

Bounfour A (2006) Knowledge, recognition and "communautalism". In: Bounfour A (ed) Capital immatériel, connaissance et performance. L'Harmattan, Paris

12.

Bounfour A, Grefe G (2011) Organisational design for knowledge exchange: the Hau-Ba model, The European Chair on Intellectual Capital Management, Working Paper Series No 2011-1C

13.

Bradach JL, Eccles RG (1989) Price, authority and trust: from ideal types to plural forms. Annu Rev Sociol 15(1):97–118

14.

Bromiley P, Cummings LL (1995) Organizations with trust. In: Bies R, Lewicki R, Sheppard B (eds) Research in negotiations, 5th edn. JAI, Greenwich, pp 219–247

15.

Bromiley P, Cummings L (1996) The Organizational Trust Inventory (OTI): Development and validation. In: Krammer RM, Tyler T (eds) Trust in organizations. Sage, Newbury Park, pp 302–330

16.

Bureau of Industry Economics (BIE) (1995) Beyond the firm: An assessment of business linkages and networks in Australia. Australian Government Publishing Service, Canberra

17.

Burt RS, Knez M (1996) Trust and third party gossip. In: Krammer RM, Tyler T (eds) Trust in organizations. Sage, Newbury Park, pp 68–89

18.

Buttery E, Buttery A (1994) Business networks: Reaching new markets with low cost strategies, Melbourne. Longman Business and Professional, Australia

19.

Caby-Guillet L, Crave S, Ladame S (2006) How ICT can facilitate trust inside networks of SME: the role of Professional Virtual Communities. Proceedings of the 12th International Conference on Concurrent Enterprise, Milan

20.

Companys YE, McMullen JS (2007) Strategic entrepreneurs at work: the nature, discovery, and exploitation of entrepreneurial opportunities. Small Bus Econ 28:301–322

21.

Creed DW, Miles RE (1996) A conceptual framework linking organisational forms, managerial philosophies, and the opportunity costs of controls. In: Krammer RM, Tyler T (eds) Trust in organizations. Sage, Newbury Park, pp 16–38

22.

Dalmaris P, Tsui E, Hall WP, Smith B (2007) A framework for the improvement of knowledge-intensive business processes. Bus Process Manag 13(2):279–305

23.

Davenport T, Prusak L (1998) Working knowledge: How organizations manage what they know. Harvard Business School Press, Boston

24.

Davidson R, MacKinnon JG (1989) Testing for consistency using artificial regressions. Economic Theory : 363–384

25.

Davidson R, MacKinnon JG (1993) Estimation and inference in econometrics. Oxford University Press, New York

26.

Deakin S, Wilkinson F (1998) Contract law and the economics of interorganizational trust. In: Lane C, Bachmann R (eds) Trust within and between organizations: Conceptual issues and empirical applications. Oxford University Press, New York, pp 146–172

27.

Desouza KC, Awazu Y (2006) Knowledge management at SMEs: five peculiarities. J Knowl Manag 10(1):32–43

28.

Dubina IN, Carayannis EG, Campbell DFJ (2012) Creativity economy and a crisis of the economy? Coevolution of knowledge, innovation, and creativity, and of the knowledge economy and knowledge society. J Knowl Econ 3(1):1–24. doi:10.1007/s13132-011-0042-y

29.

Earl M (2001) Knowledge management strategies: toward a taxonomy. J Manag Inf Syst 18(1):215–233

30.

Eisenhardt KM, Schoonhoven CB (1990) Organizational growth: linking founding team, strategy, environment, and growth among US semiconductor ventures, 1978–1988. Adm Sci Q 35(3):504–529

31.

European Commission (2003) Recommendation of 6 May 2003 concerning the definition of micro, small and medium-sized enterprises. 361

32.

Fligstein N (1996) Markets as politics: a political–cultural approach to market institutions. Am Sociol Rev 61:656–673

33.

Fligstein N (2002) The architecture of markets: An economic sociology of twenty-first century capitalist societies. Princeton University Press, Princeton

34.

Fukuyama F (1995) Trust—the social virtues and the creation of prosperity. Free Press, New York

35.

Gambetta D (1988) Can we trust trust? In: Gambetta D (ed) Trust: Making and breaking, co-operative relation. Blackwell, Oxford, pp 213–237

36.

Gausdal AH, Nilsen ER (2011) Orchestrating innovative SME networks. The case of "HealthInnovation". J Knowl Econ 2(4):586–600. doi:10.1007/s13132-011-0070-7

37.

Giuliani E (2007) The selective nature of knowledge networks in clusters: evidence from the wine industry. J Econ Geogr 7:139–168

38.

Goel S, Karri R (2006) Entrepreneurs, effectual logic and over-trust. Entrepren Theor Pract 30(4):477–493

39.

Granovetter MS (1985) Economic action and social structure: the problem of embeddedness. Am J Sociol 91(3):481–510

40.

Gulati R (1995) Familiarity breeds trust? The implications of repeated ties for contractual choice in alliances. Acad Manag J 38(1):85–112

41.

Hausman JA (1978) Specification tests in econometrics. Econometrica 46(6):1251–1271

42.

Hite JM, Hesterly WS (2001) The evolution of firm networks: from emergence to early growth of the firm. Strateg Manag J 22(3):275–286

43.

Howorth C, Moro A (2006) Trust within entrepreneur bank relationships: insights from Italy. Entrepren Theor Pract 30(4):495–517

44.

Hussain I, Xiaoyu YU, Wang L, Si S, Ahmed S (2011) Organizational knowledge management capabilities and knowledge management success (KMS) in small and medium enterprises (SMEs). Afr J Bus Manag 5(22):8971–8979

45.

Iglic H (2005) The role of networks in the creation of trust. Paper presented at the conference 'Whither social capital? Past, present, future', South Bank University, London, 6–7 April

46.

Jarillo JC (1990) Comments on 'Transaction costs and networks'. Strateg Manag J 11(6):497–499

47.

Kassicieh SK (2010) (2010) The knowledge economy and entrepreneurial activities in technology-based economic development. J Knowl Econ 1(1):24–47. doi:10.1007/s13132-009-0005-8

48.

Knack S, Keefer P (1997) Does social capital have an economic payoff? A cross-country investigation. Q J Econ 112(4):1251–1288

49.

Krackhardt D (1992) The strength of strong ties: The importance of philos in organizations. In: Nohria N, Eccles RC (eds) Networks and organizations: Structure, form, and action. Harvard Business School, Boston, pp 216–239

50.

Lane C (1998) Introduction: Theories and issues in the study of trust. In: Lane C, Bachmann R (eds) Trust within and between organizations: Conceptual issues and empirical applications. Oxford University Press, New York, pp 1–30

51.

Larson A (1992) Network dyads in entrepreneurial settings: a study of the governance of exchange relationship. Adm Sci Q 37:76–104

52.

Levi M (1998) A state of trust. In: Braithwaite V, Levi M (eds) Trust and governance. Russell Sage, New York, pp 77–101

53.

Lewis JD, Weigart A (1985) Trust as social reality. Soc Forces 63(4):967–985

54.

Luhmann N (1979) Trust and power. Wiley, Chichester

55.

Luhmann N (1988) Familiarity, confidence, trust: Problems and alternatives. In: Gambetta D (ed) Trust: Making and breaking cooperative relations. Blackwell, Oxford, pp 94–107

56.

Luhmann N (2000) Vertrauen: Ein Mechanismus der Reduktion sozialer Komplexität. Lucius & Lucius, Stuttgart

57.

Lundvall B (2010) Scope, style, and theme of research on knowledge and learning societies. J Knowl Econ 1(1):18–23. doi:10.1007/s13132-009-0007-6

58.

McGregor D (1960) The human side of enterprise. McGraw-Hill, New York

59.

Miles RE, Snow CC (1992) Causes of failure in network organizations. Calif Manag Rev 34(3):53–72

60.

Moran P, Ghoshal S (1996) Value creation by firms. Academy of Management Best Paper Proceedings :41–45

61.

Morrison A (2008) Gatekeepers of knowledge within industrial districts: who they are, how they interact. Reg Stud 42(6):817–835

62.

Narula R (2004) R&D collaboration by SMEs: new opportunities and limitations in the face of globalisation. Technovation 24:153–161

63.

Neergard H, Ulhøi JP (2006) Government agency and trust in the formation and transformation of interorganizational entrepreneurial networks. Entrepren Theor Pract 30(4):519–539

64.

Nonaka I (1994) A dynamic theory of organizational knowledge creation. Organization. Science 5(1):14–37

65.

Offe K (1999) How can we trust our fellow citizens? In: Warren ME (ed) Democracy and trust. Cambridge University Press, Cambridge, pp 42–87

66.

Omerzel DG, Antoncic B (2008) Critical entrepreneur knowledge dimensions for the SME performance. Ind Manag Data Syst 108(9):1182–1199

67.

Ottati D (1994) Trust, interlinking transactions and credit in the industrial district. Camb J Econ 18(6):529–546

68.

Ouchi WG (1981) Theory Z: How American business can meet the Japanese challenge. Addison-Wesley, Reading

69.

Polanyi M (1969) The logic of tacit inference. Knowing and being. Routledge and Keagan Paul, London

70.

Porter M (2002) Global competetiveness report. World Economic Forum, Geneva

71.

Putnam RD, Leonardi R, Nanetti RY (1993) Making democracy work: Civic traditions in modern Italy. Princeton University Press, Princeton

72.

Pyke F, Becattini G, Sengenberger W (1992) Industrial districts and inter-firm cooperation in Italy. ILO, Geneva

73.

Randeree E (2006) Knowledge management: securing the future. J Knowl Manag 10(4):145–156

74.

Rasheed N (2005) The impact of knowledge management on SME's. KnowledgeBoard. Available at: http://www.knowledgeboard.com/item/776/23/5/3

75.

Reve T (1990) The firm as a nexus of internal and external contracts. In: Aoki M, Gustafson B, Williamson O (eds) The firm as a nexus of treaties. Sage, Newbury Park, pp 133–161

76.

Rindova VP, Pollock TG, Hayward M (2003) Celebrity firms: the social construction of market popularity. Academy of Management Conference, Seattle

77.

Ring PS, Van de Ven A (1994) Developmental processes of cooperative interorganizational relationships. Acad Manag Rev 19:90–118

78.

Rosenblatt G (2011) Trust and networks. Available at: http://www.alchemyofchange.net/trust-and-networks/

79.

Rothstein B, Stolle D (2001) 'Social capital and street level bureaucracy: an institutional theory of generalised trust', paper presented at the EURESCO Conference Social Capital: Interdisciplinary Perspectives, Exeter, UK, 15–20 September

80.

Rus A (1999) Social capital, corporate governance and managerial discretion. Faculty of Social Sciences, Ljubljana

81.

Rus A, Iglic H (2005) Trust governance and performance: the role of institutional and interpersonal trust in SME development. Int Sociol 20(3):371–391

82.

Sako M (1992) Prices, quality, and trust: Inter-firm relations in Britain and Japan. Cambridge University Press, Cambridge

83.

Sako M (1998) Does trust improve business performance? In: Lane C, Bachmann R (eds) Trust within and between organizations: Conceptual issues and empirical applications. Oxford University Press, New York, pp 88–117

84.

Samia N (2012) The incidence and transfer of knowledge within the Arab societies. Journal of the Knowledge Economy :1–17, Online First™, Url: http://dx.doi.org/10.1007/s13132-011-0082-3, doi: 10.1007/s13132-011-0082-3

85.

Sarasvathy SD (2003) Entrepreneurship as a science of the artificial. J Econ Psychol 24:203–220

86.

Seabright MA, Leventhal DA, Fichman M (1992) The role of individual attachments in the dissolution of interorganizational relationships. Acad Manag J 35(1):122–160

87.

Sen A (2009) Capitalism beyond the crisis. New York Rev Books 56:5

88.

Shane S (2000) Prior knowledge and the discovery of entrepreneurial opportunities. Organ Sci 11(4):448–469

89.

Shane S (2003) A general theory of entrepreneurship—the individual–opportunity nexus. Edward Elgar, UK

90.

Shane S, Venkataraman S (2000) The promise of entrepreneurship as a field of research. Acad Manag Rev 25(1):218–228

91.

Simmons RH (1981) Achieving human organization. Daniel Spencer, California

92.

Smith A (2002) Tutorial on principal components analysis. Available at: http://www.cs.otago.ac.nz/cosc453/student_tutorials/principal_components.pdf

93.

Smith S, Holmes S (1997) The role of trust in SME business network relationships, Entrepreneurship: the engine of global economic development, San Francisco, California, United States Association for Small Business and Enterprise, 212–225. http://usasbe.org/knowledge/proceedings/proceedingsDocs/USASBE1997proceedings-P212Smith.PDF

94.

Smith A, Temple BK (2007) The impacts of knowledge transfer from educational programmes on individuals and SME business development, Management of International Business and Economic Systems (MIBES), Larissa, Greece, September

95.

Smith KG, Carroll SJ, Ashford SJ (1995) Intra- and inter-organizational cooperation: toward a research agenda. Acad Manag J 38(1):7–23

96.

Smith KG, Collins CJ, Clark KD (2005) Existing knowledge, knowledge creation capability, and the rate of new product introduction in high-technology firms. Acad Manage J 48(2):346–357

97.

Teese DJ (2003) Knowledge and competence as strategic assets. In: Holsapple CW (ed) Handbook of knowledge management. Springer, Heidelberg, pp 129–152

98.

Thornton HP (1999) The sociology of entrepreneurship. Annu Rev Sociol 25:19–46

99.

Uzzi B (1997) Social structure and competition in interfirm networks: the paradox of embeddedness. Adm Sci Q 42(1):35–67

100.

Velmurugan MS (2010) Revisiting accounting in the knowledge-based economy. J Knowl Econ 1(4):318–332. doi:10.1007/s13132-010-0017-4

101.

Von Krogh G, Ichijo K, Nonaka I (2000) Enabling knowledge creation. Oxford University Press, New York

102.

Wallman S (2005) Network capital and social trust: pre-conditions for 'good' diversity? Fondazione Eni Enrico Mattei Note di Lavoro Series 67

103.

Wang ML, Hsu BF (2012) A study to explore the team virtualization level and team effectiveness from the team personality composition. J Knowl Econ. doi:10.1007/s13132-011-0079-y

104.

Wang CC, Huang MH, Chen DZ (2012) The evolution of knowledge spillover and company cluster in semiconductor industry. J Knowl Econ. doi:10.1007/s13132-011-0080-5

105.

Weick K (1979) The social psychology of organizing, 2nd edn. Addison-Wesley, Reading

106.

Yamagishi T (2001) Trust as a form of social intelligence. In: Cook KS (ed) Trust in society. Russell Sage, New York, pp 121–147

107.

Yamagishi T, Yamagishi M (1994) Trust and commitment in the United States and Japan. Motiv Emot 18(2):126–166

108.

Zahra S, Yavuz RI, Ucbasaran D (2006) How much do you trust me? The dark side of relational trust in new business creation in established companies. Entrepren Theor Pract 30(4):541–559

109.

Zucker LG (1986) Production of trust: institutional sources of economic structure, 1840–1920. Res Organ Behav 8:53–111
Acknowledgments
The authors would like to thank all the unknown referees for their most valuable comments and suggestions that greatly helped to improve the manuscript.
About this article
Cite this article
Petrakis, P.E., Kostis, P.C. The Role of Knowledge and Trust in SMEs. J Knowl Econ 6, 105–124 (2015). https://doi.org/10.1007/s13132-012-0115-6
Received:

Accepted:

Published:

Issue Date:
Keywords
SME

Knowledge

Interpersonal trust

Endogeneity